The global EV Charging Cables market size was valued at USD 272.9 million in 2019 and is anticipated to grow at a CAGR of 33.2% during the forecast period.
Electric vehicles are equipped with rechargeable battery packs to supply energy to drive them, and can be charged via an outlet or a charging station. Battery Electric Vehicles (BEVs) are solely powered through electricity while reducing greenhouse gas (GHG) emissions, air pollution, and vehicular noise. A few popular models of BEVs available in the market include Nissan Leaf, Tesla Model S, and BMW i3 among others. The increasing requirement to reduce emissions and global carbon footprint drives the demand for electric vehicles. Their use offers benefits such as low maintenance costs and reduced harmful vehicle emissions, while providing comparable power. EVs are increasingly being used to restrict the emission of carbon, nitrogen, and other harmful compounds from gasoline and diesel vehicles.
Limited availability of public charging infrastructure for electric vehicles has limited the adoption in the past. However, with significant government initiatives and substantial investments, the development of public Electric Vehicle Charging Infrastructure has accelerated significantly. EV charging stations are available in 120-volt, 240-volt, and 480-volt models. Charging equipment for EVs vary in charging rate and time of vehicles and batteries. The time to recharge the batteries ranges from 20 minutes to more than 20 hours depending on the battery type, energy capacity and type of equipment. Another standard (SAE J3068) is being developed in the U.S. for higher rates of AC charging using three-phase power. The common three-phase voltages available in the U.S. are 208/120 V, 480/277 V. This standard will offer power levels between 6kW and 130kW. The standard will adapt some components from the European three-phase charging standards, which will be customized according to North American AC grid voltages and requirements.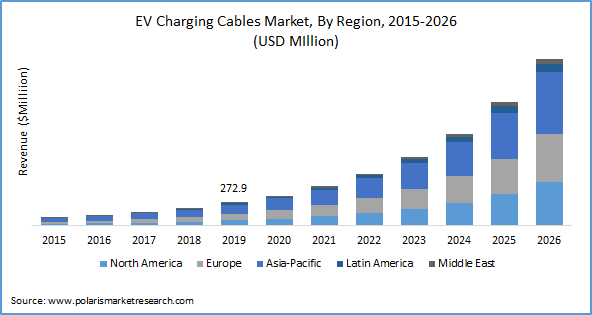 Know more about this report: request for sample pages
Various countries have set their deployment targets for charging infrastructure development, and are investing significantly to promote the adoption of electric vehicles and reduce the sale of traditional fuel vehicles, thereby supporting the growth of the EV charging cables market. China aims to deploy 0.5 million public chargers for cars, 4.3 million private electric vehicle supply equipment (EVSE) outlets, and 850 intercity quick-charge stations by 2020. The central government of China also supports municipalities in the deployment of public battery recharge infrastructure by subsidizing the construction of charging stations. France has declared its goal to deploy 7 million stations by 2030. In France, financial incentives are offered through tax credit equivalent to 30% of a home charger or subsidies on installation of chargers in residential areas or workplace.
The upgrade of charging infrastructure in countries such as China, U.S, and Western Europe contributes significantly in the growing adoption of electric vehicles and fueling this market. Publicly accessible stations encourage more consumers to use EVs. Continuously decreasing prices of batteries used in electric passenger cars further supplements the industry growth. Increasing production volume and growing need for fuel-efficient vehicles would further lead to reduction in battery prices, driving the growth of the market. Growing adoption of fuel-efficient vehicles in developing nations provide growth opportunities for electric vehicle industry which in turn push the market for EV charging stations, thus growing the demand for EV cables. Moreover, proactive government initiatives in these nations are expected to further boost the growth of the market.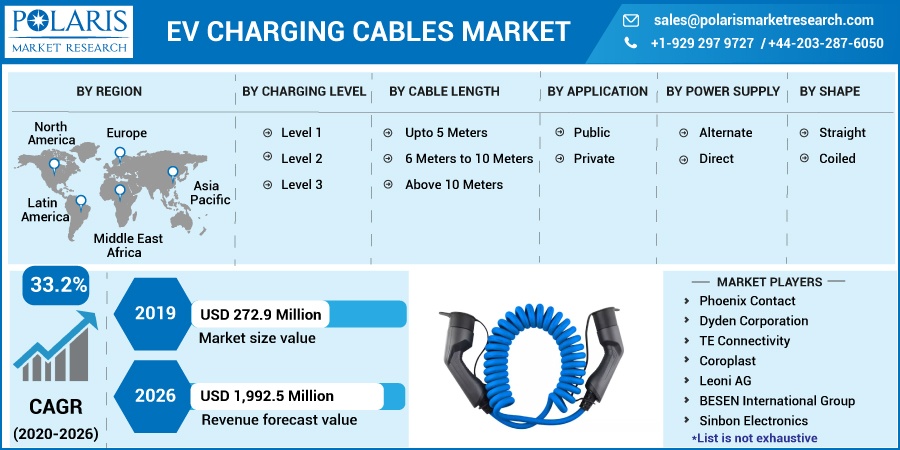 Know more about this report: request for sample pages
EV Charging Cables Market Report Scope
The market is primarily segmented on the basis of Charging Level, Cable Length, Application, Power Supply, Shape, and Geographic Region.
By Charging Level

By Cable Length

By Application

By Power Supply

By Shape

By Region

Upto 5 Meters
6 Meters to 10 Meters
Above 10 Meters

North America (U.S., Canada)
Europe (Germany, UK, France, Italy, Spain, RoE)
Asia Pacific (China, India, Japan, South Korea, RoAPAC)
Latin America (Brazil, Mexico, Colombia, RoLATAM)
MEA (Saudi Arabia, South Africa, Israel, UAE, RoMEA)
Know more about this report: request for sample pages
Charging Level Outlook
On the basis of charging level, the market is segmented into Level 1, Level 2, and Level 3. The demand for level 3 charging cables is expected to increase significantly during the forecast period. Level 3 system are equipped with CHAdeMO technology, which charges through a 480V, direct-current plug. Level 3 chargers are capable of offering an 80% charge in 30 minutes. CHAdeMO is a fast charging method developed for electric vehicles. It provides 62.5kW of direct current through the use of a specialized connector. Japan accounts for roughly 50% of the total CHAdeMO stations. The country has more than 2,800 DC fast charging stations based on CHAdeMO.
Cable Length Outlook
On the basis of cable length, the market is segmented into Up to 5 Meters, 6 Meters to 10 Meters, and Above 10 Meters. 5 meters cable is efficient for use in residential charging and offers ease of use and ease of storage. Some stations provide a standard 16-foot cable. However, length of least 20 feet in length is ideal for charging stations to cater to growing consumer demand and increased penetration of electric vehicles.
Application Outlook
On the basis of application, the market is segmented into public and private. Government along with market players in the country are promoting the adoption of electric vehicles through easy availability of vehicles, public charging infrastructure, workplace charging infrastructure, and other local promotional measures. Companies such as Tesla, Nissan, Volkswagen, and BMW are promoting the deployment of charging infrastructure through various providers. Electric power utilities have also become significantly involved in the deployment of charging equipment.
Power Supply Outlook
On the basis of power supply, the market is segmented into Alternate and Direct Charging. In 2019, the AC segment accounted for the highest market share. Most charging stations across the world use AC power supply with charging speed of 22 kW depending on vehicle and infrastructure standards. AC charging finds applications in residential and workplace and requires higher charging duration, whereas DC power supply is adopted at public charging stations owing to faster charging in less time.
Shape Outlook
On the basis of shape, the market is segmented into straight and coiled. In 2019, the straight EV charging cables dominated the global industry. Public stations have adopted straight cables owing to its ease of installation, reduced costs, and low maintenance required over time.
Regional Outlook
Asia-Pacific dominated the global industry in 2019 owing to the increasing population of vehicles and adoption of vehicular emission standards of the U.S. and European Union by Asia-Pacific countries. Moreover, concerns regarding rising pollution levels have accelerated the growth of the electric vehicles market in this region. The growing adoption has encouraged industry players to introduce new and advanced models of electric vehicles. According to the new fuel consumption regulations launched by China, the average fuel consumption of new passenger vehicles should achieve 5 L/100 km by 2020. This is expected to reduce emissions by around 25% beyond current standards. Vendors in the industry are developing advanced batteries with higher energy densities to meet the growing industry demand. Development of enhanced vehicle charging infrastructure along with reduction in costs & charging times would further enhance the adoption of electric vehicle in the region, supporting the growth of the market.
Competitive Landscape
The leading players in the EV Charging Cables market include Phoenix Contact, Dyden Corporation, TE Connectivity, Coroplast, Leoni AG, BESEN International Group, Sinbon Electronics, Systems Wire and Cable, General Cable Technologies Corporation, Chengdu Khons Technology Co., Ltd., Manlon Polymers, Eland Cables, EV Teison, Aptiv Plc., and Brugg Group. These players are expanding their presence across various geographies and entering developing regions to expand their customer base and strengthen presence in the industry. The companies are also introducing new innovative products to cater to the growing consumer demands.