The global exterior insulation and finish system market was valued at USD 91.29 billion in 2022 and is expected to grow at a CAGR of 10.4% during the forecast period.
The increasing construction activities and changing lifestyles of people drive the market. For instance, according to the World Green Building Council, by 2030, it is estimated that all new buildings, infrastructure projects, and renovations will have a minimum of 40% reduction in embodied carbon, accompanied by significant upfront carbon reductions.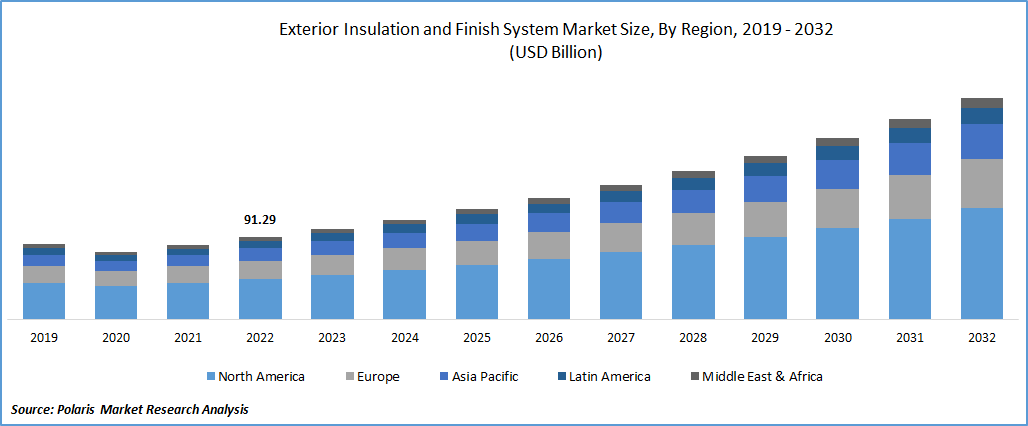 For Specific Research Requirements: Request a Free Sample Report
Additionally, all new buildings are expected to operate as net-zero carbon structures. There is a growing emphasis on implementing energy-efficient and environmentally friendly solutions in the construction sector to achieve these targets.
EIFS, with their insulation properties and ability to reduce energy consumption, are well-positioned to contribute to the reduction of embodied carbon in buildings. By enhancing the energy efficiency of the building envelope, EIFS helps minimize the carbon footprint associated with the construction and operation of buildings. By contributing to these sustainability goals, they are experiencing increased adoption and driving market growth in the exterior insulation and finish system sector.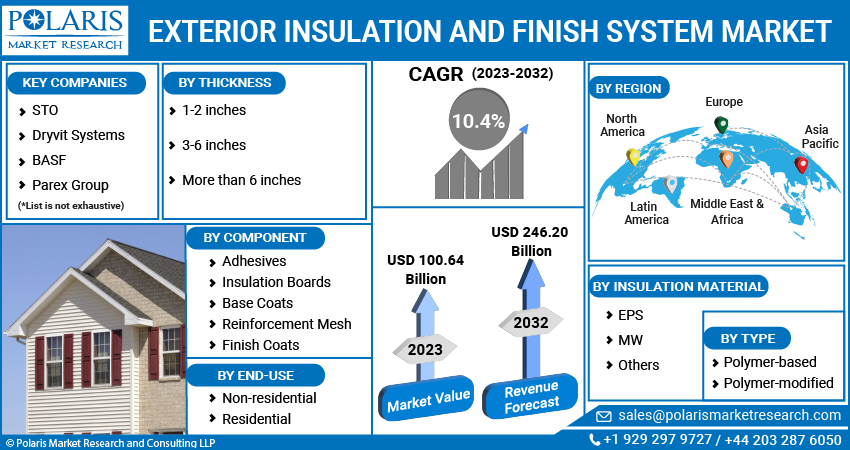 For Specific Research Requirements, Request for a Customized Report
Industry Dynamics
Growth Drivers
Insulation is crucial in minimizing heat loss and gain, especially in roofs, ceilings, walls, and floors. It acts as a barrier, providing resistance to heat flow and reducing building heating and cooling costs. By properly insulating a structure, not only can heating and cooling expenses be lowered, but overall comfort can also be improved. This energy-efficient solution is essential for enhancing the energy efficiency of residential buildings while offering cost-effective benefits. Effective insulation ensures optimal indoor temperatures, leading to significant savings of up to 80% in heating and cooling losses throughout the year. Additionally, insulation helps combat condensation issues, promoting healthier living environments by reducing the presence of mold and dampness. These factors contribute significantly to the growth rate of the Exterior Insulation and Finish System (EIFS) market, evident in its Compound Annual Growth Rate (CAGR).
Furthermore, residential buildings, particularly those relying on fossil fuel-powered gas boilers for heating, are responsible for significant greenhouse gas emissions. Unfortunately, many buildings' inadequate insulation and inefficient systems contribute to higher emissions and environmental impact. However, building insulation is vital in reducing greenhouse gas emissions and mitigating ecological harm. The increasing adoption of green building practices is expected to drive the growth of the exterior insulation and finish system market. Green buildings prioritize sustainable design, operation, and construction practices to minimize or eliminate negative impacts on the climate and environment. By utilizing water, energy, and renewable resources efficiently, these buildings contribute to reducing greenhouse gas emissions.
Moreover, EIFS generates minimal waste, and the materials used can be reused or recycled effectively, contributing to efficient environmental waste management practices. It further propels the demand for Exterior Insulation and Finish Systems, as they align with sustainable and environmentally friendly building practices.
Report Segmentation
The market is primarily segmented based on type, insulation material, end-use, component, thickness and region.
By Type

By Insulation Material

By End-use

By component

By Thickness

By Region

Polymer-based

Polymer-modified

Non-residential

Residential

Adhesives

Insulation Boards

Base Coats

Reinforcement Mesh

Finish Coats

1-2 inches

3-6 inches

More than 6 inches

North America (U.S., Canada)

Europe (France, Germany, UK, Italy, Netherlands, Spain, Russia)

Asia Pacific (Japan, China, India, Malaysia, Indonesia. South Korea)

Latin America (Brazil, Mexico, Argentina)

Middle East & Africa (Saudi Arabia, UAE, Israel, South Africa)
To Understand the Scope of this Report: Speak to Analyst
Polymer-based segment is expected to witness fastest growth during forecast period
The polymer-based segment is expected to have faster growth in the market. They offer improved performance compared to traditional systems. They provide better flexibility, impact resistance, and durability, making them suitable for various climatic conditions and reducing maintenance costs over the long term. These performance advantages have led to increased adoption and demand for polymer-based EIFS. Energy efficiency is a significant market driver, and polymer-based systems excel. They provide excellent thermal insulation properties, reducing heat transfer through the building envelope and improving energy efficiency. As energy regulations and sustainability concerns continue to rise, the demand for energy-efficient building solutions, including polymer-based EIFS, has increased.
EPS segment accounted for the largest market share in 2022
The EPS segment held the largest market share for the market in 2022. These boards provide high thermal resistance, which helps reduce heat transfer through the building envelope. By minimizing thermal bridging and heat loss or gain, EPS insulation improves the overall energy efficiency of buildings. As energy efficiency regulations become more stringent and sustainability practices gain traction, the demand for EPS insulation in EIFS has increased. These boards are cost-effective compared to other insulation materials. Their affordability makes them an attractive choice for residential and commercial construction projects, contributing to the growth of the EPS segment in the market.
Non-residential segment is expected to hold the larger revenue share in projected period
The non-residential segment will witness a larger revenue share in the coming years. The exterior cladding system plays a crucial role in maintaining the integrity of the building envelope. EIFS acts as a protective barrier against moisture, air infiltration, and thermal bridging, enhancing the overall performance of the building envelope in non-residential structures. As building owners and developers prioritize the longevity and durability of their properties, it becomes a preferred choice, driving the growth of the market in the non-residential segment. These systems can incorporate fire-resistant properties, meeting stringent fire safety regulations for non-residential buildings.
Insulation Board segment is expected to have highest growth during forecast period
The insulation board segment is projected to witness the highest growth in the market in the coming years. Their role in enhancing the energy efficiency of buildings is crucial. They reduce heat transfer through the walls, minimizing thermal bridging and preventing energy loss. As energy efficiency regulations and sustainability concerns continue to prominence, the demand for insulation boards in EIFS has increased. These boards help to maintain a comfortable indoor environment by reducing heat loss during colder months and heat gain during warmer months. This leads to improved occupant comfort and can lower heating and cooling costs.
More than 6 inches segment is projected to witness significant revenue share during upcoming year
The more than 6 inches segment is expected to have a significant revenue share for the market. Thicker insulation boards generally offer higher levels of thermal resistance, resulting in improved energy efficiency. As the emphasis on achieving optimal energy efficiency in buildings continues to rise, there is a potential for an increase in the demand for thicker insulation boards. Building codes and energy efficiency standards in some regions or specific building types may require higher insulation values. In such cases, insulation boards with thicknesses exceeding 6 inches may be necessary to meet the regulatory requirements.
APAC registered with the highest growth rate in the study period
The Asia-Pacific (APAC) market is expected to experience significant growth due to increased construction projects in countries such as China, India, and Southeast Asian nations. The Chinese government's five-year plan, unveiled in January 2022, aims to make the construction industry smarter, greener, and safer, expected to drive market growth. This plan's focus on sustainability and energy efficiency aligns with the growing demand for eco-friendly building solutions. The adoption of EIFS in the construction industry is growing because of the plan's emphasis on safety, market support, and the rising demand for green buildings.
In North America, the market is expected to have a larger revenue share because of varying climatic conditions, ranging from extreme cold in northern regions to hot and humid conditions in southern areas. EIFS effectively provides thermal insulation, moisture management, and durability, making it suitable for various weather conditions. The United States is experiencing climate changes, such as rising sea levels, increasing temperatures, and a lengthening growing season. There is a growing demand for insulation and waterproofing solutions to adapt to these challenges, which has led to the increased preference for EIFS as an exterior insulation and finishing system.
Competitive Insight
Some of the major players operating in the global market include STO, Dryvit Systems, BASF, Parex Group, Sika, Master Builders Solutions, Durabond Products, Omega Products International, Durock Alfacol Srl, JUB d.o.o., Baumit, Ceresit a Henkel Brand, Parex USA, Adex Systems, Caparol, Wacker Chemie, Marmoran Coatings, Arcat, E.I.F.S. DEPOT, EWI Pro, Synergy Insulations.
Recent Developments
In April 2023, Sika and the University of Cádiz (UCA) signed a contract to work together on projects including industrial processes, building facades, and concrete protection. The collaboration results from an effective relationship focusing on cutting-edge methods for preserving concrete structures.

In January 2023, Senerflex Vulcan NC external wall system, which incorporates ROCKWOOL Frontrock, is offered by Synergy.
Exterior Insulation and Finish System Market Report Scope
| | |
| --- | --- |
| Report Attributes | Details |
| Market size value in 2023 | USD 100.64 billion |
| Revenue forecast in 2032 | USD 246.20 billion |
| CAGR | 10.4% from 2023 - 2032 |
| Base year | 2022 |
| Historical data | 2019 - 2021 |
| Forecast period | 2023 - 2032 |
| Quantitative units | Revenue in USD billion and CAGR from 2023 to 2032 |
| Segments covered | By Type, By Insulation Material, By End-use, By Component, By Thickness, By Region |
| Regional scope | North America, Europe, Asia Pacific, Latin America; Middle East & Africa |
| Key companies | STO, Dryvit Systems, BASF, Parex Group, Sika, Master Builders Solutions, Durabond Products, Omega Products International, Durock Alfacol Srl, JUB d.o.o., Baumit, Ceresit a Henkel Brand, Parex USA, Adex Systems, Caparol, Wacker Chemie, Marmoran Coatings, Arcat, E.I.F.S. DEPOT, EWI Pro, Synergy Insulations. |