The global carbon footprint management market was valued at USD 9.4 billion in 2021 and is expected to grow at a CAGR of 6.0% during the forecast period.
The consistent market revenue growth can all be linked to growing concerns about global climate change, weather anomalies, global warming, and greater government initiatives to address rising carbon emissions by different countries. Furthermore, increased industry adoption of cutting-edge technologies, modernization and technological advancements in production methods, and increased market research & development activities contribute to market growth.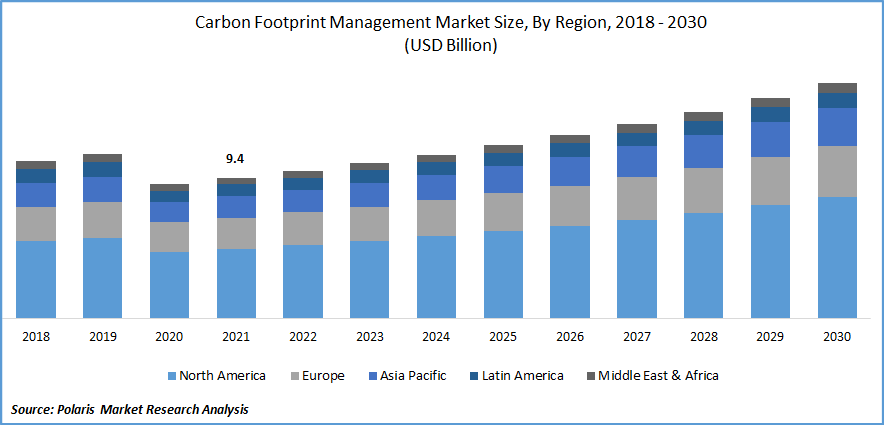 Know more about this report: Request for sample pages
The carbon footprint is the number of greenhouse gases released into the atmosphere as a result of any human activity. The greenhouse gases gradually remove ozone from the earth's protective ozone layer, a significant cause of catastrophic problems like climate change, global warming, and several ailments. Controlling and managing a country's or an industry's carbon footprint has become more critical as global warming concerns have grown.
Through partnerships and alliances in carbon management, organizations are expanding their capabilities and market reach to maintain sustainability. For instance, according to the 2022 report, Johnson & Johnson's local team is collaborating closely with Schneider Electric, which Corporate Knights Global 100 Index designated the world's most sustainable company in 2021, to assist reduce the carbon footprint of their French manufacturing plant by reducing the energy usage, while also improving operational efficiency & cutting lead times.
Global emissions growth is anticipated to halt due to the COVID-19 epidemic and lockdown measures in the area. As they assist in becoming carbon-neutral prior to the deadline, software solutions that optimize society's energy use, minimize expenses, and reduce carbon footprint may see increased acceptance. Governmental regulations and financial incentives are anticipated to continue to have a long-term impact on the trajectory of global CO2 emissions after the crisis.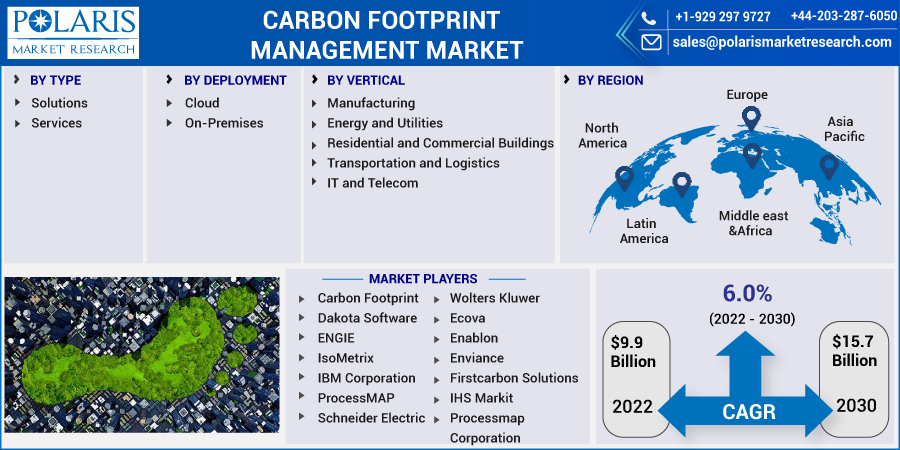 Know more about this report: Request for sample pages
Industry Dynamics
Growth Drivers
Private businesses and governmental organizations around the world are progressively putting their primary attention on energy efficiency. The expansion of the global economy has increased energy consumption rates and stressed the world's electricity grids. According to IEA analysis of the 2022 statistics from around the world, these CO2 emissions are on track to climb by roughly 300 million tons in 2022 to 33.8 billion tons - a significantly smaller rise than their spike of nearly 2 billion tons in 2021, which was the result of the swift worldwide rebound from the economic catastrophe brought on by the epidemic.
The United States Energy Information Administration predicts a 50% growth in global energy consumption over the next few years, with Asia as the primary consumer. Energy consumption is likely to rise during the following years. For instance, EMBER reports that with 4,646.87 million metric tons of CO2 emissions from power generation in 2021, while China's power sector emissions are much higher than those of the US, the nation's per-capita energy generation emissions are lower.
Report Segmentation
The market is primarily segmented based on Type, deployment, vertical, and region.
By Type

By Deployment

By Vertical

By Region

Manufacturing
Energy and Utilities
Residential and Commercial Buildings
Transportation and Logistics
IT and Telecom

North America (U.S., Canada)
Europe (France, Germany, UK, Italy, Netherlands, Spain, Russia)
Asia Pacific (Japan, China, India, Malaysia, Indonesia, South Korea)
Latin America (Brazil, Mexico, Argentina)
Middle East & Africa (Saudi Arabia, UAE, Israel, South Africa)
Know more about this report: Request for sample pages
Services are the industry's largest market segment.
The services category is anticipated to have the most market share in the global market for carbon footprint management during the period of forecasting. Services include integration and implementation, support and maintenance, and consulting. Because businesses frequently favor them because of their viability and low operational costs. Services can also be adapted to the client's demands to increase company success.
The need for carbon footprint management facilities is driven by government's focus on providing specific services to improve customer understanding and operation productivity at a lower cost and shorter turnaround time. Since most participants are concentrating on offering specialized services for the global carbon footprint management market, the market is expanding exponentially. Other factors affecting the services industry include the rapidly growing demand for cloud services, data center services, network services, and their dependable and practical integration.
Cloud segment will account for a higher share of the market.
The cloud-based segment controlled the largest portion of the market. They are also easy to apply, alter, or scale up. One of the extra benefits of cloud-based solutions is the accessibility of 24/7 high-speed service. The need for cloud deployment is growing due to low capital costs on local hardware, easy scalability, connection, security, and safety.
The nature of core IT services offers a far simpler opportunity to demonstrate advancement and generate momentum for training personnel and enacting the cultural changes necessary to address the decarburization of business operations. For instance, on June 30, 2022, Alibaba Cloud, the core of the Alibaba Group's digital technology and intelligence, will launch Energy Expert globally. Energy Expert is a sustainability platform that will assist customers around the world in measuring, analyzing, and managing the carbon emissions generated by their commercial activities and products. Customers may speed up their sustainability journeys using the software-as-a-service services, which also give practical insights and suggestions for saving energy.
Energy and Utilities segment is expected to hold the significant revenue share
Energy and utility category accounted for the majority of the market, and it is expected to retain its attractiveness during the projected period due to heating and cooling requirements, as well as a strong economy in the sector. The utilization of carbon footprint management results from the rise in carbon footprints caused by the increase in energy consumption and power generation.
Additionally, the energy sector is undergoing a global transformation as a result of the growth of the unconventional oil business in the United States and concerns about climate change. Unconventional oil production has increased dramatically over the past ten years, which has disrupted industry, geopolitics, and the environment, in addition to the energy sector.
According to the 2022 report, increased coal consumption was the primary cause driving up global energy-related CO2 emissions by more than 2 billion tons, the biggest annual increase in absolute terms. In 2021, the world's energy-related carbon dioxide emissions increased by 6% to 36.3 billion tons, a record high, as the global economy roared back from the COVID-19 crisis and was largely dependent on coal.
The demand in North America is expected to witness significant growth
The market for carbon footprint management is dominated by North America as a result of the region's rising government measures to support low-carbon emission regulations, expanding industrial energy demand, rising firm commitment to green building projects, increasing adoption of a uniform regulatory framework, and growing business commitment to green building projects.
According to Benjamin 2021, buildings in the United States account for 40% of carbon emissions and utilize 75% of grid electricity. The design incorporates performance objectives like net-zero energy, where efficiency gains are adopted so that the remaining energy needs can be met by renewable technology.
The United States president signed an executive order on strengthening American leadership in clean cars and trucks in August 2021. This establishes a non-binding target of producing 50% zero-emission vehicles, by 2030, for light-duty trucks and passenger cars. Such initiatives are predicted to fuel market expansion in North America throughout the course of the forecast period.
Competitive Insight
Key players include Carbon Footprint, Dakota Software, ENGIE, IsoMetrix, IBM Corporation, ProcessMAP, Schneider Electric, SAP, Wolters Kluwer, Ecova, Enablon, Enviance, Firstcarbon Solutions, IHS Markit, ProcessMap Corporation, and Verisae.
Recent Developments
In March 2022, Normative released its free version of its carbon emission tracker. With the help of Normative's Business Carbon Calculator, small and medium-sized companies may track their carbon emissions and identify emission hotspots based on information about their facilities and their heating, electricity, and gas usage. Additionally, Normative provides paid products for bigger businesses.
Carbon Footprint Management Market Report Scope
| | |
| --- | --- |
| Report Attributes | Details |
| Market size value in 2022 | USD 9.9 billion |
| Revenue forecast in 2030 | USD 15.7 billion |
| CAGR | 6.0% from 2022 – 2030 |
| Base year | 2021 |
| Historical data | 2018 – 2020 |
| Forecast period | 2022 – 2030 |
| Quantitative units | Revenue in USD billion and CAGR from 2022 to 2030 |
| Segments Covered | By Type, By Deployment, By Vertical, By Region |
| Regional scope | North America, Europe, Asia Pacific, Latin America; Middle East & Africa |
| Key Companies | Carbon Footprint, Dakota Software, ENGIE, IsoMetrix, IBM Corporation, ProcessMAP, Schneider Electric, SAP, Wolters Kluwer, Ecova, Enablon, Enviance, Firstcarbon Solutions, IHS Markit, Processmap Corporation, and Verisae. |