The global facility management market was valued at USD 40.82 billion in 2021 and is expected to grow at a CAGR of 12.5% during the forecast period. The efficiency and productivity of organizations are influenced by a variety of elements that are included in facility management. A benchmark for creating and advancing efficient strategic, operational, and operational FM concepts throughout the world is the different facility management system standard, which complies with market best practices.

Know more about this report: Request for sample pages
The FM sector's services have become incredibly commoditized. Additionally, because end-user sectors are highly price-sensitive, contracts are designed to be shorter in duration. The oversupply of commercial real estate has put pressure on rent returns, which has caused clients to reduce their spending on FM services.
However, it was shown that involving FM providers later in the building cycle—specifically, post-construction maintenance reduced. Asset management is a service provided by FM players that have been involved in infrastructure development from the beginning and who also offer FM consulting for preventative maintenance, longer asset lives, and longer-term contracts.
For expansion and modernization to promote digital FM in the Middle East, Enova strives for a dominant customer service position and a digital omnipresence. The need for FM services is growing as a result of huge investments in medical infrastructure and the building of healthcare institutions. Infrastructure is becoming a critical component of delivering healthcare to the general people. As a result, there has been an increase in global investment in the construction of healthcare infrastructure.
To provide cutting-edge healthcare services, healthcare institutions are spending heavily in infrastructure. However, obtaining suitable skills is difficult given the rise in data breaches & security risks. A Honeywell poll found that 27% of building facility managers have experienced a cyberattack upon their OT system in the previous season, and 66% of participants said that managing OT cybersecurity is one of their most difficult tasks.
Facility management companies have seen a range of commercial effects from the COVID-19 epidemic. People's freedom of movement was restricted, which led to a fall in project activity and activity levels at numerous client locations. The pandemic lockdown had a negative impact on important facility management industry participants, including Mitie, CBRE Groups, and others.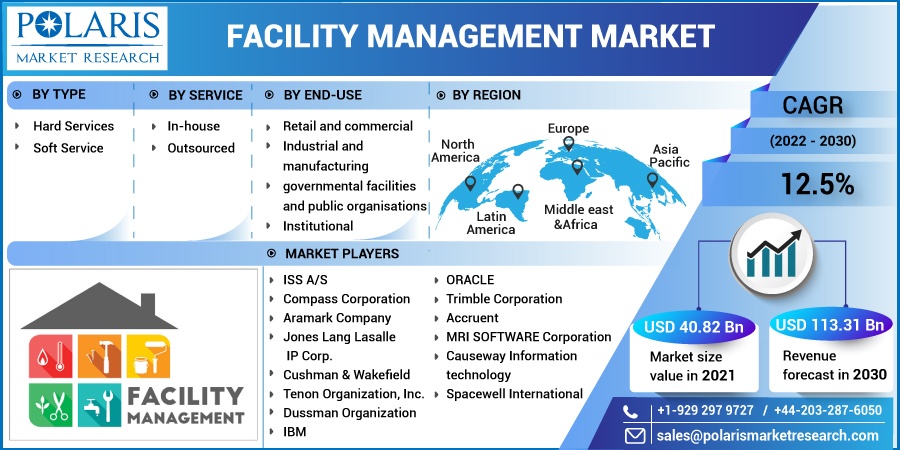 Know more about this report: Request for sample pages
Industry Dynamics
Growth Drivers
Several growth factors are responsible for the substantial increase in the facility management market. The facility management market system will be hosted extremely reliably by the cloud-based solutions. They can improve security and communication across teams and subsidiaries that are present in numerous places, which will help firms lower their operational expenses. The safe storage of sensitive data, enhanced security, scalability, and speedy disaster recovery are some further benefits of cloud-based facility management solutions.
The advantages of facility management haven't always been fully appreciated by businesses. The issue is one that results from a lack of comprehension & adoption of the technological necessities. Many firms are still implementing cloud computing platforms, and they haven't yet embraced the Internet of Things environment. Furthermore, the shift from traditional workplace layouts to a contemporary one is still in its infancy.
Report Segmentation
The market is primarily segmented based on type, service, end-use, and region.
By Type

By Service

By End-Use

By Region

Hard Services
Soft Service

Retail and commercial
Industrial and manufacturing
governmental facilities and public organisations
Institutional
Others

North America (U.S., Canada)
Europe (France, Germany, UK, Italy, Netherlands, Spain, Austria)
Asia Pacific (Japan, China, India, Malaysia, Indonesia, South Korea)
Latin America (Brazil, Mexico, Argentina)
Middle East & Africa (Saudi Arabia, UAE, Israel, South Africa)
Know more about this report: Request for sample pages
Hard services accounted for the largest market share in 2021
The worldwide facility management industry is divided into two types of services: hard solutions and soft services. Due to the significant market demand from the construction sector, the hard services category commands the biggest market share.
These services include those related to HVAC, mechanical systems, plumbing, etc. and the massive building projects for the construction of industrial and commercial facilities across the world. The soft service category, on the contrary hand, is anticipated to expand significantly throughout the projected period.
In-house is expected to witness fastest market growth
The facility management market is divided into in-house & outsourced services based on service. Due to the significant need for internal soft services like cleaning, safety, etc., in the organized sector, the in-house service category holds the biggest market share.
Since these services are generally always needed, in-house services are ultimately more practical and cost-effective. However, due to its affordability and an increase in small and medium-sized businesses, the outsourced services category is also expanding significantly.
Real Estate sector is expected to hold the significant revenue share
The facility management industry is divided into the following categories: healthcare, government, education, defense and military, real estate, and others. Over the foreseeable period, it is predicted that the real estate industry will be driven globally. In many nations, the c& development sector is blamed for it. Additionally, it is anticipated that the real estate sector will expand significantly in other industries, most notably those in the BFSI, IT, and telecommunications sectors.
Additionally, due to the services of the facility management market used as preventative measures in many nations, it is predicted that the healthcare segment will expand considerably throughout the projection period.
Furthermore, facility management industry development for government institutions is anticipated to be gradual. This is because of its infrastructure. There are numerous different services offered in the educational industry, including facility management and technical upkeep. The demand for such services that might assist end users in enhancing and concentrating on their core operations is strongest in the healthcare and educational sectors.
The demand in North America continent is expected to witness significant growth
According to facility management statistics, North America will likely hold the largest market share. The presence of educated, economically, and technically capable individuals in the United States and Canada facilitates the adoption of new and emerging technologies, and the stronger positions of facility management industry participants will help organizations in this region have a competitive edge over some other regions.
There are also developed nations in the region with well-established infrastructure. This leads to a significant increase in demand for the solutions. The businesses in the telecom and IT industries. These will have the highest rate of market share increase.
Competitive Insight
Details about each competitor are included in the facility management market competitive landscape. Included information includes an overview of the business, financials, revenue, market potential, investments in R&D, new market efforts, regional presence, corporate weaknesses and strengths, product launches, product breadth and depth, and application domination. The information above only relates to the firms' market emphasis on facility management.
Sodexo and CBRE Group Inc. are the two key companies profiled in the FM market study. Along with other national and international players, this market includes ISS A/S, Compass Corporation, Aramark Company, Jones Lang Lasalle IP Corp., Cushman & Wakefield, Tenon Organization, Inc., Dussman Organization, IBM, ORACLE, Trimble Corporation, Accruent, MRI SOFTWARE Corporation, Causeway Information technology, and Spacewell International.
Global, Americas, European, Asia-Pacific Region (APAC), Mid East and Africa (MEA), and South America market share statistics are all independently accessible. DBMR analysts are aware of competitive advantages and offer market analysis for each rival individually.
Recent Developments
In April 2019, IBM and Sund & Baelt worked together to expand the IBM Maximo portfolio to offer extensive industry- and task-specific capabilities to assist firms manage, monitor, & administer their infrastructure. IBM already provided the IBM Maximo for Civil Infra solution.
Oracle and Propre Japan Inc. formed a partnership in May 2020. Oracle Japan would assist Propre Japan Inc. in modernising Propre's global data Platforms for real estate across 17 nations. Oracle's client base would grow thanks to this alliance.
In order to develop a collaborative cloud-based system that would enhance building performance, SAP teamed up with Honeywell in June 2020. The Honeywell Forge organizational performance management system and SAP Cloud Platform will serve as the foundation for the solution. Customers might gain from enhanced tenant experience, decreased carbon footprint, cheaper energy costs, and optimised building efficiency thanks to the solution.
Trimble collaborated with the British Heart Foundation in October 2019. (BHF). For the purpose of streamlining the real estate administration of its 750 shops and outlets around the UK, BHF chose Trimble's Manhattan Integrated Workforce Management System (IWMS). The clientele of Trimble Buildings would increase as a result of this relationship.
Fortive purchased Service Channel in July 2021. Leading supplier of SaaS-based multi-site services is Service Channel. Along with Accruent and Gordian, it increased the range of Facility & Asset Lifecycle workflow systems offered by Fortive.
Koch Industries, Inc. declared in April 2020 that it had finished buying the remaining share of Insights from Golden Gate Investment. Koch implemented Infor solutions throughout its companies in areas including resource planning, hr, supply chain, wealth management, and finance in additional to becoming an Infor investment since 2017.
Trimble was purchased by MRI Software in April 2021. Manhattan Property Investment and Workplace Solutions were successfully acquired by MRI Software from Trimble.
Facility Management Market Report Scope
| | |
| --- | --- |
| Report Attributes | Details |
| Market size value in 2021 | USD 40.82 billion |
| Revenue forecast in 2030 | USD 113.31 billion |
| CAGR | 12.5 % from 2022 - 2030 |
| Base year | 2021 |
| Historical data | 2018 - 2020 |
| Forecast period | 2022 - 2030 |
| Quantitative units | Revenue in USD million/billion and CAGR from 2022 to 2030 |
| Segments covered | By Type, By Service, By End-Use, By Region |
| Regional scope | North America, Europe, Asia Pacific, Latin America; Middle East & Africa |
| Key companies | ISS A/S, Compass Corporation, Aramark Company, Jones Lang Lasalle IP Corp., Cushman & Wakefield, Tenon Organization, Inc., Dussman Organization, IBM, ORACLE, Trimble Corporation, Accruent, MRI SOFTWARE Corporation, Causeway Information technology, and Spacewell International |