The global fiber cement board market was valued at USD 10.04 billion in 2022 and is expected to grow at a CAGR of 4.5% during the forecast period.
Fiber cement boards offer cost-effectiveness compared to other materials, making them an attractive option for furniture manufacturers. Fire retardancy is another crucial aspect, as fiber cement boards are known for their fire-resistant properties, ensuring safety in furniture applications. Furthermore, the versatility of fiber cement boards allows them to be easily shaped, molded, and customized to fit various furniture designs, making them suitable for tabletops, shelves, cabinets, and other furniture components. These factors contribute to the growing demand for such boards in the furniture industry.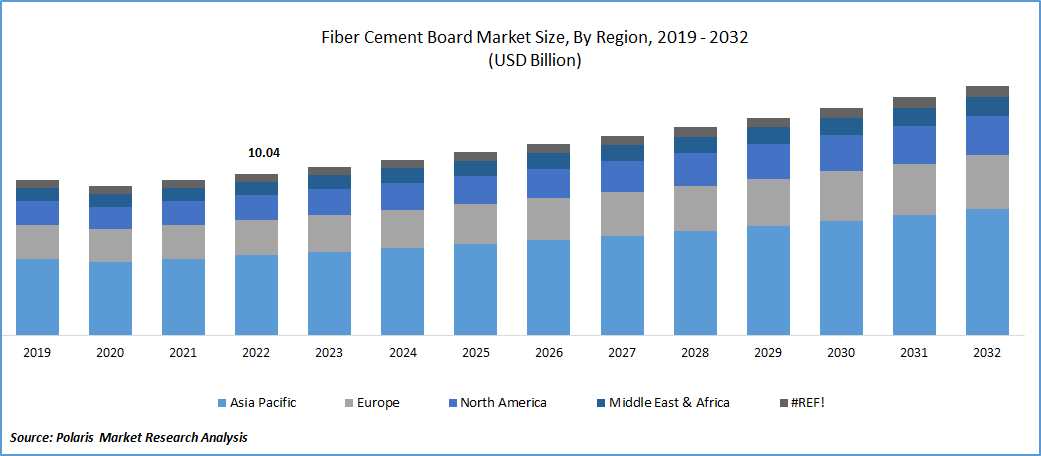 To Understand More About this Research : Request a Free Sample Report
Market value chain consists of multiple stages, including suppliers, manufacturers, distributors, & industrial users. Raw material suppliers play a crucial role in providing the necessary components for the production. Raw materials utilized in building process are cement, acrylic fiber, & other additives, derived from the crude oil or other sources. Suppliers are responsible for the mass scale production and supply of these materials to fiber cement board manufacturers/producers. They ensure the availability and quality of the raw materials needed for the production process.
Manufacturers in the market adopt various strategies to cater to the needs of end-users. One common approach is to establish a network of distributors, sales offices, and sales representatives across different regions. This allows manufacturers to reach a wide customer base and ensure their products are available in various markets. Company-authorized distributors play a crucial role in the distribution of fiber cement boards. These distributors are authorized by the manufacturers to sell and distribute their products. They typically have a strong presence in the market and maintain relationships with builders, contractors, retailers, and other key players in the construction and building materials industry.
Industry Dynamics
Growth Drivers
Rising Construction Activities
Growth of the construction industry, coupled with infrastructure upgrades in developed countries and population expansion in emerging countries, is driving the demand for various products and materials. Additionally, there is a growing preference for synthetic fibers, particularly in the production of fiber cement boards. This increased adoption of synthetic fibers is expected to continue as they offer advantages in terms of durability and performance.
Distributors & manufacturers may also rely on specialized stores that focus on the sales and distribution of building supplies. These stores have expertise in the industry and are knowledgeable about the various applications and uses of fiber cement boards. They serve as retail channels where customers can directly purchase the boards for their construction or renovation projects. Offline channels, such as distributors & specialized stores, offer convenience and a physical presence for customers to see and evaluate the products. These channels often provide personalized assistance, guidance, and after-sales support to customers, ensuring a smooth purchasing experience.
Report Segmentation
The market is primarily segmented based on type, application, and region.
By Type

By Application

By Region

High-density

Medium-density

Low-density

Furniture

Flooring

Wall Cladding & Panels

Pre-fabricated Shelters

Others

North America (U.S., Canada)

Europe (France, Germany, UK, Italy, Netherlands, Spain, Russia)

Asia Pacific (Japan, China, India, Malaysia, Indonesia. South Korea)

Latin America (Brazil, Mexico, Argentina)

Middle East & Africa (Saudi Arabia, UAE, Israel, South Africa)
To Understand the Scope of this Report : Speak to Analyst
By Type Segment Analysis
High density fiber cement board segment accounted for the largest share
HDFCB is a cement-based composite material that incorporates cellulose fibers and other components. It offers several advantages over traditional building materials like wood or gypsum boards, contributing to its popularity and market dominance. One of the key advantages of HDFCB is its superior strength. It exhibits excellent structural integrity and can withstand heavy loads and impacts, making it suitable for various construction applications. Additionally, HDFCB is highly durable, capable of withstanding harsh weather conditions, and resistant to warping, cracking, and rotting. HDFCB's resilience to fire is another notable advantage. It possesses fire-resistant properties, providing enhanced safety and protection in buildings. This characteristic makes HDFCB a preferred choice in fire-prone areas or projects that require higher fire resistance ratings.
Low density fiber cement segment is projected to gain substantial growth rate. These boards are created by blending cement, cellulose fibers, and additives, resulting in a durable and lightweight construction material. LDFC boards offer several advantages in terms of handling, installation, and performance. One of the key benefits of LDFC boards is their lightweight nature. Being lighter than traditional building materials, they are easier to transport, handle, and install. This makes them a preferred choice for construction projects where ease of handling and installation is important.
LDFC boards also exhibit excellent resistance to impact, decay, & insect infestation. These properties contribute to their longevity and make them suitable for both internal & external applications. They can be used for various purposes such as flooring, wall cladding, & decorative displays. The growing demand for lightweight construction materials is a significant driver for the increased adoption of LDFC boards. Their low density and light weight make them particularly appealing to builders and architects. Additionally, the moisture resistance of LDFC boards adds to their appeal, as it allows for their use in areas where moisture exposure is a concern.
By Application Analysis
Pre-fabricated shelters segment is projected to witness highest growth
Pre-fabricated shelters segment is expected to grow at highest growth rate. Fiber cement board panels can be efficiently manufactured and assembled in a factory setting, allowing for faster completion compared to traditional on-site construction methods. The ease of construction provided by these panels makes pre-fabricated shelters an attractive option for various applications, including crisis aid, temporary housing, and detached construction plants. The ability to quickly assemble pre-fabricated shelters using fiber cement board panels provides a cost-effective and time-efficient solution for addressing immediate shelter needs. In crisis situations or during times of urgency, such as natural disasters or humanitarian emergencies, pre-fabricated shelters offer a swift and practical solution for providing temporary housing and aid.
Wall cladding & panels expected to garner the largest share. This segment's dominance is attributed to the benefits offered by fiber cement boards in terms of UV radiation protection and resistance to temperature variations. The demand for fiber cement boards in wall cladding and panels has been on the rise due to factors such as urbanization, infrastructural development, and remodeling projects. Wall cladding and panels using fiber cement boards provide both aesthetic appeal and functional benefits. They offer protection against weather elements, including UV radiation from the sun, and can withstand temperature variations without warping or deteriorating.
Apart from wall cladding and panels, they are also utilized in furniture manufacturing, flooring, pre-fabricated shelters, and other applications. The versatility of fiber cement boards makes them suitable for a range of purposes, contributing to their widespread adoption in construction and building projects. It reflects the increasing recognition of the benefits provided by fiber cement boards in terms of durability, weather resistance, and design versatility. As urbanization and infrastructural development continue, the demand for fiber cement boards in wall cladding and panels is expected to remain strong, supporting the growth of the overall market.
Regional Insights
Asia Pacific region dominated the global market in 2022
Asia Pacific region dominated the global market. This growth can be attributed to the concerted efforts of governments in the region to develop and expand infrastructure, including the construction of hospitals, education hubs, commercial centers, and residential complexes. The governments' initiatives to enhance infrastructure have created a significant demand for building materials, including fiber cement boards, which are widely used in the construction industry.
Increasing population in the region further fuels the demand for infrastructure development and drives the need for reliable and durable construction materials. The growing urbanization and rapid economic growth in countries across the region also contributed to the demand for such boards. As urban areas expand and new construction projects arise, there is a continuous need for quality building materials that can meet the requirements of modern infrastructure development.
Key Market Players & Competitive Insights
Key players in the market are constantly upgrading their technologies to stay ahead of the competition and to ensure efficiency, integrity, and safety. These players focus on partnership, product upgrades, and collaboration to gain a competitive edge over their peers and capture a significant market share
Some of the major players operating in the global market include.
Allura

Beijing Hocreboard Building Materials

CenturyPly

Everest Industries.

HIL Limited

James Hardie Building

Sahyadri Industries

SAINT-GOBAIN

Toray Building Materials

Visaka Industries
Recent Developments
In June 2022, Swisspearl Group has recently made an announcement regarding its acquisition of Cembrit. This strategic decision was undertaken by the Swisspearl Group with the aim of expanding its presence in the international market and strengthening its portfolio of production sites.
Fiber Cement Board Market Report Scope
| | |
| --- | --- |
| Report Attributes | Details |
| Market size value in 2023 | USD 10.46 billion |
| Revenue forecast in 2032 | USD 15.50 billion |
| CAGR | 4.5% from 2023 – 2032 |
| Base year | 2022 |
| Historical data | 2019 – 2021 |
| Forecast period | 2023 – 2032 |
| Quantitative units | Revenue in USD million/billion and CAGR from 2023 to 2032 |
| Segments covered | By Type, By Application, By Region |
| Regional scope | North America, Europe, Asia Pacific, Latin America; Middle East & Africa |
| Key Customization | Report customization as per your requirements with respect to countries, region and segmentation |