The global field device management market was valued at USD 993.5 Million in 2018 and is expected to exhibit a CAGR of 6.9% over the forecast period. During the forecast period, the global market for FDM is expected to grow at a significant rate. FDMs enables maintenance and interoperability of different devices using different protocols. It enables configuration, maintenance and diagnostics of all the connected devices in a single environment. It helps the engineers to update, control or troubleshoot the devices, which if manually done are time consuming and may be prone to human errors.
FDMs provide a flexible architecture which is scalable and helps the companies to configure the devices securely. The system enables configuration of third-party devices, thus providing interoperability. These systems are scalable which can enable connectivity of thousands of devices in a plant which can be managed remotely. A growing significance of industry and intelligent factory and increasing demand for the device management system is expected to drive the worldwide devices market. The industries globally are moving from traditional technology to intelligent and automated systems. At the field device level of sensors and actuators with digitally able devices, digital transformation is considered the most adequate approach. This allows industries to transform from traditional to predictive maintenance.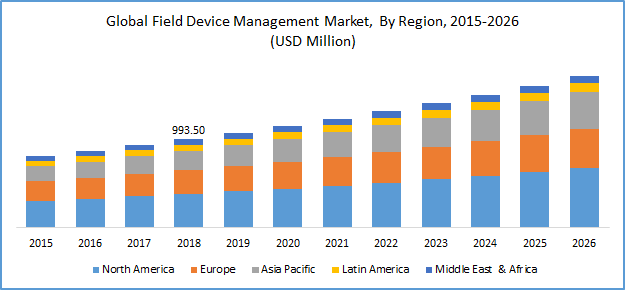 Know more about this report: Request for Sample Pages
Moreover, the focus will be on cutting operational and maintenance costs and increasing investments in Industrial IoT (IIoT) and automation developments. Adopting field device management also enhances asset management strategies, manages the operations and reduces costs for industries. The growth of the field device management systems market is expected to drive these factors in the next few years. However, the growth of field equipment management during the forecast period is likely to have negative impacts on factors such as a lack of skilled workers, and growing concerns with data privacy and cyber security. The players on the device market focus on various advanced technologies in order to improve service.
Due to the increased use of developed technologies such as industrial automation, and IIoT, software offerings are expected to dominate the market. FDM tools provide preventive equipment maintenance. It supports the classification and management of maintenance information for devices, such as inspection schedules, inspection memoranda and configuration information. Furthermore, field information that can be used in maintenance tasks can easily be obtained remotely anywhere.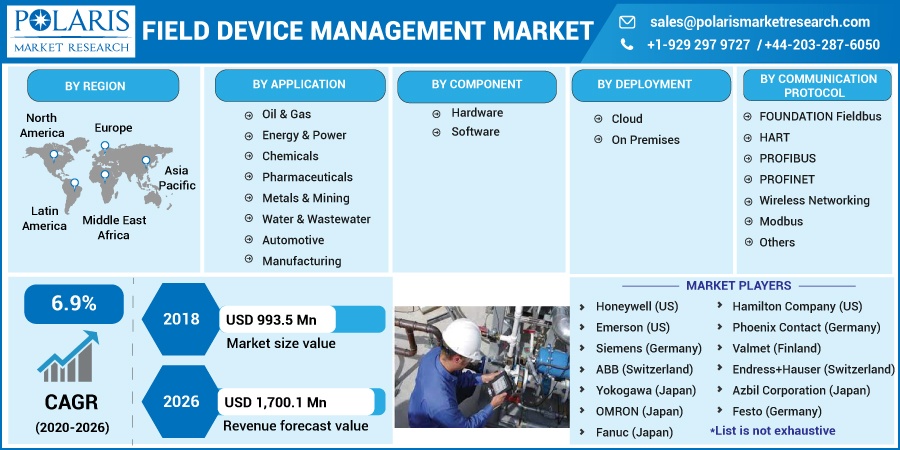 Know more about this report: Request for Sample Pages
Field Device Management Market Report Scope
The market is primarily segmented on the basis of Component, deployment, communication protocol, application and region.
By Component

By Deployment

By Communication Protocol

By Application

By Region Type

FOUNDATION Fieldbus
HART
PROFIBUS
PROFINET
Wireless Networking
Modbus
Others

Oil & Gas
Energy & Power
Chemicals
Pharmaceuticals
Metals & Mining
Water & Wastewater
Automotive
Manufacturing
Others

North America (U.S., Canada)
Europe (UK, Germany, France, Italy, Russia)
Asia Pacific (India, Japan, China, South Korea)
Latin America (Brazil, Mexico, Colombia)
Middle East & Africa (Saudi Arabia, South Africa, UAE, Israel)
Know more about this report: Request for Sample Pages
Component Outlook
Most market players provide solutions to better analyze field devices based on software. Due to the growing use of advanced technologies such as Industry Automation, Industry 4.0 and IIoT, software offerings are expected to dominate the market. Field Device Management (FDM) performances as the smart field device configuration tool and as a diagnostic and troubleshooting maintenance tool. For configuration and commissioning tasks and for problem resolution and maintenance operating instrument technicians, FDM tools are used by control engineers. FDM solutions help access smart devices remotely and provide asset-machine field data that can be used for predictive maintenance.
Deployment Outlook
FDM is deployed on-premise as well on the cloud platform. The on-premise segment held the largest market size in 2018. FDM is implemented and deployed locally giving more security to the entire system with ease of operations and management locally. However, due to the growth in cloud infrastructure, the cloud-based deployment segment is estimated to grow at a highest CAGR over the forecast period. This type of deployment reduces the cost of maintenance and are more flexible in deploying on various locations. Cloud based deployment however face security concerns, but these concerns can be mitigated by implementing robust security protocols.
Communication Protocol Outlook
FDMs available in the market are able to connect with different devices on a variety of the communication protocols which include the Electronic Device Description Language (EDDL) and Field Device Tool/Device Type Manager (FDT/DTM) technologies. FDMs offer interoperability with different devices and are able to integrate with major protocols such as HART, PROFIBUS and Fieldbus Foundation. It is estimated that the HART, Profibus and Fieldbus are the most commonly used protocols for communications and are expected to grow at a substantial pace in the overall market.
Application Outlook
The overall industry is segmented based on industry applications such as oil & gas, energy & power, chemicals, pharmaceuticals, metals & mining, water & wastewater, automotive, and manufacturing. All of the process industries require field device management services. They require controlling the processes and critical monitoring as well. The field device management services help the engineers to optimize their maintenance tasks. It is estimated that the market for FDM in oil & gas, energy and power and metals & mining would have the largest share, however its usage in industrial applications such as automotive and manufacturing is expected to grow during the forecast period.
Regional Outlook
North America dominates the FDM market by holding nearly 35 percent of the world's largest market share. Industrial advances in North America contribute mainly to the adoption in this region of field device management systems. In addition, since most companies on this industry are based in the United States, this regional segment has a lead in comparison to other regions.
In the coming years as a result of the opportunities offered by emerging regions, Asia-Pacific, Middle East and Africa are expected to grow quickly. The demand for field-device management solutions for the on-going monitoring of processes and machinery in those industries is driven by developments in industries such as oil & gas, energy & power and chemical products in the Asia Pacific region. Furthermore, the growth of international players in the area also increases the rate of growth in demand for field device management in the market.
Major driving factors for the FDM market growth within APAC include the increasing demand for tools from the FDM market because of increasing automation in the industry. Increased technology adoption such as industry 4.0, Smart factories, IoT, IIoT.
Competitive Landscape
Honeywell (US), Emerson (US), Siemens (Germany), ABB (Switzerland), Rockwell Automation (US), Yokogawa (Japan), OMRON (Japan), Fanuc (Japan), Mitsubishi Electric (Japan), Schneider Electric (France), Hamilton Company (US), Phoenix Contact (Germany), Valmet (Finland), Endress+Hauser (Switzerland), Azbil Corporation (Japan), Festo (Germany), Omega Engineering (UK), Metso (Finland), Weidmüller (Germany) and Hach (US) are among the noticeable players in the field device management market. The key players in this industry have adopted the strategy of signing definitive agreements in order to hold competitive shares in the global market.