The global fire department software market was valued at USD 854.17 million in 2022 and is expected to grow at a CAGR of 11.5% during the forecast period.
In developed countries, fire departments have increasingly adopted cloud-based solutions, both public and private, to enhance their record-keeping, personnel monitoring, and training capabilities. As governments allocate funds and initiate projects to modernize their fire departments, the demand for fire department software is expected to increase worldwide. The software market for fire departments has experienced a boost from the COVID-19 pandemic. The implementation of strict lockdown measures aimed at curbing the spread of the virus resulted in a significant reduction in fire incidents as people stayed at home. This presented an opportunity for fire services to allocate resources towards optimizing and modernizing their processes and operations.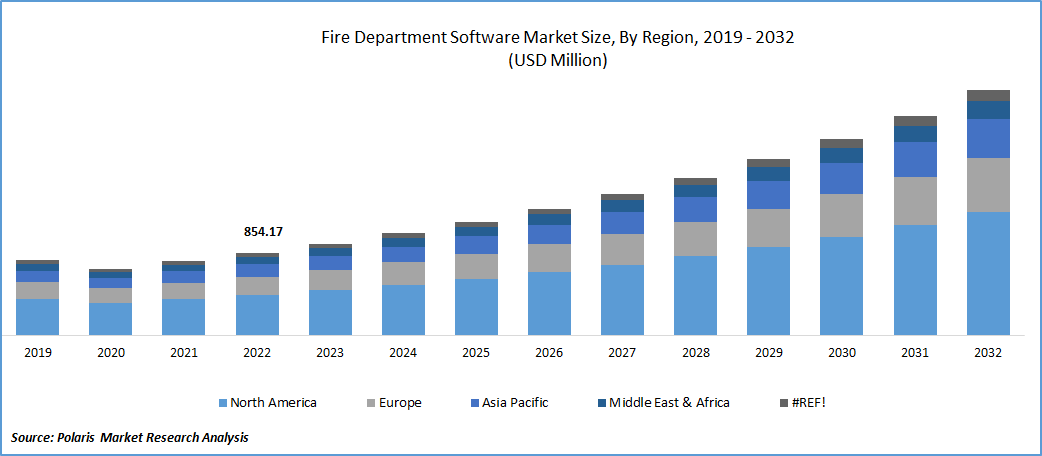 To Understand More About this Research : Request a Free Sample Report
In order to effectively address the challenges posed by the transportation of hazardous commodities, it is imperative to undertake a comprehensive restructuring of fire service organizations. The safety of lives and property in both urban and rural areas must be prioritized in the face of these evolving circumstances. This entails implementing strategic changes to enhance the capabilities and preparedness of fire service organizations, enabling them to effectively respond to incidents related to hazardous commodity transportation. By adopting a proactive approach and implementing necessary reforms, the fire service can meet the demands of this dynamic landscape and ensure the utmost safety for communities worldwide.
Fire departments are increasingly adopting software solutions for their operational needs, driven by the advantages of smart agility, practicality, and affordability. The ever-changing regulations and evolving operational standards pose challenges in managing a fire department effectively, creating a demand for software solutions tailored to their specific requirements.
For example, the National Fire Protection Association (NFPA) Standard 1221 mandates specific record-keeping requirements for fire departments. Additionally, NFPA 1620 highlights the importance of pre-incident preparations, providing firefighters with critical information prior to responding to emergencies. These standards contribute to the growing need for comprehensive fire department software solutions

.
Industry Dynamics
Growth Drivers
The rising number of fire incidents and emergencies necessitates more efficient management and response systems, driving the demand for fire department software
Market is driven by the increasing need for modernization and the application of software solutions to effectively manage the operations of fire departments, irrespective of their budget or size. Furthermore, market players are investing in research and innovation to provide new and improved software solutions to meet the evolving needs of fire departments. This has led to the emergence of new companies in the market, such as ESO, stationSMARTS, GovPilot, & SmartServ, catering specifically to the fire department software industry within the government sector. The demand for software solutions in the fire department sector is expanding, creating opportunities for market players to offer comprehensive and tailored solutions.
Report Segmentation
The market is primarily segmented based on software, deployment, enterprise size, end use, and region.
By Software

By Deployment

By Enterprise Size

By End Use

By Region

Fire Detection

Fire Response and Dispatch

Fire Risk Analysis

Others

Small & Medium Enterprises

Large Enterprises

Building owners and property managers

Fire departments and emergency responders

Insurance companies

Regulatory bodies

Others

North America (U.S., Canada)

Europe (France, Germany, UK, Italy, Netherlands, Spain, Russia)

Asia Pacific (Japan, China, India, Malaysia, Indonesia. South Korea)

Latin America (Brazil, Mexico, Argentina)

Middle East & Africa (Saudi Arabia, UAE, Israel, South Africa)
To Understand the Scope of this Report : Speak to Analyst
By Software analysis
Fire detection segment accounted for the largest market share in 2022
Fire detection garnered substantial share. This software utilizes computer algorithms to analyze sensor-recorded images to identify signs of fire, such as flames, smoke, & high temperatures. The software incorporates machine learning algorithms, including deep neural networks, to process extensive datasets of fire-related videos and images, enabling the identification of patterns and differentiation between genuine fire alarms and false alarms. The integration of these advanced technologies in fire department software is expected to drive the demand and growth of the industry.
Fire risk segment is projected to gain substantial growth rate. It is designed to assist building owners and safety professionals in identifying and evaluating fire hazards within a building. It analyzes factors such as building construction, & occupant behavior to identify the potential risks. The comprehensive capabilities of fire risk analysis software, including hazard identification and evaluation, are anticipated to drive the segment's growth.
By Deployment Mode Analysis
Cloud based segment held the largest share in 2022
Cloud segment held the maximum market share. It offers users the convenience of accessing and controlling the software through a platform provided by a third-party provider, eliminating the need for software or hardware maintenance or installation. The use of pay-as-you-go pricing models in cloud-based solutions makes them more cost-effective for smaller organizations compared to traditional on-premise software. Additionally, one of the key advantages of cloud-based fire department software is the ability to access it from any location with an internet connection, providing users with flexibility and convenience.
On-premise segment is anticipated to grow at fastest growth rate. It is installed and operated locally on the fire department's own servers and computer systems. The fire department is responsible for acquiring and maintaining the necessary hardware, software, and IT infrastructure to support the on-premise software. One of the primary advantages of on-premise fire department software is that it grants the fire department greater control and ownership over their data and software, which may drive the demand for on-premise solutions.
By End Use Analysis
Regulatory bodies segment is projected to witness highest growth
Regulatory bodies segment is expected to grow at highest growth rate. Regulatory bodies play a crucial role in evaluating and assessing fire department software for compliance with safety standards. They have the authority to issue warnings or take corrective actions if any safety issues are identified, ensuring that the fire department software is safe for both firefighters and the general public. These regulatory agencies also provide valuable guidance and recommendations on best practices for fire departments seeking to adopt new software and technology, enabling them to leverage the most efficient and effective software solutions available.
Fire departments & emergency responders segment held the largest share. It plays a vital role in enabling responders to access real-time information regarding the location and intensity of fires, as well as updates on the progress of response efforts. This valuable information empowers responders to make well-informed decisions regarding resource allocation and response strategies. By effectively managing resources such as man-power, equipment, and vehicles, fire department software helps ensure that the right resources are promptly deployed to the appropriate locations, leading to improved reaction times and overall operational efficiency for emergency responders.
Regional Insights
North America region dominated the global market in 2022
North America region dominated the global market. Region's is attributed to the rising adoption of such software and tools in the region. Furthermore, the region benefits from a high concentration of fire department software providers, making it a promising fire department software market for growth and innovation. The region is expected to experience significant expansion driven by increasing government regulations and the competitive landscape among market players.
Asia Pacific is projected to be the fastest emerging region. Region's growth is primarily due to increased investments in the IT sector, growth in the government sector, and higher funding allocated to fire protection services. The ongoing economic growth in the region has led to a surge in infrastructure development, with the construction of shopping malls, industrial facilities, transportation hubs, and residential buildings being particularly prominent in emerging economies within the region.
Key Market Players & Competitive Insights
Key players in the market are constantly upgrading their technologies to stay ahead of the competition and to ensure efficiency, integrity, and safety. These players focus on partnership, product upgrades, and collaboration to gain a competitive edge over their peers and capture a significant market share.
Key players include
Accela

Adashi Systems

CivicPlus

Eaton

EPR Systems

ESO Solutions

firecloud365

FirePrograms Software

Gentex Corp.,

Halma

Hitachi

Hochiki Corp.

Honeywell International

ImageTrend

Johnson Controls

Napco Security

Nittan Company

Robert Bosch

Siemens Building Technologies

Space Age Electronics

StationSmarts

Tyler Technologies

United Technologies

Vector Solutions
Recent Developments
In October 2021, ESO Solutions, Inc. has formed a strategic partnership with Bound Tree Medical, a renowned distributor of healthcare products. This collaboration aims to enhance inventory management by integrating ESO Solutions' ESO Inventory platform. The integration of these platforms will create a comprehensive ecosystem that streamlines restocking and purchasing processes, offering a more efficient and cohesive solution for managing inventory.
Fire Department Software Market Report Scope
| | |
| --- | --- |
| Report Attributes | Details |
| Market size value in 2023 | USD 951.03 million |
| Revenue forecast in 2032 | USD 2541.39 million |
| CAGR | 11.5% from 2023 – 2032 |
| Base year | 2022 |
| Historical data | 2019 – 2021 |
| Forecast period | 2023 – 2032 |
| Quantitative units | Revenue in USD million and CAGR from 2023 to 2032 |
| Segments covered | By software. By deployment, enterprise size, end use, By Region |
| Regional scope | North America, Europe, Asia Pacific, Latin America; Middle East & Africa |
| Customization | Report customization as per your requirements with respect to countries, region and segmentation. |