The global fire trucks market was valued at USD 4,493.04 million in 2022 and is expected to grow at a CAGR of 5.7% during the forecast period. The fire truck market is expected to grow significantly due to the increasing need for advanced firefighting equipment and the rising demand for fire safety in developed nations. Developed countries are emphasizing fire safety measures more, leading to a higher demand for technologically advanced fire trucks. Implementing improved safety standards worldwide is also anticipated to drive the demand for advanced fire trucks in the foreseeable future. These factors collectively contribute to expanding the fire truck market as it strives to meet the growing requirements for enhanced fire safety.
To Understand More About this Research: Request a Free Sample Report
New infrastructure development and increased fire incidents across residential and commercial spaces, sanctuaries, and wildlife areas. This trend is evident in the United States, where in 2021, there were approximately 8,619 wildfires that destroyed 2.6 million acres of land and nearly 3,629 structures. These incidents also led to a significant loss of human life. The growing frequency and intensity of such fire incidents have emphasized the need for robust firefighting capabilities, driving the demand for advanced fire trucks equipped with the latest technologies and capabilities.
China has emerged as one of the largest markets for fire trucks, primarily driven by its growing economy, rapid urbanization, and stringent codes and standards aimed at minimizing infrastructural damage and loss. The need for fire trucks and emergency equipment has been created due to the country's focus on enhancing fire safety measures. China's ongoing efforts to expand its civil aviation airport infrastructure further contribute to the fire and safety equipment demand. Between 2016 and 2020, China constructed 43 airports, and in 2021 alone, nearly six new airports were added, bringing the total number of operating airports in the country to 247. This significant airport expansion highlights the need for robust fire trucks and firefighting capabilities to ensure the safety of these infrastructural developments and the people utilizing them.
The global market for fire trucks faced significant challenges due to the outbreak of the COVID-19 pandemic. The restrictions on travel and international trade disrupted supply chains, affecting the production and distribution of firefighting vehicles. These supply chain challenges posed difficulties for manufacturers in sourcing components and materials required to produce fire trucks. With the resumption of economic activities and increased focus on fire safety, the demand for firefighting vehicles is expected to grow significantly throughout the projected period.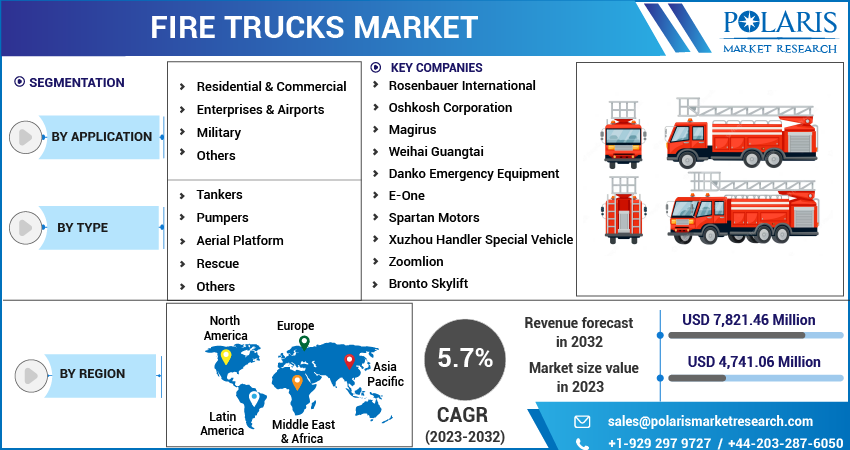 For Specific Research Requirements, Speak With a Resaerch Analyst
Industry Dynamics
Growth Drivers
Adopting advanced technologies is a key driver for the growth of the fire truck industry. Integrated with cutting-edge digital tools and technologies, fire trucks offer numerous benefits, including improved performance, enhanced safety features, and more efficient operations. These vehicles can leverage digital devices such as real-time data monitoring, predictive analytics, remote diagnostics, and advanced communication systems to optimize firefighting capabilities. By leveraging digital technology, fire trucks can gather and analyze data in real-time, providing firefighters with critical information about the incident and enabling them to make informed decisions and respond effectively. Additionally, digital tools can aid in performance-based design, allowing manufacturers to optimize the design and functionality of fire trucks based on specific performance requirements and industry standards.
Report Segmentation
The market is primarily segmented based on by application, by type, and region.
By Application

By Type

By Region

Residential & Commercial

Enterprises & Airports

Military

Others

Tankers

Pumpers

Aerial Platform

Rescue

Others

North America (U.S., Canada)

Europe (France, Germany, UK, Italy, Netherlands, Spain, Russia)

Asia Pacific (Japan, China, India, Malaysia, Indonesia. South Korea)

Latin America (Brazil, Mexico, Argentina)

Middle East & Africa (Saudi Arabia, UAE, Israel, South Africa)
To Understand the Scope of this Report: Speak to Analyst
Residential & commercial segment accounted for the largest market share in 2022
The residential & Commercial segments accounted for the largest fire trucks market share. As the population continues to grow, there is a higher need for housing and commercial spaces, leading to an upsurge in construction activities. Governments and regulatory bodies have recognized the importance of fire safety in these settings and have implemented stringent regulations to protect occupants and property. These regulations cover many sectors, including residential, commercial, airports, and industries, emphasizing the need for robust fire safety measures. As a result, the demand for fire trucks in residential and commercial applications has witnessed significant growth globally.
The residential and commercial sector's consumption of fire trucks is driven by the necessity to comply with fire safety regulations and ensure the safety of inhabitants and assets. Fire trucks are crucial for quick response and effective emergency firefighting, making them essential to fire safety infrastructure in residential and commercial buildings.
The airport and enterprises segment recorded a steady growth rate. This can be attributed to the rapid growth of airports and air passenger traffic on a global scale. As the number of airports increases, the demand for specialized firefighting apparatus, such as ARFF vehicles, also rises. In developed countries like the UK, France, & the U.S., there is a growing demand for advanced firefighting equipment. This demand is driven by the need for modernized and efficient firefighting solutions to ensure the safety of residential and commercial properties. As a result, the market in North America & Europe is expected to experience significant growth.
Pumper segment garnered largest share in 2022
The pumper segment held the largest revenue share. This segment is projected to experience continued growth throughout the forecast period. The popularity and demand for pumper trucks are expected to increase due to their versatile capability to pump water from several sources like water tankers, wells, & over-head tanks. Pumper trucks are favored for their cost-effectiveness compared to other high-tech fire truck models, contributing to their market appeal.
APAC region dominated the global market in 2022
APAC region dominated the global market with a considerable market share. This region is anticipated to maintain its dominant position throughout the forecast period. Presence of key low-cost manufacturers in countries like China and the increasing demand for fire trucks in residential and commercial applications in emerging economies such as China, South Korea, & India. China plays a significant role in driving market growth in the region. The country's strong manufacturing capabilities and the presence of cost-effective fire truck manufacturers contribute to its market leadership. Additionally, the rapid urbanization, infrastructure development, and increasing emphasis on fire safety in residential and commercial spaces in emerging economies fuel the demand for fire trucks in the region.
North America registered a robust growth rate. There is a growing emphasis on fire safety regulations and protocols in these sectors, prompting the adoption of fire trucks as a crucial component of safety measures. Implementing robust fire protection systems and reliable firefighting equipment, including fire trucks, are essential for ensuring the safety of occupants and minimizing potential damage to properties. The residential and commercial sectors in the region have witnessed significant growth, leading to an increased requirement for fire trucks. The expansion of construction activities, the establishment of new residential and commercial buildings, and the ongoing modernization of existing infrastructure contribute to the rising demand for fire trucks in the region.
Competitive Insight
Some of the major players operating in the global market include Rosenbauer International, Oshkosh Corporation, Magirus, Weihai Guangtai, Danko Emergency Equipment, E-One, Spartan Motors, Xuzhou Handler Special Vehicle, Zoomlion, and Bronto Skylift.
Recent Developments
In May 2022, in collaboration with CSM Industry, Rosenbauer has recently launched its latest innovation in firefighting equipment, the firefighter excavator. Specifically designed to combat forest fires, this advanced excavator has a wide range of specialized tools and features.

In June 2021, Oshkosh Corporation, a leading manufacturer of specialty vehicles and equipment, introduced the groundbreaking Volterra platform of electric vehicles specifically designed for the fire and emergency segments. This innovative platform encompasses various Oshkosh brands, including Oshkosh Airport Products, Frontline Communications, and Pierce Manufacturing.
Fire Trucks Market Report Scope
| | |
| --- | --- |
| Report Attributes | Details |
| Market size value in 2023 | USD 4,741.06 million |
| Revenue forecast in 2032 | USD 7,821.46 million |
| CAGR | 5.7% from 2023 – 2032 |
| Base year | 2022 |
| Historical data | 2019 – 2021 |
| Forecast period | 2023 – 2032 |
| Quantitative units | Revenue in USD million and CAGR from 2023 to 2032 |
| Segments covered | By Application, By Type, By Region |
| Regional scope | North America, Europe, Asia Pacific, Latin America; Middle East & Africa |
| Key companies | Rosenbauer International, Oshkosh Corporation, Magirus, Weihai Guangtai, Danko Emergency Equipment, E-One, Spartan Motors, Xuzhou Handler Special Vehicle, Zoomlion, and Bronto Skylift |