The global flavoring agents market was valued at USD 16.06 billion in 2020 and is expected to grow at a CAGR of 4.8% during the forecast period. The market for flavoring agents will expand as the trend of processed foods and beverages grows in both developed and emerging nations as a result of changing consumer lifestyles.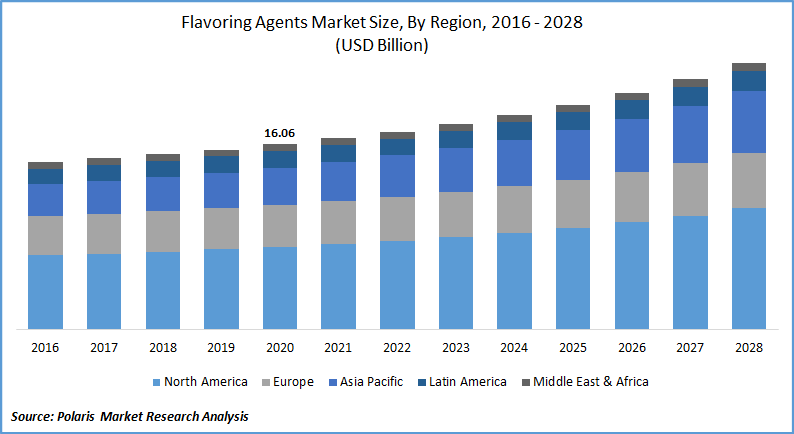 Know more about this report: request for sample pages
Enhanced use of flavors made from nuts, wine, and fruit, vegetables, seafood, and spice blends has resulted from increasing consumer health awareness. Besides, the strong control of vendors and suppliers over the supply chain, combined with a high rate of globalization in developed economies, has increased the usage and widespread availability of the commodity.
Industry Dynamics
Growth Drivers
A shift in consumer preference for RTE, organic, and convenience foods would boost product use in a variety of applications. The demand for flavoring agents would benefit from the rising intake of functional beverages among the population. Furthermore, the growing popularity of dine-ins, diners, and fast-food joints, as well as the demand for exotic foods, will boost commodity sales in the food services market.
Due to strict product labeling requirements, food & beverage producers have been encouraged to add natural flavors, which have higher customer preferences. Natural flavors have an extensive variety of health aids, and consumers are ready to pay extra for them.
Before making a purchase, the majority of customers examined the product labels carefully. Customers' increased awareness has led producers to place a greater focus on natural flavors over their synthetic counterparts.
The EU and FDA's expansion of the list of permitted food additives, as well as government efforts to introduce novel natural flavoring agents, would have a positive effect on the economic share of flavoring agents. High raw material costs associated with flavor production, as well as strict regulations requiring clean product labeling, can limit the market growth for flavoring agents.
Because of their harmful effects on human health, the European Flavor and Fragrance Association (EFFA) has restricted the concentration spectrum of flavoring agents that can be introduced to snacks, beverages, dairy, bakery, savory & convenience foods.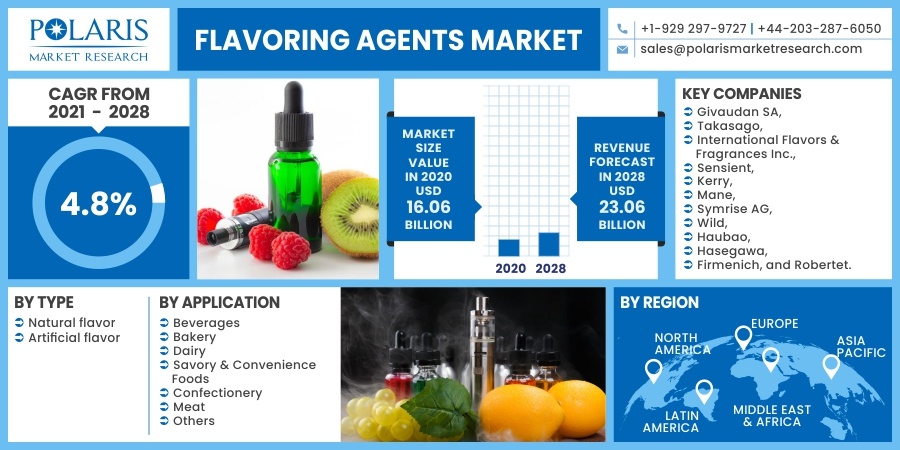 Know more about this report: request for sample pages
Flavoring Agents Market Report Scope
The market is primarily segmented based on type, application, and region.
By Type

By Application

By Region

Natural flavor
Artificial flavor

Beverages
Bakery
Dairy
Savory & Convenience Foods
Confectionery
Meat
Others

North America (U.S., Canada)
Europe (France, Germany, UK, Italy, Spain, Netherlands, Austria)
Asia Pacific (Japan, China, India, Malaysia, Indonesia, South Korea)
Latin America (Brazil, Mexico, Argentina)
Middle East & Africa (Saudi Arabia, UAE, Israel, South Africa)
Know more about this report: request for sample pages
Insight by Product
Artificial flavors held the largest share of the flavoring agents in 2020, due to a strong demand for these products by food companies to enhance the taste, essence, and visual appeal of end products, which are lost during the processing of food. When compared to natural ingredients, key factors such as easy availability, low cost, and a simple manufacturing process will help the segment expand.
Natural flavors are expected to gain popularity over the forecast period. The market share of these items will grow as consumer's understanding of the benefits of eating natural ingredients grows. Increased development of juices, alcoholic beverages, and carbonated beverages in a variety of flavor is anticipated.
Insight by Application
Due to the high use of flavor enhancers in alcoholic drinks, sports & nutrition drinks, hot drinks, juices, and carbonated drinks, the beverages segment will lead the flavoring agents market. The market will expand as the consumption of ethnic beverages rises, and as the adult population in developing countries changes their lifestyles. Furthermore, the high demand for organically produced beverages is expected to be the flavoring agents market growth driver.
The dairy market segment's growth will be aided by rising consumer interest in probiotic beverages, as well as unscheduled eating habits. Flavored dairy products have seen a surge in popularity recently, thanks to the addition of vital nutrients including calcium, magnesium, and potassium.
Geographic Overview
The market for flavoring agents in the Asia Pacific is anticipated to witness significant growth by 2028, owing to the increasing consumption of snacks, savory, beverages, bakery, convenience foods, confectionery, and dairy products.
The high buying power of the people in countries like India, China, Indonesia, and Malaysia allows them to choose fast food and convenience foods that heavily use food flavors. This will change the regional industry environment by increasing the market demand for flavored products. Furthermore, in the economies of Europe and North America, an increasing preference for exotic and authentic flavoring additives would open up new growth opportunities.
In Europe, globalization and modernization have increased the demand for flavors in the food industry. The growing popularity of low-fat, low-carbohydrate, and low-salt foods is driving up market demand for and intake of flavored foods.
Since flavors are country and area-specific, manufacturers have shifted their attention to formulating personalized flavors to gain a larger market share. The presence of major flavor producers in the area, such as Frutarom, Givaudan, International Fragrance and Flavours, Inc., and Firmenich, will boost the market growth for flavoring agents.
Competitive Insight
Key players in the flavoring agents market are concentrating their energies on strategic acquisitions to boost their research & development capabilities, which will help them provide creative solutions to users and gain a competitive edge.
Some of the major players operating in the global flavoring agents market include Givaudan SA, Takasago, International Flavors & Fragrances Inc., Sensient, Kerry, Mane, Symrise AG, Wild, Haubao, Hasegawa, Firmenich, and Robertet.