The global foam market was valued at USD 98.11 billion in 2022 and is expected to grow at a CAGR of 4.6% during the forecast period.
The market encompasses a diverse range of materials created by entrapping gas within a liquid or solid matrix. Solid foams stand out among these materials as a class of lightweight cellular engineering substances with numerous applications. The production of solid foams predominantly relies on chemical resins like polyurethane, polystyrene, phenolic, and polyvinyl chloride.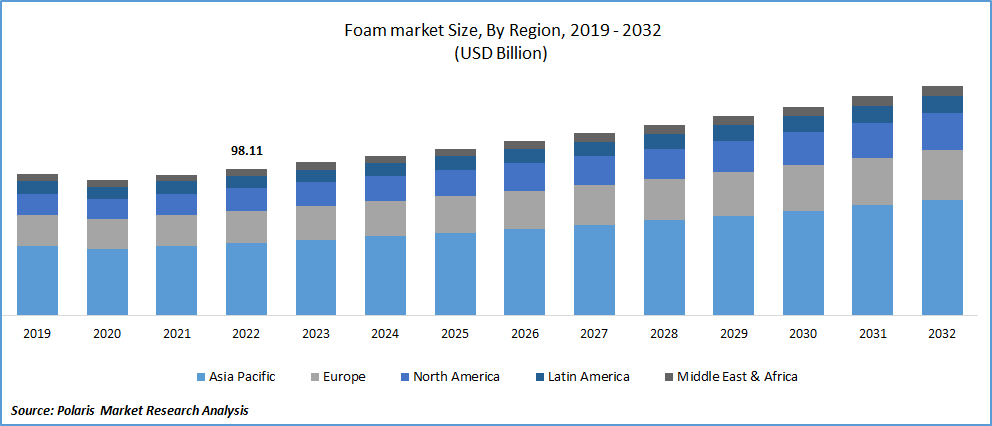 To Understand More About this Research: Request a Free Sample Report
These foams exhibit varying cell architectures, which can be categorized as open or closed cells, leading to the broader classification of flexible or stiff foams. One of the remarkable attributes of foams is their ability to provide insulation and protection against factors such as abrasion, temperature fluctuations, moisture, impacts, and corrosion.
Furthermore, their advantageous properties, including their lightweight nature, non-toxicity, and hypoallergenic qualities, contribute to their widespread usage across many industries, such as furniture, construction, packaging, electronics, aerospace, and medicine. The construction and automotive sectors capitalize on the versatility of polyurethane foam, employing it to address challenges like weight reduction, stress mitigation, improved fuel efficiency, and enhanced durability. These factors are anticipated to be pivotal drivers for the growth of the foam market in the projected timeframe.
The market experienced disruptions due to COVID-19, as lockdowns and supply chain disruptions hindered production and distribution. Reduced demand in industries like automotive and construction also affected growth. However, the market showed resilience due to foam's diverse applications in medical equipment, packaging, and remote work essentials. As economies recover, increased emphasis on hygiene and insulation in post-pandemic settings could drive demand for foam-based solutions, potentially leading to a rebound in the market's growth trajectory.
For Specific Research Requirements, Request for a Customized Report
Growth Drivers
Increasing foam usage for electronics packaging.
The surge in the utilization of electronic gadgets like smartphones and LED televisions is projected to catalyze a heightened market demand for foam in electronic packaging. This demand is attributed to the unique attributes of foam that enable it to effectively absorb stress and dampen vibrations, thereby rendering it an ideal choice for safeguarding electronic equipment during transit and storage. Polyurethane foam particularly shines among the assortment of foams available, finding common application within appliances like refrigerators and freezers. This is owing to its dual role in maintaining internal temperatures and providing thermal insulation against external conditions.
The adhesive properties of polyurethane foam play a pivotal role in ensuring its uniform distribution during manufacturing. By minimizing instances of drops, surface irregularities, and other undesirable features, the material substantially enhances the quality of the end product. This proficiency in heat transfer prevention, achieved through interlayer thermal isolation, translates into enhanced energy efficiency for the appliances. Beyond energy preservation, polyurethane's shielding prowess extends to preventing corrosion and heat-induced degradation, thus preserving both the functionality and aesthetics of the devices.
The versatility of polyurethane isn't limited to functional attributes; it extends to the realm of aesthetics as well. Its aptitude for accommodating a wide spectrum of colors when applied as outer coatings opens the door to customized design options, contributing to the visual appeal of electronic products. The electronic industry's escalating demand for polyurethane originates from this convergence of practicality and aesthetics. As this demand upswing reverberates, it is poised to drive substantial growth in the Foam Market during the stipulated forecast period.
Report Segmentation
The market is primarily segmented based on type, foam type, end-use industry, and region.
By Type

By Foam Type

By End-Use Industry

By Region

PET

Polyolefin

Polyurethane

Phenolic

Polystyrene

Others

Building & Construction

Automotive

Packaging

Others

North America (U.S., Canada)

Europe (France, Germany, UK, Italy, Netherlands, Spain, Russia)

Asia Pacific (Japan, China, India, Malaysia, Indonesia. South Korea)

Latin America (Brazil, Mexico, Argentina)

Middle East & Africa (Saudi Arabia, UAE, Israel, South Africa)
To Understand the Scope of this Report: Speak to Analyst
By Foam Type Analysis
The Polyurethane segment dominate the global market in 2022
The Polyurethane segment assert its dominance in 2022, capturing the largest market share. This ascendancy was underpinned by a surging demand for products characterized by lightweight attributes and exceptional durability, predominantly within the automotive, construction, and electronics sectors. The traction observed in emerging economic powerhouses like China, India, and Indonesia is of particular significance, underscoring their pivotal role in driving the growth trajectory of the polyurethane segment.
The Polystyrene segment is poised to undergo significant expansion during the forecast period. This trajectory is buoyed by the widespread deployment of Polystyrene (PS) foam, especially evident in transparent commodities like food packaging. The distinct advantages of PS foam, including its exemplary insulative properties, prolonged operational life, and cost-effectiveness relative to alternatives, render it a standout choice for food service packaging applications. However, its versatility transcends this realm as it garners favor in creating secure, lightweight packaging solutions, serving a multifaceted role encompassing safeguarding electronic equipment and fragile items like CD and DVD cases.
The driving force behind the burgeoning demand for Expanded Polystyrene (EPS) stems from the burgeoning need for packaging that strikes a harmonious balance between durability and reduced weight. This imperative has taken root across various industries, propelling the quest for enduring yet lightweight packaging solutions. With its distinct set of attributes and adaptability, the Polystyrene segment stands poised to flourish in meeting this evolving demand landscape.
By End-Use Industry Analysis
The building and construction segment held a substantial share of revenue over the forecasted period.
The building and construction segment is poised to wield a substantial share of revenue over the foreseeable future. Research anticipates this trend to persist until 2032, with a worldwide growth driven by powerhouse economies such as China, the United States, and India. Among these leaders, structural foam is anticipated to experience heightened demand, aligning with the ongoing expansion in construction activities.
The packaging segment is set to undergo remarkable expansion throughout the projected timeline. High-density foams will be pivotal in catering to the packaging industry's needs. Specialized foams Within electronics packaging can effectively dissipate impact energies and distribute absorptive forces over time. These foams stand out for their dual aptitude in absorbing shock and vibrations while providing crucial cushioning attributes, rendering them particularly apt for safeguarding electronic appliances during transit. This increases demand for lightweight foams, a phenomenon observed in food and electronics packaging applications, further bolstering market growth.
Moreover, the scope of foams extends to reusable packaging, serving as an invaluable solution for protecting highly sensitive units. This multifaceted application further accentuates the positive trajectory of the market. As the construction and packaging sectors evolve, the symbiotic relationship between these segments propels the prominence of foam-based solutions, poised to meet the demands of an increasingly dynamic global landscape.
Regional Insights
Asia Pacific region dominated the global market in 2022
Asia Pacific region finds its impetus in two key drivers, the remarkable expansion of the construction and building sector and the surging demand for foam within the furniture industry. This upswing is complemented by the widespread adoption of foam-based home furnishings such as mattresses, pillows, and bed linens, which provide an unparalleled comfort experience by evenly distributing body weight and pressure.
Simultaneously, the packaging industry's heightened reliance on foam for safeguarding delicate and valuable items bolsters sales growth. Furthermore, the automotive sector embraces foam for crafting components like seats and bumpers, enhancing fuel efficiency. Together, these forces converge to foster the promising growth trajectory of the Market in the Asia Pacific region.
Across the North American landscape, the industry is set to witness the most substantial growth rate throughout the forecast period. This expansion owes much to the escalating integration of foam across diverse sectors, including wind turbines, automobiles, and construction ventures, primarily in the United States and Canada. This momentum aligns particularly well with the lightweight characteristics of structural foam, making it an ideal choice for wind turbine blades. As the region accelerates its adoption of wind energy, the demand for foam experiences a corresponding surge, exemplifying the symbiotic relationship between technological trends and market growth.
Key Market Players & Competitive Insights
The Foam market is fragmented and is anticipated to witness competition due to several players' presence. Major service providers in the market are constantly upgrading their technologies to stay ahead of the competition and to ensure efficiency, integrity, and safety. These players focus on partnership, product upgrades, and collaboration to gain a competitive edge over their peers and capture a significant market share.
Some of the major players operating in the global market include:
Alpek

Arkema

Armacell International S.A.

BASF

DuPont

Kaneka Corporation

Nova Chemicals Corp

Recticel

Rogers Foam Corporation

SABIC

Sealed Air

Taita Chemical Co., Ltd.

The Dow Company

Versalis S.p.A

Zotefoams
Recent Developments
In October 2022, BASF introduced sustainable PU foam systems, Elastopor, Elastopir, and Elastospray, incorporating recycled plastics for construction insulation, maintaining quality and performance while reducing environmental impact in line with circular economy goals.

In July 2020, DuPont is introducing a new, low GWP Styrofoam Brand Insulation to reduce greenhouse gas emissions, aligning with sustainability goals and upcoming HFC regulations in North America. This innovation advances building efficiency without compromising performance, reflecting DuPont's commitment to environmental stewardship.
Foam Market Report Scope
| | |
| --- | --- |
| Report Attributes | Details |
| Market size value in 2023 | USD 102.31 billion |
| Revenue forecast in 2032 | USD 153.09 billion |
| CAGR | 4.6% from 2023 – 2032 |
| Base year | 2022 |
| Historical data | 2019 – 2021 |
| Forecast period | 2023 – 2032 |
| Quantitative units | Revenue in USD billion and CAGR from 2023 to 2032 |
| Segments covered | By Type, By Foam Type, By End-Use Industry, By Region |
| Regional scope | North America, Europe, Asia Pacific, Latin America; Middle East & Africa |
| Customization | Report customization as per your requirements with respect to countries, region and segmentation. |