The global polyurethane foam market size was valued at USD 63.7 billion in 2020 and is expected to grow at a CAGR of 7.3% during the forecast period. Polyurethane foam is used in varied applications such as construction, packaging, automotive, furniture, and footwear, among others. The use of polyurethane foam has increased in residential and commercial buildings owing to its high energy efficiency, reduced energy costs, and versatile insulations.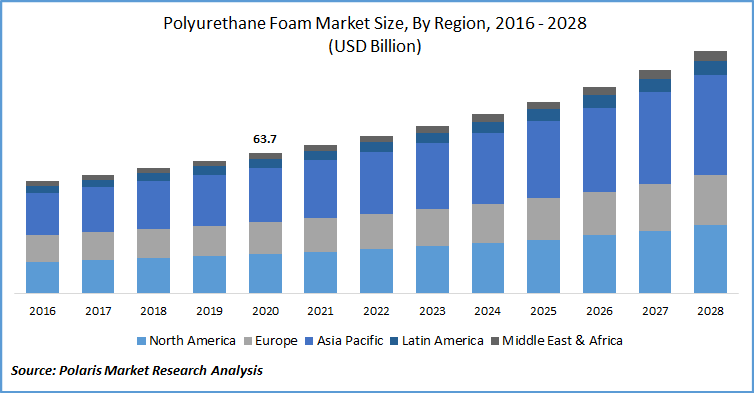 Know more about this report: request for sample pages
polyurethane foam is used as an insulation material in walls, roofs, doors, and windows for uniform temperature maintenance and reduced noise levels. It also assists in controlling air infiltration, heat flow, and water resistance. It enhances the rigidity, durability, and strength of the building while reducing carbon emissions.
Polyurethane (PU) foam market experiences high demand from the sport and leisure industry owing to its affordable prices, durability, versatility, and lightweight. Motorcycle and cycling helmets are lined with polyurethane product to provide cushioning and absorb excess shock impact. It is used in personal protection material for sports headgear and other body parts.
The product is also widely utilized as a cushioning material for mats used in martial arts, gymnastic, and wrestling among others. Low to medium density high load-bearing product find market application in rugby post protectors and tackle shields to offer mechanical damping of unexpected impacts.
The market demand for the product is significantly high in the automotive industry. The product is widely used in car seats, doors, bumpers, interiors, windows, and car body among others. The use of the product in automobiles reduces overall weight, thereby enhancing fuel economy, insulation, sound absorption, and corrosion resistance. The rise in demand for passenger vehicles, coupled with the growing electrification of vehicles and an increasing need to improve vehicle performance has fueled the growth of the market across the globe.
Industry Dynamics
Growth Drivers
The global market is fueled by the economic growth in countries such as China, Japan, and India, rising industrialization, and growing demand for automobiles in Asia Pacific market. Global players are expanding into these countries to tap market potential provided by automotive and construction sectors, further boosting the market growth. Technological advancements and the increasing adoption of bio-based product further support the market growth.
New product launches and acquisitions by leading players in the market coupled with increasing use in furniture and footwear have increased the market demand for polyurethane foam across the globe. Growing disposable income, changing lifestyles, increasing investment in the construction industry, and development of public infrastructure would provide growth opportunities during the forecast period.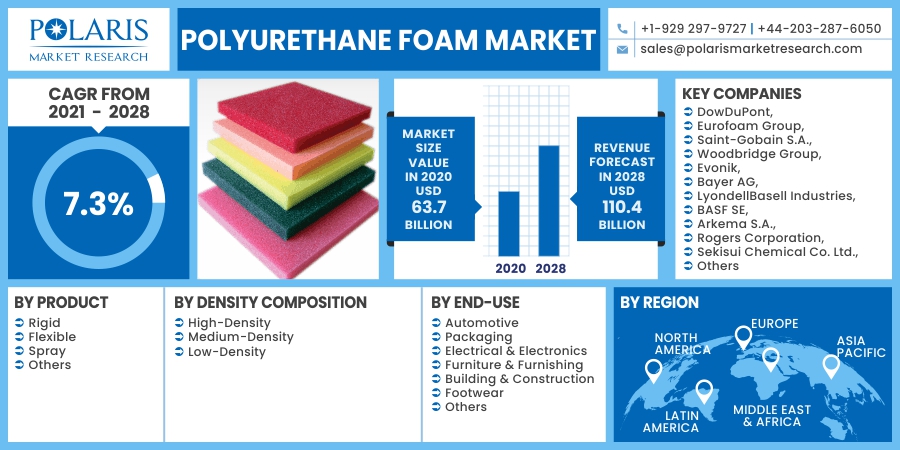 Know more about this report: request for sample pages
Polyurethane Foam Market Report Scope
The market is primarily segmented on the basis of product, end-use, density composition, and region.
By Product

By Density Composition

By End-Use

By Region

Rigid
Flexible
Spray
Others

High-Density
Medium-Density
Low-Density

Automotive
Packaging
Electrical & Electronics
Furniture & Furnishing
Building & Construction
Footwear
Others

North America (U.S., Canada)
Europe (Germany, UK, France, Italy, Spain, RoE)
Asia Pacific (China, India, Japan, South Korea, RoAPAC)
Latin America (Brazil, Mexico, Colombia, RoLATAM)
MEA (Saudi Arabia, South Africa, Israel, UAE, RoMEA)
Know more about this report: request for sample pages
Product Outlook
The product market segment has been divided into rigid foams, flexible foams, spray foams, and others. The demand for flexible foam is expected to increase during the forecast period owing to wide use in furniture, bedding, and carpet underlay. The use of flexible polyurethane foam in upholstered furniture provides enhanced flexibility, durability, support, comfort, and aesthetics. It is also used in other applications owing to its high flame resistance.
End-Use Outlook
On the basis of end-use, the market is segmented into automotive, packaging, electrical & electronics, furniture & furnishing, building & construction, footwear, and others. The building and construction segment dominated the global market in 2020. Polyurethane foam is used in buildings to reduce energy usage owing to its high strength-to-weight ratio, insulation properties, durability, and versatility. Polyurethane foam is used in wide applications in this segment such as walls, roofs, entry doors, garage doors, and roofs to add design flexibility, and increased energy efficiency.
Density Composition Outlook
The density composition segment has been divided into high-density polyurethane foams, medium-density polyurethane foams, and low-density polyurethane foams. The low-density polyurethane foam is used in diverse industries such as electronics, automotive, furniture and bedding, and footwear among others owing to higher versatility. This foam is widely used in furniture and footwear owing to its density, firmness, durability, and quality. It is also utilized in footwear to provide a supportive and comfortable base. It offers support for bending and stretching of the foot according to the foot's natural motion.
Regional Outlook
Asia Pacific dominated the global Polyurethane Foam market in 2020. Increasing urbanization, growing automotive industry, expansion of international players in this region, and technological advancements are some factors attributed to the growth of this regional segment. Increasing awareness regarding energy conservation in the construction sector and initiatives to promote the adoption of electric vehicles in developing countries of this region drive the market growth.
The industrial growth in countries such as China, India, and Japan, rising automotive penetration, and the established electronics industry drives the growth of this region. Rising applications in packaging and footwear have further increased the demand for Polyurethane Foam in the region.
Competitive Landscape
The leading players in the polyurethane foam market include DowDuPont, Eurofoam Group, Saint-Gobain S.A., Woodbridge Group, Evonik, Bayer AG, LyondellBasell Industries, BASF SE, Arkema S.A., Rogers Corporation, Sekisui Chemical Co. Ltd., Foamcraft, Inc., Ineos Group AG, UFP Technologies, Inc., Chemtura Corporation, Covestro AG, Nitto Denko Corporation, and Nippon Polyurethane Industry Co., Ltd.