The global folic acid market was estimated to be worth USD 751.4 million in 2018 and is anticipated to grow at a CAGR of 4.1% from 2019 to 2026. Folic acid is basically a vitamin which is water soluble. It is synthetically produced and also found in fortified supplements and foods. The product is found naturally in several plants such as the dark green vegetable leaves. Its demand is increasing with the growing trend for a healthy lifestyle and balanced diet requirements. As cannot be synthesized by the human body, hence dietary requirements are fulfilled from intake of dietary supplements containing folic acids or any food product rich in vitamin content.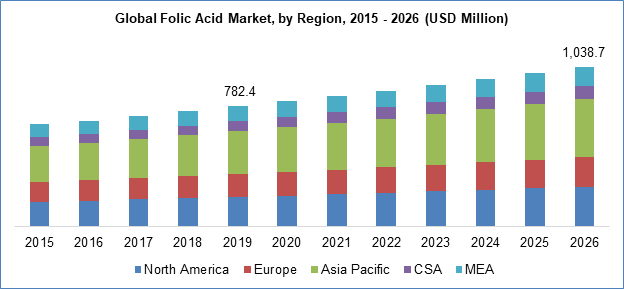 Know more about this report: request for sample pages
Deficiency of folate in the human body results in several health issues. Malignancy development possibilities and hyperhomocysteinemia are among the long-term consequences of folate deficit. Some of the other common health issues that arise from its deficiency include weakness, macrocytic anemia, confusion, memory deficits, breath shortness, peripheral neuropathy, depression and pregnancy complications. The product helps in repairing, synthesizing and methylate deoxyribonucleic acid (DNA), and its balanced supply to the body is hence vital primarily during pregnancy and childhood for continuous cell division and proper child growth.
The product is known by several other names including folacin, Vitamin M, vitamin B9, Acifolic, Folvite, Folcidin, and pteroylglutamic acid as its synthetic name. The synthesized or artificially developed folic acid are structurally different from the ones found in green vegetables. In the synthetic folic acids, the folate is processed additional glutamate residues. The synthetically obtained product is used for treatment of megaloblastic anemia.
Recent developments in medicine and pharmaceuticals sector showed that, folic acid supplementation does not alter the cancer incidences in any other specific cell/site nor did it in the next five years of treatment but reduces the chances of rephrase of cancer significantly. Several other projects are still under development phase for the best use possible for cancer treatment from these products.
The increasing quantity of evidences that is supporting the product's health promoting effects suggest the possibility of its future roe in prevention and treatment of diseases. The product has wide been in use as a supplement bit is increasingly being used as medications for several diseases and is recently used with cancer treatment drug formulations. With its increasing use in the pharmaceutical products and is long used trend as a supplement in nutraceuticals sector, demand for folic acid is anticipated to increase further over the forecast period.
However, these are a few concerns regarding intake and oversupply of the product in human health. High intake of the product which is a chemically synthesized for of folate but are not natural folates, might cause adverse effects including the masking of hematological manifestations of vitamin B12 deficiency. Owing to this, researchers and industry participants have been investing heavily on R&D development projects to find ways to increase concentration of the naturally occurring folate vitamins in the food products.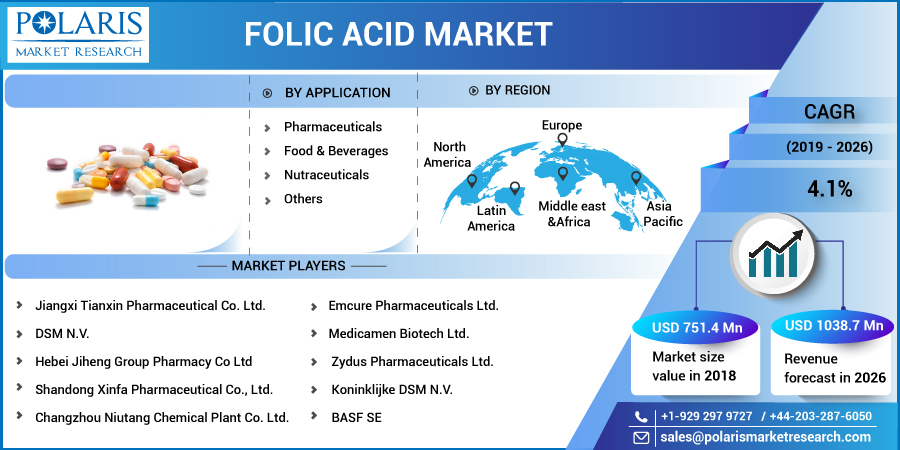 Know more about this report: request for sample pages
Segment Analysis
Food and beverage, pharmaceuticals, nutraceuticals are the major areas of application segments of folic acids. Natural food folate or intake of the product as supplements offer numerous health benefits. Adequate intake of folates during periconception period helps in preventing congenital malfunctions and complications of pregnancy. With the increasing demand for functional foods, need for folic acid has also increased among the food processors. Functional food products demand has increased owing to its role in offering overall health and well being reducing risk of several diseases and minimizing the effects of other health concerns.
Some of the direct naturally available sources of folic acid include beans and legumes, spinach, kale, Brussels sprouts, cabbage, broccoli, yeast and beef extracts, oranges and orange juice, wheat bran and other whole grain foods, poultry, pork, shellfish and liver, fortified foods (e.g. some brands of breakfast cereals.
Nutraceuticals are the fastest growing application segments for these products. Several government and health organizations including the U.S. Preventive Task Force (USPSTF) have recommend the intake of folic acid as a regular supplement in a dose of 0.4 to 0.8 mg (400-800 µg) during pregnancy, in an attempt to prevent birth defects. These initiatives from several government agencies stirred product demand and its use in nutraceutical products. This is because the product is required for the metabolism of several special biochemical reactions and for cell division. It offers the most significant contributions for development of the nervous system in a developing fetus.
In addition to these roles, product demand from nutraceuticals is rapidly growing owing to its other supporting functions in the body such as formation of red blood cells, support in development of neural tube.
Retail prices for pediatric vitamins and dietary supplements (VDS) increased during 2015 and this caused a mild deep in nutraceuticals sales that same year. But, subsidies in these products have enabled the industry players to boost sales.
Folic Acid Market Report Scope
By Application

By Region

Pharmaceuticals
Food & Beverages
Nutraceuticals
Others

North America (U.S., Canada)
Europe (Germany, UK, France, Spain, Italy, Belgium)
Asia Pacific (China, India, Japan, South Korea, Australia)
Latin America (Mexico, Brazil,)
Middle East & Africa (Saudi Arabia, UAE)
Know more about this report: request for sample pages
Regional Analysis
Asia Pacific was the largest consumer in 2017 with an estimated market share of around 31%. Rising income level and increasing purchasing power parity among the consumers in the region has led to increasing consumption of food supplements, and increase in sales of high-end pharmaceuticals and nutraceuticals. These re some of the indirect factors influencing demand of folic acid in Asia Pacific. Moreover, increasing availability of high-quality raw material sources adds to an advantage to the manufacturers of food supplements, pharmaceuticals, and nutraceutical products.
North America and Europe are also the leading consumers of the product. But its consumption is driven mainly by stringent policies for nutraceutical supplies to the pregnant women and children. Presence of significantly higher number of companies that are a part of the folic acid value chain is yet other factors that has made the U.S. a lading exporter to several eastern European countries.
Competitive Analysis
The folic acid industry is moderately fragmented. Asia Pacific companies or the manufacturing hubs enjoy the easy access to abundant raw material supply and hence prices are comparatively lower in the region. Some of the major industry players operating globally are Jiangxi Tianxin Pharmaceutical Co. Ltd., DSM N.V., Hebei Jiheng Group Pharmacy Co Ltd, Shandong Xinfa Pharmaceutical Co., Ltd., Changzhou Niutang Chemical Plant Co. Ltd., Emcure Pharmaceuticals Ltd., Medicamen Biotech Ltd., Zydus Pharmaceuticals Ltd., Koninklijke DSM N.V. and BASF SE