The global food amino acids market was valued at USD 5,044.9 Million in 2021 and is expected to grow at a CAGR of 8.2 % during the forecast period.
Amino acids are the building blocks of proteins. When a person consumes a protein-rich diet, the protein is broken down into amino acids by the digestive system. To carry out bodily activities, the body next mixes the amino acids in various ways.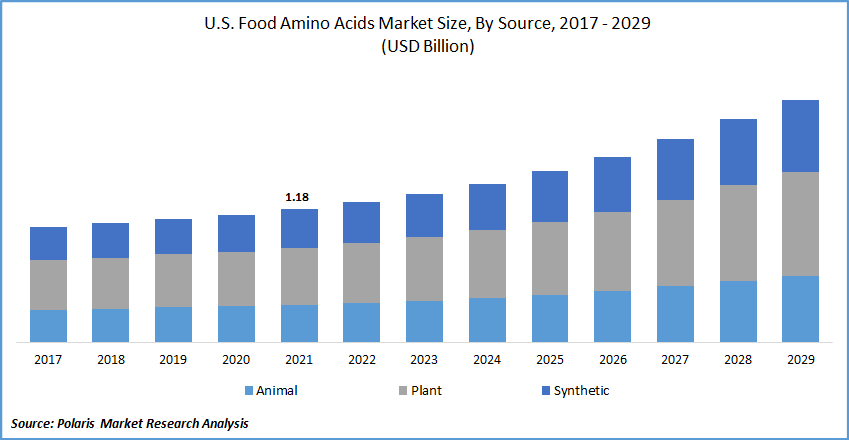 Know more about this report: request for sample pages
Amino acids help the body develop muscles, produce chemical reactions, transport nutrients, prevent disease, and perform a variety of other tasks. Reduced immunity, digestive problems, depression, fertility concerns, poorer mental alertness, delayed growth in children, and a variety of other health problems can all be caused by an amino acid shortage.
Some may also be taken in supplement form for a natural way to boost athletic performance or improve mood. The essential amino acids include histidine, isoleucine, leucine, lysine, methionine, phenylalanine, threonine, tryptophan, and valine. These acids help to enhance athletic performance, reduce muscle breakdown, improve liver function, therefore, driving the growth of the food amino acids market.
COVID-19 outbreak positively impacted the market due to rising concern for health among people. Demand for protein-rich diet and dietary supplements is increasing to immunize the body and reduce health threat possibilities. Owing to the pandemic situations, consumers are inclined towards immunity-boosting products and supplements, therefore serving the opportunity for the industry.
Industry Dynamics
Growth Drivers
The global market is driven by rising demand for protein-rich supplements, increasing application in convenience food, and growing demand for infant formulation products. These acids are used in the production of infant food products such as liquid and powdered formula.
Due to the increase in the number of working women, increasing urbanization, rising birth rates in developing countries, accelerating economic growth, rising demand towards organic products are all driving the demand for infant formula products, therefore, contributing to the demand for the food amino acids market.
Demand for lysine is increasing as it is necessary for muscle growth, bone strength maintenance, injury or operation healing, and hormone, antibody, and enzyme regulation. Histidine helps in the growth and creation of blood cells and tissue repair. The increased usage of glutamic acid as a savory ingredient in a variety of foods and beverages, such as sauces, snacks, and ready-to-eat soups, is expected to boost the market for these acids.
Report Segmentation
By Product

By Source

By Application

By Region

Lysine
Glutamic Acid
Methionine
Tryptophan

Animal-Derived
Plant-Derived
Synthetically Derived

Infant Food Formulations
Convenience Food
Food Fortification
Beverages

North America (U.S., Canada)
Europe (Germany, UK, France, Italy, Spain, Netherlands, Austria, Belgium)
Asia-Pacific (China, India, Japan, South Korea, Indonesia, Malaysia, Australia)
Latin America (Brazil, Mexico, Argentina)
Middle East & Africa (UAE, Saudi Arabia, South Africa, Israel)
Know more about this report: request for sample pages
Insight by Product
On the basis of product, the glutamic acid segment registered the highest growth in 2020. The food amino acids market is expected to rise due to the increasing use of glutamic acid as a taste enhancer in a variety of diets and beverages. Adding glutamate to diets improves the rich flavor and consumption. The use of glutamic acid as a taste enhancer in a variety of foods and beverages, such as sauces, snacks, and ready-to-eat soups, is expected to drive the market for food amino acids
Insight by Source
On the basis of source, the plant-derived source is expected to grow over the forecasted period due to the increasing demand for vegetarian and vegan diets. The vegetarian and vegan populations are increasing because of the rising awareness for animal welfare. Beans, nuts, whole grains, seeds, quinoa, buckwheat, and soy are the rich source of plant-based amino acids.
Insight by Application
On the basis of application, convenience food is expected to grow at the fastest rate during the forecast period. The ease of use of these products contributes to an increase in global consumer demand. Convenience food includes bakery and confectionery items, fast foods, premade salads, meat, fish, sandwiches, and wraps.
Ready-to-eat products are growing due to factors such as increased female participation in the workforce, increased use of household technologies, and rising consumer income. In addition, factors such as growing urban population, lack of cooking ability, long working hours, consumer preferences for nutritious and ready to eat products, as well as an increase in disposable income, increased demand for snacks and fried products, are expected to drive the convenience product market forward.
Geographic Overview
Asia Pacific region is expected to witness the highest growth in the market. The industry is being propelled by growing economic growth in emerging countries such as India, Vietnam, South Korea, and other Southeast Asian nations. Consumers in this region are shifting towards a protein-rich diet such as meat, eggs, and vegetables along with milk-based products, which is driving the market for these acids. Moreover, expanding F&B sector due to increasing population, rising customer health consciousness, and. The increasing trend of adding dietary supplements with food is also contributing to regional growth.
Competitive Insight
Key players operating in the industry are Ajinomoto Co., Inc., Amino GmbH, Brenntag AG, CJ Corporation, Daesang Corporation, Evonik Industries, Kingchem LLC, Prinova Group LLC, Sigma-Aldrich, Sunrise Nutrachem Group. In 2019, Prinova, a global producer of ingredients and premixes, has established a subsidiary in Australia to serve the Asia-Pacific market. With over 2000 ingredients in categories ranging from vitamins and amino acids to essential oils and aroma compounds supported by warehouses in Australia and New Zealand (ANZ), the company will be able to deliver customized nutritional premixes to ANZ markets from its China plant. In 2021, At the Kawasaki Plant of Ajinomoto Food Manufacturing Co. Ltd., on the basis of the Kawasaki Administration & Coordination Office, Ajinomoto Co., Inc. has completed construction of a new plant that will carry out integrated manufacturing and packaging of soups (Knorr Cup Soup, Knorr Soup DELI, etc.).
Food Amino Acids Market Report Scope
| | |
| --- | --- |
| Report Attributes | Details |
| Market size value in 2021 | USD 5,044.9 Million |
| Revenue forecast in 2029 | USD 9,227.0 Million |
| CAGR | 8.2 % from 2022 - 2029 |
| Base year | 2021 |
| Historical data | 2017 - 2020 |
| Forecast period | 2022 - 2029 |
| Quantitative units | Revenue in USD million and CAGR from 2022 to 2029 |
| Segments covered | By Product Type, By Source, By Application, By Region |
| Regional scope | North America, Europe, Asia Pacific, Latin America; Middle East & Africa |
| Key Companies | Ajinomoto Co., Inc., Amino GmbH, Brenntag AG, CJ Corporation, Daesang Corporation, Evonik Industries, Kingchem LLC, Prinova Group LLC, Sigma-Aldrich, Sunrise Nutrachem Group |