The global plant-based ham market was valued at USD 493.50 million in 2022 and is expected to grow at a CAGR of 12.6% during the forecast period. With an increasing number of people adopting plant-based diets, the demand for meat alternatives like plant-based ham is on the rise. This is driven by health concerns, environmental consciousness, and ethical considerations. The growing demand for plant-based food options has led to the emergence of many vegan retail food businesses that offer a wide range of plant-based products. As a result, the plant-based ham market has seen significant growth in recent years.

To Understand More About this Research: Request a Free Sample Report
There has been a change in the food sector as a result of the growing appeal of vegan and vegetarian cuisine. According to a new analysis by the trade association Plant Based Foods Association (PBFA) & Good Food Institute (GFI), sales of plant-based foods in the U.S. alone reached around USD 8 Bn, in 2022. As more retailers and restaurants offer plant-based options, consumers have greater access to these products, which helps to fuel demand and drive sales.
Growing consumption of plant-based products in the United States is fueling the growth of the plant-based ham market. As more consumers become aware of the benefits of such diets, the demand for these alternatives to meat products is expected to continue to rise. Currently, 79 million American households, or 62%, buy products made from plants. It represents an increase from 61% (77 million in 2020), Customers who made repeat purchases in the plant-based category climbed from 78% in 2020 to 79% in 2021, highlighting the growing consumer commitment and interest in this field. This will further create a wide range of opportunities for the growth of the market in the coming years.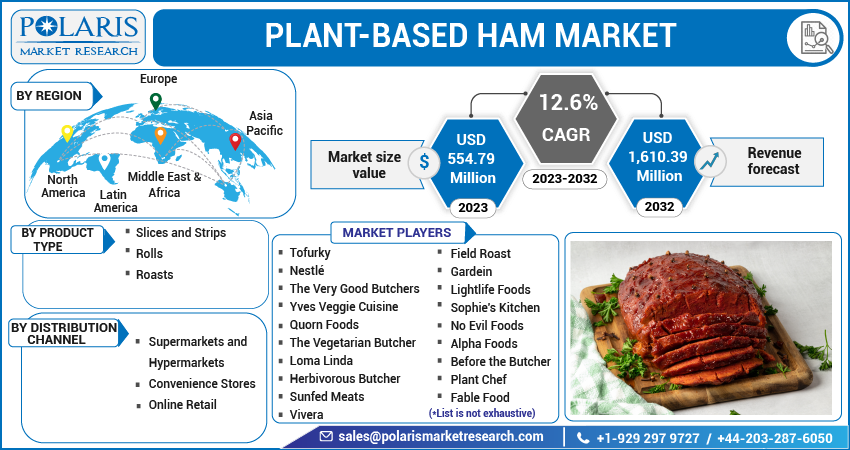 For Specific Research Requirements, Request for a Customized Report
Industry Dynamics
Growth Drivers
The growing production of bioengineered products is one of the factors that is fueling the growth of the plant-based ham market. With advances in technology, companies are able to create meat alternatives that mimic the texture and flavor of real meat more closely than ever before. This has led to the development of plant-based ham products that are virtually indistinguishable from traditional ham in terms of taste and texture.
The use of bioengineering also allows for more sustainable and efficient production methods, which is appealing to consumers who are concerned about the environmental impact of traditional meat production. By using plant-based ingredients and biotechnology, companies can reduce the amount of land, water, and other resources needed to produce their products, while also lowering greenhouse gas emissions. This will further fuel the growth of the market in coming years.
Report Segmentation
The market is primarily segmented based on product type, distribution channel and region.
By Product Type

By Distribution Channel

By Region

Slices and Strips

Rolls

Roasts

Supermarkets and Hypermarkets

Convenience Stores

Online Retail

North America (U.S., Canada)

Europe (France, Germany, UK, Italy, Netherlands, Spain, Russia)

Asia Pacific (Japan, China, India, Malaysia, Indonesia. South Korea)

Latin America (Brazil, Mexico, Argentina)

Middle East & Africa (Saudi Arabia, UAE, Israel, South Africa)
To Understand the Scope of this Report: Speak to Analyst
Slices and Strips segment is expected to witness fastest growth over the forecast period
Slices and Strips segment is expected to have a faster growth in coming years. Plant-based ham slices and strips are a convenient and versatile form of meat alternative that can be used in a variety of dishes such as sandwiches, salads, pizzas, and wraps. This convenience and versatility make them an attractive option for consumers who are looking for quick and easy meal solutions. The taste and texture of plant-based ham slices and strips have improved significantly over the years.
Many manufacturers have been able to create plant-based products that closely mimic the taste and texture of traditional ham, making them a satisfying and appealing option for consumers who are looking for meat alternatives. The increasing popularity of plant-based diets and the rising demand for meat alternatives have led to the introduction of several innovative plant-based ham slices and strips in the market.
The supermarkets and Hypermarkets segment accounted for the highest share in 2022
Supermarkets and Hypermarkets offer a wide variety of products, including plant-based ham. These stores are often located in urban areas and are easily accessible to consumers, making them a popular choice for grocery shopping. They typically have a dedicated section for plant-based products, making it easier for consumers to find and purchase plant-based ham. This helps to increase consumer awareness and demand for plant-based products, which in turn drives market growth. Supermarkets and Hypermarkets provide a platform for plant-based ham manufacturers to showcase their products to a large audience. These stores often have a wide customer base, which allows manufacturers to reach a larger audience and increase their brand awareness.
APAC registered the highest growth rate in the study period
APAC is expected to have a higher growth rate for the Plant based-Ham Market due to several factors. Firstly, there is a growing trend towards vegetarian and vegan diets in the region, particularly among younger consumers who are increasingly health-conscious and concerned about the environmental impact of meat production. This is driving demand for plant-based alternatives to traditional meat products, including plant-based ham. According to the DuPont Nutrition Biosciences published research report, demand for plant-based meat in Asia Pacific is expected to rise, specifically in China and Thailand anticipated to rise by 200% by 2025.
The demand for plant-based meat is growing rapidly in these countries, as consumers seek healthier and more sustainable food options. Plant-based ham is gaining popularity as a meat substitute, as it offers a similar taste and texture to traditional ham, but without the health and environmental concerns associated with meat consumption. This is fueling the growth of the plant-based ham market in China and Thailand in turn Asia Pacific.
North America holds the larger revenue share in 2022
North America has a larger revenue share for the plant-based ham market due to several factors. There is a growing awareness among consumers in these regions regarding the health and environmental benefits of plant-based diets. This has led to a shift towards plant-based foods, including meat alternatives such as plant-based ham. Governments in these regions have introduced several initiatives and regulations to promote plant-based diets and reduce meat consumption.
In Europe, the European Union's Farm to Fork Strategy aims to reduce the use and risk of pesticides and fertilizers in agriculture and promote sustainable food production and consumption. In North America, several states have implemented taxes and bans on meat products to encourage the adoption of plant-based diets. This will further fuel the growth of the market in the coming years.
Competitive Insight
Some of the major players operating in the global market include Tofurky, Nestlé, The Very Good Butchers, Yves Veggie Cuisine, Quorn Foods, The Vegetarian Butcher, Loma Linda, Herbivorous Butcher, Sunfed Meats, Vivera, Field Roast, Gardein, Lightlife Foods, Sophie's Kitchen, No Evil Foods, Alpha Foods, Before the Butcher, Plant Chef, Fable Food, Hooray Foods, Vbites Food, Gourmet Evolution, Meliora Foods, Zebra Food, Light Life Foods & Hain Celestial Canada.
Recent Developments
In February 2023, Japanese ham producer NH Food, popularly known as Nippon Ham developed two plant-based seafood treats called Fish fries and popcorn shrimp.
Plant-Based Ham Market Report Scope
| | |
| --- | --- |
| Report Attributes | Details |
| Market size value in 2023 | USD 554.79 million |
| Revenue forecast in 2032 | USD 1,610.39 million |
| CAGR | 12.6% from 2023 - 2032 |
| Base year | 2022 |
| Historical data | 2019 - 2021 |
| Forecast period | 2023 - 2032 |
| Quantitative units | Revenue in USD million and CAGR from 2023 to 2032 |
| Segments covered | By Product Type, By Distribution Channel, By Region |
| Regional scope | North America, Europe, Asia Pacific, Latin America; Middle East & Africa |
| Key companies | Tofurky, Nestlé, The Very Good Butchers, Yves Veggie Cuisine, Quorn Foods, The Vegetarian Butcher, Loma Linda, Herbivorous Butcher, Sunfed Meats, Vivera, Field Roast, Gardein, Lightlife Foods, Sophie's Kitchen, No Evil Foods, Alpha Foods, Before the Butcher, Plant Chef, Fable Food, Hooray Foods, Vbites Food, Gourmet Evolution, Meliora Foods, Zebra Food, Light Life Foods & Hain Celestial Canada. |