The global gaze detection technology market was valued at USD 659.21 million in 2022 and is expected to grow at a CAGR of 33.6% during the forecast period.
The rapid increase in the number of applications of gaze detection technology in the healthcare and research sector is due to its ability to allow medical or healthcare professionals to assess and diagnose various conditions related to eye movements easily and also to help identify visual impairments with more accuracy, are the leading factors expected to drive global market growth. Additionally, the technology is being widely used in several areas like ophthalmology to monitor and identify eye diseases, in rehabilitation for assessing and guiding patients with mobility, and in neurology for studying disorders like Parkinson's and stroke, which, in turn, have propelled the market growth at a significant pace.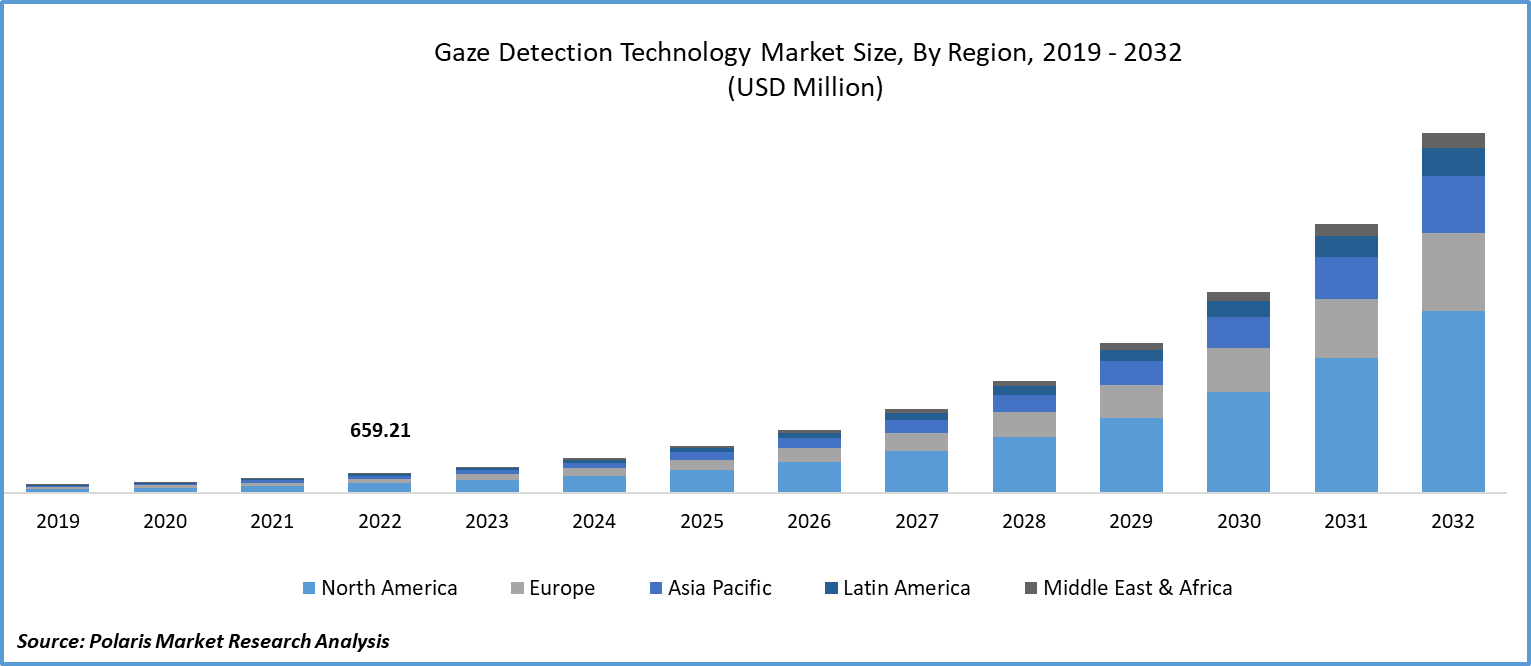 To Understand More About this Research: Request a Free Sample Report
For instance, in May 2023, Amazon Rekognition introduced a new company's Face APIs in order to support accessibility & safety, validate photos, and focus on the screen. With the help of this technology, customers can effectively improve their application's usability by understanding the focus of users on desired sections.
Moreover, the continuous advancements in hardware and software that have led to the development of improved accuracy and precision in gaze detection technology, which has made gaze tracking more reliable and responsive and made it suitable for a wider range of applications, are further anticipated to create huge growth opportunities for the global market in the near future.
The outbreak of the COVID-19 pandemic has positively impacted the growth of the gaze detection technology market. The rapid spread of the deadly coronavirus led to a shift to remote work and virtual meetings, which have surged the need for gaze detection technology that plays a crucial role in improving user experience through enabling various innovative features such as gaze-based cursor control and attention tracking in virtual meetings.
Industry Dynamics
Growth Drivers
The rising use of eye tracking or gaze detection technology in research operations and advertising is driving the market.
The market is experiencing significant growth, primarily propelled by the increasing adoption of eye-tracking or gaze-detection technology in research operations and advertising. This surge in demand is due to several key factors. In research operations, gaze detection technology is revolutionizing the way data is collected and analyzed. Researchers can gain valuable insights into consumer behavior, user experience, and cognitive processes, leading to more informed decision-making.
In the advertising industry, this technology offers unparalleled opportunities for understanding consumer engagement and attention. Advertisers can optimize content and placement, improving the effectiveness of their campaigns. Moreover, advancements in hardware and software have made gaze detection more accessible and cost-effective, further driving gaze detection technology market growth. As industries across the board recognize the potential of gaze detection technology, it is expected to continue its upward trajectory, shaping the future of research and advertising.
Report Segmentation
The market is primarily segmented based on type, application, and region.
By Type

By Application

By Region

Eye Attached Tracking

Optical Tracking

Electrooculography

Healthcare

Retail

Research

Automotive

Consumer Electronics

Others

North America (U.S., Canada)

Europe (France, Germany, UK, Italy, Netherlands, Spain, Russia)

Asia Pacific (Japan, China, India, Malaysia, Indonesia. South Korea)

Latin America (Brazil, Mexico, Argentina)

Middle East & Africa (Saudi Arabia, UAE, Israel, South Africa)
To Understand the Scope of this Report: Speak to Analyst
By Type Analysis
The optical tracking segment accounted for the largest market share in 2022
The optical tracking segment accounted for a noteworthy market. The growth of the segment market can be largely attributed to an exponential rise in the demand for optical tracking in VR and AR systems due to its capabilities to capture both passive and active motion of the full body, which allows them to gather additional information regarding the participant's motion. Besides this, optical tracking is gaining traction in the healthcare sector for diagnosing eye disorders and monitoring patient conditions and is playing a crucial role in improving accessibility for individuals with various types of disabilities, such as enabling hands-free control of computers and devices.
The eye-attached tracking segment is expected to exhibit the highest growth rate over the next coming years on account of its widespread use in market research and advertising agencies better understand consumer behavior and preferences along with the continuous improvements in such kind of technology to make them more accessible to a wider range of applications and industries.
By Application Analysis
The healthcare segment held a considerable market share in 2022
The healthcare segment held a significant market share in terms of revenue in 2022, which is majorly driven by the growing adoption of innovative gaze detection technology in healthcare due to the increased number of patients suffering from vision-related issues, mainly from mobility disabilities and other communications applications.
Moreover, gaze detection technology is becoming essential for developing assistive communication devices for individuals with severe disabilities such as ALS or locked-in syndrome, as these devices allow users to control communication, interact with computers, and control their environments, further driving the segment market.
The automotive segment is expected to exhibit the fastest growth rate, which is largely attributed to a significant surge in the need and demand for AI applications and improved tracking technologies in the automobile industry and the rising proliferation of gaze detection technology in the automobile, as it contributes to enhanced vehicle safety by identifying signs of drowsiness, distraction, and impaired driving, which in turn, have generated huge growth potential for the market.
Regional Insights
North America region dominated the global market in 2022
The North American region dominated the global market. The regional market can be mainly accelerated by higher adoption and prevalence of advanced technology in the healthcare sector and a growing number of research activities or initiatives to understand consumer spending behavior coupled with the widespread adoption of contactless biometric systems and smart sensors across various industries, particularly in developed economies like US and Canada.
In addition, the gaming and entertainment industry in the region is substantial and growing rapidly, with a high demand for immersive experiences. Thereby, the adoption of gaze detection or tracking technology is gaining traction, as it is used to enhance gaming experiences and improve graphics rendering in virtual environments. It is pushing the region's market growth at a significant pace.
The Asia Pacific region is anticipated to emerge as the fastest-growing region with a healthy CAGR during the projected period, owing to the growing integration of gaze detection technology into vehicles for driving monitoring systems, which is significantly required for safety and regulatory compliance.
Thus, the presence of some of the leading automobile-producing and consuming countries like China, India, & Japan, and increasing sales of electric or automotive vehicles, is likely to influence the regional market growth positively. For instance, the total sales of electric vehicles in India surpassed one million units for the first time, with a year-on-year growth of a massive 206% compared to the previous year's sales numbers. The industry reported total sales of 10,54,938 units of electric vehicles in the year 2022, which makes up 4.7% of overall automobile sales.
Key Market Players & Competitive Insights
The gaze detection technology market is moderately consolidated with the presence of various global market players who are extensively investing in business development strategies such as acquisitions, mergers, collaborations, and partnerships to expand their global presence in a wide range of segments and also to augment their market positions as a leader in the market and stay ahead to its competitors.
Some of the major players operating in the global market include:
Apple Inc.

Ergoneers

Eye Tracking Inc.

EyeSee

EyeTech Digital Systems Inc.

EyeTracking

Gazepoint Research Inc.

iMotions A/S

LC Technologies Inc.

Mirametrix Inc.

Pupil Labs GmbH

Seeing Machine

Smart Eye AB

Tobii AB
Recent Developments
In March 2021, AdHawk Microsystems announced the launch of its new eye-tracking sensors specially designed for AR/VR. The company replaces the cameras with ultra-compact MEMS while eliminating the power-hungry image processing and also improves speed and energy efficiency by almost double.

In November 2021, Entropic Tech announced the launch of its first multi-platform eye-tracking platform that works on both mobile and web devices. The newly launched company's technology will also enable developers and companies to measure eye gaze data at an unprecedented scale easily.
Gaze Detection Technology Market Report Scope
| | |
| --- | --- |
| Report Attributes | Details |
| Market size value in 2023 | USD 878.72 million |
| Revenue Forecast in 2032 | USD 11,955.52 million |
| CAGR | 33.6% from 2023 – 2032 |
| Base year | 2022 |
| Historical data | 2019 – 2021 |
| Forecast period | 2023 – 2032 |
| Quantitative units | Revenue in USD million and CAGR from 2023 to 2032 |
| Segments Covered | By Type, By Application, By Region |
| Regional scope | North America, Europe, Asia Pacific, Latin America; Middle East & Africa |
| Customization | Report customization as per your requirements with respect to countries, regions, and segmentation. |