The global generative AI market was valued at USD 10.63 billion in 2022 and is expected to grow at a CAGR of 34.2% during the forecast period.
The increasing utilization of generative AI for spam detection, preprocessing data, image compression, and noise reduction from visual data along with its continuously growing usage in medical imaging and image classification are key major factors propelling the growth of the global market. Currently, generative AI is in its developing stage thus, it requires high investment in research & development activities and it requires a skilled workforce for taking it to the next stage.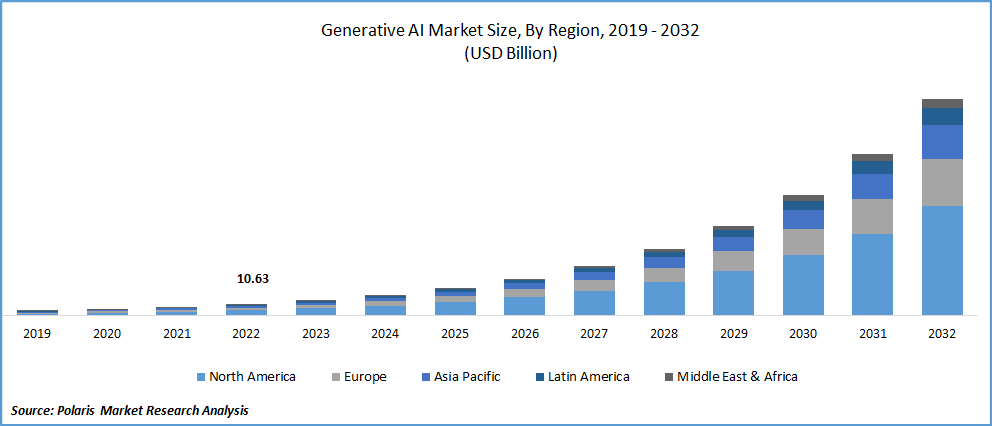 Know more about this report: Request for sample pages
For instance, in December 2022, Peech, an Israel-based AI and NLP-based technology startup that provides high-quality, engaging, and independence to generate unlimited content raise USD 8.3 million seed by the Ibex Investors, Ariel Maislos, Fresh Fund, and many other investors to establish their respective AI platform.
Moreover, businesses and organizations become capable to eliminate obstacles by automating several complex and manual processes by using generative AI. As a result, they could utilize their resources more effectively and enhance their productivity along with new generative modeling, unsupervised machine learning, and analyzing the input image. However, data security and privacy-related concerns along with the high initial requirement to set up a generative AI system and lack of skilled workforce are major factors restraining the growth of the market. The growing inefficiency of managing exabytes and petabytes of data has drastically increased the chances of data losses and security breaches, which is negatively impacting the market.
The outbreak of the COVID-19 pandemic has positively impacted the growth of the generative AI market. The rapid emergence of coronavirus across the world has mandated remote working across almost all industries and sectors, which boosted the demand and need for effective and advanced generative AI. In addition, the rapid surge in the adoption of diagnosing tools using artificial intelligence to detect the COVID-19 virus and many other imaging systems with higher accuracy has fueled the market growth.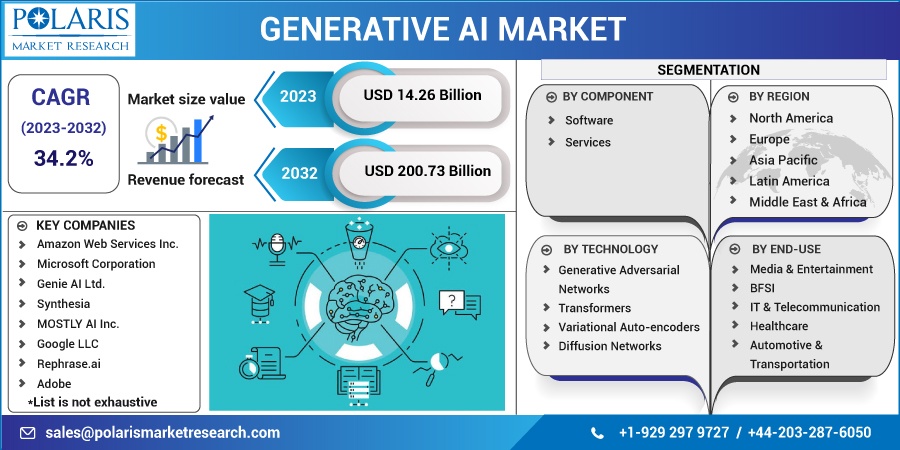 Know more about this report: Request for sample pages
Industry Dynamics
Growth Drivers
The growing prevalence of audio synthesis with the help of generative AI to transform any type of computer-generated voice into one, that sounds just like an authentic human with just in few clicks is a key factor expected to drive the growth of the global generative AI market over the anticipated period. Moreover, with the extensive rise in the number of generative AI applications in healthcare to create prosthetic limbs, organic molecules, and many others from the start coupled with the rising prevalence of early detection of cancers and effective treatment plans, the adoption and demand for generative AI are likely to grow rapidly in the coming years.
The development of AI governance framework and various guidelines that are established for building ethical AI and reducing discrimination biases to gain higher trust among users is further expected to boost the market growth. Several initiatives are being taken by global leading AI service/solution providers, regulatory authorities, and governments for the purpose to tackle a wide range of ethical problems around AI and ML technologies.
Report Segmentation
The market is primarily segmented based on component, technology, end-use, and region.
By Component

By Technology

By End-Use

By Region

Generative Adversarial Networks
Transformers
Variational Auto-encoders
Diffusion Networks

Media & Entertainment
BFSI
IT & Telecommunication
Healthcare
Automotive & Transportation
Others

North America (U.S., Canada)
Europe (France, Germany, UK, Italy, Netherlands, Spain, Russia)
Asia Pacific (Japan, China, India, Malaysia, Indonesia, South Korea)
Latin America (Brazil, Mexico, Argentina)
Middle East & Africa (Saudi Arabia, UAE, Israel, South Africa)
Know more about this report: Request for sample pages
Services segment is expected to witness fastest growth
The services segment is expected to witness fastest growth during the anticipated period. The growth of the segment market can be attributed to rising concerns related to the protection of data, trading prediction, risk factor modeling, and fraud detection. In the last few years, the concerns associated with data losses and security breaches have grown rapidly among many sectors including healthcare and BFSI, which has forced market players to develop more developed and enhanced services to tackle these issues and is projected to fuel segment market growth.
Furthermore, the software segment accounted for the highest market share over the coming years owing to a rapid surge in research & development activities and its ability to synthesize the data received from hardware systems and processes it into an AI system to generate a quick and intelligent response. AI software is now used in a wide range of applications including smartphone assistants, ATMs, software that serves ads, and voice and image recognition, which is further influencing the segment growth.
Transformers segment held the largest market revenue share
The transformers segment held the highest market share in 2022 and is expected to retain its position throughout the projected period, which is mainly driven by a rapid surge in the adoption of a variety of transformer applications like text-to-image and increasing demand for natural language processing coupled with the high awareness of users towards the benefits of transformer solutions.
However, the diffusion networks segment is likely to register significant growth of during the anticipated period. A rapid rise in the prevalence and need for image synthesis and image generation across various sectors such as healthcare, BFSI, automotive, transportation, defense, media & entertainment, and IT & telecommunication, as they are mainly employed to provide high-value to businesses, public, and government.
Media & Entertainment segment dominated the market with highest revenue share
The media & entertainment segment dominated the global market in terms of revenue in 2022 owing to wide utilization of generative AI to create and build attractive and better advertisement campaigns. In addition, growing popularity of virtual creation and demand for fueling demand to create high-definition graphics and real-time virtual worlds coupled with the integration of AI takes analytics next level, which helps companies to leverage visual recognition, dialog capabilities, and sentiment analysis is propelling the segment market growth.
The BFSI segment is projected to grow at a considerable growth rate throughout the projected period, as the industry is witnessing rapid growth in the adoption of big data and machine learning algorithms and high growth in investment in fintech sector. In addition, integration of artificial intelligence in BFSI toolchain across several digital financial services and prevalence of customer relationship management has accelerated the demand for AI in BFSI solutions.
North America region dominated the global market in 2022
North America dominated the market in 2022 with a healthy market shareholding and is expected to grow significantly over the forecast period. The growth of the regional market can be attributed to various factors including a rise in several banking frauds and prevalence of pseudo-imagination & medical care along with the expanding need for the modernization of workflow across various industries. For instance, the total number of digital fraud attempts rose by over 25% in the United States in the first four months of 2021 from the same period in 2020. Digital fraud against financial services companies increased by about 109% in the United States in the same period.
Furthermore, Asia Pacific is anticipated to expand at the fastest CAGR over the coming years. An increasing number of government favorable initiatives to support the adoption and integration of artificial intelligence in numerous applications, especially in emerging economies like India, China, and South Korea, and a large number of companies focusing on the development and experiment to use generative AI in their products, which is boosting the growth of the market.
Competitive Insight
Key players in the market include Amazon Web Services., Microsoft Corporation, Genie AI Ltd., Synthesia, MOSTLY AI, Google LLC, Rephrase.ai, Adobe, Meta, Oracle Corporation, Alibaba Cloud, Baidu, Hewlett Packard Enterprise Development, Samsung Electronics, Intel Corporation, Siemens, Salesforce, NVIDIA, SAP SE, and SAS Institute.
Recent Developments
In NOVEMBER 2022, Charli AI launched Anacaeus, a new AI generative platform for the enterprise. Anacaeus is a state-of-the-art AI platform, which has been developed to discover, understand, and use facts from millions of pieces of content for generating insights, presentations, spreadsheets, and natural language reports across an enterprise.
In September 2022, Meta introduced Make-A-Video, the latest and most developed artificial intelligence system, which enables people to convert text prompts into brief and high-quality video clips. It is mainly based on the company's advancements and developments in generative AI technology that makes it capable to bring imagination to life and easily create one-of-a-kind videos in just a few seconds.
Generative AI Market Report Scope
| | |
| --- | --- |
| Report Attributes | Details |
| Market size value in 2023 | USD 14.26 billion |
| Revenue forecast in 2032 | USD 200.73 billion |
| CAGR | 34.2% from 2023 – 2032 |
| Base year | 2022 |
| Historical data | 2019 – 2021 |
| Forecast period | 2023 – 2032 |
| Quantitative units | Revenue in USD billion and CAGR from 2022 to 2030 |
| Segments Covered | By Component, By Technology, By End-Use, By Region |
| Regional scope | North America, Europe, Asia Pacific, Latin America; Middle East & Africa |
| Key Companies | Amazon Web Services Inc., Microsoft Corporation, Genie AI Ltd., Synthesia, MOSTLY AI Inc., Google LLC, Rephrase.ai, Adobe, Meta, Oracle Corporation, Alibaba Cloud, Baidu Inc., Hewlett Packard Enterprise Development, Samsung Electronics, Intel Corporation, Siemens, Salesforce, NVIDIA, SAP SE, and SAS Institute. |