The global glass coatings market is anticipated to grow at a CAGR of 15.5% during the forecast period. Glass coatings consist of particles of silicon dioxide within the hard resin, and are applied to vehicles and buildings to repel contamination and increase shine. Glass coatings are self-cleaning while also delaying the buildup of crime and the elements in between cleans. They offer high UV resistance, high optical activity, and cleansing properties. Glass coatings are widely used in industries such as construction, paints & coatings, and automotive & transport among others. Glass coatings are categorized into quartz silane and silica. Quartz silane is higher priced, and provides a durable and extra shiny coating. Silica is less durable, lower priced, and forms a hard, durable and semi-permanent shield over the clear coat on contact with paint.
The growing need for energy efficiency, increasing energy costs, and rising adoption of green buildings drive the market growth. The increasing demand for glass coating from the automotive sector coupled with increase in the sales of vehicles also boosts the market growth. There has been increasing awareness among consumers regarding use of energy efficient structures, which increases its demand in commercial and residential buildings.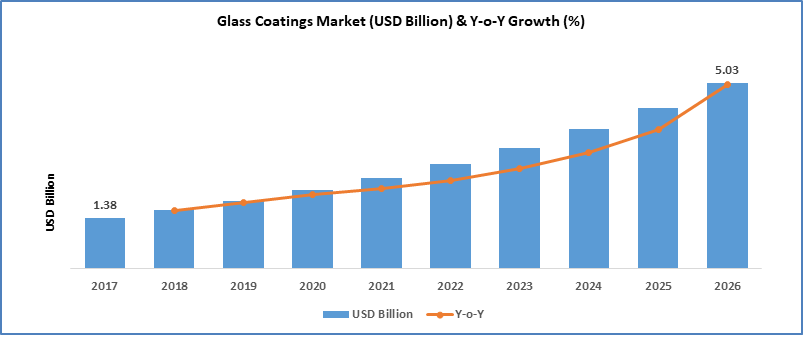 Know more about this report: request for sample pages
The increasing application in solar power, rapid urbanization, and rising demand from aerospace and marine sectors accelerates the adoption of glass coating. Other factors driving the market include supportive government regulations, increasing awareness, and technological advancements. Growing demand from emerging economies, and increasing spending on construction and infrastructure development are factors expected to provide numerous growth opportunities in the glass coating industry in the coming years.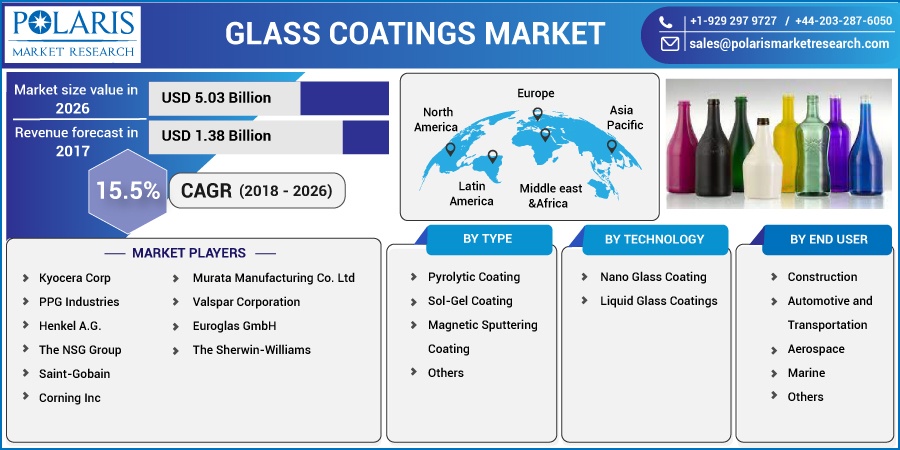 Know more about this report: request for sample pages
Segment Analysis
The global glass coating market is segmented on the basis of type, technology, end-user, and region. Based on type, the market is segmented into pyrolytic coating, sol-gel coating, magnetic sputtering coating, and others. The pyrolytic coating dominated the global glass coating industry in 2017 owing to optical activity performance, and growing demand from the automotive sector.
On the basis of technology, the glass coating industry is segmented nano glass coating, and liquid glass coating. The nano glass coating dominated the global market in 2017 owing to long-lasting duration, high UV resistance, and improved durability. The end-users included in the report are construction, automotive and transportation, aerospace, marine, and others. The construction sector is expected to grow at the highest rate during the forecast period owing to increasing demand for energy efficient buildings, greenhouse effect and high strength.
Glass Coatings Market Scope
By Type

By Technology

By End User

By Region

Pyrolytic Coating
Sol-Gel Coating
Magnetic Sputtering Coating
Others

Nano Glass Coating
Liquid Glass Coatings

Construction
Automotive and Transportation
Aerospace
Marine
Others

North America (U.S., Canada)
Europe (Germany, UK, France, Italy, Spain, Belgium, Russia, Netherlands, Rest of Europe)
Asia Pacific (China, India, Japan, Korea, Singapore, Malaysia, Indonesia, Thailand, Philippines, Rest of APAC)
Latin America (Brazil, Mexico, Argentina, Rest of LATAM)
Middle East & Africa (UAE, Saudi Arabia, South Africa, Rest of MEA)
Know more about this report: request for sample pages
Regional Analysis
The report comprises a detailed geographic distribution of the market across North America, Europe, Asia-Pacific, Latin America, and MEA. North America is further segmented into U.S., and Canada. Europe is divided into Germany, UK, France, Italy, Spain, Belgium, Russia, Netherlands, and Rest of Europe. Asia-Pacific is bifurcated into China, India, Japan, Korea, Singapore, Malaysia, Indonesia, Thailand, Philippines and Rest of Asia-Pacific. Asia-Pacific accounted for the largest share in the Global Glass coating market in 2017. The increasing sale of vehicles in countries such as China, Japan, and India, and the growing demand from the construction sector drives the growth of the glass coating industry in the region.
Competitive Landscape
The leading players in the market include Kyocera Corp, PPG Industries, Henkel A.G., The NSG Group, Saint-Gobain, Corning Inc, Murata Manufacturing Co. Ltd, Valspar Corporation, Euroglas GmbH, and The Sherwin-Williams among others. These leading players in the glass coating industry are introducing innovative products in the market to cater to the consumers. Global players are entering new markets in developing regions to expand their customer base and strengthen presence in the glass coating industry.