The global aerospace coatings market was pegged at USD 1,629.1 Million in 2018 and is expected to exhibit a CAGR of 6.9% over the forecast period. Due to rising demand from the defense and aerospace industries, the aerospace coatings industry is expected to register significant growth in the near future. The stature of aerospace coatings has significantly improved. High strength, miniaturization and precision in the aerospace coatings industry have become key features of the products. In addition, they are not only an important part of aircraft manufacturing but are expected to support the horizon's new drone industry. Coatings are highly complex in the aerospace sector and safeguard aircrafts from severe weather conditions. In addition, aerospace coatings not only help the aerial vehicles exterior, but also decorate their interiors.
Specialized coatings significantly benefit key components in aircraft designs such as wing frame, fuselage frame and tail frame. High-surface coating application increasing demand are expected to drive the aerospace coatings market significantly. Increasing global air passenger traffic has spurred commercial aircraft demand, thus boosting commercial aircraft production levels. This markets significant growth is directly proportional to the aircraft manufacturing scenario and the expanding size of the fleet. Increasing aircraft production mainly for the developing countries, is projected to create remarkable opportunities for manufacturers of aerospace coatings. Increasing aircraft deliveries from leading manufacturers such as Airbus and Boeing are also adding significantly to the global aircraft fleet size, pushing the market revenue growth in turn.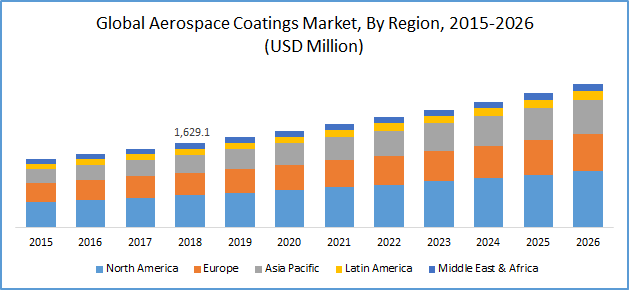 Know more about this report: Request for Sample Pages
With the increasing number of aircraft in service, there is projected to be a substantial growth in demand for maintenance, repair, and overhaul of various parts, systems and components which is expected to complement the growth of the overall market.
Global aircraft production was recorded at approximately 6200 units by the end of 2017, with the major market share of Asia Pacific. However, the global market for this industry is estimated to be dominated by North America and Europe due to the relatively large fleet size of aircraft. According to data from the IMF, the global economy has grown by 3.7%. A nation's economic growth enhances living standards, buying parity as well as citizens ' spending power. The global aerospace industry enjoyed a long period of substantial growth and profits, driving demand for aerospace coatings.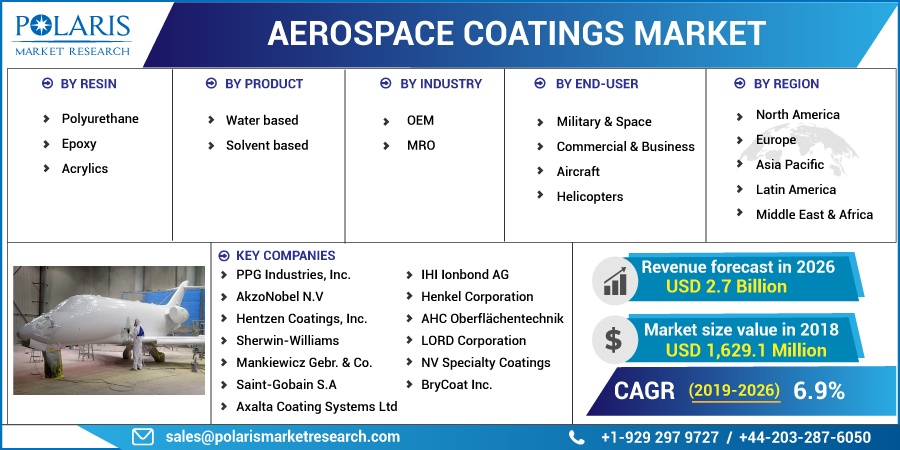 Know more about this report: Request for Sample Pages
Aerospace Coatings Market Report Scope
By Resin

By Product

By Industry

By End-user

By Region Type

Polyurethane
Epoxy
Acrylics

Water based
Solvent based

Military & Space
Commercial & Business Aircraft
Helicopters

North America (U.S., Canada)
Europe (UK, Germany, France, Italy, Russia)
Asia Pacific (India, Japan, China, South Korea)
Latin America (Brazil, Mexico)
MEA (Saudi Arabia, South Africa, Israel, UAE)
Know more about this report: Request for Sample Pages
The market is primarily segmented on the basis of products, resin, end user, industry and geographic region.
Resin Outlook
Polyurethane resins are the most widely used resins on the market and are available in two-component and single systems. In 2018, the resin segment represented about 61.0 percent of the market volume. Due to high corrosion resistance and elastic properties that ease their overall application, they are used critically in aircraft exteriors. The demand for polyurethane coatings is fueled by several stringent VOC and chromate coatings regulations in regions such as North America and Europe. Coatings grounded on polyurethane resin provide structural parts with external protection. Due to the rising applications in commercial aviation, the market is likely to see significant growth during the forecast period. Strengthening demand for glossy coatings is also expected to increase in the market.
Product Outlook
Liquid coatings include solvent-based and water-based coatings in which solvent-based are edged above each other in terms of demand and are the leading contributor for the liquid segment. Solvent-based type is used primarily in the aerospace market, being relatively less susceptible to harsh climates. Several VOC emissions limits and standards by governments of different countries are estimated to inhibit the growth of this sub-segment of the product over the forecast period. Restraints on solvent based coatings as well as new technological developments in formulations are anticipated to trigger the growth of the water-based segment during the forecast period. Due to ease of application and their environmentally friendly characteristics, powder coatings are gaining huge demand currently in the global market.
End User Outlook
In 2018, the commercial end-user segment accounted for nearly half of the market revenue. Increasing demand for passenger air travel due to higher tourism and lower travel costs leads to an increase in the number of commercial aircraft worldwide. Growing volumes of trade by countries like China and India are boosting air cargo demand. Due to the increasing demand for high-quality coatings with enhanced durability, the commercial and business end-user segment is likely to experience remarkable growth during the forecast period. Military aircraft typically constructed using aluminum alloys need coatings with higher resistance to corrosion. This segment is also having a significant growth due to increased defense spending and demand for high performance aircrafts.
Industry Outlook
The market is bifurcated into OEM and MRO based on the industry category. Among aerospace OEM manufacturers there is a high demand for these coverings. The OEM segment is likely to expand in terms of revenue over the forecast period at a CAGR of 6.1 percent in the global market. Different countries in Europe aim to strengthen their commercial aircraft manufacturing base in order to reduce their import dependence on the U.S. This, in turn, is expected to increase OEMs in Europe's demand for aerospace coatings.
Regional Outlook
In 2018, North America accounted for more than 35% of total market revenue. The region is expected to dominate the market by 2026, thanks to the booming U.S. aerospace industry and the emergence of Mexico's major aerospace firms. Products with lesser VOC and HAp, viz. polyurethane, are mainly used in this region due to strict government regulations.
In order to meet rapidly increasing market demand, the capacity and frequency of air travel across the country have been expanded. This, in turn, is projected during the forecast period to propel the country's market. In addition, the presence in Asia Pacific of various long-haul airline routes promotes MRO activities, which translates into increased demand for aerospace coatings in the region.
Competitive Landscape
There are several major players in the market including PPG Industries, Inc.; AkzoNobel N.V; Hentzen Coatings, Inc.; Sherwin-Williams; and Mankiewicz Gebr. & Co. among others. Other major comprises Saint-Gobain S.A; Axalta Coating Systems Ltd; IHI Ionbond AG; Henkel Corporation; AHC Oberflächentechnik; LORD Corporation; NV Specialty Coatings and BryCoat Inc. among others. Companies compete mainly on the basis of offered product varieties, as players have similar product portfolios. Low product differentiation has resulted in intense player competition. In order to strengthen their market position, companies aim to offer products at a competitive price.