The global blood cancer drugs market was valued at USD 41.48 billion in 2020 and is expected to grow at a CAGR of 10.9% during the forecast period. Growing incidence of blood cancer and increasing focus on development of new treatments are expected to drive the growth. Globally, blood cancer is the fifth most commonly occurring cancers and the second most leading cause of deaths. The three most common types of the disease are leukemia, lymphoma, and multiple myeloma.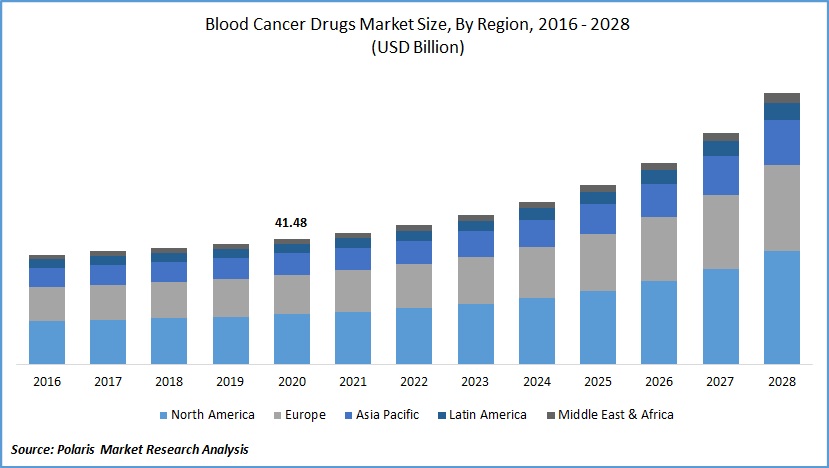 Know more about this report: request for sample pages
Recently the incidences of blood disease have been growing rapidly. Globally it is the fifth most commonly occurring disease and is the second most leading cause of death. Every year globally, over 300,000 people are diagnosed with leukemia and 400,000 people are diagnosed with lymphoma. It has been estimated that blood cancer will account for 10.2% of the total new cases. The growing incidences of blood cancer is expected to drive the growth of the market for blood cancer drugs.
Even in developed countries, access to new drugs is not available, where national health systems priority to reimburse some products have seen a decline. Though they are ready to reimburse mostly non-cancer drugs, countries which are using a formal cost effectiveness policy based on the cost per quality life year gained are less expected to pay for new cancer drugs than countries employing other assessment approaches.
Countries like US, France, Germany, Italy, and Spain reimburse almost all the products. Countries like South Korea and Japan where the availability of new treatments vary widely, in 2014 less than half of the new treatments were launched. This leads to a rise in out-of-pocket expense for the patients and where most of the times patients are not able to afford expensive treatments. It is one of the major restraints for this market.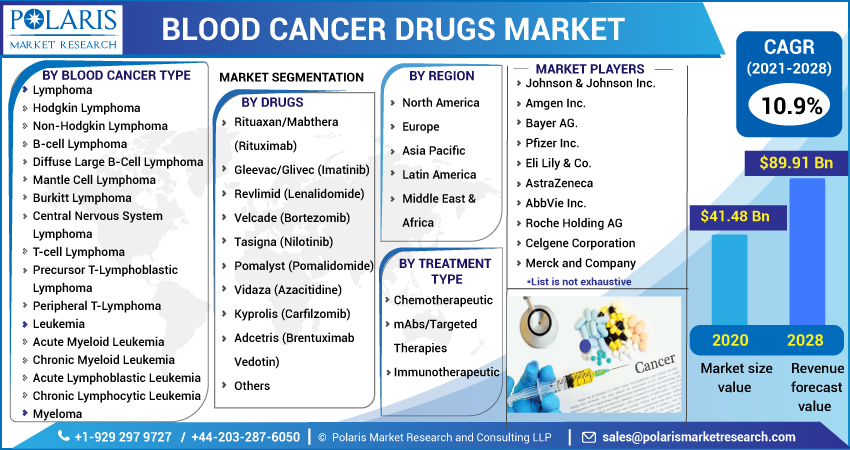 Know more about this report: request for sample pages
Industry Dynamics
Growth Drivers
In recent times it has been observed that the government sources are undertaking initiatives in funding the research institutes for aiding research. This is a major growth driver for the industry as it will help the institutes to conduct their research on a large-scale basis without any financial constraints.
Institutes like NCI (National Cancer Institute) receives funding from United states congress. These funds help them with the research at their headquarters in Maryland, medical centers and in labs located across the U.S. and in other countries.
Until recent times limited number of drugs have been approved by the U.S. FDA and European Commission for treatment of blood cancer. The approval of Inotuzumab ozogamicin (Besponsa) in 2011 as the first monoclonal antibody for treatment of leukemia triggered major research and development activities in this segment.
Blood Cancer Drugs Market Report Scope
The market is primarily segmented on the basis of blood cancer type, drugs, treatment type, and region.
By Blood Cancer Type

By Drugs

By Treatment Type

By Region

Lymphoma

Hodgkin Lymphoma
Non-Hodgkin Lymphoma

B-cell Lymphoma

Diffuse Large B-Cell Lymphoma
Mantle Cell Lymphoma
Burkitt Lymphoma
Central Nervous System Lymphoma

T-cell Lymphoma

Precursor T-Lymphoblastic Lymphoma
Peripheral T-Lymphoma

Leukemia

Acute Myeloid Leukemia
Chronic Myeloid Leukemia
Acute Lymphoblastic Leukemia
Chronic Lymphocytic Leukemia

Myeloma

Rituaxan/Mabthera (Rituximab)
Gleevac/Glivec (Imatinib)
Revlimid (Lenalidomide)
Velcade (Bortezomib)
Tasigna (Nilotinib)
Pomalyst (Pomalidomide)
Vidaza (Azacitidine)
Kyprolis (Carfilzomib)
Adcetris (Brentuximab Vedotin)
Others

Chemotherapeutic
mAbs/Targeted Therapies
Immunotherapeutic

North America (U.S., Canada)
Europe (France, Germany, UK)
Asia Pacific (Japan, China, India)
Latin America (Brazil, Mexico)
Middle East & Africa
Know more about this report: request for sample pages
Insight by Blood Cancer Type
Leukemia blood cancer segment accounted for over 39.0% of the global market revenue in 2020. The prognosis and treatment for leukemia depend on whether it is acute or chronic and the type of blood cell that is affected. The leukemia blood cancer type is segmented into acute lymphoblastic leukemia, acute myelogenous leukemia, chronic myelogenous leukemia, chronic lymphocytic leukemia, acute myeloid leukemia, and chronic myeloid leukemia.
Lymphoma blood cancer segment is expected to witness significant growth over the forecast period. The type of cancer can be categorized into two main categories, Hodgkin lymphoma and non-Hodgkin lymphoma. Non-Hodgkin lymphoma is more common between the two and can be further categorized as aggressive or indolent and there are further has 60 various subtypes of non-Hodgkin lymphoma.
Hodgkin's lymphoma, formerly known as Hodgkin's disease, is a lymphatic system disease, which is part of body's immune system. Hodgkin's lymphoma may affect people of age. However, this type of blood cancer is most common in people between 20 and 40 years old and those over 55. The treatment generally depends on a disease stage. The main treatment options are radiation and chemotherapy.
One of the key challenges today is finding the right treatment that are tolerable with lesser side effects. Few of the major brands for this segment are Bendamustine Hydrochloride (Pfizer), Gazyva (Roche), Venclexta, Imbruvica (AbbVie), (Arzerra) Novartis and Leustat (Johnson & Johnson). Players like Roche, Celgene and Johnson & Johnson have products in the pipeline for treatment of chronic lymphocytic leukemia.
Insight by Drug
On the basis of drugs, the global blood malignancy drugs market is segmented into Rituaxan/Mabthera (Rituximab), Gleevac/Glivec (Imatinib), Revlimid (Lenalidomide), Velcade (Bortezomib), Tasigna (Nilotinib), Pomalyst (Pomalidomide), Vidaza (Azacitidine), Kyprolis (Carfilzomib), Adcetris (Brentuximab Vedotin), and Others.
Due to the drug effectiveness, the demand for personalized blood cancer drugs is expected to increase significantly during the forecast period. As many of the leukemia cases are undetected in early stage, the emphasis is on effective drugs for recovery.
Imatinib is taken orally and is sold under the brand name – Gleevec. It is a medication used to treat the disease. Precisely it is used for chronic myelogenous leukemia (CML) and acute lymphocytic leukemia (ALL), hypereosinophilic syndrome (HES), systemic mastocytosis, chronic eosinophilic leukemia (CEL), and several types of gastrointestinal stromal tumors (GIST) myelodysplastic syndrome.
Imatinib was approved for medical use in the United States in 2001. It is considered as the most effective and safe medicines needed in a health system according to the World Health Organization's List of Essential Medicines. Lenalidomide is a known by its brand name, Revlimid. It is a primarily used as a treatment for myeloma and blood disorders called myelodysplastic syndromes.
Insight by Treatment Type
Treatment for hematologic malignancies is based on the age, type of blood cancer, how fast the disease is progressing and where the disease has spread. In hematologic malignancy, if the disease has advanced then the treatment will include chemotherapy, immunotherapy and radiation therapy. In some of the rare cases, treatment will include bone marrow transplant. Based on therapy the market is segmented into chemotherapy, immunotherapy and mAbs/Targeted Therapies.
Chemotherapy treatment for chronic leukemias is oral therapy, the most commonly used drugs for chronic leukemia are Imatinib (glivec), Dasatinib (sprycel), Nilotinib (tasigna) and Bendamustine. Many patients with multiple myeloma receive chemotherapy in combination with other drugs or treatments to treat the disease and prevent relapse.
Targeted therapy uses drugs to target specific molecules such as proteins on the surface of the infected cells or on inside the cells. Targeted therapy is also known as molecularly targeted therapy. This type of therapy is primarily used to: destroy infected cells, relieve symptoms caused by the disease or slow down the growth of the same.
Immunotherapy is a treatment that either improves the patient's immune system or uses man-made versions of the normal parts of the immune system to destroy infected cells or slow their growth. Man-made versions, called monoclonal antibodies are used to eradicate infected cells. In recent years, immunotherapy for the treatment have been growing and is on the forefront as a leading area of ongoing research and therapies that has changed the landscape of the treatment.
Geographic Overview
The North America blood cancer drugs market continues to lead followed by Europe. The reason for their continued dominance includes presence of major pharmaceutical companies, Technological advancement and established R&D infrastructure. The Asia Pacific region is expected to grow, due to the rise in the cases of blood cancer, increased government funding for research.
U.S. continues to lead the blood cancer drugs market, with the presence of big players in this region. Major players like Pfizer Inc, Bristol Myers Squibb, AbbVie Inc, Celgene, and Johnson & Johnson have their presence in united states. One of the other reasons for their continued dominance is the well-established R&D infrastructure and government commitment towards funding cancer research programs.
The prevalence of blood cancer is steadily rising due to the significant prolongation of survival that has been achieved with targeted therapy. One of the majorly occurring disease is multiple myeloma. The disease accounts for 1% of all the related diseases and around 10% of blood cancer. As a result, the demand blood cancer drugs in Europe are expected to witness growth.
The growing cases of blood cancer, increased government funding for the research and rise in healthcare expenditure, these factors are propelling the growth in this region. The annual healthcare expenditure of India and China is increasing about 16% and 9% respectively. Asia Pacific is estimated to be the fastest growing segment over the forecast period.
Competitive Insight
Major market players in this blood cancer type industry are Johnson & Johnson Inc., Amgen Inc., Bayer AG., Pfizer Inc., Eli Lily & Co., AstraZeneca, AbbVie Inc., Roche Holding AG, Celgene Corporation, Merck and Company, Novartis AG, and GlaxoSmithKline Pharmaceuticals Ltd.
Key players are focusing on expanding their businesses in developing regions to increase their market share. In addition, they are adopting strategies such as mergers acquisitions and development of new products. For instance, AbbVie acquired Pharmacyclics Inc., a leader in hematologic oncology market, with this acquisition they aim to expand their presence in scientific and commercial oncology.