The global blood plasma market was valued at USD 27,861.25 million in 2022 and is expected to grow at a CAGR of 7.2% during the forecast period. The market's growth is primarily attributed to an increasing number of patients suffering from severe blood disorders, such as Hemophilia and Thalassemia.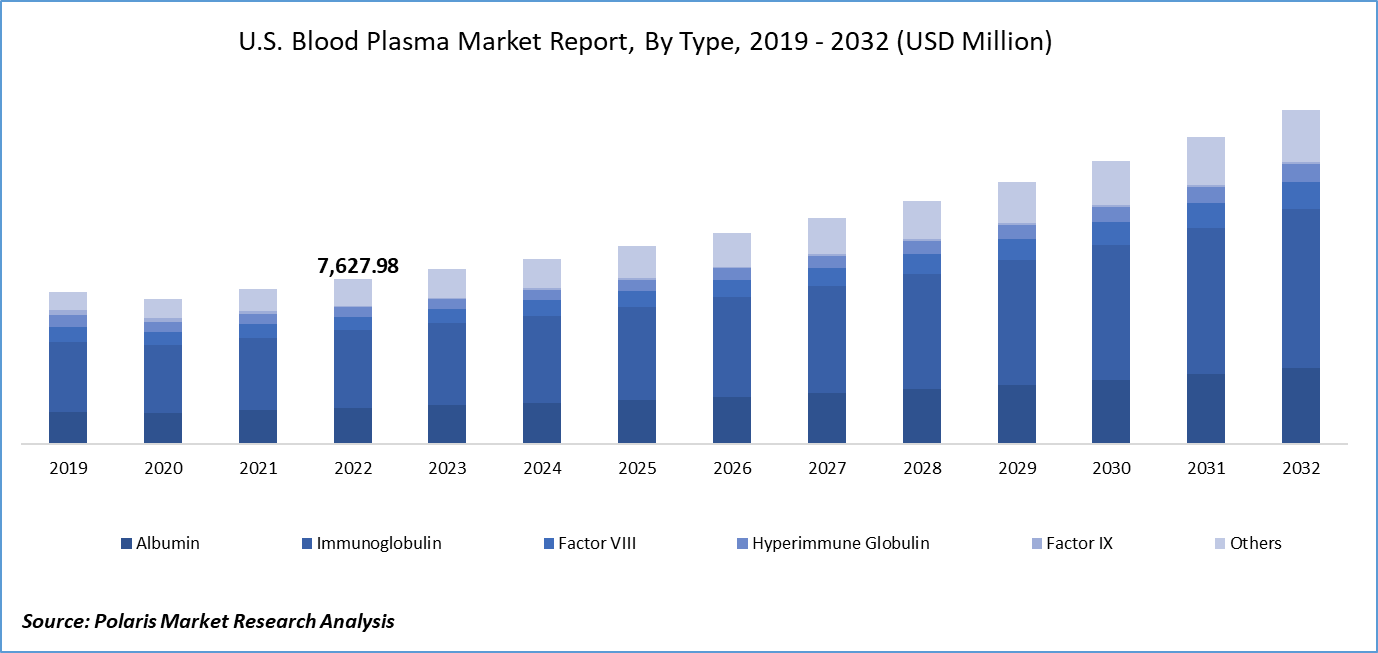 To Understand More About this Research: Request a Free Sample Report
For instance, Hemophilia A affects approximately 400 newborns each year, as per CDC statistics.
Blood plasma is the fluid component of blood responsible for transporting various blood constituents like red and white blood cells, platelets, salts, enzymes, as well as proteins and antibodies produced by the immune system to combat pathogens. Individuals with blood type A.B. are particularly sought after as plasma donors.
Plasma finds application in treating burn, shock, and trauma patients, as well as those with multiple clotting factors or severe liver disease deficiencies. It aids in boosting blood volume, preventing shock, and facilitating blood clotting. Pharmaceutical companies utilize plasma to produce treatments for bleeding disorders and immune deficiencies.
Market growth is driven by government initiatives promoting blood plasma donation, increased public awareness, and factors like research and development efforts, healthcare sector expansion, a growing geriatric population, and rising adoption of plasma-derived products. An example is the U.S. Department of Health and Human Services campaign in August 2022 to boost blood and plasma donations.
Plasma-derived products possess therapeutic properties and are used to address various blood plasma-related disorders. For instance, coagulation factor VIII, derived from plasma, is crucial for treating and preventing hemophilia and controlling excessive bleeding during surgery. Immunoglobulins derived from plasma are used to manage both primary and secondary immunological deficits.
Additionally, research and development activities aimed at creating advanced plasma-derived products offer lucrative prospects for market players during the forecast period of 2022 to 2032. Strategic manufacturing and distribution of plasma products are expected to drive market growth further. Advancements in technology, a substantial patient base, increased demand for effective therapies, and a rise in healthcare expenditure all have a positive impact on the blood plasma market.
Growth Drivers
Rising Demand for Plasma-Derived Therapies
Blood plasma, a vital component of human blood, is used in various medical applications, including the production of life-saving plasma-derived therapies. The increasing prevalence of rare and chronic diseases, such as hemophilia, immunodeficiency disorders, and autoimmune diseases, has led to a growing demand for plasma-derived therapies. The global aging population is more vulnerable to certain medical conditions that require plasma-derived therapies, contributing to increased demand in the market.
Advancements in medical technology have improved the safety and efficacy of plasma collection and the production of plasma-derived therapies. Greater awareness among healthcare professionals and patients about the benefits of plasma-derived therapies is ultimately boosting the demand of the market. Plasma-derived therapies are being developed for new medical indications, expanding the potential market.
Adequate blood donations are vital for a stable plasma supply, and educational campaigns and initiatives help to encourage blood donation. Government programs and initiatives to improve healthcare access, especially in low- and middle-income countries, have boosted plasma therapy adoption. Ongoing research and developments to develop new plasma-derived therapies and improve existing ones contribute towards market growth. The globalization of plasma collection and distribution networks helps balance supply and demand on a global scale.
According to the report by the Plasma Protein Therapeutics Association (PPTA) 2021, it is estimated that in Europe, around 1 million people are affected by one of the 12 most common rare diseases that can be treated with plasma-derived therapies. There are about 5,000 and 8,000 rare diseases, and nearly 27 to 36 million Europeans are affected by a rare disease. Plasma-derived therapies are used to treat secondary immunodeficiencies or as part of cancer therapy. In 2018, there were 3.9 million new cases of cancer in Europe and the plasma-derived therapies were used to treat them.
Concerns about public health emergencies and pandemics have increased interest in maintaining an adequate supply of plasma-derived therapies. Plasma-derived therapies often serve patients with rare diseases, making them eligible for orphan drug designations, which can incentivize research and development. Advances in personalized medicine have led to tailored treatment approaches, including the development of personalized plasma-derived therapies. Growing healthcare infrastructure and rising disposable incomes in emerging countries have expanded access to plasma-derived therapies and increased demand for the market.
Report Segmentation
The market is primarily segmented based on type, application, end-user, and region.
By Type

By Application

By End-User

By Region

Albumin

Factor VIII

Factor IX

Immunoglobulin

Hyperimmune Globulin

Others

Hemophilia

Hypogammaglobinemia

Immunodeficiency Diseases

Von Willebrand's Disease

Others

North America (U.S., Canada)

Europe (France, Germany, UK, Italy, Netherlands, Spain, Russia)

Asia Pacific (Japan, China, India, Malaysia, Indonesia. South Korea)

Latin America (Brazil, Mexico, Argentina)

Middle East & Africa (Saudi Arabia, UAE, Israel, South Africa)
To Understand the Scope of this Report: Speak to Analyst
By Type Analysis
Immunoglobulin dominated the global market in 2022.
Immunoglobulins emerged as a dominant segment accounting for 45.4% of the overall revenue share in 2022. Immunoglobulins are vital proteins found in blood plasma that play a central role in the body's immune response. These proteins, also known as antibodies, are produced by plasma cells in response to foreign substances like bacteria, viruses, and other pathogens. Immunoglobulins have widespread applications in the treatment of various autoimmune and immunodeficiency disorders, driving the growth of immunoglobulins.
Increasing prevalence of autoimmune diseases and immunodeficiency disorders globally. Conditions such as primary immunodeficiency diseases (PIDDs), chronic inflammatory demyelinating polyneuropathy (CIDP), and certain neurological disorders necessitate immunoglobulin therapy to manage symptoms and improve the quality of life for affected individuals.
Albumin is expected to grow with the CAGR of 7.5% over the forecasted period. Albumin plays a critical role in the global healthcare industry. Albumin is a protein found in blood plasma and is essential for maintaining the body's osmotic pressure and transporting various substances in the bloodstream. Albumin is used in critical care and emergency medicine. Albumin solutions are administered to patients with severe dehydration, burns, or shock, helping to restore blood volume and stabilize their condition. Additionally, albumin is used in various medical therapies, including those for liver disease and certain autoimmune disorders, further contributing to its market expansion.
Albumin is also witnessing an increase in demand due to the rising prevalence of chronic diseases worldwide. Patients with conditions such as cirrhosis, nephrosis, and cardiovascular diseases often require albumin supplementation as part of their treatment. For instance, In July 2023, Grifols enrolled over 400 patients across 69 sites in Europe and North America for its Phase III PRECIOSA clinical trial, evaluating Albutein therapy's potential to enhance survival in individuals with decompensated cirrhosis awaiting transplant.
By Application Analysis
Immunodeficiency Diseases segment accounted for the largest market share in 2022
Immunodeficiency Diseases segment accounted for 28.7% of overall revenue share in 2022. Immunodeficiency diseases, such as primary immunodeficiency disorders (PIDD), often result in a compromised immune system, making patients more susceptible to infections and diseases. Blood plasma-derived products, such as immunoglobulin therapies, have become a cornerstone in the management of these conditions.
Primary immunodeficiency (PI) comprises over 400 types, with varying severity levels affecting detection timing. At the same time, some individuals discover their mild PI in adulthood, while others experience symptoms in infancy, often detected shortly after birth. Newborn screening in all states includes severe combined immunodeficiency (SCID) testing, and treatment effectiveness depends on the specific PI type.
Hemophilia is expected to grow with the CAGR of 7.5% over the forecasted period. Hemophilia is a genetic condition characterized by a deficiency or dysfunction of clotting factors in the blood, primarily Factor VIII (hemophilia A) or Factor IX (hemophilia B). The development and availability of clotting factor replacement therapies are available, these therapies, derived from blood plasma, are essential for managing and preventing bleeding episodes in individuals with hemophilia. In May 2022, Takeda launched Adynovate, an extended half-life rFVIII treatment for hemophilia A patient in India, offering a personalized prophylaxis option with real-time monitoring for improved patient quality of life through the MYPKFIT application.
Regional Insights
North America region dominated the global market in 2022
North America led the global market with a revenue share of 45.5% in 2022. North America, particularly the United States and Canada, is a significant contributor to the global supply of plasma-derived products. Pharmaceutical companies collect and process plasma into therapies that are distributed worldwide. The demand for plasma in North America not only serves domestic needs but also plays a role in meeting international demand.
The demand for plasma also relates to public health preparedness. Adequate plasma supplies are critical during emergencies, natural disasters, and pandemics, where sudden surges in demand may occur. To meet the demand, North America relies on voluntary plasma donation programs. Encouraging individuals to donate plasma regularly is essential for maintaining a stable supply.
Asia Pacific is expected to the highest CAGR over the forecasted period. The growth of the blood plasma market is significantly influenced by government efforts in the Asia Pacific region. Many countries in the region have implemented regulations and policies to ensure the safety and adequacy of plasma collection and distribution. These initiatives aim to maintain a secure and sustainable supply of blood plasma for medical treatments. Additionally, government agencies often collaborate with healthcare organizations and plasma collection centers to promote awareness and encourage voluntary plasma donations, further supporting the market's growth in the region.
The donation of plasma is a driving force behind the blood plasma market in the Asia Pacific. As patient awareness and the number of R&D activities increase, so does the demand for plasma-derived therapies. Plasma donation, particularly from healthy individuals, is essential for meeting this rising demand. Governments and healthcare organizations actively promote plasma donation in the region to ensure a steady supply of raw materials for life-saving treatments, making donors a crucial part of the market's ecosystem.
Key Market Players & Competitive Insights
The blood plasma market is fragmented and is anticipated to witness competition due to several players' presence. Major service providers in the market are constantly upgrading their technologies to stay ahead of the competition and to ensure efficiency, integrity, and safety. These players focus on partnership, product upgrades, and collaboration to gain a competitive edge over their peers and capture a significant market share.
Some of the major players operating in the global market include:
Biotest AG

CSL

GC Biopharma Corp

Grifols

Intas Pharmaceuticals Ltd

Kedrion S.p.A.

LFB

Octapharma AG

Sanquin

Takeda Pharmaceuticals
Recent Developments
In June 2023, Grifols has started marketing XEMBIFY, its 20% subcutaneous immunoglobulin, in Spain.

In February 2023, GC Biopharma acquired Catalyst Biosciences' rare disease hematology pipeline, including "Marzeptacog alfa," a Phase 3-ready engineered factor VIIa with demonstrated efficacy and safety in treating rare bleeding disorders.
Blood Plasma Market Report Scope
| | |
| --- | --- |
| Report Attributes | Details |
| Market size value in 2023 | USD 29,421.48 million |
| Revenue forecast in 2032 | USD 54,787.67 million |
| CAGR | 7.2% from 2022 – 2030 |
| Base year | 2022 |
| Historical data | 2019 – 2021 |
| Forecast period | 2023 – 2032 |
| Quantitative units | Revenue in USD million and CAGR from 2023 to 2032 |
| Segments covered | By Type, By Application, By End-Use, By Region |
| Regional scope | North America, Europe, Asia Pacific, Latin America; Middle East & Africa |
| Customization | Report customization as per your requirements with respect to countries, region and segmentation. |