The global dental implants market was valued at USD 5.27 billion in 2022 and is expected to grow at a CAGR of 8.9% during the forecast period. The dental implant industry is expected to experience growth due to several factors, including the increasing use of dental implants in various therapeutic areas and the growing demand for prosthetics. Prosthetics are a significant driver of implant demand as they assist with oral rehabilitation, restoring oral function and facial form for patients. Dental implants are becoming increasingly popular among patients and surgeons because removable prosthetics have limitations such as discomfort, lack of natural appearance, and maintenance requirements.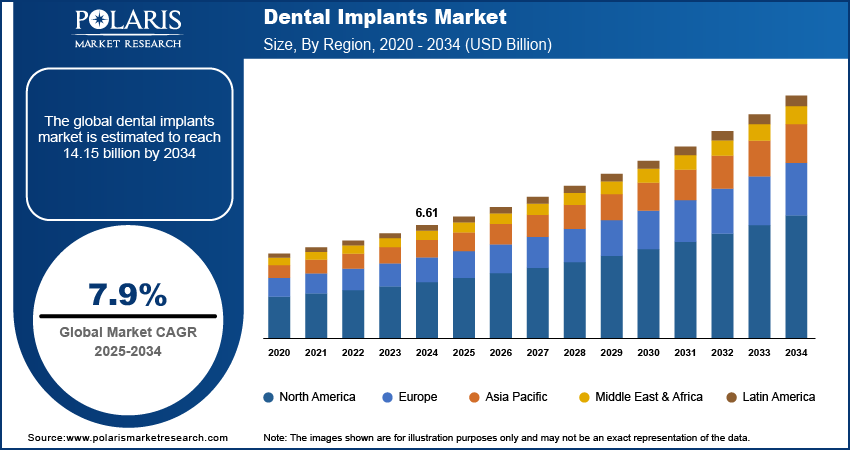 To Understand More About this Research: Request a Free Sample Report
Dental implant-supported prosthetics can improve aesthetics and do not interfere with soft tissues, which is expected to drive industry growth. Despite facing challenges in the second and third quarters of 2020 due to the COVID-19 pandemic, including supply chain disruptions and the closure of dental clinics, the industry is now in full recovery as dental procedures resumed after the second quarter of 2020. Companies like Straumann, which offer a wide range of implants and solutions such as Neodent, Medentika, and Anthogyr, experienced an increase in market share from 27% to 29% between 2020 and 2021, indicating significant post-pandemic expansion of their customer base and geographic reach.
The demand for dental implants market is also driven by increased dental injuries resulting from road accidents and sports injuries. The World Health Organization (WHO) reports that nearly 10 million people are injured or disabled due to road accidents yearly. Additionally, the American Academy for Implant Dentistry notes that over 15 million people in the U.S. undergo crown and bridge replacements for missing teeth annually, contributing to the demand for dental implants. Dental implants are a long-term solution that preserves adjacent teeth, unlike bridges that require the grinding of healthy teeth. This technique is the only therapeutic option that keeps and stimulates natural bone, providing stable support for prosthetics such as dentures.
According to the National Institute of Dental and Craniofacial Research, tooth loss in American adults typically begins between the ages of 35 and 45, with adults over 45 experiencing some degree of tooth loss and over 24% of adults over 74 years old being completely edentulous. This high incidence of tooth loss highlights the significant demand for dental implants. The COVID-19 pandemic had a considerable impact on the industry in the early part of 2020, with many dental practices closed due to regional and state lockdowns and supply chain disruptions for essential dental equipment and implants. However, there has been a surge in demand for preventive and cosmetic dental treatments, due to significant growth in the sales of dental consumables and implants for key manufacturers such as Dentsply, Straumann, and Osstem in 2021, with this trend expected to continue.
Industry Dynamics
Growth Drivers
Dental Implants market is expected to experience significant growth due to several key factors, including a high incidence of tooth loss, increased demand for aesthetic dentistry, a rise in per capita healthcare spending, and the introduction of technologically advanced products. Dental implants are among the most preferred treatments for missing teeth, particularly among older people, with a higher prevalence of edentulism. As the global population ages rapidly, this demographic shift is expected to drive demand for dental implants. According to the BMJ Journals, the prevalence of edentulism was around 12% among adults in low and middle-income countries in 2021, indicating a growing need for these devices. Therefore, the increasing prevalence of edentulism is expected to contribute significantly to market growth in the future.
The versatility of dental implants is a significant growth driver for the market, as they can easily replace multiple teeth. It makes them a highly preferred solution for teeth replacement compared to other methods. Dental implants are designed to mimic the natural appearance of teeth, and materials like titanium and zirconium, used in the implant's construction, offer excellent biocompatibility. Over time, these implants fuse with the living bone in the jaw and form a solid attachment, which can last a lifetime. It contrasts bridgework and removable dentures, which may require frequent replacements. Dental implants also support the jawbone, promoting its health and rebuilding potential, which is impossible with other teeth replacement methods. Therefore, the multiple benefits of dental implants over other solutions are expected to be a significant growth driver for the market in the forecast period.
Report Segmentation
The market is primarily segmented based on product type, implant procedure, material, design, age, end use, and region.
Product Type

By Implant Procedure

By Material

By Design

By Age

By End-Use

By Region

Endosteal Implants

Subperiosteal Implants

Transosteal Implants

Titanium

Zirconia

Ceramic

Others

Geriatric

Middle Age

Adults

Others

Dental Clinics

Dental Hospitals

Dental Academic and Research Institutes

Dental Laboratories

North America (U.S., Canada)

Europe (France, Germany, UK, Italy, Netherlands, Spain, Russia)

Asia Pacific (Japan, China, India, Malaysia, Indonesia. South Korea)

Latin America (Brazil, Mexico, Argentina)

Middle East & Africa (Saudi Arabia, UAE, Israel, South Africa)
For Specific Research Requirements: Request for Customized Report
The titanium

segment held the largest market share in 2022
In 2022, the titanium segment held the largest market share in dental implants due to their extensive usage. The primary advantage of using pure titanium is its biocompatibility. The raw form of titanium contains other metals like iron, vanadium, zirconium, silicon, magnesium, and ilmenite. The chemical synthesis process involves converting the natural titanium intermediates through extraction and purification reactions to obtain pure titanium ingot.
Due to its toxicity to the human body, removing titanium dioxide from the titanium implant is important. In contrast, the zirconium segment is expected to grow fastest during the forecast period. Zirconium material shares similar characteristics with titanium, but zirconium implants are usually made as one-piece systems. Although two-piece titanium implants offer advantages such as supporting overdentures, implants come in various sizes (length and width) that allow for selection according to the patient's bone size.
The tapered segment held the largest market share in 2022
In 2022, the tapered implants segment held the largest market share, and are suitable for immediate placement, particularly in narrow gaps and areas with high root proximity. They are also popular for quick tooth extraction. Tapered implants offer reasonable strength in delicate bones, and the tapered implant design delivers sufficient power by creating stress on the cortical bone in sites of low bone quality. As a result, the demand for tapered implants is projected to increase during the forecast period.
Conversely, the parallel-walled implants segment may experience slower growth due to safety concerns associated with poor-quality jaw bone surgeries. Although parallel-walled implants can accomplish more strength, various clinical research has shown that they are unsafe for these surgeries. Therefore, this segment may capture a smaller market share during the forecast period.
The North America accounted for largest revenue share over the forecast period
North America accounted for the largest revenue share over the forecast period due to the presence of major players. Their initiatives in this region are a significant factor driving the market growth. For example, on October 27, 2022, Neocis secured additional funding of USD 40 million with Vivo Capital, current partners DFJ Growth and Intuitive Ventures, Fred Moll, Norwest Venture Partners, and Mithril Capital Management, to continue advancing dental surgery with robotics. The adoption of robotic implant dentistry is rapidly growing, with over 20,000 implants placed so far using the Yomi system.
The Asia-Pacific region is predicted to witness the highest revenue growth rate during the forecast period. The growth in the market in this region can be attributed to the development of dental infrastructure in various countries. An example is the investment agreement signed by The Straumann Group, a prominent implant and cosmetic dentistry player, and Shanghai Xin Zhuang Industrial Park on March 26, 2021.
The European market is predicted to experience a stable revenue growth rate during the forecast period. This growth is likely driven by the increased efforts of major regional companies to develop new and innovative solutions. For instance, on June 10, 2022, the announcement was made that the oral care firms, Oral-B and Straumann, entered into a worldwide partnership to emphasize the importance of preventive care in periodontal and peri-implant health.
Competitive Insight
The major global market players include Nobel Biocare Services AG, BioHorizons IPH, Inc., OSSTEM IMPLANT, Zimmer Biomet Holdings, Inc., Institute Straumann AG, KYOCERA Medical Corp., Leader Italy, Anthogyr SAS, Bicon, LLC, DENTSPLY Sirona, DENTIS, T-Plus Implant Tech. Co., DENTIUM Co., Ltd, Henry Schein, Inc., Sweden & Martina S.p.A., Neoss Limited.
Recent Developments
In December 2022, ProSmile expanded its product range by launching SmartArches dental implants. The company also announced plans to expand its presence in eight U.S. states in 2023.

In November 2022, ZimVie launched its Next Generation TSX implant in the United States. These implants are designed to provide primary stability in soft and dense bones during immediate extraction.

In January 2022, Neodent, a subsidiary of Institut Straumann AG, introduced the Zi ceramic implant system, which enhances the ceramic's performance and improves force distribution through internal connections.

In February 2022, Envista Holdings Corporation renewed its partnership agreement with Vitaldent Group, for Dental Service Organization (DSO) in Spain, to become a preferred supplier of implants.
Dental Implants Market Report Scope
| | |
| --- | --- |
| Report Attributes | Details |
| Market size value in 2023 | USD 5.72 billion |
| Revenue forecast in 2032 | USD 12.27 billion |
| CAGR | 8.9% from 2023 - 2032 |
| Base year | 2022 |
| Historical data | 2019 - 2022 |
| Forecast period | 2023 - 2032 |
| Quantitative units | Revenue in USD billion and CAGR from 2023 to 2032 |
| Segments covered | By Product Type, By Implant Procedure, By Material, By Design, By Age, By End Use, By Region |
| Regional scope | North America, Europe, Asia Pacific, Latin America; Middle East & Africa |
| Key companies | Nobel Biocare Services AG, BioHorizons IPH, Inc., OSSTEM IMPLANT, Zimmer Biomet Holdings, Inc., Institute Straumann AG, KYOCERA Medical Corp., Leader Italy, Anthogyr SAS, Bicon, LLC, DENTSPLY Sirona, DENTIS, T-Plus Implant Tech. Co., DENTIUM Co., Ltd, Henry Schein, Inc., Sweden & Martina S.p.A., Neoss Limited. |