The global epilepsy drugs market was valued at USD 4.84 billion in 2021 and is expected to grow at a CAGR of 3.4% during the forecast period. The market demand within the worldwide epilepsy drugs market is scheduled to increment as new open doors for clinical investigation come to the front of the clinical business.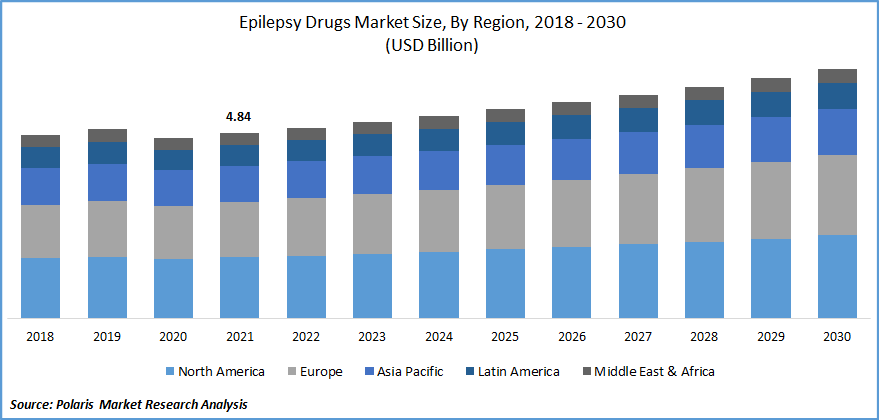 Know more about this report: Request for sample pages
Neurological issues have become a worry for clinical specialists who are taking a gander at streamlining clinical medicines. Concentrating on the human body's neurological reactions has set out new open doors for market development. Likewise, the high occurrence of neurological problems among the geriatric populace will help market development. As a specific element, epilepsy can also influence the more youthful populace bunches. In this manner, the high weakness of individuals, everything being equal, to epilepsy has made new roads for market development and income age.
According to the World Health Organization facts of 2022, around 50 million individuals overall have epilepsy, making it perhaps the most well-known neurological sickness universally. In top-level salary nations, there are assessed to be 49 for every 100 000 individuals determined to have epilepsy every year.
In low-and center pay nations, this figure can be essentially as high as 139 for every 100 000. Likewise, rising mindfulness levels about epilepsy combined with key collisions are expected to invigorate the drugs market development. One of the associations, the Epilepsy Foundation, promotes public awareness and education by undertaking drug research, conveying expert clinical consideration, and backing administrations to individuals impacted by epilepsy.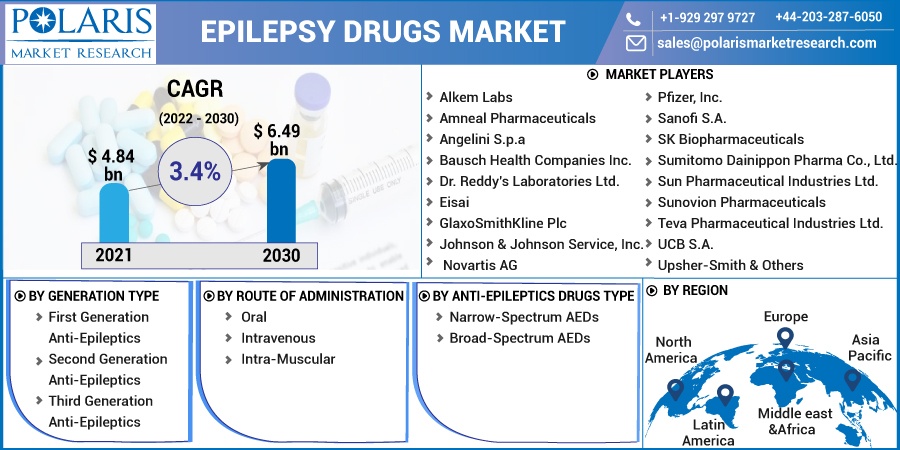 Know more about this report: Request for sample pages
Industry Dynamics
Growth Drivers
Brain injuries and the high pace of post-traumatic epilepsy and post-traumatic seizure events in patients are the primary factors driving the drugs market. The expansion in subsidizing by the government to improve and develop effective medications and medicines for seizures and rise in the research & development activities to give progressed medical care facilities to speed up the epilepsy drugs market development.
The coordinated effort of associations to offer better drugs treatment lines and epilepsy-related projects to doctors and individuals impacts the drugs market. Also, the developing geriatric populace, rising cases, ascend in the brain about the treatment choices accessible among individuals, and value disintegration of the medicines emphatically influence the drugs industry.
The rising frequency of neurological problems, higher occurrence of birth-related wounds, expanding street traffic wounds, developing illness awareness, and rising patient base in non-industrial nations are the huge elements driving the market. Also, expanding R&D ventures and send-off of broadened discharge definitions are additionally expected to fuel the market development. Be that as it may, the significant expense of licensed medications and low openness to epilepsy drugs in low and center-pay nations will probably confine the market development.
Report Segmentation
The market is primarily segmented based on generation type, route of administration, anti-epileptics drugs type, and region.
By Generation Type

By Route Of Administration

By Anti-Epileptics Drugs Type

By Region

First Generation Anti-Epileptics
Second Generation Anti-Epileptics
Third Generation Anti-Epileptics
Others

Oral
Intravenous
Intra-Muscular

Narrow-Spectrum AEDs
Broad-Spectrum AEDs

North America (U.S., Canada)
Europe (France, Germany, UK, Italy, Netherlands, Russia, Spain)
Asia Pacific (Japan, China, India, Malaysia, Indonesia. South Korea)
Latin America (Brazil, Mexico, Argentina)
Middle East & Africa (Saudi Arabia, UAE, Israel, South Africa)
Know more about this report: Request for sample pages
Second Generation epileptics drugs to hold the biggest market share
The second-generation epileptics drugs market segment is expected to hold the most significant portion of the overall market over the forecast period attributable to the few vast benefits, for example, decreased drug communications, less hazardous unfriendly occasions, and more positive effects on mental capacities. Besides, the rising instances of epilepsy will help the interest for drugs on the lookout.
The third-generation antiepileptic drugs market class is expected to grow at the fastest pace throughout the forecast period. The central point answerable for the development of this portion incorporate the sendoff of high efficacy drugs with a further developed system of activity and less random effects and the anticipated sendoff of new pipeline drugs.
Oral Route of Administration to be widely used among patients
An antiepileptic prescription is swallowed by mouth and passes straightforwardly to the stomach. Once in the stomach, the medicine is consumed into the circulatory system, which flows to the brain, through the liver, and followed up on the nerve cells. As the medication flows in the blood, it is step by step eliminated by either the liver separating it (digestion) or the kidneys sifting it through (discharge). Some medication metabolites are dynamic and produce either valuable antiepileptic outcomes or unfavorable incidental effects. Most generally endorsed antiepileptic drugs are taken out from the blood at a rate that permits two times every day dosing to keep up with satisfactory blood levels. A few medications are eliminated more rapidly than others and must be required 3 or multiple times daily, while others are taken out leisurely and can be required once daily.
Narrow-spectrum AEDs antiepileptic drugs type to witness the fastest growth
These medications are often used to treat seizures in a particular piece of the brain consistently. A wide range of AED might be an ideal treatment decision if a person has more than one kind of seizure. Also intended to prevent seizures in more than one part of the brain.
The market demand in North America is expected to witness significant growth
Geographically, The U.S. is supposed to be the biggest epilepsy drugs market attributable to the presence of a better medical services framework and rising instances of epilepsy. According to the Center for Disease Control and Prevention 2020, around 470,000 youngsters and approximately 3 million grown-ups have active epilepsy in the U.S. The number of Americans who have epilepsy is more prominent than the number who have different sclerosis, Parkinson's sickness, and cerebral paralysis joined. In this manner, there is a rising interest for effective treatment in the district as most would consider it normal to support the development of the epilepsy drugs market. Besides, different associations make awareness in the U.S.
A Survey of the American Epilepsy Society Membership", during the pandemic, epilepsy patients confronted various boundaries to getting proper clinical consideration, including loss of work and monetary pressure, absence of admittance to medical services because of conclusion, transportation issues, lack of admittance to innovation for telehealth, and apprehension about a viral flare-up. Almost 90% of respondents were eager to utilize telehealth during this time.
Competitive Insight
Some of the major market players operating the epilepsy drugs market include Alkem Labs, Amneal Pharmaceuticals, Angelini S.p.a, Bausch Health Companies Inc., Dr. Reddy's Laboratories Ltd., Eisai, GlaxoSmithKline Plc, Johnson & Johnson Service, Inc., Novartis AG, Pfizer, Inc., Sanofi S.A., SK Biopharmaceuticals, Sumitomo Dainippon Pharma Co., Ltd., Sun Pharmaceutical Industries Ltd., Sunovion Pharmaceuticals, Teva Pharmaceutical Industries Ltd., UCB S.A., Upsher-Smith, and Zogenix.
Recent developments
In January 2020, Neurelis, Inc. got the FDA endorsement for VALTOCO nasal shower is intended for epilepsy drugs in kids matured 6 years or more.
In February 2021, Dr. Reddy's sent off Vigabatrin tablets in the U.S. market after getting an endorsement from the U.S. FDA.
In January 2022, UCB reported that it had obtained Zogenix for US$ 1.9 Bn to support its epilepsy product portfolio with the addition of Fintepla for treating seizures related to Dravet disorder, an uncommon type of life youngster epilepsy.
Epilepsy Drugs Market Report Scope
| | |
| --- | --- |
| Report Attributes | Details |
| Market size value in 2021 | USD 4.84 billion |
| Revenue forecast in 2030 | USD 6.49 billion |
| CAGR | 3.4% from 2022 - 2030 |
| Base year | 2021 |
| Historical data | 2018 - 2020 |
| Forecast period | 2022 - 2030 |
| Quantitative units | Revenue in USD million/billion and CAGR from 2022 to 2030 |
| Segments covered | By Generation Type, By Route of Administration, By Anti-Epileptics Drugs Type, By Region |
| Regional scope | North America, Europe, Asia Pacific, Latin America; Middle East & Africa |
| Key companies | Alkem Labs, Amneal Pharmaceuticals, Angelini S.p.a, Bausch Health Companies Inc., Dr. Reddy's Laboratories Ltd., Eisai, GlaxoSmithKline Plc, Johnson & Johnson Service, Inc., Novartis AG, Pfizer, Inc., Sanofi S.A., SK Biopharmaceuticals, Sumitomo Dainippon Pharma Co., Ltd., Sun Pharmaceutical Industries Ltd., Sunovion Pharmaceuticals, Teva Pharmaceutical Industries Ltd., UCB S.A., Upsher-Smith, and Zogenix. |