The global Human Immunodeficiency Virus (HIV) drugs market was valued at USD 30.51 billion in 2021 and is expected to grow at a CAGR of 5.2% during the forecast period. The rising prevalence of HIV and its treatment is one of the key factors driving the global HIV drugs industry forward.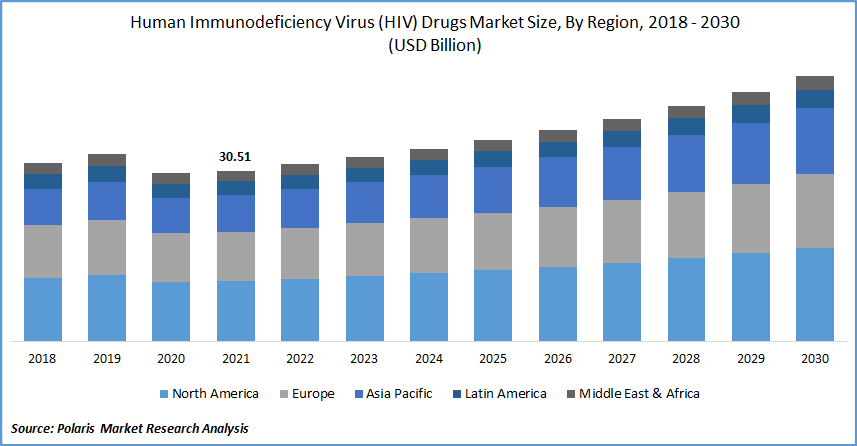 Know more about this report: Request for sample pages
The human immunodeficiency virus causes acquired immunodeficiency syndrome (AIDS), which is one of the most devastating and chronic diseases. As per the World Health Organization (WHO), there are around 37.7 million people worldwide will be infected with the human immunodeficiency virus in 2020. Also, as per the HIV government, in the US, around 1.2 million people are infected with HIV. About a third of them are unaware of it and require testing.
In the US, an estimated 34,800 new HIV infections were reported in 2019. After a period of relative stability, new human immunodeficiency virus infections fell by 8%, from 37,800 in 2015 to 34,800 in 2019. In 2019, 36,801 persons in the US and six dependent areas were diagnosed with HIV, a reduction of 9% from 2015. Diagnoses of the human immunodeficiency virus are not spread uniformly among states and regions.
As a result, people are becoming more aware of the problem, which has led to an increase in testing processes. As a result, there has been an increase in demand for high-potency HIV drugs for the treatment and management of the disease. Further, a surge in the number of government efforts aimed at raising public awareness about causes, symptoms, and drug treatment is also having an impact on the market. For instance, the National AIDS Control Programme (NACP), which was begun in 1992, is India's comprehensive HIV/AIDS drugs preventive and control program.
Over time, the emphasis has evolved from promoting awareness to behavior modification, from a national reaction to a more decentralized response, and from an effort to respond to a more decentralized response, with increased engagement of NGOs and PLHIV networks. However, government rules governing the approval and sale of human immunodeficiency virus medications, as well as HIV side effects, hinder the market's growth.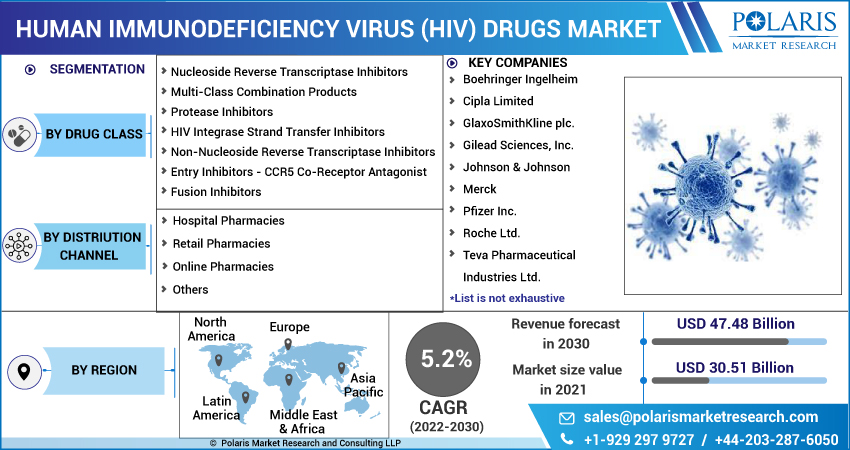 Know more about this report: Request for sample pages
Industry Dynamics
Growth Drivers
The number of people receiving HIV therapy is increasing as people become more aware of the virus and its drug treatment choices. For instance, in 2020, 28.2 million HIV patients were receiving antiretroviral therapy (ART) over the world. In comparison to 2017, the number has climbed by 1.6 million.
Further, the development of HIV drugs and medical trials and product launches is the factor that is boosting the market growth. For instance, in January 2022, Human clinical trials for an innovative human immunodeficiency virus vaccine that utilizes the same mRNA technology as Moderna's successful COVID-19 vaccine have begun, according to the biotech company.
Also, in June 2021, Emtricitabine and Tenofovir Disoproxil Fumarate pills used to treat HIV-1 infection were launched in the American market by Lupin. The drugmaker's medication is a generic form of Gilead Sciences, Inc's Truvada pills, which are used to treat HIV-1 infection in conjunction with other antiretroviral drugs. Thus, these factors are assisting the market to grow.
Report Segmentation
The market is primarily segmented based on drug class, distribution channel, and region.
By Drug Class

By Distriution Channel

By Region

Nucleoside Reverse Transcriptase Inhibitors
Multi-Class Combination Products
Protease Inhibitors
HIV Integrase Strand Transfer Inhibitors
Non-Nucleoside Reverse Transcriptase Inhibitors
Entry Inhibitors - CCR5 Co-Receptor Antagonist
Fusion Inhibitors
Others

Hospital Pharmacies
Retail Pharmacies
Online Pharmacies
Others

North America (U.S., Canada)
Europe (France, Germany, UK, Italy, Netherlands, Spain, Russia)
Asia Pacific (Japan, China, India, Malaysia, Indonesia, South Korea)
Latin America (Brazil, Mexico, Argentina)
Middle East & Africa (Saudi Arabia, UAE, Israel, South Africa)
Know more about this report: Request for sample pages
Insight by Drug Class
Multi-class combination HIV drugs products segment is expected to be the most significant revenue contributor in the global Human Immunodeficiency Virus (HIV) drugs market in 2021 and is expected to retain its dominance in the foreseen period. This dominance is attributable to rising demand for this medicine class as a result of improved results in the drug treatment of HIV and co-infections.
In addition, this medicine class contains the most cutting-edge technology for treating human immunodeficiency virus infections. Because it is the initial drug treatment option for HIV, the integrase inhibitors sector accounted for the second-largest market share in 2021, supporting segmental growth. Integrase inhibitors are suggested as the first method of drug treatment for new human immunodeficiency virus infections, according to the International AIDS Society (IAS).
Geographic Overview
North America had the largest revenue share in the global Human Immunodeficiency Virus (HIV) drugs market. The rising prevalence of human immunodeficiency virus diseases in the region is driving the market growth. For instance, as per the Centers for Disease Control and Prevention, in the United States and dependent territories, 36,801 persons were diagnosed with HIV in 2019.
From 2015 to 2019, the annual amount of new diagnoses declined by 9%. At the end of 2019, the much more recent year for which data is available, an estimated 1,189,700 persons in the US had HIV. About 87% of those infected were aware of their HIV status. With such a large patient population, the need for human immunodeficiency virus medications skyrockets.
Further, the population's awareness is another aspect that contributes to regional growth. The existence of prominent players releasing novel human immunodeficiency virus drugs for the treatment of HIV infection would boost the market growth. The well-established healthcare system, higher diagnosis and treatment rates, government financing for R&D, and increased adoption of improved treatment options for HIV-infected individuals are all factors contributing to the region's rise in the global Human Immunodeficiency Virus (HIV) drugs market.
Moreover, Asia Pacific is expected to witness a high CAGR in the global market. The region is expanding as a result of a high HIV-infected population, improved healthcare infrastructure, and an increase in the rate of HIV diagnosis and drug treatment.
For instance, as per the Government of India, in 2019, the forecast for this category was 0.22 %. In the same year, HIV incidence is estimated to be 0.24% among adult males and 0.20% amongst adult females. Furthermore, government attempts to raise public awareness have aided the expansion of the HIV drugs industry.
Competitive Insight
Some of the major players operating in the global market include Boehringer Ingelheim, Cipla Limited, GlaxoSmithKline plc., Gilead Sciences, Inc., Johnson & Johnson, Merck, Pfizer Inc., Roche Ltd., and Teva Pharmaceutical Industries Ltd., among others.
Human Immunodeficiency Virus (HIV) Drugs Market Report Scope
| | |
| --- | --- |
| Report Attributes | Details |
| Market size value in 2021 | USD 30.51 Billion |
| Revenue forecast in 2030 | USD 47.48 Billion |
| CAGR | 5.2% from 2022 - 2030 |
| Base year | 2021 |
| Historical data | 2018 - 2020 |
| Forecast period | 2022 - 2030 |
| Quantitative units | Revenue in USD Billion and CAGR from 2022 to 2030 |
| Segments covered | By Drug Class, By Distribution Channel, By Region |
| Regional scope | North America, Europe, Asia Pacific, Latin America, Middle East & Africa |
| Key companies | Boehringer Ingelheim, Cipla Limited, GlaxoSmithKline plc., Gilead Sciences, Inc., Johnson & Johnson, Merck, Pfizer Inc., Roche Ltd., and Teva Pharmaceutical Industries Ltd. |