The global specialty generics drugs market was valued at USD 98.60 billion in 2022 and is expected to grow at a CAGR of 25.4% during the forecast period.
Specialty generics are generic drugs that are developed for complex and chronic conditions such as cancer, multiple sclerosis, and rheumatoid arthritis after the branded versions have gone off-patent. These drugs are low-cost as they don't require development and marketing costs. The market for specialty generics is driven by the increasing adoption of these drugs to treat the mentioned diseases and the growing prevalence of such diseases. The market for specialty generic medicines is growing due to their increasing adoption for treating complex chronic diseases like hepatitis C.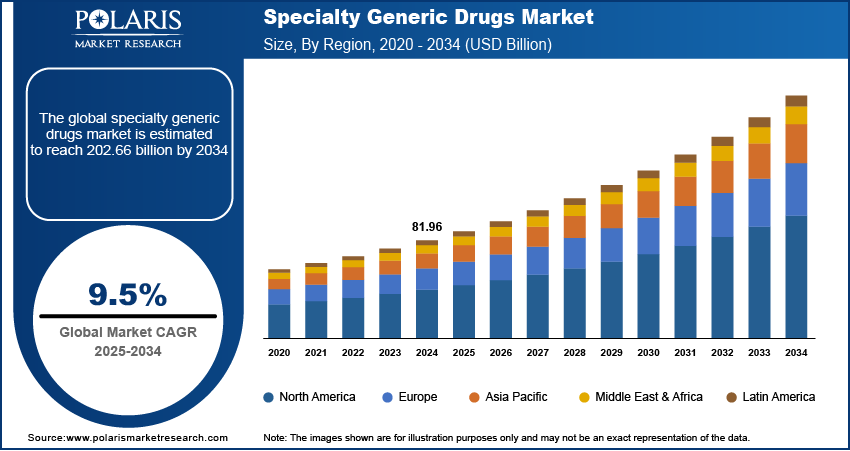 To Understand More About this Research: Request a Free Sample Report
According to a report by the World Health Organization (WHO) in 2022, there are about 58 million people worldwide with chronic hepatitis C virus infection, and this infection affects around 1.5 million people annually. As people age, their immunity weakens, making them more susceptible to chronic diseases such as arthritis, cardiovascular diseases, and cancer, which are often accompanied by other medical conditions.
The growth of specialty generics drugs market has been accelerated by the emergence of advanced distribution channels such as online pharmacies and telemedicine platforms. These channels provide easy access to medications, ensuring that patients in remote locations can obtain the drugs they need. Also, to contain rising healthcare costs, government healthcare programs and private payers are continuously seeking strategies, and generic drugs, particularly specialty generics, are a primary strategy. Consequently, several governments and insurance companies are incentivizing or mandating the prescription of generics where available, thereby increasing demand.
Specialty generic products are highly complex, which makes them less profitable. Additionally, brand familiarity and loyalty are critical factors that limit the growth of this market. Moreover, many people are not aware of the availability of generic drugs at pharmacies, which forces them to spend more on branded drugs, leading to higher healthcare costs. As a result, the market's growth is expected to be restricted during the forecast period.
Growth Drivers
The expiration of patents on specialty drugs to drive the market growth.
The demand for specialty generics is increasing globally as healthcare payers and consumers look for ways to cut down on costs. The major players in the market are mainly focused on launching generic versions of drugs, which make complex generic medicines available to patients in need. For instance, in March 2022, Teva Pharmaceuticals, Inc. launched the first generic version of Revlimid (lenalidomide capsules) in the United States. It is available in strengths of 5mg, 10mg, 15mg, and 25mg and is used to treat multiple myeloma in adults. One of the primary reasons why pharma companies focus on generics is the lower cost and production time associated with these medicines. Additionally, the expiration of patents presents significant growth opportunities for generic manufacturers and is expected to drive the market's growth during the forecast period.
Report Segmentation
The market is primarily segmented based on Type, Application, End-use, and region.
By Type

By Application

By End-use

By Region

Injectables

Oral Drugs

Others

Oncology

Inflamatory conditions

Multiple sclerosis

Hepatitis C

Others

Specialty pharmacy

Retail pharmacy

Hospital pharmacy

North America (U.S., Canada)

Europe (France, Germany, UK, Italy, Netherlands, Spain, Russia)

Asia Pacific (Japan, China, India, Malaysia, Indonesia. South Korea)

Latin America (Brazil, Mexico, Argentina)

Middle East & Africa (Saudi Arabia, UAE, Israel, South Africa)
To Understand the Scope of this Report: Speak to Analyst
By Type Analysis
Injectables segment is accounted to be the largest during forecast period
The injectables segment is a dominant force in the pharmaceutical industry due to its ability to have long-lasting effects and quick absorption into the body. This results in higher patient compliance and acceptance. The segment is expected to grow rapidly over the forecast period due to the increase in new product approvals and an expanding market. For instance, in September 2021, Dr. Reddy's Laboratories launched Nat-lenalidomide, a generic version of Revlimid, in partnership with Natco Pharma. Health Canada has approved it for treating patients with myelodysplastic syndrome and multiple myeloma in Canada. This approval is expected to make specialty generic drugs more accessible and affordable to cancer patients, which will likely lead to an increase in the prescription rate.
By Application Analysis
Inflammatory conditions segment accounted for the largest market share in 2022
The number of people with inflammatory conditions such as rheumatoid arthritis is increasing worldwide. According to the Global RA Network, approximately 350 million people live with arthritis, while the NHS reports that over 10 million people in the UK are affected. As a result of this rise in prevalence, major players in the healthcare industry are working to expand their market share in this sector.
The oncology sector is expected to witness significant growth during the forecast period. This is due to an increase in cancer cases and the approval of ANDA products like generic Xtandi (Enzalutamide), which was approved in May 2021 to treat castration-resistant prostate cancer. According to Globocan, the number of new cancer cases is likely to reach 28.4 million in the next two decades, showing an increase of 47% from 2020. This is attributed to the adoption of western lifestyle, high alcohol consumption, smoking, poor diet choices, and physical inactivity. As the number of cancer cases rises, the demand for specialty generics is expected to increase.
By End-use Analysis
Specialty pharmacy segment resulted for the highest share in 2022.
Major specialty generic manufacturers and insurance providers frequently opt for specialty pharmacies to distribute their products. This is due to the low distribution costs and easy access to medicines that these pharmacies offer. According to the Drug Channels Institute's 2021 report, the top five specialty pharmacies in the world are CVS Specialty, Accredo, Optum Specialty Pharmacy, Walgreens Stores, and Humana Specialty Pharmacy.
Specialty generic drugs are a cost-effective investment in medicine compared to branded products. The inventory of these drugs provides a good return on investment. The timely delivery of these drugs, as well as effective distribution management by specialty pharmacies, attracts buyers' attention, contributing to segment growth. Overall, these factors make specialty pharmacy an attractive option for patients seeking optimized access to medicines.
Regional Insights
North America region dominated the global market in 2022
The U.S. FDA has put in place supportive regulatory policies to streamline the approval of new products. To facilitate the delivery of safe and effective low-cost generic drugs to the public, the agency has implemented several initiatives, including the Generic Drug User Fee Amendments (GDUFA) under the Hatch-Waxman Act. As a result, leading manufacturers are continuously working to bring specialty generic drugs to the market. For instance, in June 2022, Amneal Pharmaceuticals Inc. launched LYVISPAH (baclofen), a specialty product approved by the U.S. FDA for the treatment of multiple sclerosis and other spinal cord disorders.
The Asia Pacific region is expected to experience the highest growth rate during the forecast period. This growth can be attributed to the high demand for low-cost medicines, which are currently in short supply, as well as the introduction of new generic drugs in the region. In 2021, BDR Pharma introduced a generic version of Midostaurin, which is marketed under the brand name of MSTARIN, to treat rare cancers such as acute myeloid leukemia (AML).
Key Market Players & Competitive Insights
The Specialty generics market is fragmented and is anticipated to witness competition due to several players' presence. Major service providers in the market are constantly upgrading their technologies to stay ahead of the competition and to ensure efficiency, integrity, and safety. These players focus on partnership, product upgrades, and collaboration to gain a competitive edge over their peers and capture a significant market share.
Some of the major players operating in the global market include:
Apotex Corp.

Bausch Health Companies Inc. (Valeant Pharmaceuticals International, Inc.)

Dr. Reddy's Laboratories Ltd.

Endo Pharmaceuticals Inc.

Fresenius Kabi Brasil Ltda

Hikma Pharmaceuticals PLC

Mallinckrodt

Novartis AG (Sandoz International GmbH)

STADA Arzneimittel AG

Sun Pharmaceutical Industries Ltd

Teva Pharmaceuticals Industries Ltd

Viatris Inc.
Recent Developments
In March 2022, Viatris Inc. has recently received the FDA's approval for the first generic version of Symbicort Inhalation Aerosol. Viatris developed this medication in partnership with Kindeva Drug Delivery L.P. for the treatment of chronic obstructive pulmonary disease (COPD).

In January 2022, Lupin Limited formed a partnership with Shenzhen Foncoo Pharmaceutical Co., Ltd. to sell complex generics and specialty medicines in China.
Specialty generics drugs Market Report Scope
| | |
| --- | --- |
| Report Attributes | Details |
| Market size value in 2023 | USD 123.37 billion |
| Revenue forecast in 2032 | USD 948.04 billion |
| CAGR | 25.4% from 2023 – 2032 |
| Base year | 2022 |
| Historical data | 2019 – 2021 |
| Forecast period | 2023 – 2032 |
| Quantitative units | Revenue in USD billion and CAGR from 2023 to 2032 |
| Segments covered | By Type, By Application, By End-use, By Region |
| Regional scope | North America, Europe, Asia Pacific, Latin America; Middle East & Africa |
| Customization | Report customization as per your requirements with respect to countries, region and segmentation. |