The global monoclonal antibodies market was valued at USD 185.07 billion in 2021 and is expected to grow at a CAGR of 11.5% during the forecast period. The market for monoclonal antibodies (mAbs) is driven by the rising prevalence of chronic diseases like cancer, cardiovascular disorders, and others. In addition, growing R&D activities in genomics, along with technological advancements such as next-generation sequencing, fuel the market growth. Various government support with strong investments done by many research organizations positively impacted the market growth.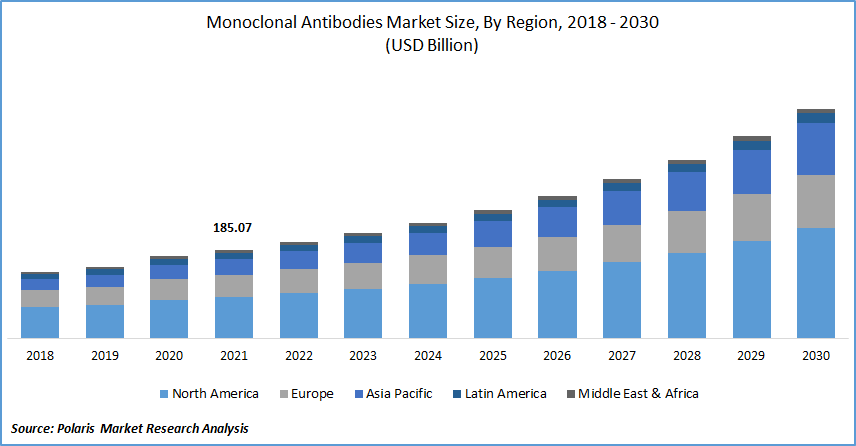 Know more about this report: Request for sample pages
The laboratory diagnosis of many diseases has been transformed by monoclonal antibodies. MAbs may be used as diagnostic reagents for biochemical analysis or as instruments for diagnosing diseases through imaging. Monoclonal antibodies support the body's immune system in the fight against cancer. These drugs could be combined with other cancer treatments.
Monoclonal antibodies are used most effectively as drugs to cure diseases, which is one of their main applications. Because these antibodies may bind to particular antigen epitopes, they can target diseased or damaged cells and are less expensive to produce than conventional medicines.
Due to their site-specificity, monoclonal antibodies are also an essential tool for material detection or purification. In end-use sectors, including molecular biology, medicine, and biochemistry, they are, therefore, extensively used.
In recent years, there have been attempts to use MAbs to identify the infection sites. By targeting MAb against bacterial antigens, this is made achievable. Additionally, to precisely identify localized infections, monoclonal antibodies against inflammatory leucocytes that gather at the infectious site are helpful.
Nearly all manufacturers are involved in license agreement renewal, cooperation initiatives, and merger and acquisition strategies to boost profits and establish a strong competitive position in the global market. Additionally, many companies are spending a lot of money developing better antibodies in an effort to beat their competitors in the market's overall competition.
Industry Dynamics
Growth Drivers
The worldwide monoclonal antibodies market is expected to experience considerable growth due to technological developments in the R&D of diseases at the molecular level and the expansion of monoclonal antibody applications.
Additionally, the growing elderly population and their susceptibility to various chronic illnesses, particularly cancer, are projected to increase the demand for different antibodies, supporting the expansion of the total market.
Similar to this, more mAb therapies are being used for targeted therapies. Patients and doctors are becoming more aware of these therapies, which is predicted to contribute considerably to the market's growth.
The potential for the market to grow will be driven by a strong focus on the research and development of novel monoclonal antibody therapeutics to provide highly targeted treatment for complex and severe diseases. Players in the industry will primarily benefit from government support and regulatory authorization to build the monoclonal antibody market.
Additionally, many active clinical trials to explore innovative medication therapies and various products approved for COVID-19 emergency treatment have fueled market expansion during the pandemic. mAbs are an effective and secure alternative for reducing COVID-19, and several of these antibodies have been granted emergency use authorizations (EUA) by the FDA.
Report Segmentation
The market is primarily segmented based on source type, production type, application, end-use and region.
By Source Type

By Production Type

By Application

By End-Use

By Region

Murine
Chimeric
Humanized
Human

Oncology
Autoimmune Diseases
Infectious Diseases
Neurological Diseases
Others

Hospitals
Speciality Centres
Others

North America (U.S., Canada)
Europe (France, Germany, UK, Italy, Netherlands, Spain, Russia)
Asia Pacific (Japan, China, India, Malaysia, Indonesia, South Korea)
Latin America (Brazil, Mexico, Argentina)
Middle East & Africa (Saudi Arabia, UAE, Israel, South Africa)
Know more about this report: Request for sample pages
The human source segment accounted for the largest share.
The rising number of drug launches and also product approvals of human monoclonal antibodies lead to drive the segment growth. Due to the inclusion of human monoclonal antibodies in the treatment of various infectious disorders, the market for this segment is also anticipated to rise.
Additionally, several industry players are concentrating on developing human monoclonal antibodies to treat COVID-19 patients. Segmental growth will be promoted as a result during the forthcoming period.
Introducing advanced technologies has sped up product development creation and discovery. This will cause even more attention to turn toward using human mAbs for immunotherapeutic purposes.
In vitro production type accounted for the biggest market share
Vitro production type held the biggest market share in 2021. The presence of serum-free culture media and semi-permeable membrane-based systems has increased the utility of biomanufacturing operations and is likely to accelerate segment growth.
Due to its cost-effectiveness compared to in vitro approaches and capacity to generate mAbs in high concentrations, in vivo production type is anticipated to expand at a significant rate throughout the forthcoming period.
The oncology segment dominated the highest revenue share
The oncology segment's dominance in the global market results from increased healthcare costs and growing public knowledge of mAbs and their efficacy in treating cancer. The expanding demand for monoclonal antibodies in the treatment of various cancer, including lung cancer, breast cancer, colorectal cancer, and prostate cancer, is responsible for the cancer segment's dominating expansion.
One of the main reasons for the rising demand for monoclonal antibodies among cancer patients is their greater effectiveness in treating cancer with minimal to no adverse effects.
The hospital end-use segment held the biggest market share in 2021
The hospital segment had the largest share due to the rising number of patients and chronic conditions; Patient preferences have been driven by advanced drug therapies' availability in institutions. The demand for products in hospitals will be driven by highly skilled professionals offering specialized treatments for conditions including cancer and autoimmune illnesses.
Specialty centers held a significant market share in 2021 due to the rising government financing in recent years.
The North American region holds the largest market share globally
Most of the market share was held by the North American monoclonal antibody market, which can be attributed to the significant presence of major industry players and the number of product approvals.
In addition, rising R&D spending by businesses and government funding for cancer research has facilitated the development of innovative monoclonal antibody treatments. Also, demand for monoclonal antibodies in the regional market will be driven by increased product usage for efficient disease treatment. A strong healthcare system has made treatments more accessible to the people, which has increased demand for the products.
The expansion of the Asia Pacific monoclonal antibodies market is anticipated to be fueled by increased disposable income, a huge patient population for mAb cancer therapies, and rising government spending on developing modern healthcare infrastructure and expanding access to superior healthcare facilities.
Competitive Insight
Some of the major players operating in the global market include Abbott Laboratories, Amgen Inc, AstraZeneca plc, Bayer AG, Biogen Inc., Bristol Myers Squibb, Daiichi Sankyo Company Limited, Eli Lilly and Company, F. Hoffman-La Roche Ltd., GlaxoSmithKline plc, Johnson & Johnson Services, Inc., Merck & Co., Inc., Merck KGaA, Novo Nordisk A/S, Novartis, Pfizer Inc, Sanofi S.A., Thermo Fisher Scientific, Inc., and Viatris Inc.
Recent Developments
In Jan 2022, Ono Pharmaceutical Co., Ltd. Collaborated with Neuroimmune AG to develop the mAb drug against novel therapeutic targets for neurodegenerative diseases.
In June 2021, Amgen and Kyowa Kirin Co. Ltd agreed to develop KHK4083, a completely human monoclonal antibody for atopic dermatitis treatment. These collaborations have aided the company's growth.
Monoclonal Antibodies Market Report Scope
| | |
| --- | --- |
| Report Attributes | Details |
| Market size value in 2022 | USD 201.06 billion |
| Revenue forecast in 2030 | USD 479.13 billion |
| CAGR | 11.5 % from 2022 - 2030 |
| Base year | 2021 |
| Historical data | 2018 - 2020 |
| Forecast period | 2022 - 2030 |
| Quantitative units | Revenue in USD billion and CAGR from 2022 to 2030 |
| Segments covered | By Source Type, By Production Type, By Application, By End-Use, and By Region |
| Regional scope | North America, Europe, Asia Pacific, Latin America; Middle East & Africa |
| Key Companies | Abbott Laboratories, Amgen Inc, AstraZeneca plc, Bayer AG, Biogen Inc., Bristol Myers Squibb, Daiichi Sankyo Company Limited, Eli Lilly and Company, F. Hoffman-La Roche Ltd., GlaxoSmithKline plc, Johnson & Johnson Services, Inc., Merck & Co., Inc., Merck KGaA, Novo Nordisk A/S, Novartis, Pfizer Inc, Sanofi S.A., Thermo Fisher Scientific, Inc., and Viatris Inc. |