The steam turbine market was valued at USD 15.95 billion in 2021 and is expected to grow at a CAGR of 2.5% during the forecast period. Key factors driving the industry forward include innovation in steam engines, the rising need for clean fuel-operated locomotive engines, and an increase in globalization and trade activities across the globe. Steam engines are employed in sea route vehicles.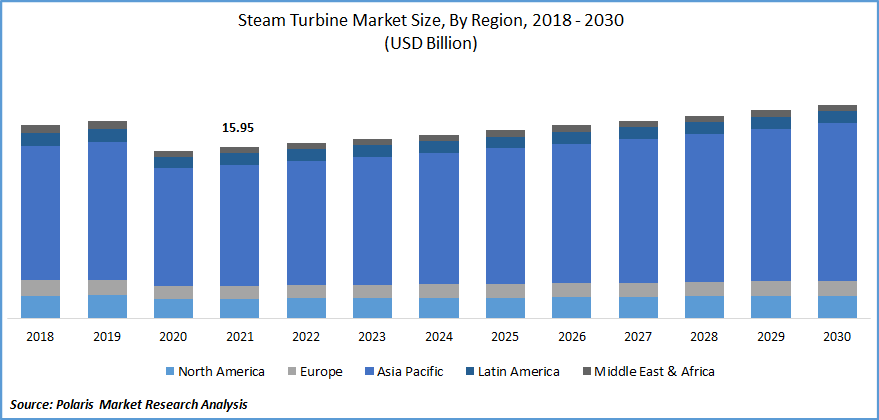 Know more about this report: Request for sample pages
An increasing focus on energy optimization and cogeneration will positively change the corporate landscape. Additionally, government measures to reduce coal-fired power generation and the competitive costs of renewable technologies could hinder industry growth. A combination of increasing investments in large-scale thermal power projects and regulation to reduce carbon emissions will result in a strong steam turbine market in the future.
It heats water to extremely high temperatures (gas, coal, nuclear, solar) until steam is produced. Steam flows from the blades of a turbine during the process of steam expanding and cooling. The rotating turbine's blades convert the steam's potential into kinetic energy.
Due to their rotary motion, they are suitable for driving electrical generators to generate electricity. The turbines are connected to a generator with an axle, producing energy via a magnetic field with an electric current. It is a mechanical device that converts the potential energy of steam into kinetic energy. It is followed by the mechanical energy of the turbine shaft.
The novel coronavirus has rapidly spread across different countries and regions and continues to spread, causing an immense effect on the lives of individuals and the overall community. Additionally, because of the COVID-19 pandemic, industry participants must deal with supply chain disruptions, coronavirus outbreaks, and the closing of a production facility. The COVID outbreak has had a negative impact on infrastructure development during the pandemic, which hinders industry growth.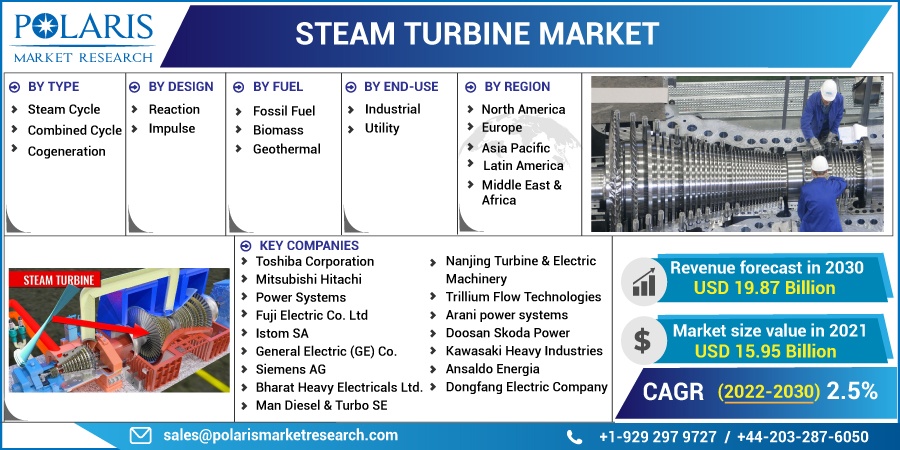 Know more about this report: Request for sample pages
Industry Dynamics
Growth Drivers
It is common and cost-effective to include gas in processes that generate electricity to be used to operate the facility. They are utilized in the chemical and pharmaceutical sectors, where electricity and heat drive numerous processes. Similar methods for creating energy from waste include steam turbines- the heat produced during the combustion of waste material powers a specialized and effective steam turbine. They are also widely used in the oil and gas, pulp and paper, solar power, sugar, and ethanol industries.
In addition, urbanization and industrialization drive the market in the forecasted period. On the other hand, the competitive cost of renewable technologies and government initiatives to minimize dependence on coal-fired power generation could constrain the expansion of the steam turbine market. Regulations designed to reduce carbon emissions and increase funding for the construction of large-scale thermal power plants will also drive the industry.
Report Segmentation
The market is primarily segmented based on type, design, fuel, end-use, and Region.
By Type

By Design

By Fuel

By End-Use

By Region

Steam Cycle
Combined Cycle
Cogeneration

Fossil Fuel
Biomass
Geothermal

North America (U.S., Canada)
Europe (France, Germany, UK, Italy, Netherlands, Spain, Russia)
Asia Pacific (Japan, China, India, Malaysia, Indonesia, South Korea)
Latin America (Brazil, Mexico, Argentina)
Middle East & Africa (Saudi Arabia, UAE, Israel, South Africa)
Know more about this report: Request for sample pages
Combined Cycle segment is expected to witness the fastest growth.
In 2021, the combined cycle segment accounted for the largest share in the steam turbine market. A combined-cycle power system is the traditional technology of choice for most large onshore power generation plants. A gas turbine is often used in a combined-cycle power system to power an electrical generator while recovering waste heat from the exhaust to produce steam.
Waste heat steam is passed via a steam turbine to produce more electricity. A combined-cycle power system's overall electrical efficiency is typically 50 to 60 percent, which is significantly higher than the 33 percent efficiency of a straightforward open-cycle application.
Impulse accounted for the second-largest market share in 2021
The Impulse segment will hold the second largest market share in the global market. During the forecast period, the Impulse segment is expected to be used more frequently due to its compact size and economic properties.
A significant factor driving steam turbine demand is government investment in expanding infrastructure and an increase in demand from power generation industries. In addition, rapid industrialization and migration of individuals from rural to urban areas in developing nations led to a huge demand for power.
Biomass segment is expected to witness fastest growth
The biomass segment is expected to register a robust growth rate over the study period. This is primarily due to increasing efforts in decreasing carbon footprints with supportive legislation. The industry is expected to grow rapidly with captive power systems and combined heat and power systems.
Whereas geothermal energy segment is expected to be the most revenue generation segment over the coming years. As a result of various regulatory measures, non-conventional energy resources are being adopted more rapidly.
Utility segment is expected to witness the fastest growth
It is likely that during the forecast period, the utility segment will lead the market share in the global market. The utility segment dominated the global market in 2021 in terms of revenue and is expected to maintain its dominance during the forecast period. The segment will grow as combined cycle technology becomes more widely deployed and onsite power generation equipment becomes more popular.
The demand in Asia Pacific is expected to witness significant growth
Globally, Asia Pacific is estimated to hold the highest CAGR in the steam turbine market during the forecast period. The growth of the industry is expected to be driven in this region due to the increasing demand for electricity and the dominance of thermal sources in the electricity generation market. The need for industry in China and India has been fueled by the rapid industrial growth rate in both nations. In addition, India's vast population and development as the world's manufacturing hub will impact electricity demand. This will spur government and private investors' investments in constructing power generation plants and, in turn, stimulate the market in the Asia Pacific region during the forecast period.
Competitive Insight
Some of the market players functioning in the global market include. Toshiba Corporation, Mitsubishi Hitachi s, Fuji Electric, Istom SA, General Electric, Siemens AG, Bharat Heavy Electricals, Man Diesel, Nanjing Turbine & Electric, Trillium Flow Technologies, Arani power, Doosan Skoda Power, Kawasaki Heavy Industries, Ansaldo Energia, Dongfang Electric.
Recent Developments
In June 2022, GE and BHEL manufactured 700 MW nuclear steam turbines under licences and technology transfer agreements. This project includes 12 units of 700 MWe that NPCIL is developing with their nuclear reactor technology, namely Pressurised Heavy Water Reactors (PHWR). It is 8.4GW of CO2-free electricity for the nation, sufficient to power more than 14 million homes.
Furthermore, In February 2019, Toshiba supplies steam turbines and generators to the United States. Toshiba Energy Systems & Solutions Corporation (Toshiba ESS) provided a 450 MW STG to Toshiba America Energy. Entergy Texas owns and manages the plant in the United States.
Steam Turbine Market Report Scope
| | |
| --- | --- |
| Report Attributes | Details |
| Market size value in 2021 | USD 15.95 billion |
| Revenue forecast in 2030 | USD 19.87 billion |
| CAGR | 2.5% from 2022 – 2030 |
| Base year | 2021 |
| Historical data | 2018 – 2020 |
| Forecast period | 2022 – 2030 |
| Quantitative units | Revenue in USD million/billion and CAGR from 2022 to 2030 |
| Segments Covered | By Type, By Design, By Fuel, By End-Use, By Region |
| Regional scope | North America, Europe, Asia Pacific, Latin America; Middle East & Africa |
| Key Companies | Toshiba Corporation, Mitsubishi Hitachi Power Systems, Fuji Electric Co. Ltd, Istom SA, General Electric (GE) Co., Siemens AG, Bharat Heavy Electricals Ltd., Man Diesel & Turbo SE, Nanjing Turbine & Electric Machinery, Trillium Flow Technologies, Arani power systems, Doosan Skoda Power, Kawasaki Heavy Industries, Ansaldo Energia, Dongfang Electric Company |