The global graphene market size was valued at USD 620.8 Million in 2020 and is expected to grow at a CAGR of 18.8% during the forecast period.
The material is the thinnest material with a single layer of carbon atoms packed in a hexagonal structure. It can be categorized into single-layered, double-layered, and multi-layered. The market demand for the product is increasing across the globe owing to its extremely high strength, lightweight, transparency, flexibility, and high electrical and thermal conduction. Some industries making use of the product include semiconductor, energy, biomedical, and textile.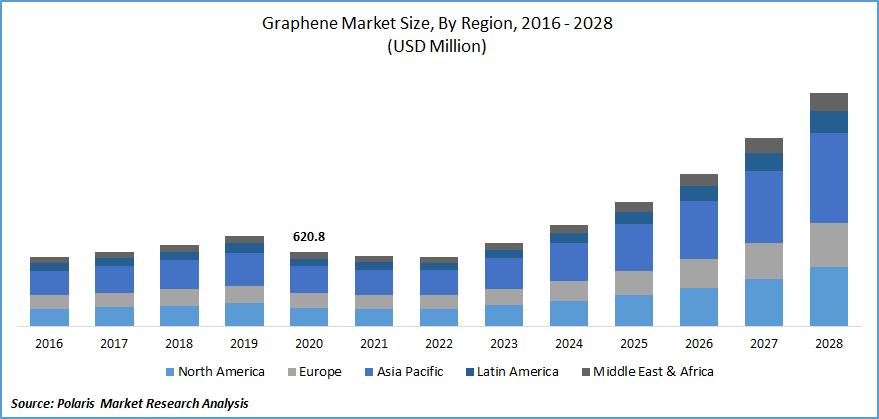 Know more about this report: request for sample pages
Increasing research initiatives for new materials have sparked interest in graphene because of its enhanced mechanical, chemical, and biological properties. Antimicrobial and antiviral efficacy associated with the material has resulted in the integration of the material in protective equipment and testing methods. However, other industries such as transportation, energy and power, and electronics are being negatively impacted by the outbreak of COVID-19 owing to operational challenges, logistic slowdown, disruption of the supply chain, and workforce impairment.
Manufacturing activities have been halted due to various government regulations across the globe. Reduced market demand and low availability of raw materials are expected to dampen the growth. In the coming years, the market is expected to experience growth on account of increasing growth from healthcare and biomedical applications.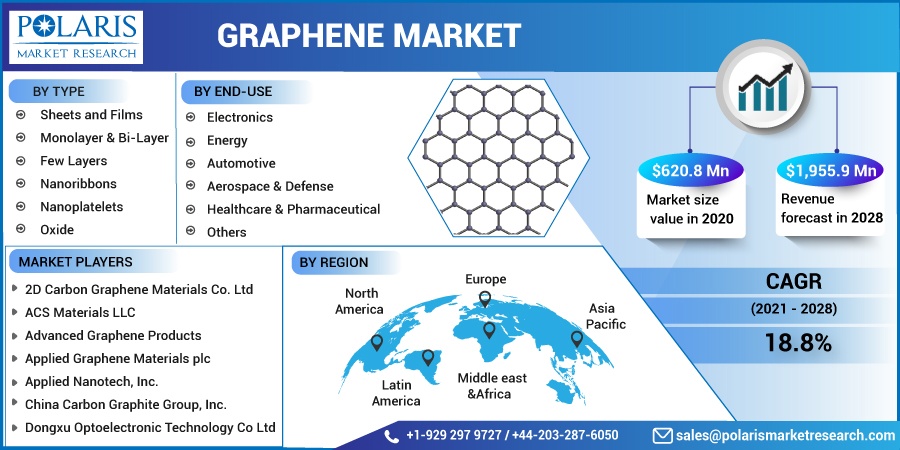 Know more about this report: request for sample pages
Industry Dynamics
Growth Drivers
Rising industrialization, growing urbanization, and increasing market demand from the automotive sector drive the market growth for the product. Vehicles are being modernized for improved performance and efficiency. Application of the product for manufacturing automotive components results in lightweight, safe, and fuel-efficient vehicles.
Increasing application in the textile and healthcare industry further fuels the market demand for graphene. Rising use in the development of consumer electronics and significant investment by public and private sector in the research & development of technology encourages innovation and the introduction of advanced products and solutions. The development of customized solutions to serve specific applications in biomedical and water purification applications is expected to provide growth opportunities during the forecast period.
Technological advancements are leading to utilization of the product-based materials such as oxide, flakes, and sheets in applications like tissue engineering, drug delivery, biosensors, and antibacterial agents in the biomedical sector. Oxide is used as a nanocarrier for drug delivery, offering solubility and biocompatibility, chemotherapy, cancer cell imaging, photothermal therapy, and photodynamic therapy. The product provides a scaffold structure for cardiac, nervous, muscle, and bone tissues in tissue engineering. It provides an environment for enhanced cell adhesion, growth, and differentiation and is used in regenerative medicine for improved functions of damaged tissues.
Major companies and research institutes are using the product to develop face masks and PPE kits during the pandemic. Oxide offers the ability to trap and minimize viral load, preventing the entry of the virus. Testing methods using the product are being developed for rapid detection of targeted virus protein for a large population. Biosensors based on the product are increasingly being used to detect diseases due to their rapid detection turnaround, high sensitivity, and low cost of production.
The growth of the market has accelerated in terms of research and product development during the pandemic. Application of the product in bio sensors-based testing, protective equipment, drug delivery solutions, and treatment systems has increased tremendously owing to its flexibility, conductivity, and antibacterial and antivirus efficacy.
Report Segmentation
The market is primarily segmented on the basis of type, end-use, and region.
By Type

By End-Use

By Region

Sheets and Films
Monolayer & Bi-Layer
Few Layers
Nanoribbons
Nanoplatelets
Oxide
Others

Electronics
Energy
Automotive
Aerospace & Defense
Healthcare & Pharmaceutical
Others

North America (U.S., Canada)
Europe (Germany, UK, France, Italy, Spain, Netherlands, Austria)
Asia-Pacific (China, India, Japan, South Korea, Indonesia, Malaysia)
Latin America (Brazil, Mexico, Argentina)
Middle East & Africa (Saudi Arabia, South Africa, Israel, UAE)
Know more about this report: request for sample pages
Insights by Type
The type segment has been divided into sheets and films, mono-layer & bi-layer, few-layer, nanoribbons, nanoplatelets, oxide, and others. The market demand for nanoplatelets is expected to increase during the forecast period. Nanoplatelets comprise small stacks of the material to offer strength, stiffness, and surface toughness. Some properties offered by nanoplatelets include mechanical reinforcement, electrical conductivity, thermal conductivity, and gas barrier layers. Nanoplatelets are utilized in various applications such as resistive heaters, advanced composites, supercapacitors, and specialty coatings & adhesives.
Insights by End-Use
On the basis of the end-use industry, the market is segmented into electronics, energy, automotive, aerospace and defense, healthcare and pharmaceutical, and others. The electronics segment accounted for a major share in 2020. The electronics industry uses the product to manufacture different components such as sensors and transistors, resulting in reduced weight and improved performance. The material is utilized as a coating for the development of improved touch screens for phones and tablets. Its properties, such as thinness and conductivity, have increased its application in circuitry for computers.
Geographic Overview
Asia-Pacific dominated the global graphene market in 2020. Rising industrialization, increasing consumer spending, the presence of leading players, and technological advancements are some factors attributed to the growth of this region. The rising automotive penetration, increasing modernization of vehicles, and initiatives to promote the use of electric vehicles support the market growth in the region. Increasing application in the electronics, energy, and healthcare sectors results in greater market demand for the product.
Competitive Landscape
The leading players in the graphene market include 2D Carbon Graphene Materials Co. Ltd, ACS Materials LLC, Advanced Graphene Products, Applied Graphene Materials plc, Applied Nanotech, Inc., China Carbon Graphite Group, Inc., Dongxu Optoelectronic Technology Co Ltd, Elcora Advanced Materials Corp, G6 Materials, Graphene Frontiers, LLC, Graphene Group, Graphene Laboratories Inc.Global, Graphenea S.A., Haydale Limited, Tracxn Technologies, XG Sciences, Inc., and Xiamen Knano Graphene Technology Corporation Limited.
To expand the customer base and strengthen market presence, these players are expanding their presence across various regions and entering new markets in developing regions. In order to meet the growing consumer market demand, the companies are also introducing new innovative products to the market.
Graphene Market Report Scope
| | |
| --- | --- |
| Report Attributes | Details |
| Market size value in 2020 | USD 620.8 Million |
| Revenue forecast in 2028 | USD 1,955.9 Million |
| CAGR | 18.8% from 2021 - 2028 |
| Base year | 2020 |
| Historical data | 2016 - 2019 |
| Forecast period | 2021 - 2028 |
| Quantitative units | Revenue in USD million/billion and CAGR from 2021 to 2028 |
| Segments covered | By Type, By End-Use, By Region |
| Regional scope | North America, Europe, Asia Pacific, Latin America, Middle East & Africa |
| Key companies | 2D Carbon Graphene Materials Co. Ltd, ACS Materials LLC, Advanced Graphene Products, Applied Graphene Materials plc, Applied Nanotech, Inc., China Carbon Graphite Group, Inc., Dongxu Optoelectronic Technology Co Ltd, Elcora Advanced Materials Corp, G6 Materials, Graphene Frontiers, LLC, Graphene Group, Graphene Laboratories Inc.Global, Graphenea S.A., Haydale Limited, Tracxn Technologies, XG Sciences, Inc., and Xiamen Knano Graphene Technology Corporation Limited. |