The global green hydrogen market was valued at USD 3.25 billion in 2021 and is expected to grow at a CAGR of 39.6% during the forecast period. Green hydrogen is created by electrolyzing water to separate it into oxygen and hydrogen while utilizing energy from renewable sources.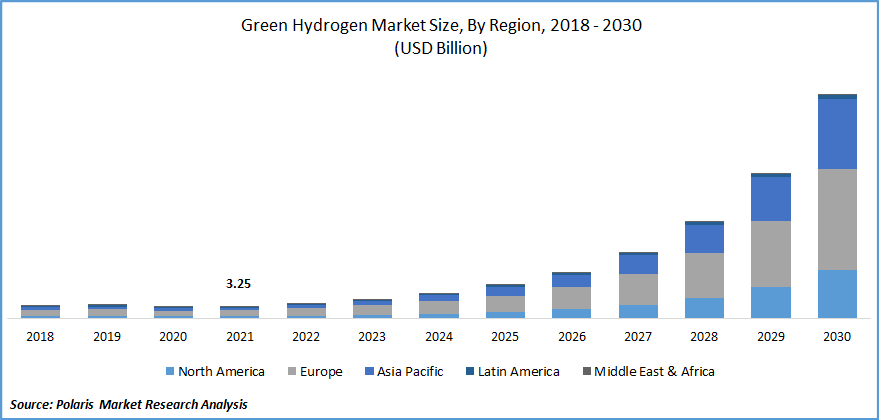 Know more about this report: Request for sample pages
The demand for the green hydrogen market will rise as the cost of reusable energy and electrolysis technology falls, which will accelerate the expansion of the market. In order to counteract the sporadic nature of reusable resources, a number of sectors, including oil and gas, steel, utilities, and fertilizers, are turning to green hydrogen.
Furthermore, this type of hydrogen is frequently used as a substitute for fossil fuels in the industrial, transportation, and chemical sectors to reduce carbon emissions. In addition to these industrial uses, the benefit of retaining green hydrogen in current gas pipelines to power household appliances would cause a steady increase in household demand for the green hydrogen market.
However, it is very difficult and expensive to store and ship green hydrogen. It requires extensive investment in pipelines and carriers because of its high combustibility and low volumetric density. The expansion and growth of the worldwide market are also being hampered by a shortage of qualified workers.
Hydrogen is the most abundant and lightest element on the planet. It is a rich source of energy and significantly more efficient than other fuels, and it has numerous industrial applications ranging from refinement to petrochemical products to steel manufacturing.
The green hydrogen market experienced a slowdown as a result of COVID-19. Investments continued to come in for ongoing projects. Numerous European and Asian nations have kept announcing new initiatives and technological feasibility assessments.
The primary effect of COVID-19 on the green hydrogen market was the delay in projects caused by the disruption of raw material supplies brought on by lockdowns. The market for green hydrogen has at last reached the pre-commercialization stage and is prepared to significantly contribute to the global decarbonization process.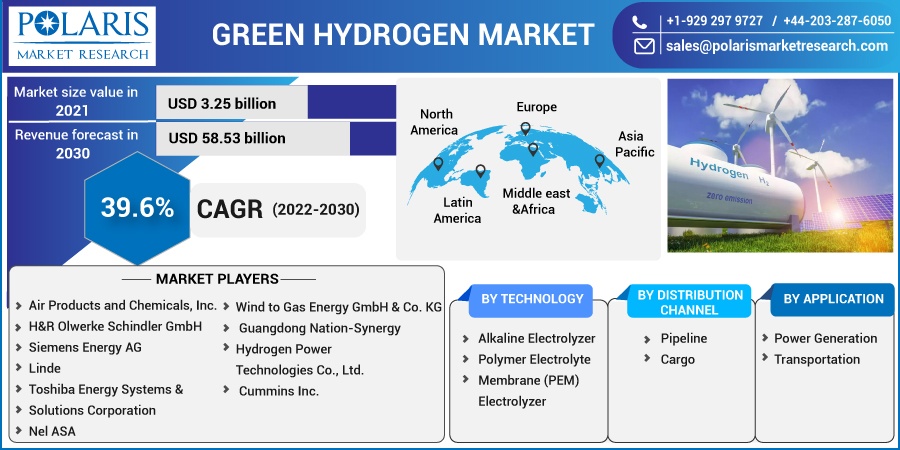 Know more about this report: Request for sample pages
Industry Dynamics
Growth Drivers
The global market is getting set to change the way it moves as it advances toward net zero emission targets. Vehicles that use hydrogen directly in fuel cells or internal combustion engines are being developed by the mobility sector. Forklifts powered by hydrogen have already been created and are being used in a few markets in Europe, Asia, and North America. By 2030, the nations hope to have more than twice as many of these hydrogen-powered cars on the road.
Developing infrastructure for a green hydrogen market is a priority for many wealthy nations' governments. Europe is where this is most prevalent, followed by Asia. Infrastructure growth will enable producers to increase their capacity and reach, which will help them cut the cost of green hydrogen. For the development of an environment that accepts green hydrogen as an alternative fuel, the participation of the governments of the individual nations is extremely important.
Report Segmentation
The market is primarily segmented based on technology, distribution channel, application, and region.
By Technology

By Distribution Channel

By Application

By Region

Alkaline Electrolyzer
Polymer Electrolyte Membrane (PEM) Electrolyzer

Power Generation
Transportation

North America (U.S., Canada)
Europe (France, Germany, UK, Italy, Netherlands, Spain, Russia)
Asia Pacific (Japan, China, India, Malaysia, Indonesia, South Korea)
Latin America (Brazil, Mexico, Argentina)
Middle East & Africa (Saudi Arabia, UAE, Israel, South Africa)
Know more about this report: Request for sample pages
Alkaline electrolyzer market segment accounted for the largest revenue in 2021
Alkaline electrolyzers are the traditional electrolyzer technology utilized in green hydrogen projects; they accounted for the biggest sales share (66.18%) in 2021. In contrast to PEM electrolyzers, the alkaline electrolyzer has a higher running time and employs a liquid alkaline solution of potassium or sodium hydroxide as its electrolyte.
In contrast to PEM electrolyzers, which operate at temperatures between 70 and 90 degrees Celsius, alkaline electrolyzers have lower power and current densities and a wider operating temperature range of 100 to 105 degrees Celsius.
Pipeline is the most economically viable method to transport
Transporting GH2 is possible in a variety of ways, including as a gas in high-pressure containers, a liquid in thermally insulated containers, a processed form such as methanol or ammonia, or as a chemical carrier medium.
The most practical way to transfer huge amounts across long distances, though, is through a pipeline. The conversion of natural gas pipelines for future hydrogen transportation was the subject of a white paper published in September 2020 by German pipeline operators Nowega and Gascade and Siemens Energy.
Hydrogen is one of the major options for storing renewable energy in power generation
One of the main possibilities for storing renewable energy in the production of electricity is hydrogen. Hydrogen and ammonia can be used to power gas turbines in power plants, enhancing the flexibility of the power system. Ammonia can be used in coal-fired power stations to cut emissions. The usage of hydrogen as a fuel for power plants is expanding in the U.S.
A number of significant European automakers, including CNH, Daimler, DAF, Ford, MAN, Scania, and Volvo, announced intentions in 2020 to convert their fleets of trucks to hydrogen power by 2040. Airbus is also developing hydrogen-powered aircraft and intends to launch commercial service by 2035.
The use of combustion gas turbines powered by a fuel combination of natural gas and hydrogen has been announced by a number of power plants. In order to eventually run on 100% GH2, the Long Ridge Energy Generation Project facility (485 MW) in Ohio has been employing a gas-fired combustion turbine that works on a 95% natural gas/5% hydrogen fuel blend.
European market accounted for a significant revenue in 2021
Due to large expenditures made by European economies in the pursuit of an energy transition toward a clean hydrogen-based economy during the ensuing years, the European market accounted for a sizeable revenue share of nearly 50% in 2021. For instance, the U.K. government revealed a USD 14.8 billion investment plan in August 2019 for a project that is anticipated to utilize 4 GW of offshore wind for the generation of GH2 by 2030.
Due to the adoption of clean energy legislation, the North American market is predicted to see a significant CAGR throughout the forecast period, with the U.S. and Canada progressively growing the green hydrogen market. California now controls the bulk of the U.S. market thanks to strong decarbonization goals, including the elimination of gas or diesel-powered public transportation by 2040.
Air Liquide is constructing a 20 MW large-scale PEM electrolyzer in Canada that will use hydropower to produce green hydrogen. The development of the green hydrogen sector in Canada will likely benefit considerably from this type of development as well as initiatives that are now in the pipeline there.
Over the projected period, the Asia Pacific market is anticipated to develop at the greatest CAGR, with Australia and Japan making up the majority of the region's growth. For instance, Toshiba is building a green hydrogen plant in Japan with a 10 MW electrolyzer capacity that will produce hydrogen for use in transportation systems.
Competitive Insight
Some of the major players operating in the global market include Air Products and Chemicals, Inc., H&R Olwerke Schindler GmbH, Siemens Energy AG, Linde, Toshiba Energy Systems & Solutions Corporation, Nel ASA, Wind to Gas Energy GmbH & Co. KG, Guangdong Nation-Synergy Hydrogen Power Technologies Co., Ltd., and Cummins Inc.
Recent Developments
A joint venture between Siemens Energy and Air Liquide was established on June 23, 2022, for the purpose of manufacturing large-scale renewable hydrogen electrolyzes in Europe. By fostering a European ecosystem for electrolysis and hydrogen sources, this alliance is probably going to make it possible for Europe to have a sustainable hydrogen economy.
Output is anticipated to start in the second half of 2023 and build up to a three gigawatts annual production capacity by 2025. In the joint venture, Siemens Energy would own 74.9%, with Air Liquide presumably holding 25.1%.
The Adani Group announced intentions to invest US$ 70 billion in green energy in November 2020, and it is anticipated that this investment would be crucial to India's shift to green energy. It is anticipated that the Adani Group's position in the renewable energy industry would greatly aid its efforts to produce green hydrogen.
Guangdong Nation-Synergy Hydrogen Power Technology Co., Ltd. launched a new fuel cell stack in October 2020 as an upgrade to its current product line. In addition, ultra-thin flexible graphite plate technology, ultra-thin CCM technology, and multi-dimensional integrated stack design are used.
Green Hydrogen Market Report Scope
| | |
| --- | --- |
| Report Attributes | Details |
| Market size value in 2021 | USD 3.25 billion |
| Revenue forecast in 2030 | USD 58.53 billion |
| CAGR | 39.6% from 2022 - 2030 |
| Base year | 2021 |
| Historical data | 2019 - 2021 |
| Forecast period | 2022 - 2030 |
| Quantitative units | Revenue in USD million/billion and CAGR from 2022 to 2030 |
| Segments covered | By Technology, By Application, Distribution Channel, By Region |
| Regional scope | North America, Europe, Asia Pacific, Latin America; Middle East & Africa |
| Key companies | Air Products and Chemicals, Inc., H&R Olwerke Schindler GmbH, Siemens Energy AG, Linde, Toshiba Energy Systems & Solutions Corporation, Nel ASA, Wind to Gas Energy GmbH & Co. KG, Guangdong Nation-Synergy Hydrogen Power Technologies Co., Ltd., and Cummins Inc. |