The global hair restoration market was valued at USD 4.33 billion in 2020 and is expected to grow at a CAGR of 15.4% during the forecast period. The key factors responsible for the market growth include the rise in prevalence of androgenic alopecia, alterations in lifestyle due to consumption of tobacco and alcohol, and the escalating stress levels in individuals.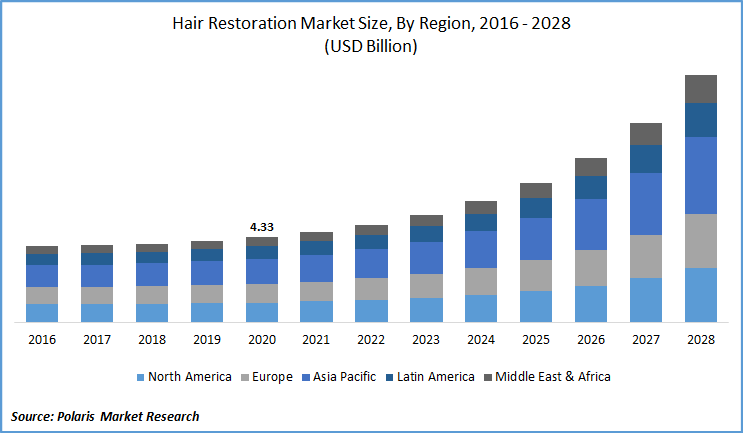 Know more about this report: request for sample pages
Though the exact cause of disease onset is not known, it is believed that genetic factors are linked to several cases. Moreover, adjacent factors such as the rise in disposable and advances in hair transplantation procedures are likely to propel the restoration market growth.
Through literature survey, it is believed that aging and hormonal anomalies are considered to be potential causative agents for alopecia. Thyroid imbalances or menopause in women might experience hair loss due to a drop in levels of estrogen levels.
Androgen hormones such as testosterone and Dehydro-epiandrosterone (DHEA) are also major hormones, which dictate hair growth. It is being estimated that 20 million individuals have some form of thyroid disease and more than 60 percent of sufferers were unaware of the condition. Moreover, gender plays a vital role in disease onset.
As per the market estimates of the American Hair Loss Association, it was estimated that more than 95 percent of the hair loss in men is due to androgenic alopecia. In addition, a rapid rise in consumer awareness towards alopecia and concerned therapeutic actions are likely to positively impact the restoration market growth.
Social media is playing an important role in promoting hair transplantation procedures, as per the article published in Forbes, in 2019, around 5 percent of the influencers who were offered product recommendations generated more than 45% of the social influence, this has further strengthened the restoration market.
Industry Dynamics
Growth Drivers
Technological advancement in stem cell therapy and low-dose laser therapies are also expected to boost the restoration market growth. As per the estimates of the NCBI, in 2017, research was carried out to know the success rate of stem cell therapy in hair restoration. The results were promising and showed a 29% increase in hair density and after 23 weeks of the treatment.
However, elective procedures like restoration procedures were one of the worst affected due to the ongoing pandemic of COVID-19. Without patient visits and a decline in revenues, several clinics faced unforeseen challenges. With ease in lockdown, in most of the countries, hair restoration services are also re-opening with strict protocols. Industry concerned; the International Society of Hair Restoration Surgery has put strict guidelines to re-open clinics.
Hair restoration is a very slow and time-consuming process and requires a lot of consultations and clinic visits. Thus, due to ongoing COVID-19 pandemic has resulted in low patient visits, thereby less revenue creation for the market and posed as an important limiting factor for restoration market growth.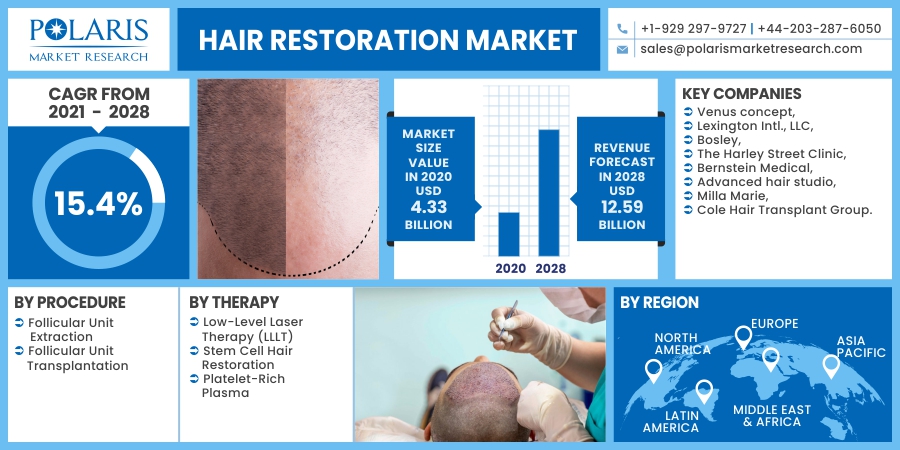 Know more about this report: request for sample pages
Hair Restoration Market Report Scope
The market is primarily segmented on the basis of procedure, therapy, and geographic region.
By Procedure

By Therapy

By Region

Follicular Unit Extraction
Follicular Unit Transplantation

Low-Level Laser Therapy (LLLT)
Stem Cell Hair Restoration
Platelet-Rich Plasma

North America (U.S., Canada)
Europe (France, Germany, UK, Italy, Spain, Netherlands, Austria)
Asia Pacific (Japan, China, India, Malaysia, Indonesia, South Korea)
Latin America (Brazil, Mexico, Argentina)
Middle East & Africa (Saudi Arabia, UAE, Israel, South Africa)
Know more about this report: request for sample pages
Insight by Product
Follicular Unit Extraction (FUE) market segment accounted for the largest revenue share of the hair restoration industry in 2020. It is a type of hair restoration technique by taking out an individual's follicles from the skin and moving them to the less dense places, also known as grafting. Its extraction involves small round incisions scattered over the donor area.
As per the study done by the International Society of Hair Restoration Surgery, in 2019, FUE was the most performed surgical procedure for transplant, followed by Follicular Unit Transplantation (FUT) and combination therapies of both. Robotic FUE was estimated to have the highest success rate, thus providing a higher yield. With improving the success rate, and its less invasive nature, the adoption of FUE is bound to increase.
Geographic Overview
Geographically, the global hair restoration market is bifurcated into North America, Europe, Asia Pacific, Latin America, and Middle East & Africa (MEA). Asia Pacific market was the largest revenue contributor for the global restoration market followed by North America and Europe.
In 2020, the North America region accounted for over 20% of the global market of hair restoration. The factors responsible for the market growth in the region are the rise in prevalence of alopecia and consequent treatments, the presence of specialty clinics, the skilled workforce, and the technical capabilities of the market players operating in the region. Moreover, an individual's awareness regarding the ill effects also instigating the uptake of restoration treatment and procedures.
Competitive Insight
The prominent market players operating in the hair restoration market include Venus concept, Lexington Intl., LLC, Bosley, The Harley Street Clinic, Bernstein Medical, Advanced hair studio, Milla Marie, and Cole Hair Transplant Group.