The global hermetic packaging market was valued at USD 4.87 billion in 2022 and is expected to grow at a CAGR of 4.8% during the forecast period. The market's expansion is mainly credited to the rise in research and development efforts within the defense and aerospace industry, resulting in greater adoption of hermetic packages. These packages shield electronic systems from environmental factors, such as atmospheric pressure and moisture, which can harm vulnerable electronic parts or connections. Hermetic packaging's dependable and secure functionality enhances the longevity of electrical components, benefiting a range of medical and electronic products and driving the market forward.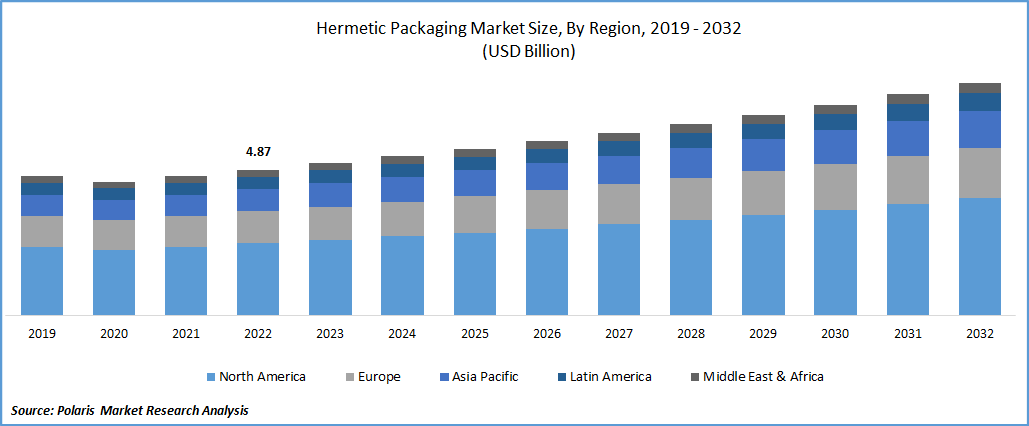 Know more about this report: Request for sample pages
Hermetic packaging has a substantial market presence in the U.S. due to the dominant position of major application industry players. Furthermore, the defense sector is poised for significant growth due to new policies aimed at bolstering the country's military services, which is expected to further boost the demand for hermetic packaging during the forecast period.
The ceramic-to-metal and glass-to-metal seals are expected to experience increased demand due to early technology adoption in North America and extensive research and development efforts by major aerospace companies. Nevertheless, the comparatively high cost of ceramic packaging compared to other options may impede market growth during the forecast period.
The market is expected to experience growth in demand for electronic devices due to the rising disposable income and the increasing internet use by consumers. Governments worldwide are increasingly promoting digitalization, encouraging consumers to adopt various electronic devices and driving the market's growth.
Hermetic products safeguard delicate electronics against various environmental factors, including soil and grime, moisture, humidity and differences in atmospheric pressure, and other natural threats that could damage or disrupt electrical connections. Hermetic packaging is essential for applications where disrupted functionality could lead to catastrophic outcomes and are vulnerable to harsh environmental conditions. As a result, the adoption rate of hermetic packaging for covering highly sensitive electronic parts is notably high and is expected to continue to rise during the forecast period. It is one of the primary factors driving the growth of the hermetic packaging market.
Hermetic packaging is being increasingly adopted to protect implantable medical devices. Despite their increasing complexity and integration, microtechnology has enabled the significant miniaturization of smart devices. It makes reliable and compact packaging of microelectronics increasingly crucial. The packaging must supply a high-quality hermetic environment to shield the machine from the human body for life-critical devices, such as implantable medical devices.
Industry Dynamics
Growth Drivers
The aerospace and defense industry is one of the largest users of hermetic packaging market. It requires high-performance electronics that withstand extreme conditions such as high temperatures, pressure, and radiation. With the growing demand for military and commercial aircraft, missiles, and satellites, the need for hermetic packaging is expected to increase.
Micro-Electro-Mechanical Systems (MEMS) and sensors are widely used in various healthcare, automotive, consumer electronics, and industrial automation applications. Hermetic packaging must protect these sensitive components from external factors such as moisture, dust, and chemicals and ensure their reliability and longevity.
Electronic devices in critical applications, such as medical devices, automotive safety systems, and industrial control systems, require high reliability and long-term stability. Hermetic packaging effectively protects these devices from environmental factors and ensures their performance over a long period.
The trend towards miniaturization of electronic devices has led to the development of smaller, more compact electronic components. Hermetic packaging enables the miniaturization of electronic devices by providing a compact and reliable enclosure for these components.
The development of advanced materials and manufacturing technologies has enabled the production of hermetic packages with improved performance and lower costs. For instance, using ceramic and glass materials in hermetic packaging provides better thermal and mechanical properties than traditional metal packages.
Report Segmentation
The market is primarily segmented based on product, application, end use, and region.
By Product

By Application

By End Use

By Region

Ceramic To Metal Sealing

Glass To Metal Sealing

Transponder Glass

Reed Glass

Passivation Glass

Sensors

Photodiodes

Transistors

Lasers

Airbag Ignitors

MEMS Switches

Oscillating Crystals

Military and Defence

Aeronautics and Space

Automotive

Energy and Nuclear Safety

Healthcare

Telecom

Others

North America (U.S., Canada)

Europe (France, Germany, UK, Italy, Netherlands, Spain, Russia)

Asia Pacific (Japan, China, India, Malaysia, Indonesia. South Korea)

Latin America (Brazil, Mexico, Argentina)

Middle East & Africa (Saudi Arabia, UAE, Israel, South Africa)
Know more about this report: Request for sample pages
The ceramic to metal sealing

segment is expected to witness the largest revenue share in 2022
In 2022, ceramic-to-metal held the largest revenue share for hermetic packaging market. This type of seal provides long-lasting and robust hermetic sealing and superior insulation from electrical signals, making it a versatile choice for various applications. Due to its exceptional properties, it is increasingly used in implantable electronic appliances, such as cochlear implants, pacemakers, neurostimulators, and defibrillators. Moreover, the high corrosion resistance of ceramic to metal sealing is expected to drive its adoption in the healthcare industry. The ceramic-to-metal sealing market has experienced significant growth in emerging economies such as China, India, and Brazil to the growing demand for electronics. Furthermore, the need for hermetic seals in aircraft engines that can withstand vibrations and high temperatures is predicted to fuel market growth in the forecast period.
The military and defense segment dominated the market

in 2022
In 2022, the military and defense sectors dominated, holding the highest market share. The increasing security threats, rising defense budgets, and evolving political dynamics are anticipated to stimulate assets in the defense industry, consequently driving the need for hermetic packaging throughout the projection period.
Moreover, the growth in government and private investments in space exploration is projected to fuel the market for hermetic packaging. Regional airlines and Low-cost carriers have transformed the airline industry with their low-fare enterprise models, resulting in a substantial surge in air passengers.
Hermetic connectors ensure the integrity of sensitive electronics in flight data recorders, and fuel tanks and systems employ hermetically sealed connectors to detect and prevent spills. Therefore, with the escalating air freight and transportation demands and the increasing number of air passengers, the need for hermetic packaging is anticipated to surge in the forecast period.
The demand in Asia Pacific is expected to witness the largest growth in 2022
In 2022, the largest growth was witnessed in the Asia Pacific region. This surge can be attributed to the proliferation of several electronic devices and component manufacturers and an increase in government budget allocation for the aerospace and defense sectors, especially in India, Japan, and China. As a result, the region has experienced high demand for the product.
The North America region emerged as a significant market in 2022, with space and aeronautics being one of the area's important applications of hermetic packaging. The presence of numerous aerospace companies in the U.S. is anticipated to offer significant opportunities for market growth in this industry. Moreover, with the utmost importance given to the hygiene of packaging and material handling products, the need for hermetic packaging in the country's healthcare industry is expected to surge.
Competitive Insight
The major global market players include Ametek, Inc., Schott AG, Teledyne Microelectronic Technologies, NGK Spark Plug Co., Ltd., Kyocera Corporation, Legacy Technologies, Inc., Egide S.A., Willow Technologies, Special Hermetic Products, Inc., SST International, Mackin Technologies, Sinclair Manufacturing Company.
Recent Developments
In May 2021, AMETEK MOCON unveiled a novel analytical instrument that measures entire packages' oxygen transmission rates under ambient environmental conditions. The OX-TRAN 2/48 can perform major-capacity testing using eight cells, with four cells dedicated to testing OTR and the remaining four used for conditioning packages to minimize their test duration.

In May 2021, two prominent companies in the field, Micross Components, Inc. and Avalanche Technology, joined forces to provide the aerospace industry with the most compact and energy-efficient hi-rel non-volatile memory.

In 2020, Schott AG launched revolutionary HEATAN technology and introduction of hermetic products with the company's product portfolio.
Hermetic Packaging Market Report Scope
| | |
| --- | --- |
| Report Attributes | Details |
| Market size value in 2023 | USD 5.09 billion |
| Revenue forecast in 2032 | USD 7.75 billion |
| CAGR | 4.8% from 2023 - 2032 |
| Base year | 2022 |
| Historical data | 2019 - 2022 |
| Forecast period | 2023 - 2032 |
| Quantitative units | Revenue in USD billion and CAGR from 2023 to 2032 |
| Segments covered | By Product, By Application, By End Use, By Region |
| Regional scope | North America, Europe, Asia Pacific, Latin America; Middle East & Africa |
| Key companies | Ametek, Inc., Schott AG, Teledyne Microelectronic Technologies, NGK Spark Plug Co., Ltd., Kyocera Corporation, Legacy Technologies, Inc., Egide S.A., Willow Technologies, Special Hermetic Products, Inc., SST International, Mackin Technologies, Sinclair Manufacturing Company |