The global Hexafluoroacetone Derivatives Market size was valued at USD 755.7 million in 2019 and is anticipated to grow at a CAGR of 3.80% during the forecast period. Increasing product application across various industries including pharmaceuticals, adhesives, solvents and textile are is a key factor driving the industry growth over the forecast timeframe. Economical production of the product with oxidative transformations of hexafluoropropene reduces the overall cost and such trends of reducing the overall production cost has also benefitted the market demand in the past and this trend is expected to continue from 2020 to 2026.
Hexafluoroacetone derivatives are chemical compounds which are hygroscopic, inflammable and colorless in nature. The product possesses highly reactive properties with water creating corrosive acids, creating wide scope for organic synthesis and as a chemical reagent in various production processes. In addition, hexafluoroacetone derivatives are also used as chemical reagents in wide range of chemical processes. Increasing applicability of the product have resulted in growing demand for hexafluoroacetone derivatives thus driving the market growth.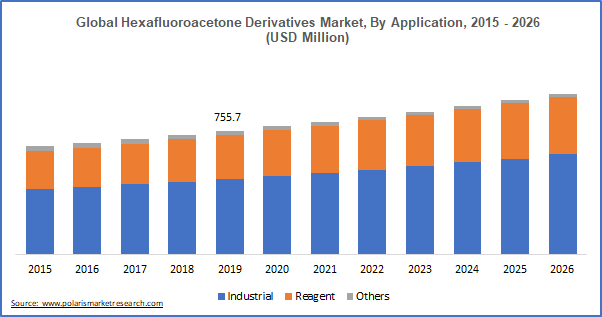 Know more about this report: request for sample pages
Increasing disposable income along with rising textile consumption across the globe is supporting the hexafluoroacetone derivatives industry growth specifically within textile chemicals. Widening scope of hexafluoroacetone derivatives to enhance the functional performance of textiles along with the rising usage of functional textiles is witnessing growth across the globe. Low cost fabrics are coated with hexafluoroacetone derivatives coating to improve textile performance and provide higher value to the end-use and manufacturers, thereby increasing the profit margins of the producers. Such trends are benefitting the overall market growth.
Industry players are setting up hexafluoroacetone derivatives production base across developing regions such as Asia Pacific to reduce the manufacturing cost and increase sales across these regional markets. Increasing number of applications along with growing end-use market across these developing regions will further support the product growth. Rising FDI across emerging region with wide customer base will drive the hexafluoroacetone derivatives demand.
The market is primarily segmented on the basis of Product, By Application, and geographic region.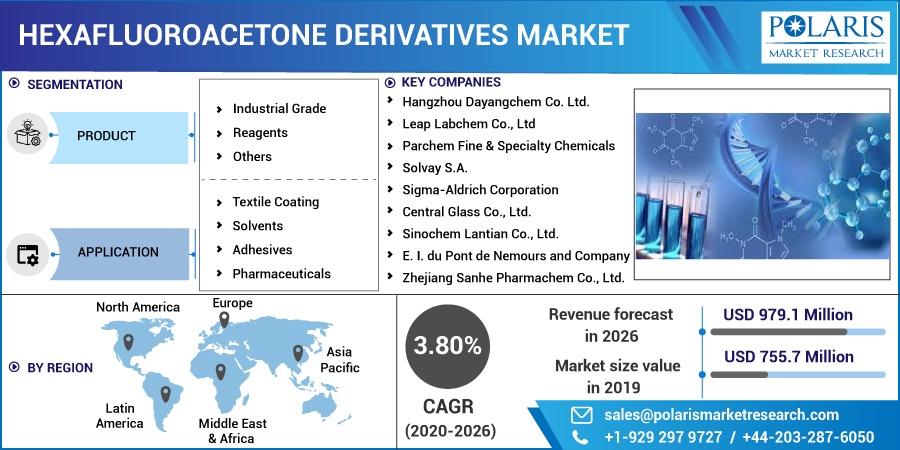 Know more about this report: request for sample pages
Hexafluoroacetone Derivatives Market Report Scope
Product

Application

By Region

Industrial Grade
Reagents
Others

Textile Coating
Solvents
Adhesives
Pharmaceuticals
Others

North America (U.S., Canada)
Europe (France, Germany, UK, Italy, Russia)
Asia Pacific (China, India, Japan, Korea)
Latin America (Mexico, Brazil, Colombia)
MEA (Saudi Arabia, South Africa)
Know more about this report: request for sample pages
Product Outlook
Industrial grade hexafluoroacetone derivatives are used in bulk quantity owing to large applicability in polymer industry. Industry players are focusing on reducing the overall hexafluoroacetone derivatives production cost to improve profitability. Production in bulk quantity reduces the production costs and also contributes significantly to better sourcing strategies.
The commercial reagents and solvents are used as received unless specified. These are used to improve functional capabilities of the product. Implementation of hexafluoroacetone reduces the drawbacks such as rapid degradation, low selectivity, and offers ease in transportation. Increasing product application such as adhesives and pharmaceuticals will significantly support the market growth.
Application Outlook
Solvent application of hexafluoroacetone derivatives accounted for significant market share in 2019. The product is widely used in production of high-performance solvents. These are used as solvent for acetal resin, as these are well known for their high wear resistance and fatigue resistance.
Hexafluoroacetone derivatives are incorporated as intermediaries in a various chemical process. Rising global textile trade owing to the improving consumption of the product will escalate the industry revenue generation. Additionally, high industrial rivalry has resulted in ongoing developments in the textile manufacturing as well as raw materials required thus prompting major manufacturers to use hexafluoroacetone derivatives. Switching from traditional to innovative technologies in the global textile coating process has positively affected the demand for the incorporation of a variety of chemical compounds including hexafluoroacetone derivatives.
Regional Outlook
In geographical terms, the Asia Pacific's hexafluoroacetone derivatives industry is predicted to pose substantial growth rate in the forecast period. This growth rate can be credited to rising urbanization and increasing establishment of the chemical manufacturing organizations across the region. Additionally, multiplying population and requirement to enhance agricultural productivity is predicted to drive the industry across the region. Developing countries such as India and China are characterized by expanding chemical industry, increasing industrial expenditures, rising population and low cost of labor thus providing a conducive environment to the overall hexafluoroacetone derivatives industry growth.
Presently, Europe along with North America account for large hexafluoroacetone derivatives market share owing to the presence of prominent chemical manufacturing firms. Moreover, these regions have a wide scope of technological advancements that leads to easy incorporation of chemicals in several applications. In addition, hexafluoroacetone's solubility in water and several organic solvents has resulted in rising incorporation in agrochemical as well as pharmaceutical industry in the region.
Competitive Landscape
Few hexafluoroacetone derivatives market players are Halocarbon Products Corporation, Hangzhou Dayangchem Co. Ltd., Leap Labchem Co., Ltd, Parchem Fine & Specialty Chemicals, Solvay S.A., Sigma-Aldrich Corporation, Central Glass Co., Ltd., Sinochem Lantian Co., Ltd., E. I. du Pont de Nemours and Company, and Zhejiang Sanhe Pharmachem Co., Ltd. Market players are engaged in product development in various applications as well as enhancing their regional footprint.
Major hexafluoroacetone derivatives industry participants are focusing on expanding their footprint in Asia Pacific owing to low cost labor and expanding chemical industry. In April 2019, Solvay stated that it is optimistic on the China's green growth owing to upgrading chemical industry and predicted it to expand steadily. This growing optimism about China will further stimulate the market growth during in the near future.