The global agrochemicals market size was valued at USD 233.71 billion in 2018 and is estimated to grow at a CAGR of 3.1% from 2019 to 2026. Agrochemicals are the fertilizers used in agricultural fields to protect crops, fertilize, and regulate plant growth. They also find use in non-crop-based applications such as in turf and ornamental grass.
Agrochemicals are the most yielding agricultural product for the reason that it generates high value crop that copes up with rising demand for food. Agrochemicals are seen a s befitting agri-input that improves return on investments and goes a step further in meeting consumers and famers demand for a quality output of agricultural products.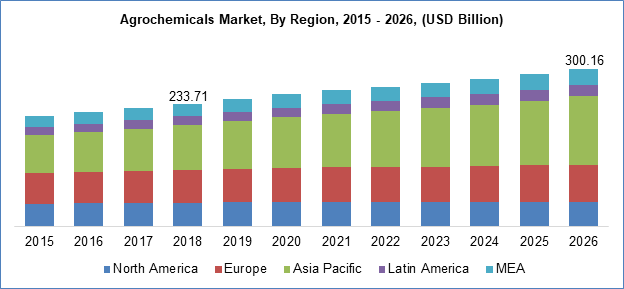 Know more about this report: request for sample pages
A driver to growth of agrochemicals goes beyond tilling land, as it also encompasses farmer attention towards superior agrochemicals, wherein they are balanced and nutritive. High-octane crops such as cereals and grains and fruits and vegetables and careful cultivation of crops in a protective environment are driving demand for agricultural market.
Agricultural industry always rings in the best by rising agricultural income in emerging nations, environmental policies, international trade patterns and increasing end-user demand. The burgeoning populations along with increasing incomes of rural and urban populace have prolifically helped the growth of this market in the developing countries such as India which happens to be the fourth largest producer of agrochemicals in the world.
Use of agrochemicals is seasonal; however round-the-clock production of crop in a protective environment is good enough to drive demand for agrochemicals products, especially fertilizers and pesticides round-the-year.
Agrochemicals Market Report Scope
By Product Type

By Application

By Region

Pesticides

Organophosphates
Bio-Pesticides
Others

Fertilizers

Crop based
Non-Crop based

North America (U.S., Canada)
Europe (UK, France, Germany)
Asia Pacific (India, China, Japan)
Latin America (Mexico, Brazil)
MEA
Know more about this report: request for sample pages
The rising external demand in few developing nations such as India rests partially on imports from regions such as Middle East. Increase in consumption of processed food with driving increase in disposable income, modernization, nuclear families and youthful populace are some of the happening trends of developing countries that has significantly benefitted from huge demand for agricultural products and agrochemicals.
Driver to growth include increasing demand for crop protection chemicals such as fungicides, insecticides and herbicides. Condensable tilling land due to rapid industrialization and increase in population has driven increased use of these chemicals such as plant growth regulators and fertilizers boosting market growth even further.
The growing application of crops as animal fodder and fiber in textile industry is a necessary driver to growth. Some of the more compelling trends in the market include a thriving demand for agricultural inputs such as fertilizers and hybrid seeds, storage facilities expansions and oncoming investment in food infrastructure, content farming and agriculture. The Government's helping hand has been instrumental for market growth. An instance includes expansion of 35 million tons of potential storage capacity under the 12th five-year plan for India, launched in 2017.
The global agrochemicals market has closed mega deals capturing prominent market share in the past three years. Agrochemicals and industrial gases were involved in the most sought-after chemical mergers and acquisitions by deal value between 2011-2016. Such market capitalizations led to decrease in competitive rivalry but at the same time made it difficult for new players to enter the marketing arena due to presence of large market players. The M&A trails were also disadvantaged because of competition from local lawyers in case of cross-border deals. There are market restraints also which cannot be avoided, because of few products such as pesticides that have an adverse effect on the environment, and subject agrochemicals to a rigorous regulatory framework in the process.
Product Analysis
Agrochemicals come in the form of various products such as fertilizers and insecticides, pesticides and plant growth regulators. Nitrogenous fertilizers are anticipated to be the forerunning contributor to market growth on account of nitrogen being a mandatory nutrient for growth and development of crops. Herbicides, a type of pesticide are also expected to witness expansive growth.
The market for agrochemicals in cereal and grains was way beyond saturation point with application segment expected top grow at highest CAGR in terms of value from 2019 to 2026. Fertilizer output faced an accelerated pace of development with much pressure falling on agricultural land to come to speed by increasing yield in a short span of time.
Application Analysis
On the basis of applications, agrochemicals are segmented into crop-based and non-crop based applications. Crop-based hold maximum share in agrochemicals market. Some of the crop-based applications include oil seeds, grains and cereals and fruits and vegetables. Non-crop based applications include grasses, turfs and applications which consume agrochemicals but are not fit for human consumption.
Regional Analysis
Asia Pacific is the most dominant reigning market today. This is due to emerging economies with high proportion of tilling land, favorable climatic conditions, increasing farm automation, rising consumption expenditure and global standing in terms of production. India and South East Asia are the lucrative growth appointments for agrochemical markets.
Europe and North America are market leaders in agrochemicals market. Countries include Germany, France and United States. They are expected to amass considerable growth during forecast periods.
Competitive Analysis
The key industry players in agrochemical market include BASF, Bayer Crop Science, Dow Agrosciences LLC, Agrium, Syngenta AG and Monsanto Company.