The global high strength steel market was valued at USD 29.8 billion in 2019 and is expected to grow at a CAGR of 8.4% during the forecast period. The growth in the Advanced High Strength Steel (AHSS) market is attributed to the favorable mechanical properties, incessant surge in automobile production, surge in global demand for electric vehicles, shift towards greener technologies, and development of third generation advanced steel.
Regulatory pressures, consumer awareness, and growing prominence of next-gen automotive companies are expected to influence the industry to refocus on green technology. It is estimated that each kilogram of High Strength Steel being utilized in vehicle, eight kilograms of GHG emissions are be saved (reported as CO2 equivalents). Shift towards green technology is expected to drive the demand for high strength steel.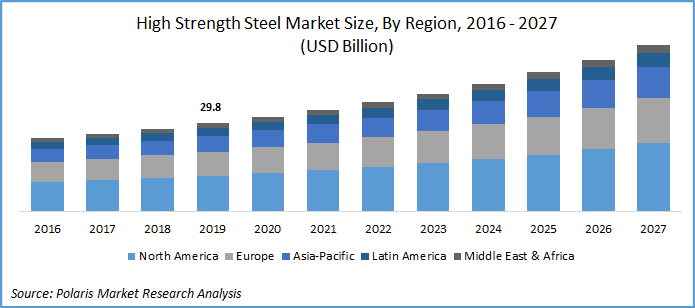 Know more about this report: request for sample pages
However, few notable market restraints include volatility in raw materials, intense competition, and alternative product offering similar applications at the competitive price. Automotive manufacturers are constantly scrutinizing for lightweight materials with excellent strength and aluminum seems to be the front contender amongst them. Aluminum-based structures have gained wide attention from manufacturers owing to highly efficient, functional, formable, and performance enhancer aluminum, which is likely to restraint AHSS market growth.
Industry Dynamics
Growth Drivers
Each generation of High Strength Steel is being developed to enhance the characteristics of strength-to-elongation ratio. Generation I type was developed from mild steel to form alloys. Even though the manufacturers were successful in increasing strength and elongation characteristics of the steel, the challenges pertaining to combining different grades of steel and high cost remains unaddressed.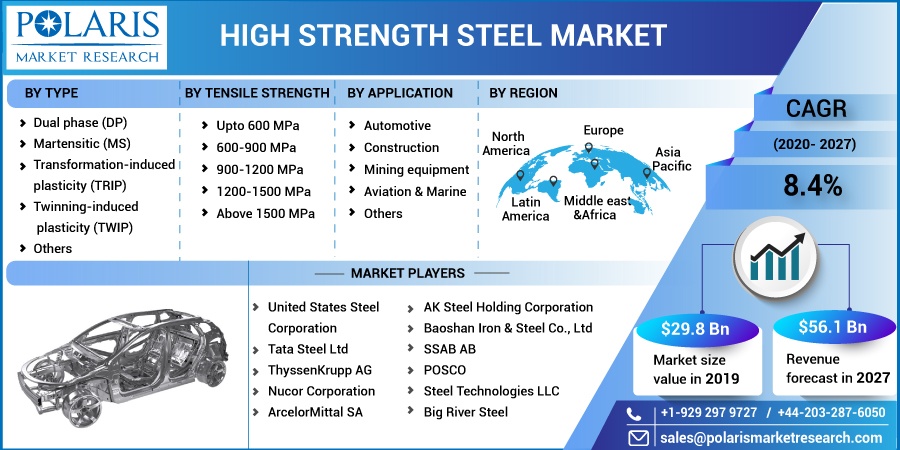 Know more about this report: request for sample pages
With continuous advancements, manufacturers have come up with 3rd generation High Strength Steel being cost efficient combined with high elongation and high tensile strength. 3rd generation High Strength Steel offers the possibility for superior strength-to-weight ratios as well as lower cost and are in a bid to replace more expensive solutions such as hot stamped boron steels or aluminum profiles.
High Strength Steel Market Report Scope
The market is primarily segmented on the basis of type, tensile strength, application, and region.
By Type

By Tensile Strength

By Application

By Region

Dual phase (DP)
Martensitic (MS)
Transformation-induced plasticity (TRIP)
Twinning-induced plasticity (TWIP)
Others

Upto 600 MPa
600-900 MPa
900-1200 MPa
1200-1500 MPa
Above 1500 MPa

Automotive
Construction
Mining equipment
Aviation & Marine
Others

North America (U.S., Canada)
Europe (France, Germany, UK, Italy, Spain, Netherlands, Russia)
Asia Pacific (Japan, China, India, Malaysia, Indonesia. South Korea)
Latin America (Brazil, Mexico, Argentina)
Middle East & Africa (Saudi Arabia, UAE, Israel, South Africa)
Know more about this report: request for sample pages
Insight by Type
Based upon type, the global High Strength Steel market is categorized into Dual phase (DP), Martensitic (MS), Transformation-induced Plasticity (TRIP), Twinning-induced Plasticity (TWIP), and Others. Of all, dual phase segment held the largest share in the global market in 2019 and is expected to maintain its dominance over the forecast period. This high share is due to its supreme properties and high adoption in automotive industry. In addition, dual phase possesses high strength and formability and broad range of tensile strength from 450 to 1200 MPa.
Insight by Application
On the basis of application, automotive segment held a significant market share in 2019. Dramatic changes in the global economy and developments in the emerging markets have made the automotive industry one of the most sought-after economic sectors. Owing to improving global economic conditions, sales of new vehicles have witnessed a high growth. Steadily growing automotive industry is creating plenty of opportunities for High Strength Steel. With frequently updating technology, several companies are coming up with advanced functions and applications of High Strength Steel in vehicles.
Geographic Overview
North America accounted for the largest revenue share in 2019 owing to the increasing demand of High Strength Steel in novel applications such as electric vehicles and high-speed transportation projects. Environmental concerns are boosting the production of electric vehicles, opening numerous opportunities for High Strength Steel manufacturers. These vehicles offer advantages such as lower running cost, low maintenance, reduced operating costs, smoother ride, etc.
According to the data provided by Organization Internationale des Constructeurs d'Automobiles (OICA), a global organization that monitors vehicle production and sales, Asia-Pacific can be observed as the largest contributor to the automotive industry. Countries including India, China, and South Korea are among the top ten largest automobile producers in the world. As a result, the demand for AHSS is expected to witness growth driving demand in the market.
Across multiple markets encompassing the automotive industry, the region remains to be at the forefront in terms of delivering voluminous production. OEMs are primarily focused on establishing and expanding their foothold in the region, wherein ample resource availability, favorable industrial regulations, and low-wage workforce continues to support their manufacturing pursuits.
Competitive Insight
Some of the major players operating the market include United States Steel Corporation, Tata Steel Ltd, ThyssenKrupp AG, Nucor Corporation, ArcelorMittal SA, AK Steel Holding Corporation, Baoshan Iron & Steel Co., Ltd, SSAB AB, POSCO, Steel Technologies LLC, and Big River Steel. In June 2020, POSCO signed a deal with Tata Steel Europe (TSE) for automotive steel technologies to expand their market presence and competitiveness.