The global histology and cytology market was valued at USD 14.08 billion in 2020 and is expected to grow at a CAGR of 13.3% during the forecast period. The rising number of patients who are suffering from cancer and other related diseases and the growing prevalence of the elderly population across the globe is expected to drive histology and cytology market growth.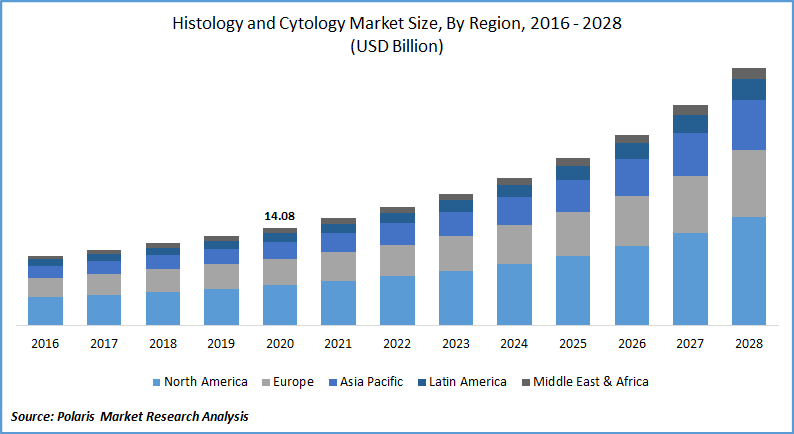 Know more about this report: request for sample pages
In addition, the increasing number of pathological laboratories standardization, and the rise in prevalence of favorable government reimbursement policies for screening and laboratory tests are some of the other factors complementing histology and cytology market growth over the forecast period.
Growing technical advancements in diagnostic and molecular methods, as well as increased R&D activities, would further contribute to the growth of the market by creating enormous opportunities. Recent progress in microscopy and immunohistochemistry are expected to increase the demand for histology and cytology tests. Virtual microscopy, a form of static telepathology, is one of these advancements.
Virtual microscopy necessitates several copies of slides and has educational, scientific, and diagnostic applications. Cytological tests are becoming more widely used around the world due to their lower invasiveness and higher reliability when compared to biopsy. These are expected to drive histology and cytology demand over the coming years.
Industry Dynamics
Growth Drivers
The global market for histology and cytology is mainly driven by the increase in chronic diseases worldwide. Histology and cytology tests are used in various chronic diseases such as cancer. These tests are extensively used in cervical and breast cancers when compared to other types of cancers. Globally 19.3 million cancers were diagnosed in 2020 and breast cancer alone contributed to 2.3 million cases, while cervical cancer was diagnosed in over 0.6 million women.
New histology and cytology techniques along with the advancements in disposable knives, cryostats, enclosed tissue processors, plastic cassettes in the histology segment will also significantly contribute to the market growth for histology and cytology. The emergence of digital technologies in the field has increased the efficiency of diagnosis in healthcare. The increasing advancement and adoption of artificial intelligence (AI) by pathologists globally will help in further development of the global market during the forecast period.
There is also the introduction of new systems such as IntelliSite Pathology Solution (PIPS) developed by Philips which is useful in interpreting digital surgical pathology slides and this is the first whole slide imaging system approved by FDA. Hologic's received European regulatory approval for its ThinPrep Genesis processor in 2019.
ThinPrep Genesis processor is an automation system that reduces the manual processing of samples by aliquoting samples for molecular testing as well as preparing the slides for cytology applications. A few years back, the Aquaro Wishbone blade handling tool was introduced by Aquaro Histology that was designed in such a way that it allows histo-pathologists to swap and position microtome blades without touching them.
The COVID-19 pandemic will have minimal effect on the global market during the forecast period as the market serves the patients who are suffering from life-threatening diseases such as cancer which needs immediate attention. Also, COVID-19 mainly affects the respiratory system and researchers are trying to unravel the molecular mechanism and pathological changes in different organs where histology and cytology techniques are essential.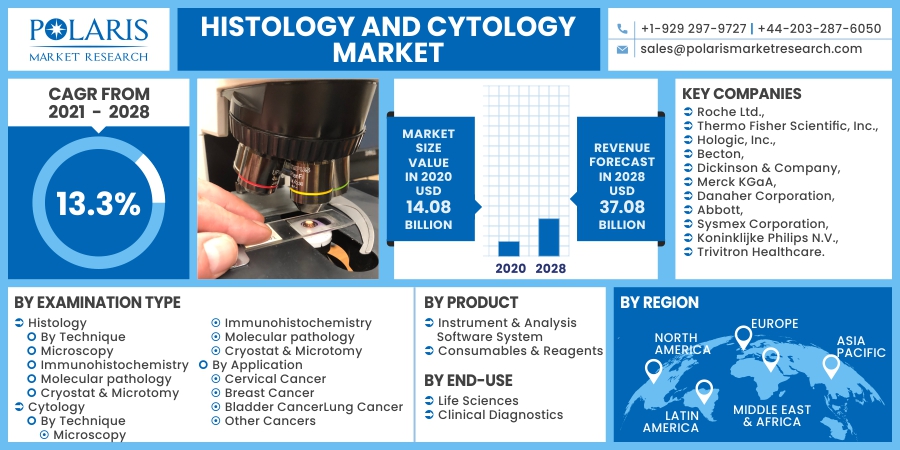 Know more about this report: request for sample pages
Histology and Cytology Market Research Scope
The market is primarily segmented on the basis of Examination Type, By Product, By End-users and By Region.
By Examination Type

By Product

By End-Use

By Region

Histology

By Technique

Microscopy
Immunohistochemistry
Molecular pathology
Cryostat & Microtomy

Cytology

By Technique

Microscopy
Immunohistochemistry
Molecular pathology
Cryostat & Microtomy

By Application

Cervical Cancer
Breast Cancer
Bladder CancerLung Cancer
Other Cancers

Instrument & Analysis Software System
Consumables & Reagents

Life Sciences
Clinical Diagnostics

North America (U.S., Canada)
Europe (France, Germany, Italy, Spain, UK, Netherlands, Austria)
Asia Pacific (China, India, Japan, Malaysia, Indonesia, South Korea)
Latin America (Argentina, Brazil, Mexico)
Middle East & Africa (Saudi Arabia, Israel, UAE, South Africa)
Know more about this report: request for sample pages
Insight by Examination Type
The increasing importance of cytology and histology for early disease diagnosis is expected to encourage their use. The analysis of the microstructure of tissues and cells is combined in histology and cytology, which aids professionals in making treatment decisions. Timely treatment of cancer like pancreatic, breast, and lung, is all dependent on early detection and screening.
The best sources of a clinical examination for cancer prognosis to increase survival rate are histology and cytology. Cytological screening is a non-aggressive approach that patients favor, making it a viable alternative for cancer detection and early diagnosis.
The cytology market segment dominated the global market in 2020 and is expected to grow significantly during the forecast period. The widespread use of cytology tests for cancer detection and screening is expected to increase demand in the upcoming years. The extensive use of advanced cytology tests for cellular level observations in the detection of different cancer types, such as breast and cervical cancer, would aid in market segment growth.
Insight by Product
Tissue processors, tissue embedders, microtomes, cryostats, and microscopes are histology and pathology equipment that aid in the preparation and examination of tissues. Automated histology instruments have the benefit of improving efficiency or processing clinical samples, lowering infection risks, and enhancing therapies.
Moreover, several market players are diversifying their product portfolios in the area of histology consumables, which will boost worldwide sales over the forecast period. Emerging vendors are also interested in improving laboratory workflow by investing in these consumables.
For instance, CellPath Limited, a UK-based firm offers a wide range of consumables including cassettes, embedding accessories, microtome blade and accessories, reagents and fixatives, slides and cover-slipping, and stains. The availability of new consumables used in these protocols is projected to increase as the number of such manufacturers grows, adding to the revenue produced by this segment over the projected timeframe.
Geographic Overview
North America is expected to dominate the global market for histology and cytology in 2020 and is expected to continue its dominance during the forecast period. This is due to the increasing incidence of cancer, availability of high-end technologies, and favorable reimbursement environment. In 2020 alone, the U.S. accounted for 1.8 million new cancer cases. Asia Pacific is expected to be the fastest-growing region in terms of revenue share in the global market during the forecast period.
The region comprises developing nations such as China and India. Nearly 60% of new cancer cases are diagnosed in developing nations and by 2050, it could reach 70%. India alone accounted for more than 1.2 million cases in 2020 and every 1 in 10 individuals are at the risk of developing cancer. The region is also seeing significant improvement in healthcare infrastructure owing to increased spending by the government.
Competitive Insight
Major players in the global market for histology and cytology are trying to bring automated digital imaging systems that can enhance the ability in interpreting the results. The companies are increasingly focusing on developing economies where there is huge untapped revenue potential owing to improved healthcare infrastructure in recent years.
Some of the major players operating in the market for histology and cytology include Roche Ltd., Thermo Fisher Scientific, Inc., Hologic, Inc., Becton, Dickinson & Company, Merck KGaA, Danaher Corporation, Abbott, Sysmex Corporation, Koninklijke Philips N.V., and Trivitron Healthcare.