The global HLA typing market was valued at USD 1.24 billion in 2021 and is expected to grow at a CAGR of 5.7% during the forecast period. The market is driven by increasing investment in research, the growing prevalence of chronic disease, and technological advances in HLA typing, along with a rise in HLA typing procedures in organ transplantation across the globe.

Know more about this report: Request for sample pages
Chronic diseases, autoimmune illnesses, and genetic problems are becoming more common. To treat these diseases, bone marrow donation and organ transplant operations have become more common. Diseases including sickle cell anemia and thalassemia are becoming more common, which propels the market.
HLA typing has several uses, including diagnosing ankylosing spondylitis, paternity testing, kidney transplant, and platelet transfusion. As a result, the market will grow faster. It may also identify narcolepsy, rheumatoid arthritis, stem cell transplant, and Behcet's illness.
Mylab Discovery Solutions just introduced the DiscoverSeries HLAB*27 detection kit for the in vitro diagnosis of ankylosing spondylitis in May 2022. The positive outcomes of molecular diagnostic tests have raised a demand for them. Therefore, the market is driven by rising consumer demand for HLA typing testing. However, gene sequencing tests and molecular testing are expensive, which hinders market expansion and usage to some extent.
A bad lifestyle, including smoking, inactivity, and unhealthful food, is to blame for the rising prevalence of chronic illnesses. Organ failure can be caused by several chronic conditions, including diabetes, polycystic kidney disease, lupus, cirrhosis, coronary artery disease, cardiomyopathy, and heart failure. Given that chronic illnesses can lead to organ failure, it is anticipated that the prevalence of chronic diseases will rise internationally.
HLA typing is essential for determining the HLA compatibility between organ donors and recipients and is required for a successful organ transplant. Therefore, it is anticipated that the market for HLA typing will be driven by the rising incidence of chronic disorders.
The COVID-19 pandemic outbreak has brought about a number of unexpected changes in the world economy, and its repercussions have been felt across all industries. During the pandemic, COVID-19-infected people clogged hospitals and emergency rooms. All healthcare personnel, as well as resources, were focused on the COVID-19 patients' emergency. Due to a shortage of resources, non-essential or unforeseen surgical operations, including organ transplants, were delayed. In order to reduce the danger of infections among immunosuppressed patients, organ transplant procedures were postponed during the early stages of the COVID-19 pandemic, which had a detrimental effect on the HLA typing business.
When comparing the global organ transplants carried out in 2019 and 2020, according to statistics supplied by the Global Observatory for Organ Donation and Transplantation, deceased donation transplants decreased by 20.9% in kidney, 16.2% in lung, and 12.7% in liver operations. The use of HLA typing products declined due to the decline in organ transplant procedures.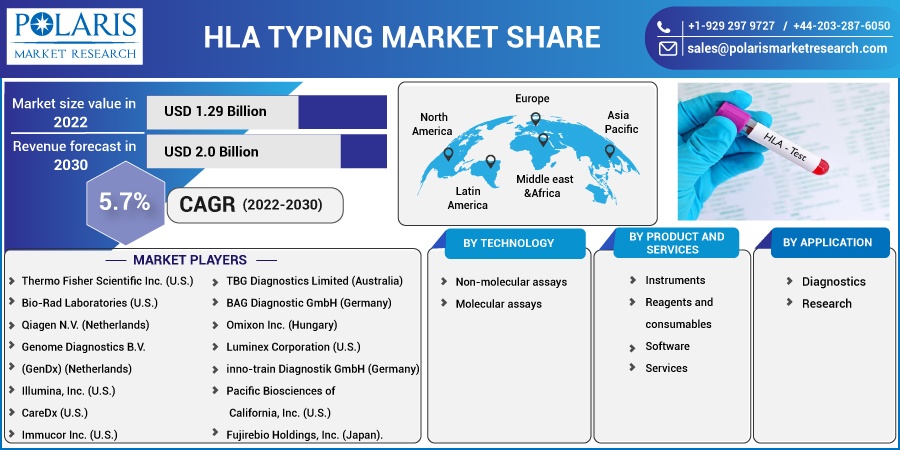 Know more about this report: Request for sample pages
Industry Dynamics
Growth Drivers
Some of the key drivers behind the market's expansion are growing demand for diagnostic goods, greater private-public cooperation for extended HLA research, a rise in the incidence of infectious disorders, and an increase in the number of transplant procedures. Identification of HLA class I and class II antigens is accomplished by the DNA-based molecular diagnostics process. HLA typing uses these cutting-edge DNA advances to produce more precise, robust findings that depend on recognizing the variations in HLA genes.
Other factors contributing to the expansion of the market include technological developments, an increase in the number of procedures involving stem cells, soft tissue, and solid organ transplantation, bolstered support for R&D, and rising public and private funding. The technical transition from serological tests to gene-based HLA profiling will accelerate the market's expansion.
Report Segmentation
The market is primarily segmented based on technology, product and services, application and region.
By Technology

By Product and Services

By Application

By Region

Non-molecular assays
Molecular assays

Instruments
Reagents and consumables
Software
Services

North America (U.S., Canada)
Europe (France, Germany, UK, Italy, Netherlands, Spain, Russia)
Asia Pacific (Japan, China, India, Malaysia, Indonesia, South Korea)
Latin America (Brazil, Mexico, Argentina)
Middle East & Africa (Saudi Arabia, UAE, Israel, South Africa)
Know more about this report: Request for sample pages
The market for molecular assays will increase at the fastest rate in 2021
The main drivers of segment growth throughout the predicted time frame include rising molecular assay demand, rising adoption rates, and cutting-edge technologies that boost consumer purchasing behavior. Additionally, compared to non-molecular tests, related benefits offered by molecular methods are effective, driving up demand for molecular assay.
PCR-based and sequencing-based molecular tests are subcategories of molecular assays. The PCR technology, used to identify infections quickly, gained popularity among patients and healthcare professionals, boosting industry income. Real-time PCR (RT-PCR), which has emerged as a new technique and is widely employed in research labs and clinical diagnostics, has evolved alongside conventional PCR procedures.
High-resolution HLA typing is now possible because of recently developed technologies like next-generation sequencing. Thus, this market is anticipated to rise faster thanks to the advantages and developments in molecular technologies.
The reagents and consumables sector outpaced
HLA typing typically necessitates the use of reagents and consumables in large quantities. Therefore, growing industry advancement is anticipated due to increasing acceptance of reagents and consumables in transplant diagnostic procedures.
Additionally, the introduction of modern technologies driving the creation and improvement of instruments encourages the segment's growth in the years to come. The segment value will also be stimulated by the availability of several kit types, such as SBT kits (sequencing-based typing), SSO kits (sequence-specific oligonucleotides), and SSP kits (sequence-specific primers).
A substantial proportion of this market is attributed to the consumables' frequent usage, the availability of several tests, and firms dedicated to the introduction of innovative assays. For instance, Versiti, Inc. (U.S.) introduced a test in 2021 to identify HLA region loss of heterozygosity. To learn more about patients who have experienced a post-transplant recurrence, this exam is helpful.
The diagnostics segment accounted highest market share
The segment growth is driven by the broad use of gene testing for illness diagnosis and the accessibility of more sophisticated and targeted gene testing methods. Additionally, expanding the use of PCR and other sequencing technologies for tissue typing in healthcare administrations, including diagnostics, and improvements in R&D activities would hasten the value of the sector.
In addition, the need for HLA-matched bone marrow transplantation therapy for at-risk couples with thalassemic kids is expected to grow the sector.
North America is anticipated to dominate the HLA Typing Market in 2022
Due to the expanding need for organ transplants and rising government activities to promote the moral advancement of programs for organ donation and transplantation, North America held the highest revenue share in the global market in 2021.
Additionally, the presence of well-known players that provide cutting-edge technology would promote corporate expansion. The availability of highly qualified personnel in the area as well as the huge number and size of laboratories, are expected to fuel regional growth. Further supporting the regional expansion will be the region's abundance of laboratories and highly qualified experts.
At the geographical level, North America is anticipated to dominate the market in 2022, while Asia-Pacific is anticipated to see the greatest CAGR growth during the projection period. Rising healthcare costs, improved accessibility to treatments and procedures involving organ transplants, and government campaigns to raise public awareness of organ donation are the main drivers propelling the growth of the market in Asia-Pacific.
Competitive Insight
Some of the major players operating in the global market include Thermo Fisher Scientific Inc., Bio-Rad Laboratories, Qiagen N.V., Genome Diagnostics B.V., Illumina, Inc., CareDx, Immucor Inc., TBG Diagnostics Limited, BAG Diagnostic GmbH, Omixon Inc., Luminex Corporation, inno-train Diagnostik Gmbh, Pacific Biosciences of California, Inc., and Fujirebio Holdings, Inc.
Recent Developments
In May 2022, Mylab Discovery Solutions (AS) released an in-vitro diagnostic test for Ankylosing Spondylitis called the DiscoverSeries HLAB*27 detection kit.
In April 2022, The NGSgo-MX11-3 human leukocyte antigen genotyping test from Genome Diagnostics (GenDx), a Dutch molecular diagnostics company, acquired permission from Canadian regulators for use in in-vitro diagnostics.
HLA Typing Market Report Scope
| | |
| --- | --- |
| Report Attributes | Details |
| Market size value in 2022 | USD 1.29 billion |
| Revenue forecast in 2030 | USD 2.0 billion |
| CAGR | 5.7% from 2022 - 2030 |
| Base year | 2021 |
| Historical data | 2019 - 2021 |
| Forecast period | 2022 - 2030 |
| Quantitative units | Revenue in USD billion and CAGR from 2022 to 2030 |
| Segments Covered | By Technology, By Product and Services, By Application, By Region |
| Regional scope | North America, Europe, Asia Pacific, Latin America; Middle East & Africa |
| Key Companies | Thermo Fisher Scientific Inc. (U.S.), Bio-Rad Laboratories (U.S.), Qiagen N.V. (Netherlands), Genome Diagnostics B.V. (GenDx) (Netherlands), Illumina, Inc. (U.S.), CareDx (U.S.), Immucor Inc. (U.S.), TBG Diagnostics Limited (Australia), BAG Diagnostic GmbH (Germany), Omixon Inc. (Hungary), Luminex Corporation (U.S.), inno-train Diagnostik GmbH (Germany), Pacific Biosciences of California, Inc. (U.S.), and Fujirebio Holdings, Inc. (Japan). |