The global hospital stretchers market was valued at USD 2.62 billion in 2022 and is expected to grow at a CAGR of 5.6% during the forecast period. Primary factors driving the market are the increased frequency of chronic illnesses such as cancer, neurological disorders, and chronic obstructive pulmonary disease (COPD), particularly among the aging population, which is boosting the market growth. The industry is also being boosted by several product improvements, such as stretchers with a variety of attachments, including lifting bridles, head or spine immobilizers, clamps, harnesses, foot-boards, & wrist rests.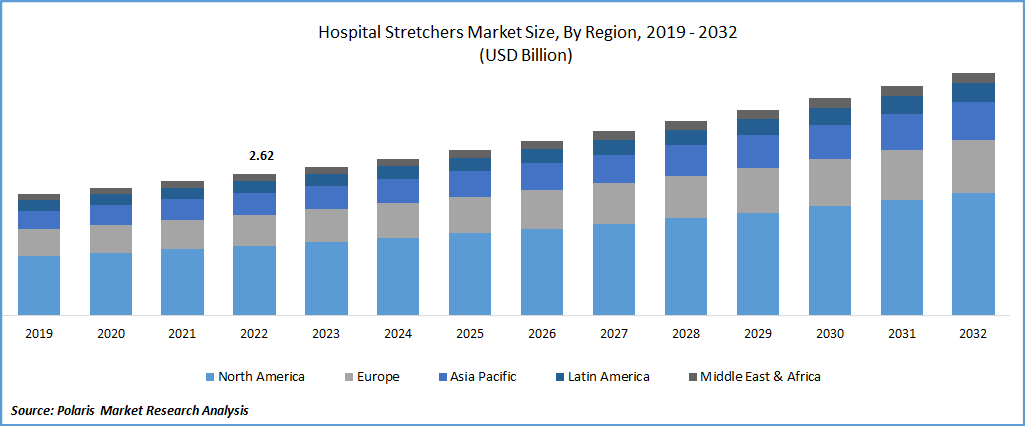 Know more about this report: Request for sample pages
Equipment used to move and carry people who need medical attention in a hospital is referred to as a "hospital stretcher." Some of the frequently used hospital stretchers are those that are adjustable, fixed in height, radiographic, and bariatric. Depending on the mechanism, they are also available in motorized and non-motorized versions. Medical stretchers are therefore often utilized in emergency circumstances, pediatric care, imaging, and rescue operations following accidents that require immediate hospital treatment.
In the upcoming years, the hospital stretchers market is anticipated to benefit from partnerships and product commercialization strategies. To improve their market position, industry participants are focusing on a variety of business tactics, including collaborations, mergers, and acquisitions, and the development of new products. ?For example, Stryker introduced the ProCuity Wireless Bed in October 2020 intending to assist hospitals in lowering expenses, reducing the amount of patient falls, and enhancing the efficiency of nurses.
Despite the devastating effect of COVID-19 on the rest of the businesses, the hospital stretchers market grows at an exponential rate during the period. It was seen that the COVID-19 pandemic, directly and indirectly, stimulate market expansion. Due to the pandemic, care for COVID-19 patients was given priority, therefore all medical services were postponed. The urgent transportation of patients to hospitals was required due to the COVID-19 patients rapidly rising numbers.
According to WHO, there were 8.8 million cases worldwide coronavirus cases worldwide as of June 2020. Furthermore, stretchers offered a trustworthy yet affordable option in several nations where there is a shortage of patient bedding as a result of the terrible effects of the COVID-19 epidemic. Stretchers are used with the operating table, ventilator, harnesses, & monitoring accessories. It is anticipated that these aspects would encourage market expansion.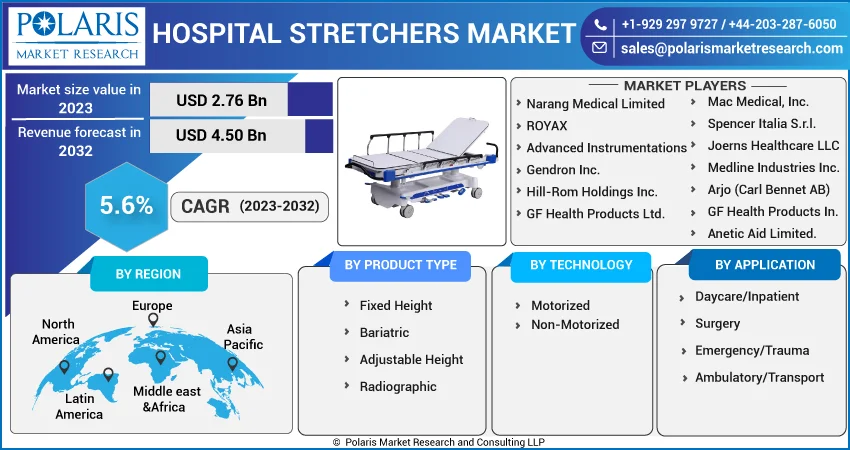 Know more about this report: Request for sample pages
Industry Dynamics
Growth Drivers
Hospital stretchers are increasingly in demand due to the increased number of cancer cases. For instance, the American Cancer Society estimates that there will be 1.9 million newly diagnosed cases of cancer and 609,360 cancer-related deaths in the United States in 2022. As a result, the rise in chronic illnesses is thought to be a key driver fueling market expansion.
According to the CDC, adults aged 65 and up are more likely to acquire heart disease, chronic obstructive pulmonary disease (COPD), diabetes, cancer, neurological problems, and other chronic illnesses. Such illnesses demand both emergency and non-emergency hospital treatment for the patients who have them. As a result, one of the key factors driving market expansion is expected to be the growing elderly population.
The hospital stretchers market is thus anticipated to provide considerable development prospects shortly as a result of these medical needs. According to the World Health Organization report in 2021, around 1.35 million people die in road accidents each year. This is more common among those under the age of 5 to 29, and it is more prevalent in low- and middle-income nations. 60% of the world's automobile ownership and 93% of all traffic deaths occur in low- and middle-income countries. A further estimate by the Association for Safe International Road Travel (ASIRT) places the annual death toll from traffic accidents at 46,000 only in the US, with an additional 4.4 million who required serious medical assistance
Report Segmentation
The market is primarily segmented based on product type, technology, application, and region.
By Product type

By Technology

By Application

By Region

Fixed Height

Bariatric

Adjustable Height

Radiographic

Daycare/Inpatient

Surgery

Emergency/Trauma

Ambulatory/Transport

North America (U.S., Canada)

Europe (France, Germany, UK, Italy, Netherlands, Spain, Russia)

Asia Pacific (Japan, China, India, Malaysia, Indonesia, South Korea)

Latin America (Brazil, Mexico, Argentina)

Middle East & Africa (Saudi Arabia, UAE, Israel, South Africa)
Know more about this report: Request for sample pages
The bariatric

segment is expected to witness fastest growth over the forecast period
The bariatric sector generated the fastest revenue rate and is expected to experience a high CAGR over the anticipated timeframe. Bariatric stretchers are designed with larger stretcher frames, bigger wheels, winch attachments, and pull and push handles to make transport patients safely. These kinds of stretchers are frequently used to transport obese patients. Several health consequences, including diabetes, heart disease, and cancer, can be brought on by obesity, making it one of the most important public health issues. Bariatric stretchers are more frequently required as a result of obesity, which results in hospitalization. The World Health Organization estimates that 1.9 billion persons were overweight in 2016 and that 650 million of them were obese.
Bariatric stretchers can support up to 700 pounds of weight. Furthermore, motorized high-low stretchers for patient transport and positioning might be useful. Consequently, the rising number of fat people creates a perfect atmosphere for growth. Due to multi-specialty and super-specialty hospitals' rising need for cutting-edge, automated hospital stretchers, the market for adjustable-height stretchers is also anticipated to expand considerably in the upcoming years. These stretchers also make it simple for medical professionals to use them. Additionally, adjustable stretchers may match the height of other surface levels, making patient transfers simpler and safer.
The motorized segment accounted for the largest market share in 2022
The market for motorized hospital stretchers is expected to grow at the fastest CAGR throughout the forecast period. This is a result of large businesses investing more money in creating cutting-edge and sophisticated products. As new technology is assessed, there is a rising need for hydraulic and pneumatic stretchers in developed nations. For example, Stryker's Prime Series stretchers provide cutting-edge mobility options such as zoom motorized drive or huge wheel system, electric-powered base & lift, and chaperone stretcher alert system with integrated scale.
As multi-specialty and super-specialty hospitals need more cutting-edge and automated hospital stretchers, the demand for adjustable stretchers is also anticipated to increase dramatically in the upcoming years. Medical practitioners can also benefit from using these stretchers. Their curved backrest may be adjusted for height, and they include an arm mechanism. A height-adjustable motorized stretcher may reach heights of more than a non-motorized stretcher. Furthermore, compared to non-powered stretchers, motorized stretchers are simple to transport inside isolated areas.
The emergency/ Trauma sector is expected to hold the significant revenue share
In 2022, the emergency/trauma sector had the greatest revenue share. The increasing frequency of road traffic accidents and emergency trauma patients is attributed to the segment's rise. For instance, according to Eurostat, the number of people who died in traffic accidents in the EU reached 51.2 per million people in 2019. Around 35,766 fatal motor vehicle accidents occurred in the U.S. in 2020, with 38,834 people dying as a result, according to the Insurance Institute for Highway Safety's Highway Loss Data Institute.
In addition, the U.S. Bureau of Labor Statistics reports that 5,333 Americans lost their lives due to work-related injuries in 2019. Work-related accidents are common in emergency services. The need for hospital stretchers for emergencies is anticipated to rise quickly as the number of patients rises. Additionally, even when there is a crowd present, patient transfers using emergency or trauma stretchers go well. The majority of these stretchers are also quite economical and may not even need trained caretakers to handle patients. These elements are accelerating the market's expansion even further.
North America is dominated the market in 2022
In 2020, North America had the largest revenue share. An important aspect driving market expansion in this region is the growing elderly population. Approximately 95 million Americans aged 65 and older are expected to exist in the United States by 2060, up from 52 million in 2018, according to forecasts made by the U.S. Census Bureau. Additionally, it is anticipated that the overall percentage of people 65 and older would increase from 16% to 23%. Additionally, the market is being driven by growing healthcare costs and increased use of cutting-edge medical facilities.
According to CMS.gov figures, healthcare expenditure in the United States increased by 4.6% in 2019, reaching USD 3.8 trillion per person, accounting for 17.7% of the nation's GDP. Additionally, favorable reimbursement regulations for both emergency and non-emergency medical services in the United States and Canada are probably going to support market expansion. For example, Medicare Part B pays 80% of the Medicare-authorized price for medically necessary emergency ambulance services and, in some circumstances, non-emergency ambulance services.
The market expansion in Asia Pacific area is mostly driven by an increase in hospitals and a rise in emergency room admissions. China, India, Japan, South Korea, and Australia are the main market drivers for the Asia Pacific area. Another important factor for market expansion is the rise in the number of patients as a result of growing traffic accident incidents. According to the World Bank Report, India accounts for 11% of worldwide traffic fatalities. Each year, there are over 4.5 lakh traffic accidents in the nation, in which 1.5 lakh people pass away.
Accident victims on the road require immediate medical care and hospital services. Therefore, it is probable that the increasing frequency of traffic accidents will fuel market expansion during the upcoming years. The market in the Asia Pacific is expected to expand significantly over the next several years due to factors like changing healthcare infrastructure, ongoing investment in good healthcare facilities, and encouraging government efforts.
Competitive Insight
Some of the major players operating in the global market include Stryker, TransMotion Medical, Narang Medical Limited, ROYAX, Advanced Instrumentations, Gendron Inc., Hill-Rom Holdings, GF Health Products, Fu Shun Hsing Technology, Mac Medical, Joerns Healthcare, Medline Industries, GF Health Products, and Anetic Aid Limited.
Recent Developments
In December 2021, Technimount's Neo-natal Stretcher got the "EMS World Innovation Award" 2021. Neonatal transport teams can operate safely and independently which comprises a support stretcher framework and modified mounts that can be attached to a variety of medical instruments.

In September 2021, an Indian teenager developed a stretcher with shock absorbers. Contrary to its traditional equivalents, this stretcher is built in a way that uses the patient's weight to control the patient's center of gravity. This is balanced on the middle wheels while moving over ramps, elevations, or uneven terrain.
Hospital Stretchers Market Report Scope
| | |
| --- | --- |
| Report Attributes | Details |
| Market size value in 2023 | USD 2.76 billion |
| The revenue forecast in 2032 | USD 4.50 billion |
| CAGR | 5.6% from 2023 - 2032 |
| Base year | 2022 |
| Historical data | 2019 – 2021 |
| Forecast period | 2023 - 2032 |
| Quantitative units | Revenue in USD billion and CAGR from 2023 to 2032 |
| Segments Covered | By Product Type, By Technology, By Application, By Region |
| Regional scope | North America, Europe, Asia Pacific, Latin America; Middle East & Africa |
| Key Companies | Stryker, TransMotion Medical Inc., Narang Medical Limited, ROYAX, Advanced Instrumentations, Gendron Inc., Hill-Rom Holdings Inc., GF Health Products Ltd., Fu Shun Hsing Technology Co. Ltd., Mac Medical, Inc. Spencer Italia S.r.l. Joerns Healthcare LLC, Medline Industries Inc., Arjo (Carl Bennet AB), GF Health Products In., and Anetic Aid Limited. |