The human milk oligosaccharides market was valued at USD 189.66 million in 2021 and is expected to grow at a CAGR of 22.4% during the forecast period. Human Milk Oligosaccharides (HMO) are a very important and stimulating constituent of human milk and are the third most abundant solid component after lactose and lipids. The HMO is a fundamentally and biologically diverse group of complex indigestible sugars.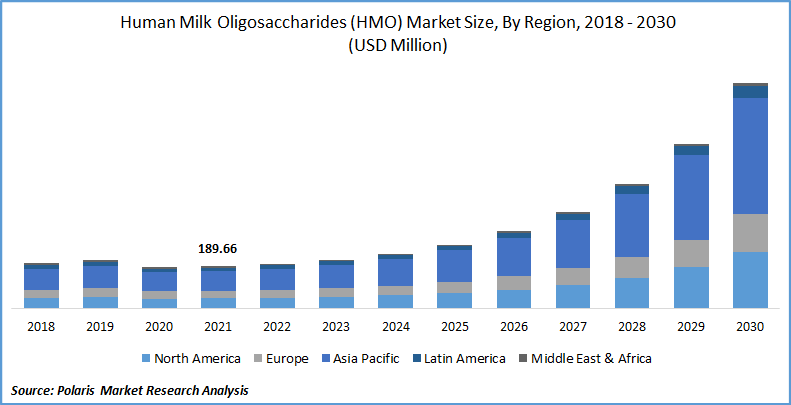 Know more about this report: Request for sample pages
Human milk oligosaccharides are distinct prebiotics found naturally in a mother's breast milk. They are the most profuse solid ingredient in breast milk, after carbohydrates and fat. In breastfed babies, HMOs technically affect the microbiome. The HMO prebiotic helps in nourishing the baby's immune system.
Further, there is a surge in demand for the biosynthetic production of HMOs due to functional benefits for usage as additives in infant formulas and other dietary products. These HMO molecules are formed chemically, through fermentation, or through enzymatic synthesis.
Although, it has been observed that Human Milk Oligosaccharides (HMO) products are costly, as a large quantity of human milk is fused to develop a small number of oligosaccharides. Thus, these techniques are given great importance, and there has been a continuous improvement in its R&D activities.
The outbreak of the COVID-19 pandemic has significantly impacted the growth of the industry. This has impacted businesses throughout industries in a very short span of time; due to the stringent restrictions on movement, the industry faced a severe workforce crisis in manufacturing facilities, research and development units, and logistics.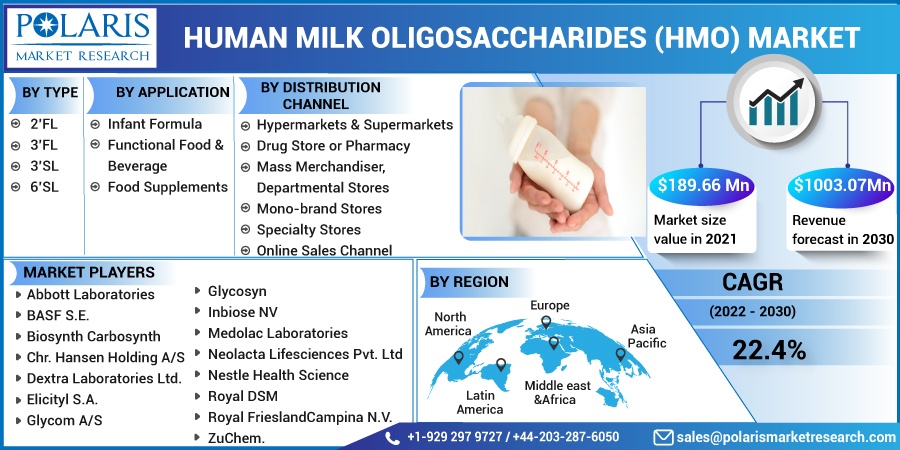 Know more about this report: Request for sample pages
Industry Dynamics
Growth Drivers
HMOs are a functional element that is extracted from human breast milk that acts as nutrients for the neurological advancements of infants. Thus, the increasing demand for oligosaccharides applications in infant formula stipulates the growth of the Human Milk Oligosaccharides (HMO) market.
Moreover, due to changes in lifestyles and diets, people have become health-conscious with time, and there is an increased inclination toward functional foods, such as dietary supplements and probiotics. Further, there is a sharp rise due to the inability of mothers to lactate, and better nutrition options for growing infants.
Report Segmentation
The market is primarily segmented based on type, application, distribution channel, and region.
By Type

By Application

By Distribution channel

By Region

Infant Formula
Functional Food & Beverage
Food Supplements

Hypermarkets & Supermarkets
Drug Store or Pharmacy
Mass Merchandiser, Departmental Stores
Mono-brand Stores
Specialty Stores
Online Sales Channel

North America (U.S., Canada)
Europe (France, Germany, UK, Italy, Netherlands, Spain, Russia)
Asia Pacific (Japan, China, India, Malaysia, Indonesia, South Korea)
Latin America (Brazil, Mexico, Argentina)
Middle East & Africa (Saudi Arabia, UAE, Israel, South Africa)
Know more about this report: Request for sample pages
The 2'FL segment is expected to dominate the Human Milk Oligosaccharides (HMO) market
Based on HMO's type, the 2'FL segment gathered the largest adoption in 2021, as 2'-fucosyllactose (2'FL) is widely known for its capability to shield against infectious diseases and by averting toxins and pathogens from adhering to epithelial cells.
Infant formula is expected to garner the largest market share
Based on applications, the infant formula segment dominated the global Human Milk Oligosaccharides (HMO) market in 2021 and accounted for around 80% of the overall revenue share. This is due to the increase in demand for HMOs in designing infant formulas is rising due to the beneficial and useful properties of HMOs. These HMO products help infants in protecting them from infection, their memory augmentation, protection from prebiotic effects, brain development, and gut health maintenance.
Further, the Human Milk Oligosaccharides (HMO) market for functional food and beverages is projected to have considerable growth during the forecast period. Owing to the various health benefits, the increased adoption of HMO in functional food and beverage formulations is expected to grow significantly over the forecast period, thereby driving product demand.
Additionally, the usage of these HMOs in dietary supplements offers benefits such as immune support, digestive comfort, defense against viral and bacterial infections, digestive comfort, and brain function support.
Thus, increased healthcare expenses, altering lifestyles, and an increase in the geriatric population are the major factors driving the food supplements industry. Also, increasing health awareness among people and standard of living are also factors stimulating the growth of the Human Milk Oligosaccharides (HMO) market.
The drug store or pharmacy is expected to hold the significant revenue share
The drug store or pharmacy segment held the highest share of the Human Milk Oligosaccharides (HMO) market in 2021 and is expected to grow further in the forecasting period. This is attributed to the fact that to draw attention and retain customers during the increasing competition from mail-order retailers and supercenters, drug store operators have given emphasis to accessibility factors such as extended store hours and drive-through locations.
The demand in the Asia Pacific region is expected to witness significant growth
Countries in the Asia Pacific region, such as China, Japan, India, and others, are expected to adopt HMOs in vast quantity due to the availability of a huge consumer base for HMO derivative products. Further, since the region is densely populated by countries like China and India, it witnesses a sharp rise in infant population every year.
Hence, the rising population is influencing the infant formula market, where HMO is used as a vital ingredient for formulating infant foods and other supplements. Thereby resulting in the growth of the Human Milk Oligosaccharides (HMO) market.
Further, the Chinese Ministry of Agriculture and Rural Affairs announced six separate manufacturing strains to produce oligosaccharides. Further, it has been observed that China's infant formula market is around 50% of the industry.
Therefore, there is an increase in demand for infant formula during the forecast period, thereby creating opportunities for the Human Milk Oligosaccharides (HMO) market in China. For instance, DSM Nutritional Products AG has collaborated with the Chinese government for the highest-quality nutrition products to bring HMOs to the industry.
Moreover, Japan is projected to garner considerable and gradual growth in the HMO industry due to the declining birth rates in the recent past.
Furthermore, due to increasing dynamics such as population, disposable income, mortality rate, and people's consciousness regarding health and hygiene, the HMO industry in the Asia-Pacific region is observed substantial growth and will continue to be the same in the coming years.
Additionally, increasing gut diseases, high blood pressure, diabetes, and other such diseases have resulted in an increased demand for functional food and beverages, which is expected to propel the regional demand for human milk oligosaccharides. In addition, India and China are rapidly growing markets for dietary supplements and baby food, which is anticipated to further fuel the product demand over the forecast period.
Competitive Insight
Some of the major players operating in the global Human Milk Oligosaccharides market include Abbott Laboratories, BASF S.E., Biosynth Carbosynth, Chr. Hansen Holding A/S, Dextra Laboratories Ltd., Dupont Nutrition & Biosciences, Elicityl S.A., Glycom A/S, Glycosyn, Inbiose NV, Medolac Laboratories, Neolacta Lifesciences Pvt. Ltd, Nestle Health Science, Royal DSM, Royal FrieslandCampina N.V., and ZuChem.
These players are expanding their presence across various geographies and entering new markets in developing regions to expand their customer base and strengthen presence in the industry. The companies are also introducing new innovative products in the industry to cater to the growing consumer demands.
Recent Developments
In June 2021, H&H Group, Australia, launched its first kids supplement that consists of Human Milk Oligosaccharides (HMOs). The product is named as ProBOOST + Vit D under the brand name Biostime, and can be consumed by kids aged 12 months and above.
Furthermore, In April 2020, Kyowa Hakko established a new capability to produce human milk oligosaccharides (HMOs) in Thailand, due to the increaseing demand worldwide for these health products in the coming years.
Human Milk Oligosaccharides (HMO) Market Report Scope
| | |
| --- | --- |
| Report Attributes | Details |
| Market size value in 2021 | USD 189.66 million |
| Revenue forecast in 2030 | USD 1,003.07 million |
| CAGR | 22.4% from 2022 - 2030 |
| Base year | 2021 |
| Historical data | 2018 - 2020 |
| Forecast period | 2022 - 2030 |
| Quantitative units | Revenue in USD million and CAGR from 2022 to 2030 |
| Segments covered | By Type, By Application, By Distribution Channel, By Region |
| Regional scope | North America, Europe, Asia Pacific, Latin America; Middle East & Africa |
| Key companies | Abbott Laboratories, BASF S.E., Biosynth Carbosynth, Chr. Hansen Holding A/S, Dextra Laboratories Ltd., Dupont Nutrition & Biosciences, Elicityl S.A., Glycom A/S, Glycosyn, Inbiose NV, Medolac Laboratories, Neolacta Lifesciences Pvt. Ltd, Nestle Health Science, Royal DSM, Royal FrieslandCampina N.V., and ZuChem. |