The global human milk oligosaccharides (HMO) market was valued at USD 231.86 million in 2022 and is expected to grow at a CAGR of 22.8% during the forecast period.
Human Milk Oligosaccharides (HMOs) are a significant and diverse component of human breast milk. Following lactose and lipids, they are the third most plentiful solid component. HMOs are a biologically diverse group of complex sugars that are indigestible.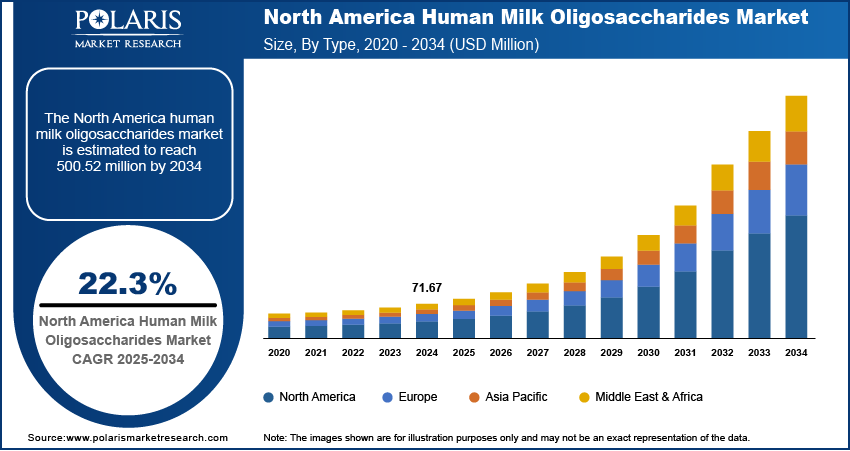 To Understand More About this Research: Request a Free Sample Report
The HMO market refers to the global industry producing, distributing, and commercializing human milk oligosaccharides. HMOs are complex carbohydrates naturally present in human breast milk and play a crucial role in promoting the health and development of infants. They are considered prebiotics, which means they serve as food for beneficial bacteria in the infant's gut, supporting the growth of a healthy gut microbiome.
The market for HMOs has gained significant attention and growth in recent years due to their potential health benefits and the increasing demand for healthier infant nutrition alternatives. HMOs are believed to provide various advantages, such as supporting immune function, reducing the risk of infections, improving cognitive development, and promoting gastrointestinal health in infants.
The market is driven by rising awareness about the importance of breastfeeding and the benefits of HMOs, increasing birth rates, and growing disposable incomes in developing regions. Additionally, advancements in technology and research have enabled the production of HMOs through fermentation processes, further contributing to market growth.
Human milk oligosaccharides (HMOs) are naturally occurring prebiotics abundantly found in breast milk, following carbohydrates and fat. They influence the microbiome and nourish breastfed babies' immune systems. These HMOs act as prebiotics, supporting the growth of beneficial bacteria.
In recent times, there has been a significant increase in the demand for biosynthetic production of HMOs. Their functional benefits drive this as additives in infant formulas and various dietary products. HMO molecules can be chemically synthesized, produced through fermentation, or created via enzymatic synthesis. These synthetic HMOs aim to provide similar benefits to those naturally present in breast milk, catering to the nutritional needs of infants, not exclusively breastfed.
The production of Human Milk Oligosaccharides (HMO) products is expensive, as a considerable amount of human milk is required to yield a small number of oligosaccharides. Consequently, these techniques are highly valued, and there is ongoing research and development to improve efficiency and cost-effectiveness.
However, the COVID-19 pandemic has substantially impacted the growth of the HMO industry. The swift implementation of movement restrictions has led to significant challenges for businesses across various sectors. The limits have severely affected manufacturing facilities, research and development units, and logistics, resulting in a workforce crisis within the industry. It has hindered the overall operations and progress of HMO production.
Industry Dynamics
Growth Drivers
Increase in the infant population
As the global population continues to grow, so does the number of infants. This increase in the infant population directly translates to a higher demand for infant nutrition products, including infant formulas and dietary supplements.
Human Milk Oligosaccharides are increasingly recognized for their benefits in promoting healthy infant growth and development. They play a crucial role in nourishing the immune system, supporting the development of a healthy gut microbiome, and providing protection against pathogens. As more parents become aware of the importance of optimal nutrition for their infants, the demand for HMO-based products rises.
Furthermore, there is growing recognition among healthcare professionals and researchers regarding the significance of HMOs in mimicking the beneficial effects of human breast milk. It has led to increased recommendations and endorsements of HMOs in infant nutrition. As a result, manufacturers focus on developing HMO-based products to meet the rising demand, further driving market growth.
Report Segmentation
The market is primarily segmented based on type, application, distribution channel, and region.
By Type

By Application

By Distribution Channel

By Region

Infant Formula

Functional Food & Beverage

Food Supplements

Hypermarkets & Supermarkets

Drug Store or Pharmacy

Online Sales Channel

Others

North America (U.S., Canada)

Europe (France, Germany, UK, Italy, Netherlands, Spain, Russia)

Asia Pacific (Japan, China, India, Malaysia, Indonesia, South Korea)

Latin America (Brazil, Mexico, Argentina)

Middle East & Africa (Saudi Arabia, UAE, Israel, South Africa)
To Understand the Scope of this Report: Speak to Analyst
Infant formula segment accounted for the largest market share in 2022
In 2022, The infant formula segment of the Human Milk Oligosaccharides (HMO) market accounted for the largest market share. It can be attributed to the growing demand for HMOs in the development of infant formulas, as HMOs offer beneficial properties that aid in protecting infants from infections, enhance their memory, promote prebiotic effects, support brain development, and maintain gut health.
Furthermore, the market for HMOs in functional food and beverages is anticipated to experience significant growth throughout the forecast period. The increased adoption of HMOs in the formulation of available food and beverage products is driven by the various health benefits of HMOs. This trend is expected to propel the demand for HMO products in the functional food and beverage industry, due to substantial market growth.
Moreover, incorporating Human Milk Oligosaccharides (HMOs) into dietary supplements provides various advantages, including immune support, enhanced digestive comfort, protection against viral and bacterial infections, improved brain function, and digestive comfort. As a result, the food supplements industry is experiencing significant growth due to rising healthcare expenses, changing lifestyles, and an increase in the elderly population. Additionally, the market for HMOs is being propelled by increasing health awareness among individuals and an overall improvement in the standard of living.
Drug store or pharmacy segment held the highest market share in 2022
In 2022 the drugstore or pharmacy segment held the highest market share. This segment comprises retail establishments primarily selling pharmaceutical products, including prescription drugs, over-the-counter medications, and various health-related items.
There are several reasons behind the dominance of the drugstore or pharmacy segment in the HMOs market. Firstly, these establishments have a well-established presence and a wide network of stores, making them easily accessible to consumers. This accessibility factor is crucial in attracting customers who seek convenience and prefer to purchase healthcare products from nearby locations.
Moreover, drugstore operators have recognized the increasing competition from mail-order retailers and supercenters, which offer convenience and competitive pricing. In response, they have implemented strategic measures to differentiate themselves and retain customers. One approach emphasizes accessibility factors, such as extended store hours and drive-through locations.
The Asia Pacific region expected to witness significant growth
The Asia Pacific region expected to witness significant growth in the market and adoption of HMOs due to its large consumer base and increasing infant population. This growth is driven by the region's influence on the infant formula market, where HMOs are vital ingredients in formulating infant foods and supplements. As a result, the Human Milk Oligosaccharides (HMO) market is expanding in the region.
In addition, the Chinese Ministry of Agriculture and Rural Affairs has announced the development of six distinct manufacturing strains for producing oligosaccharides. China's infant formula market accounts for approximately 50% of the industry, indicating significant potential for growth.
This increasing demand for infant formula in China presents opportunities for the HMO market. To capitalize on this potential, DSM Nutritional Products AG has partnered with the Chinese government to introduce HMOs into the industry, ensuring the availability of the highest-quality nutritional products.
Furthermore, the rising prevalence of gut diseases, high blood pressure, diabetes, and other similar conditions has increased the need for functional food and beverages. This increased demand is expected to drive the regional market for human milk oligosaccharides. Moreover, India and China are experiencing rapid growth in the dietary supplements and baby food markets, which is anticipated to further boost the demand for these products in the forecast period.
Competitive Insight
Some of the major players operating in the global market include Elicityl S.A., Abbott Laboratories, Biosynth Carbosynth, Dextra Laboratories Ltd., Dupont Nutrition & Biosciences, Glycosyn, BASF S.E., Glycom A/S, Nestle Health Science, Neolacta Lifesciences Pvt. Ltd, Royal DSM, Medolac Laboratories, Chr. Hansen Holding A/S, ZuChem, Inbiose NV, and Royal FrieslandCampina N.V.
Recent Developments
In June 2021, H&H Group, an Australian company, introduced a new kids' supplement named ProBOOST + Vit D under Biostime. This innovative product contains Human Milk Oligosaccharides (HMOs) and is specifically formulated for children aged 12 months and above. This launch highlights H&H Group's commitment to providing high-quality nutritional supplements that incorporate HMOs to support the health and development of children.

In April 2020, the company Kyowa Hakko, which specializing in health products, expanded its production capabilities for HMOs in Thailand. This strategic move was driven by the anticipated global increase in the market for these health products in the upcoming years.
Human Milk Oligosaccharides (HMO) Market Report Scope
| | |
| --- | --- |
| Report Attributes | Details |
| Market size value in 2023 | USD 283.66 million |
| Revenue forecast in 2032 | USD 1,799.96 million |
| CAGR | 22.8% from 2023 – 2032 |
| Base year | 2022 |
| Historical data | 2019 – 2021 |
| Forecast period | 2023 – 2032 |
| Quantitative units | Revenue in USD million and CAGR from 2023 to 2032 |
| Segments Covered | By Type, By Application, By Distribution Channel, By Region |
| Regional scope | North America, Europe, Asia Pacific, Latin America; Middle East & Africa |
| Key Companies | Elicityl S.A., Abbott Laboratories, Biosynth Carbosynth, Dextra Laboratories Ltd., Dupont Nutrition & Biosciences, Glycosyn, BASF S.E., Glycom A/S, Nestle Health Science, Neolacta Lifesciences Pvt. Ltd, Royal DSM, Medolac Laboratories, Chr. Hansen Holding A/S, ZuChem, Inbiose NV, and Royal FrieslandCampina N.V. |