The global induced pluripotent stem cell (iPSC) market was valued at USD 2.34 billion in 2022 and is expected to grow at a CAGR of 8.7% during the forecast period.
Induced pluripotent stem cells (iPSCs) are cells derived from adult somatic tissues that undergo reprogramming by introducing specific genes and factors. This reprogramming process allows the iPSCs to acquire pluripotent properties similar to embryonic stem cells. By reprogramming cells from the same individual, iPSCs provide a valuable tool for disease modeling.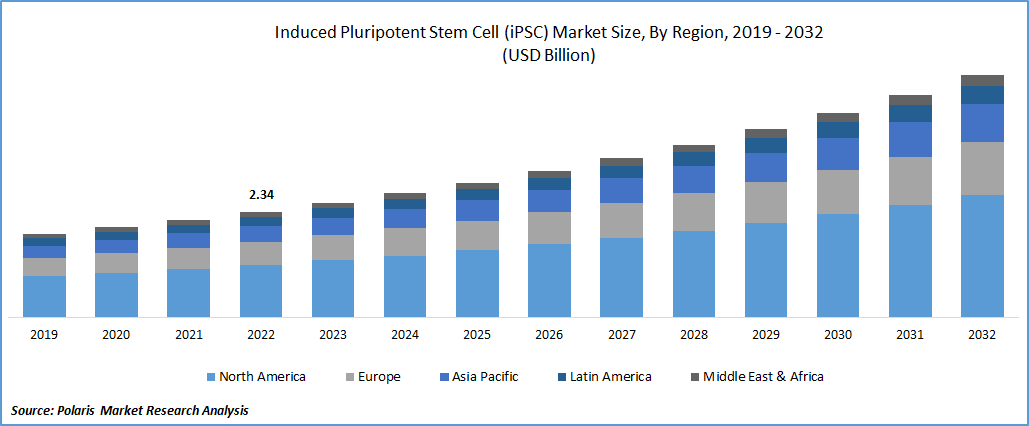 To Understand More About this Research: Request a Free Sample Report
Retroviruses are used as vectors to deliver the necessary genes and factors for iPSC reprogramming. iPSCs find applications in various fields, including disease modeling, drug discovery and development, toxicity studies, and gene therapies. They have shown promise in treating cardiovascular diseases, diabetes mellitus, and different types of cancer. Human iPSCs, in particular, exhibit disease-specific genotypes, enabling novel therapeutic approaches tailored to individual patients.
The use of iPSCs allows researchers to study diseases in a more relevant and personalized manner, as these cells closely resemble the genetic makeup of the donor. It opens up new possibilities for understanding disease mechanisms and developing targeted therapies. iPSCs have the potential to revolutionize the field of regenerative medicine and provide innovative solutions for various medical conditions.
The iPSC market is experiencing rapid growth due to increased demand for vaccine production, rising investments in the sector, and a widening application portfolio through continuous research and development activities. Both private and government organizations are actively setting up infrastructure to support iPSC research, further driving the induced pluripotent stem cell (iPSC) market growth.
iPSC cells serve as a unique model for studying mammalian processes and have shown promising results in cell therapy for human diseases. Their ability to reproduce and self-renew during differentiation is a significant advantage. Differentiation types, whether spontaneous or directed, result in specific epigenome and transcriptome adjustments, benefiting the iPSC industry.
The iPSC market is experiencing significant growth driven by the increasing number of research studies and over 120 ongoing clinical trials utilizing iPSCs for disease intervention. The advantages of iPSCs, such as their ability to replace animal models and their ethical flexibility compared to embryonic stem cells, further contribute to market expansion.
Numerous companies and research organizations are exploring the therapeutic potential of stem cell products and developing cell-based therapeutics for targeted diseases. For instance, Novo Nordisk A/S partnered with Heartseed Inc. in June 2021 to develop and commercialize HS-001, cleaned cardiomyocytes derived from iPSCs, as a cell therapy for heart failure. These collaborations and advancements in iPSC technology are driving the market's growth.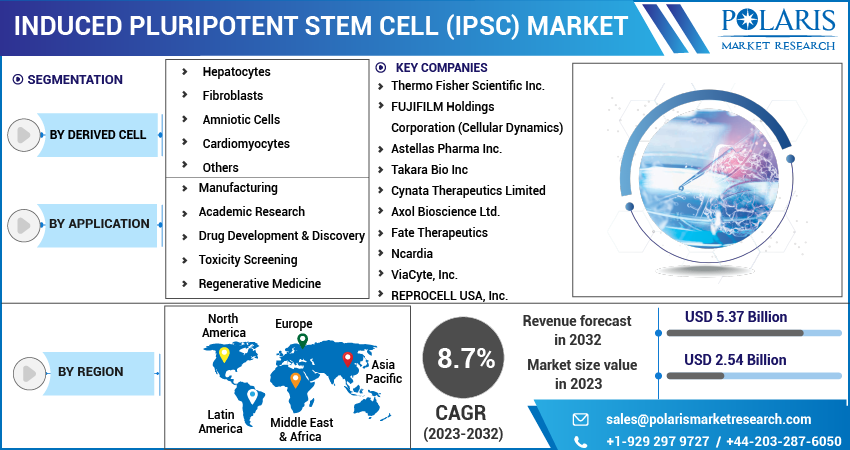 For Specific Research Requirements, Request for a Customized Report
Industry Dynamics
Growth Drivers
Growing realization of the need to culture human iPSCs
Companies and research institutes are trying to develop methods for producing induced pluripotent stem cells (iPSCs) that minimize the risk of genetic mutations and malignant transformation. Worldwide, there is a growing realization of the need to culture human iPSCs without using animal cells, and significant efforts are being directed toward achieving this goal. Standardization of cell culture and differentiation conditions is also a focus of attention.
Shortly, iPSCs are expected to be an alternative to embryonic stem cells (ESCs), particularly in pharmaceutical screening and cell replacement therapy. The similarity between iPSCs and ESCs and the ability to generate iPSCs from specific patient cells in unlimited quantities contribute to this trend and is expected to drive market growth. Despite being a relatively new industry, intensive research and activities related to patient-specific iPSCs and directed iPSC differentiation are key industry trends that will fuel induced pluripotent stem cell (iPSC) market growth in the forecast period.
Report Segmentation
The market is primarily segmented based on derived cell, application, and region.
By Derived Cell

By Application

By Region

Hepatocytes

Fibroblasts

Amniotic Cells

Cardiomyocytes

Others

Manufacturing

Academic Research

Drug Development & Discovery

Toxicity Screening

Regenerative Medicine

North America (U.S., Canada)

Europe (France, Germany, UK, Italy, Netherlands, Spain, Russia)

Asia Pacific (Japan, China, India, Malaysia, Indonesia, South Korea)

Latin America (Brazil, Mexico, Argentina)

Middle East & Africa (Saudi Arabia, UAE, Israel, South Africa)
To Understand the Scope of this Report: Speak to Analyst
Cardiomyocytes segment accounted for the largest market share in 2022
In 2022, cardiomyocytes accounted for the largest market share in the iPSC industry which derived from human sources offer a valuable advantage to researchers, providing a consistent supply of cardiomyocytes with a shared genetic background for multiple experiments. These cells are particularly useful in applications such as metabolism studies and electrophysiology, driving the growth of this market segment.
Fibroblasts also held a significant market share in 2022. Their application in novel scenarios, such as the analysis of hand osteoarthritis (hOA), has contributed to the rapid growth of this market segment. The expanding range of applications for deeper investigations into cellular and molecular mechanisms has been instrumental in developing this market segment.
Drug development and discovery segment held the fastest market share in 2022
In 2022, the drug development and discovery segment held the fastest-growing market share in the iPSC industry. Major pharmaceutical companies have shown keen interest in acquiring iPSC expertise due to its inherent benefits and potential revenue streams, driving this market segment's growth.
The regenerative medicine segment is also expected to experience significant growth in the iPSC industry over the forecast period. Tissue engineering faces the challenge of finding innovative cellular technologies that accurately mimic human physiology. The advancement of scaffold technology has shown promising results in addressing this challenge, due to assured growth of the market for regenerative medicine in the coming years.
North America accounted for the largest market in 2022
In 2022, North America accounted for the largest market for iPSC. The region benefits from the strong presence of key industry players and substantial funding provided by private and government sectors to research institutions. Additionally, North America possesses robust infrastructure for research and application areas such as tissue engineering and toxicity screening, contributing to market growth.
The Asia Pacific region is expected to witness the highest growth rate compared to the other areas. Countries like Japan and China are experiencing significant market growth, driven by increasing interest in regenerative medicine. Although there may be a need for more well-defined legislative structures specific to the iPSC industry, regional governments are actively trying to address this, which is anticipated to support market growth in the coming years.
Competitive Insight
Some of the major players operating in the global market include Thermo Fisher Scientific Inc., FUJIFILM Holdings Corporation (Cellular Dynamics), Astellas Pharma Inc., Takara Bio Inc, Cynata Therapeutics Limited, Axol Bioscience Ltd., Fate Therapeutics, Ncardia, ViaCyte, Inc., and REPROCELL USA, Inc.
Recent Developments
In August 2021, US pharmaceutical company Catalent acquired RheinCell Therapeutics GmbH, a Germany-based developer of human induced pluripotent stem cells (iPSCs), for an undisclosed amount. This acquisition will enable Catalent to expand its presence in the cell and gene therapy sector and enhance its development of therapies utilizing induced pluripotent stem cells (iPSCs) for advanced cell therapies.

In August 2021, HebeCell Corp. secured USD 53 million in funding to support its research and development program, clinical operations, and commercialization efforts for off-the-shelf pluripotent stem cell-CAR-NK (Chimeric Antigen Receptor-Natural Killer) products.

In April 2022, Editas Medicine, Inc. released promising preclinical data showcasing the tumor-killing potential of its NK cell treatment obtained from induced pluripotent stem cells (iPSCs). The in-vitro and in-vivo results demonstrate the efficacy of this innovative approach in targeting and eliminating tumors.
Induced Pluripotent Stem Cell (iPSC) Market Report Scope
| | |
| --- | --- |
| Report Attributes | Details |
| Market size value in 2023 | USD 2.54 billion |
| Revenue forecast in 2032 | USD 5.37 billion |
| CAGR | 8.7% from 2023 – 2032 |
| Base year | 2022 |
| Historical data | 2019 – 2021 |
| Forecast period | 2023 – 2032 |
| Quantitative units | Revenue in USD billion and CAGR from 2023 to 2032 |
| Segments Covered | By Derived Cell, By Application, By Region |
| Regional scope | North America, Europe, Asia Pacific, Latin America; Middle East & Africa |
| Key Companies | Thermo Fisher Scientific Inc., FUJIFILM Holdings Corporation (Cellular Dynamics), Astellas Pharma Inc., Takara Bio Inc, Cynata Therapeutics Limited, Axol Bioscience Ltd., Fate Therapeutics, Ncardia, ViaCyte, Inc., and REPROCELL USA, Inc. |