The global industrial hemp market was valued at USD 5,825.0 million in 2021 and is expected to grow at a CAGR of 21.6% during the forecast period.
The global expansion of the industrial hemp industry is primarily propelled by the increasing demand for its versatile applications in various sectors such as food and beverage, personal care, and animal care. The growing need for a wide range of hemp-derived products, including fiber, seeds, stalks, hurds, and oils, within these industries, is anticipated to be a significant driver for its continued growth.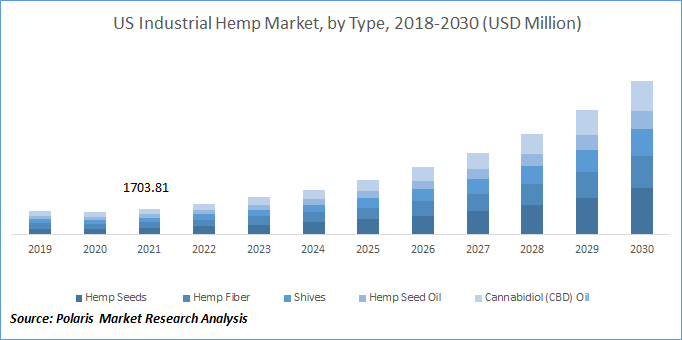 To Understand More About this Research: Request a Free Sample Report
The market is experiencing growth due to several factors, including the functional characteristics of hemp seeds and hemp seed oil, their numerous benefits, and their expanding utilization in commercial applications. Industrial hemp, a variety of the Cannabis sativa plant specifically cultivated commercially, is a cost-effective and rapidly-growing species that offer environmental advantages. It is considered one of the most versatile crops globally. Unlike cannabis, commonly associated with psychotropic medications obtained from cannabis plants, hemp is distinct and used for various purposes, including medicinal and recreational applications. Hemp has been found to contribute to pain deduction by modifying pain perception courses in the brain, among other effects.
Moreover, the market is experiencing growth driven by the increasing demand for hemp-based products, which offer various health benefits and cater to the rising prevalence of conditions like epilepsy and sleep disorders. Hemp seeds from the "Cannabis sativa" plant contain minimal tetrahydrocannabinol (THC). These seeds are rich in two vital fatty acids: linoleic and linolenic. Additionally, they are a great source of important vitamins such as vitamins D, B1, B2, B6, E, and minerals like potassium, magnesium, and calcium.
While there are limited plant-based foods that offer complete proteins, seeds are a valuable supplement to a vegan diet due to their protein content. Seeds are particularly rich in crucial fatty acids such as linolenic acid (omega-3) and linoleic acid (omega-6), essential for human health as our bodies cannot produce them. Additionally, seeds are low in saturated fat and do not contain trans fat, making them a healthy food choice. These factors are expected to drive the growth of the cannabis industry. However, the industrial hemp market development may face challenges due to the complex regulations surrounding cannabis use in many countries.
In January 2021, the United States government unveiled a COVID-19 relief stimulus package totaling USD 1.9 trillion. This significant financial injection is expected to be crucial in facilitating market recovery. Additionally, the steady expansion of small-scale market participants in the hemp-based industrial and consumer product sectors is predicted to be a driving force behind the growth of the U.S market throughout the forecast period.
The market is experiencing significant growth due to increasing awareness about the nutritional benefits of hempseed and hempseed oil and rising demand from the personal care and cosmetics sectors. The production of hemp-based products such as shampoos, soaps, bath gels, UV skin protectors, hand and body lotions, massage oils, and other items is rising. This product offerings expansion is expected to impact the overall market growth substantially.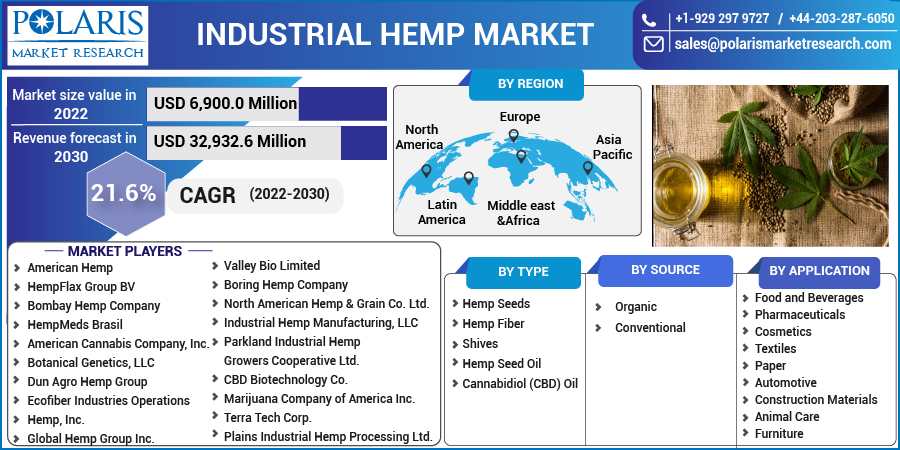 For Specific Research Requirements, Request for a Customized Report
Industry Dynamics
Growth Drivers
To maintain competitiveness, key market players are consistently introducing new products. These players face intense competition, particularly from companies with a significant consumer base and extensive distribution networks. Furthermore, these top companies are actively expanding their presence in emerging markets, further intensifying the competition within the industry.
An example of this trend is the recent product launch by Premium Jane, a CBD supplier based in the United States, in February 2021. They introduced a new line of high-potency products, including 1.5 Kg CBD gummies, 3 and 5 Kg broad-spectrum oils, and other offerings. This development showcases their commitment to catering to the demand for stronger CBD options. Similarly, in December 2021, Koru Pharmaceuticals unveiled a skincare line called Mesohemp, which incorporates green hemp, a Korean species of hemp, as a key ingredient. These product launches demonstrate the industry's ongoing efforts to innovate and meet the evolving needs of consumers.
The market is experiencing growth driven by the launch of various Hemp Oil products. Hemp Oil is rich in essential fatty acids such as Omega 3, 6, and 9, which offer numerous health benefits. These include anti-aging properties, anti-inflammatory properties, and the ability to address skin problems caused by stress. Hemp Oil's anti-inflammatory properties effectively treat acne and alleviate stress-related skin issues. Additionally, the presence of antioxidants in Hemp Oil helps minimize water and soil loss, which aids in wrinkle prevention. These health benefits, particularly skin-related disorders, and anxiety treatment, are key factors propelling the industrial hemp market growth.
Report Segmentation
The market is primarily segmented based on type, source, application, and region.
By Type

By Source

By Application

By Region

Hemp Seeds

Hemp Fiber

Shives

Hemp Seed Oil

Cannabidiol (CBD) Oil

Food and Beverages

Pharmaceuticals

Cosmetics

Textiles

Paper

Automotive

Construction Materials

Animal Care

Furniture

Others

North America (U.S., Canada)

Europe (France, Germany, UK, Italy, Netherlands, Spain, Russia)

Asia Pacific (Japan, China, India, Malaysia, Indonesia, South Korea)

Latin America (Brazil, Mexico, Argentina)

Middle East & Africa (Saudi Arabia, UAE, Israel, South Africa)
To Understand the Scope of this Report: Speak to Analyst
The food and Beverage's segment held significant growth in 2021
In 2021, the food and beverages segment held a significant growth contributor in the global market and is projected to maintain its dominance in the foreseeable future. This segment has gained prominence due to the widespread utilization of oil and hemp seeds, primarily known for their high protein and vitamin content. These seeds are commonly used as toppings for cereals and yogurt or consumed raw. The increasing public awareness regarding the benefits of incorporating cannabis-based products into the diet is a significant driver propelling the market's growth in the food and beverages sector.
The hemp seeds segment anticipated to hold a significant market share in over the forecast period
The hemp seeds segment is expected to hold a significant market share over the forecast period. Hemp seeds are gaining considerable popularity in the food and nutraceutical markets, as they offer a valuable source of seeds, oil, and food products. The increased utilization of hemp seed oil in lotions, shampoos, soaps, cosmetics, and bath gels has further contributed to the market's growth.
Hemp seeds are increasingly utilized in oil production, which finds application in various industries such as personal care, food and beverages, animal feed, and nutritional supplements. Moreover, the oil is also used in medicinal and therapeutic products, including pharmaceuticals. The demand for hemp seeds will continue growing throughout the forecast period, driven by increasing demand from these application industries.
North America dominated the global market in 2021
In 2021, North America dominated the global industrial hemp market, including hemp oil, which finds applications across various industries. North America is known for its relatively high disposable income, which allows consumers to have greater purchasing power and spend on premium products, including those derived from industrial hemp. Hemp oil is considered a natural and sustainable ingredient, which appeals to health-conscious consumers willing to invest in high-quality personal care products.
The region has an aging population, and older consumers often prioritize skincare and health-related products. Hemp oil is believed to have various beneficial properties for skin health, such as moisturizing, anti-inflammatory, and antioxidant effects. As the aging population seeks products to address skin concerns, the demand for hemp oil in the personal care industry increases.
With growing awareness of the harmful effects of UV radiation, consumers are actively seeking skincare products with natural UV protection properties. Hemp oil contains natural compounds like cannabinoids and antioxidants, which may help protect the skin from UV damage, making it a sought-after ingredient in sunscreens and other UV-protective products.
Competitive Insight
Some of the major players operating in the global market include American Hemp, HempFlax Group BV, Bombay Hemp Company, HempMeds Brasil, American Cannabis Company, Inc., Botanical Genetics, LLC, Dun Agro Hemp Group, Ecofiber Industries Operations, Hemp, Inc., Global Hemp Group Inc., Valley Bio Limited, Boring Hemp Company, North American Hemp & Grain Co. Ltd., Industrial Hemp Manufacturing, LLC, Parkland Industrial Hemp Growers Cooperative Ltd., CBD Biotechnology Co., Marijuana Company of America Inc., Terra Tech Corp., and Plains Industrial Hemp Processing Ltd.
Recent Developments
In January 2022, to acquire Green Growth Group Inc., a holder of a short-term Cannabis Craft License in Illinois, signed an agreement with MariMed Inc.

In February 2021, HemPoland introduced CannabiGold Sport, a CBD-based pre- and post-workout supplement designed for professional and recreational athletes. These supplements are derived from hemp and aim to support athletes in their fitness routines.
Industrial Hemp Market Report Scope
| | |
| --- | --- |
| Report Attributes | Details |
| Market size value in 2022 | USD 6,900.0 million |
| Revenue forecast in 2030 | USD 32,932.6 million |
| CAGR | 21.6% from 2022 – 2030 |
| Base year | 2021 |
| Historical data | 2018 – 2020 |
| Forecast period | 2022 – 2030 |
| Quantitative units | Revenue in USD million and CAGR from 2022 to 2030 |
| Segments Covered | By Type, By Source, By Application, By Region |
| Regional scope | North America, Europe, Asia Pacific, Latin America; Middle East & Africa |
| Key Companies | American Hemp, HempFlax Group BV, Bombay Hemp Company, HempMeds Brasil, American Cannabis Company, Inc., Botanical Genetics, LLC, Dun Agro Hemp Group, Ecofiber Industries Operations, Hemp, Inc., Global Hemp Group Inc., Valley Bio Limited, Boring Hemp Company, North American Hemp & Grain Co. Ltd., Industrial Hemp Manufacturing, LLC, Parkland Industrial Hemp Growers Cooperative Ltd., CBD Biotechnology Co., Marijuana Company of America Inc., Terra Tech Corp., and Plains Industrial Hemp Processing Ltd. |