The global industrial lubricants market was valued at USD 64.42 billion in 2020 and is expected to grow at a CAGR of 3.5% during the forecast period. Increasing trade activities along with the growing industrialization are driving the market growth for industrial lubricants.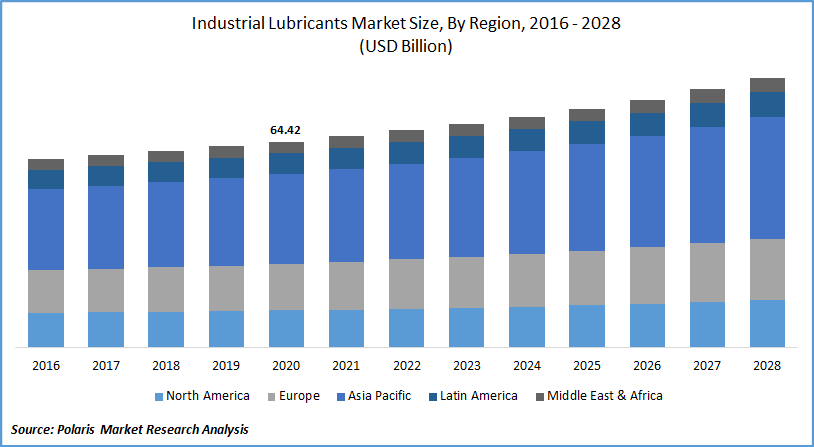 Know more about this report: request for sample pages
Ascending demand for bearings, engines, hydraulics, and compressors in industries such as mining, unconventional energy, and chemicals is predicted to fuel the market growth for industrial lubricants over the coming years. Busy lifestyles among the youth population resulted in large consumption of frozen and processed foods. A necessity for catering to increasing demand for packaged food has enforced several manufacturers to developed automated production and packaging lines which further contributes to a growing demand for industrial lubricants.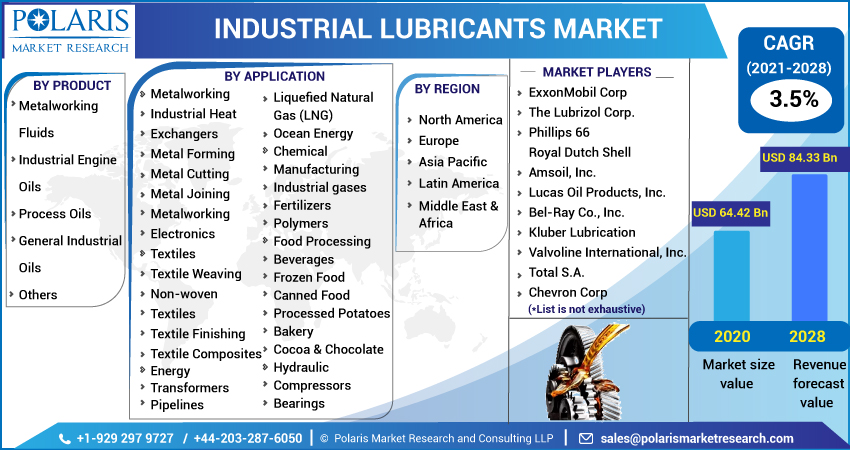 Know more about this report: request for sample pages
Industry Dynamics
Growth Drivers
Industrial lubricants safeguard machinery from wear and tear after continuous operations for a longer period, thus contribute to higher efficiency and productivity. Property to maintain heat stability and protect the equipment from sudden breakdown has helped the industrial oil is gaining popularity among industries.
Industries are learning about the benefits an industrial lubricant delivers for the higher efficiency which is the essential factor driving the market growth with higher industrial adoption for better profitability.
The growth of the lubricants market is anticipated to get hamper over the coming years as it contributes to environmental pollution due to the use of synthetic lubricants. Nations across the globe are imposing strict regulations to avoid contamination and pollution which form a challenge for market development.
Industrial Lubricants Market Report Scope
The market is primarily segmented on the basis of product, application, and region.
By Product

By Application

By Region

Metalworking Fluids
Industrial Engine Oils
Process Oils
General Industrial Oils
Others

Metalworking

Industrial Heat Exchangers
Metal Forming
Metal Cutting
Metal Joining
Metalworking Electronics
Others

Textiles

Textile Weaving
Non-woven Textiles
Textile Finishing
Textile Composites
Others

Energy

Transformers
Pipelines
Liquefied Natural Gas (LNG)
Ocean Energy
Others

Chemical Manufacturing

Industrial gases
Fertilizers
Polymers
Others

Food Processing

Beverages
Frozen Food
Canned Food
Processed Potatoes
Bakery
Cocoa & Chocolate
Others

Hydraulic

Compressors
Bearings
Others

North America (U.S., Canada)
Europe (France, Germany, Italy, Spain, UK, Netherlands, Austria)
Asia Pacific (China, India, Japan, Indonesia, Malaysia, South Korea)
Latin America (Argentina, Brazil, Mexico)
Middle East & Africa (Israel, Saudi Arabia, South Africa, UAE)
Know more about this report: request for sample pages
Insight by Product
Process oil dominated the market in the product segment for the year 2020 and is expected to grow over the forecast period owing to its growing demand from the textile business. The development in rubber oil application for the manufacturing of tubes, belting, and hoses are will further contribute to its major market share over the coming years.
Insight by Application
The global market for industrial lubricant is bifurcated into textile, energy, metalworking, chemical manufacturing, food processing, and hydraulics. Chemical manufacturing was the leading lubricant market in the application segment for the year 2020 with the surge in demand for fertilizers and industrial gaseous.
The metalworking process is essential for welding, forming, and cutting in the manufacturing of aircraft, milling, and industrial equipment. It shows growth potential in the forecast period for lubricants on account of escalated demand for building and machinery.
Geographic Overview
Asia Pacific is expected to dominate the market over the forecast period owing to demand from end-use industries across developing economies such as Indonesia, India, Malaysia, and Thailand. Major manufacturing firms are focusing on achieving higher efficiency and lower downtime, which can be obtained through industrial lubricants, and hence it acts as a key driver for growing market demand in the region.
The demand in Europe and Latin America is expected to witness significant growth over the forecast period. Chemical manufacturing in Europe is increasing owing to the presence of several players and the growing demand for chemicals from the personal care industry in the region. This is likely to have a positive impact on the demand for industrial lubricants in Europe over the forecast period.
Increasing manufacturing in countries such as Argentina, Brazil, and Mexico is expected to complement industrial lubricants market growth. In addition, the increasing investment by several major players operating in the application industries in Mexico is expected to drive the demand for industrial lubricants in Latin America over the forecast period.
Competitive Insight
Several key players in the market are ExxonMobil Corp, The Lubrizol Corp., Phillips 66, Royal Dutch Shell, Amsoil, Inc., Lucas Oil Products, Inc., Bel-Ray Co., Inc., Kluber Lubrication, Valvoline International, Inc., Total S.A., Chevron Corp, Clariant, Quaker Chemical Corp, Houghton International Inc, Castrol, Blaser Swisslube Inc, Calumet Specialty Product Partners, L.P., Fuchs Group, and Petronas Lubricant International.
The market for lubricants is highly competitive, and it consists of factors such as technological innovation, logistic partnership, strategic development, and product portfolio. Innovative product manufacturing is essential to survive in the lubricants market and thus market players are investing heavily in R&D.