The global jojoba oil market was valued at USD 131.33 million in 2022 and is expected to grow at a healthy CAGR of 7.5% during the forecast period. Jojoba Oil has become a significant commodity in various sectors, including cosmetics and personal care, spa and relaxation, and medical industries. Its large-scale use as an alternative to conventional raw materials has contributed to the expanded combination of the product in various formulations. As a result, the future expansion of the market for Jojoba Oil is expected to progress significantly in the future.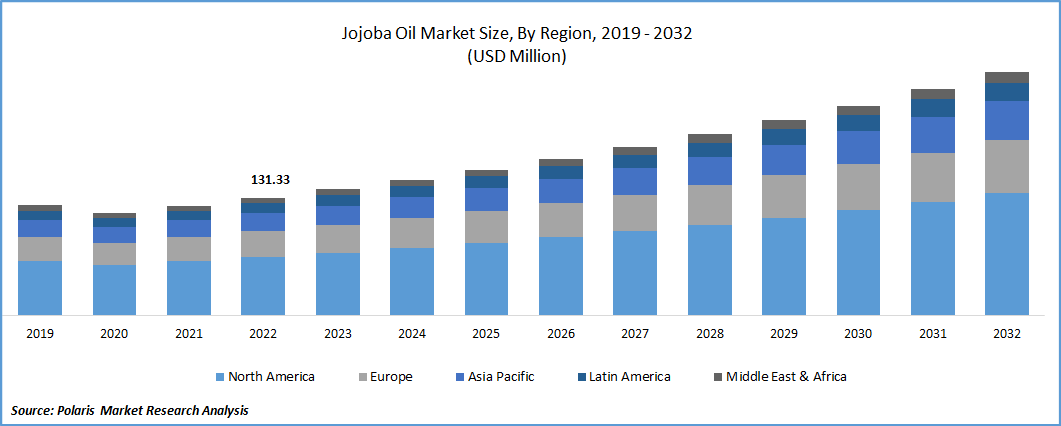 To Understand More About this Research: Request a Free Sample Report
The cosmetic and personal care industries are the primary drivers of the growing demand for jojoba oil. Consumers' willingness to pay premium prices for high-quality products has enhanced the desire for natural and organic alternatives. The preference for such products has further boosted the demand for jojoba oil, thus expanding its market. With an increasing priority on natural and organic products, the market for jojoba oil is set to grow significantly, making it an essential commodity in the various industries it serves.
For Instance, in 2021, Lush, a popular natural and ethical cosmetics brand, incorporates jojoba oil into various products, including their well-known "Dream Cream" moisturizer. In line with its commitment to sustainability, the company declared that they are gradually dropping virgin plastic from its packaging and replacing it with more environmentally-friendly options.
The forthcoming growth and progress of the market is contingent upon the aftermath of the COVID-19 pandemic, which has led to an altered consumer preference from conventional real estate channels of distribution to online retail platforms for the claiming of jojoba oil. The virus has had a considerable impact on the jojoba oil manufacturing industry, leading to an end of production and factory operations. Consequently, the COVID-19 outbreak is expected to impede worldwide investment in the jojoba oil manufacturing sector, resulting in decreased demand for jojoba oil, primarily in 2020.
Industry Dynamics
Growth Drivers
Jojoba oil's exceptional properties have made it highly sought after by the skincare and haircare industries. Its extended shelf life and ability to endure high temperatures and pressures make it an ideal ingredient for personal care products. Jojoba oil is versatile and can be incorporated into various products such as moisturizers, facial cleansers, anti-acne gels, conditioners, and hair regrowth serums. Its potential for growth in the future is enormous, and it offers a natural and sustainable solution to industry-specific challenges.
Furthermore, jojoba oil, which is rich in vitamins and minerals is also used as a dietary supplement and a crucial element in the production of many pharmaceutical products. These products are employed in the treatment of several health conditions, including sores, cuts, bruises, burns, athlete's foot, and warts.
With jojoba seeds becoming cultivable after just five years, major companies are investing in research and development initiatives to create innovative and affordable technologies that can provide a steady supply of oil resources for the future. In 2021, Blue Marble Biomaterials has introduced an innovative method for extracting jojoba oil that employs microbial fermentation instead of the conventional cold-pressing approach. This new process, according to the company, is more environmentally sustainable and ecologically responsible.
Report Segmentation
The market is primarily segmented based on by type, application, sales channel, grade, and region.
By Type

By Application

By Sales Channel

By Grade

By Region

Cosmetics & Personal Care

Pharmaceutical

Industrial

Others

Winterized Jojoba

Lite Jojoba (Bleached Jojoba)

Others

North America (U.S., Canada, Mexico)

Europe (France, Germany, UK, Italy, Netherlands, Spain, Russia)

Asia Pacific (Japan, China, India, Malaysia, Indonesia, Thailand, Australia, South Korea)

Latin America (Brazil, Argentina)

Middle East & Africa (Saudi Arabia, UAE, Israel, South Africa)
For Specific Research Requirements: Request for Customized Report
Refined jojoba oil segment is expected to grow dominantly over the forecast period
The refined jojoba oil segment is expected to have the largest revenue share during the forecast period. This is due to the oil's superior stability and longer shelf life, which make it ideal for use in the cosmetics, pharmaceutical, and food industries. The increasing demand for refined jojoba oil is expected to drive the growth of the jojoba oil market at rapid pace.
The cold-pressed type is currently the dominant segment, accounting for the highest revenue share in 2022. This growth can be attributed to the increasing demand for high-quality, naturally sourced, and chemical-free products from various industries, such as personal care, cosmetics, and pharmaceuticals. reflecting the growing consumer preference for chemical-free and naturally sourced products.
The Cosmetic & Personal Care segment has set up its dominance in revenue term
The cosmetics and personal care segment registered for significant growth as it offering benefits such as moisturizing, reducing inflammation, and fights aging. Its moisturizing properties make it an excellent choice for conditioning hair and its anti-inflammatory effects can soothe an irritated scalp and reduce dandruff. Jojoba oil's versatility and many benefits make it a valuable addition to many beauty products.
Moreover, Jojoba oil serves as an active pharmaceutical ingredient (API) in topical formulations, including ointments and creams, and is useful for treating irritated, swollen, itchy, or inflamed skin. The oil's anti-bacterial property makes it effective in managing psoriasis. Additionally, it can be used to treat hemorrhoids, which are caused by obesity, pregnancy, or straining during bowel movements.
B2B segment registered at high growth rate in 2022
The growth of the market is heavily influenced by B2B sales channels. These channels are critical for the distribution of Jojoba oil to various businesses, including cosmetics manufacturers, skin care clinics, and beauty salons. The effectiveness of B2B sales channels depends on a range of factors, such as marketing strategies, strong relationships with key buyers, and efficient planning. Successful B2B sales channels can support the growth of the Jojoba oil market by increasing product distribution, building brand awareness, and expanding customer reach.
To improve conversion rates, a strong messaging strategy and effective marketing channels should be provided to the sales force. Direct interaction with customers and a well-defined marketing plan can be strategically helpful. Jojoba oil can be purchased through various retail outlets, private label producers, and online marketplaces. An increase in direct purchases is driven by rising consumer awareness, especially among working-class women, due to demand for skin health and aesthetic concerns.
Winterized segment accounted for the maximum revenue share in 2022
Winterized jojoba oil is experiencing significant growth in the market due to its increasing use in various industries such as cosmetics, personal care, and pharmaceuticals. Winterization is a process that involves removing the waxy esters from jojoba oil, making it more stable and consistent at low temperatures. This makes winterized jojoba oil an ideal ingredient for products that require low-temperature stability, such as lip balms, lotions, and other skin care products.
In recent years, the demand for natural and organic products has been increasing, leading to the growth of the winterized jojoba oil market. As consumers become more conscious of the products they use, they are looking for products that are free from harmful chemicals and are eco-friendly.
North America dominated the market in 2022
This growth is primarily driven by increasing demand from end-use industries such as cosmetics, personal care, and pharmaceuticals. The addition of high-performance ingredients like omega 3, triterpenoids, and tocopherols is accelerating the development of the jojoba oil industry, promote cell growth and strengthening the anti-inflammatory and antiseptic features of the human body, further driving market growth.
The Asia Pacific region is a grow prominently in this market, where the product industry is highly developed and competitive. Brands invest heavily in R&D to introduce new products to the market, and consumers have extensive knowledge about cosmetics, setting high standards for quality. This drives cosmetics companies to develop innovative and superior-quality products to meet consumer demand.
The rising demand for natural products, increasing disposable income, and growing concerns about personal healthcare are fueling the growth of the market. Additionally, the demand for jojoba oil is expected to grow in the region.
Competitive Insight
Some major players in the global market include Purcell Jojoba, Inca Oil, EcoOil, Connoils, Jojoba Naturals, Hallstar, Nutrix, Organic Group, OPW Ingredients, Kendo Holdings, Eve Taylor London, International Trading Corp., KimchiKristy, Creative Nail Design, Innocosma Organics and Logocos Naturkosmetik.
Recent Developments
In 2021, Top jojoba oil supplier, Desert Whale Jojoba Company, expands by getting a new production facility in Arizona to meet the demands of its growing customer base.

In 2020, Skincare brand Biossance uses jojoba oil in its products and developed a new method to make a synthetic squalene from sugarcane, reducing animal product use and boosting sustainability.
Global Jojoba Oil Market Report Scope
| | |
| --- | --- |
| Report Attributes | Details |
| Market size value in 2023 | USD 140.89 million |
| Revenue forecast in 2032 | USD 270.81 million |
| CAGR | 7.5% from 2023– 2032 |
| Base year | 2022 |
| Historical data | 2019– 2021 |
| Forecast period | 2023– 2032 |
| Quantitative units | Volume in tons, Revenue in USD million, CAGR from 2023 to 2032 |
| Segments covered | By Type, By Application, By Sales Channel, By Grade, By Region |
| Regional scope | North America; Europe; Asia Pacific; Central & South America; Middle East & Africa |
| Key companies | Purcell Jojoba; Inca Oil SA; EcoOil; ConnOils LLC; Jojoba Naturals, Innocosma Organics and Logocos Naturkosmetik and others |