The global lactase market was valued at USD 193.7 million in 2020 and is expected to grow at a CAGR of 5.2% during the forecast period. Key factors responsible for the lactase market growth include innovations in the food sectors, extensive research on food ingredients, rising demand for lactose-free dairy products, and its wide applicability in varied food verticals.
Know more about this report: request for sample pages
Lactase is predominantly used in the food & beverage industry, majorly consumed as a dairy enzyme, as it makes dairy products lactose-free, by limiting the concentration of lactose. Moreover, the rising cases of lactose intolerance among individuals across the globe also a key instigating factor driving the consumption of lactase.
Moreover, increased participation and investments by the major market players based on the surge in the population suffering from food allergies and LI, by the DuPont Nutrition and Amano Enzyme to introduce new lactase enzymes to be used in dairy products. Thus, new products launch is estimated to spur the market growth for lactase.
However, the fluctuations in demand for plant-based dairy products using soy, coconut, and almond likely to limit the market growth. Moreover, the absence of cholesterol and lactose in cheese, vegan yogurt, nut butter, and cream, coupled with the rising vegan population is anticipated to boost the market growth for lactase.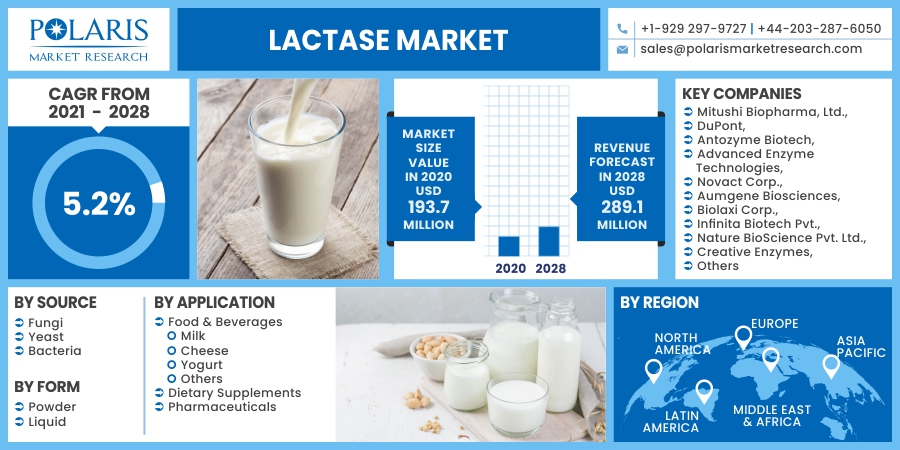 Know more about this report: request for sample pages
Lactase Market Report Scope
The market is primarily segmented on the basis of source, form, by application, and region.
By Source

By Form

By Application

By Region

Food & Beverages

Milk
Cheese
Yogurt
Others

Dietary Supplements
Pharmaceuticals

North America (U.S., Canada)
Europe (France, Germany, UK, Italy, Spain, Netherlands, Austria)
Asia Pacific (Japan, China, India, Malaysia, Indonesia, South Korea)
Latin America (Brazil, Mexico, Argentina)
MEA (Saudi Arabia, UAE, Israel, South Africa)
Know more about this report: request for sample pages
Insight by Source
The yeast market segment accounted for the largest revenue share, in 2020. Such a high share is due to the fact that lactose fermenting yeasts in developed countries come under Generally Recognized as Safe (GRAS) chemical, as segmented by FDA. Yeast bases lactase is widely used in the food & beverage industry and dietary supplements.
Lactase is obtained from controlled yeast fermentation, in which, beta glycosidic bond is hydrolyzed by the beta-galactosidase. This hydrolysis decreases the freezing point and enhances the sweetness of dairy products. Moreover, the growing popularity of lactose-free dairy products such as ice creams, spreads, milk powder, and butter is also anticipated to spur the segment's market growth.
Bacteria based segment is expected to witness a lucrative growth rate over the study period. Extensive research activities towards innovating other enzymes from bacteria and fungi to hydrolyze lactose are primarily responsible for such market growth. Bacteria-based lactase is aggressively being used in cleaving lactose in the food & beverage industry and other dietary supplements.
Moreover, lactase sourced from fungi has acidic pH ranging from 2.2 to 5.4, therefore, considered more suitable for lactose hydrolysis of acidic whey. Some common enzymes include Kluyveromyces Lactis and Saccharomyces fragilis. Growing research and development of sourcing such enzymes is likely to open new avenues for the market segment in the coming years.
Insight by Application
In 2020, the food & beverage market segment accounted for the largest share. Such a high share is attributed to the rising awareness regarding lactose intolerances and its associated ill effects and increasing consumption of high-quality foods, and innovations in lactase formation have positively contributed to the segment's growth. Lactase enzymes used in the food and dairy industry helps to catalyze lactose into smaller compounds, galactose, and glucose.
The dairy market segment is projected to register a lucrative growth rate over the forecast period. This is primarily due to expanding consumer base for low fat, rich in proteins, vitamins, and fibers, and awareness regarding digestive health have led to the adoption of lactase-based dietary supplements. Moreover, the production of new dietary forms to prevent digestion problems such as gas, stomachache, diarrhea, and bloating is anticipated to spur the demand for dietary supplements.
Geographic Overview
Geographically, the global market for lactase is bifurcated into North America, Europe, Asia Pacific, Latin America, and Middle East & Africa (MEA). Europe lactase market is the largest market revenue contributor followed by North America and Asia Pacific.
Asia Pacific is projected to witness the fastest growth rate over the study period. This is primarily due to a huge population suffering from lactose intolerance, particularly in India and China, developments in the food and dairy sector, and a surge in the middle-class population seeking products of nutritional importance. Thus, economic strides made by the South Asian countries, coupled with rising per capita income are bound to spur the market demand for lactase.
It is estimated that more than 80% of adults in Central Asia and around 90% in East Asia have some form of LI, as compared to Denmark, which stands at 2%. Thus, the majority of the Asian population has lactase deficiency, which boosted the market demand for lactase in the region.
Competitive Insight
The prominent players operating in the market are Mitushi Biopharma, Ltd., DuPont, Antozyme Biotech, Advanced Enzyme Technologies, Novact Corp., Aumgene Biosciences, Biolaxi Corp., Infinita Biotech Pvt., Nature BioScience Pvt. Ltd., Creative Enzymes, Amano Enzyme Inc., Merck KgaA, and Novozymes.