The global lavatory service vehicles market was valued at USD 69.9 million in 2019 and is expected to grow at a CAGR of 5.5% during the forecast period. The growth in the global market is attributed to the corporatization of airport operations to private parties, increasing preference of consumers to travel by air, rising supply chain through cargos in different countries across the globe, and the expanding fleet size.
Airline cargo transport more than 50 MMT of goods annually, accounting around 35 per cent of worldwide business value, representing approximately 1 per cent of the global trade by all transport modes. This comes around USD 6.8 trillion worth of goods and services annually, representing USD 18.6 billion value of goods and services every day.
The lavatory service providers in the industry are foraying into strategic agreements with the airport authorities to enhance their capabilities in the airport operations. Through these strategic partnership and agreements with the airline companies, lavatory service providers are adding up new clients in the high demand Asian and Middle East markets. These providers are more focused on expanding their presence in emerging markets to capitalize on the projects being inaugurated, owing to lower capital and labor costs. The market for lavatory service is bound to grow in countries such as Mexico, India, Brazil, Malaysia, Vietnam, and China.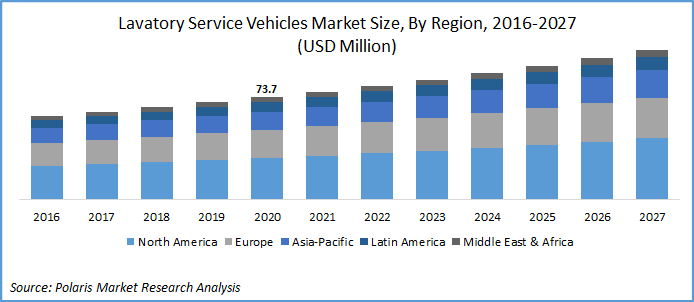 Know more about this report: request for sample pages
The air transport GSE services market significantly contributes to the growth of airport expansions and the airline industry. Requirement of high optimization and the efficient utilization of work force seem necessary to cater to the demand for the continuously growing air traffic. Lavatory service vehicle ensures the reduction of risk due to the contamination on the ramp. Moreover, the efficient and effective use of workforce and lavatory service vehicle will increase to reduce the time lag and subsequently, increasing efficiency.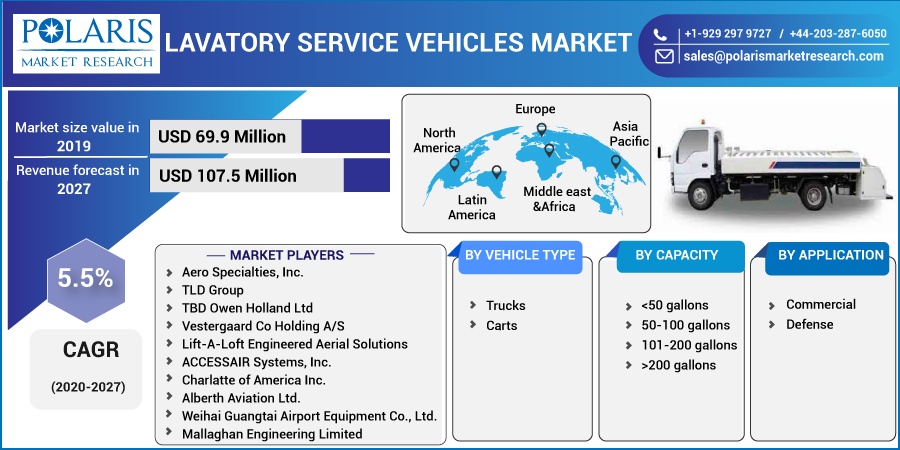 Know more about this report: request for sample pages
However, higher taxes, ticket prices for consumers, and dwindling interest of consumers towards air as medium to travel, might impact the lavatory service revenues. For instance, according to IATA, the MEA region generates profit margin of USD 0.3 billion to a net margin of 0.5 per cent. However, profit made in 2017 was less in comparison with previous year, coupled with ever increasing airport charges in the Gulf States, and will negatively impact the global market.
Lavatory Service Vehicles Market Report Scope
The market is primarily segmented on the basis of Vehicle Type, By Capacity, By Application, and geographic region.
By Vehicle Type

By Capacity

By Application

By Region

<50 gallons
50-100 gallons
101-200 gallons
>200 gallons

North America (U.S., Canada)
Europe (France, Germany, UK, Italy, Spain, Netherlands, Austria)
Asia Pacific (Japan, China, India, Malaysia, Indonesia. South Korea)
Latin America (Brazil, Mexico, Argentina)
MEA (Saudi Arabia, UAE, Israel, South Africa)
Know more about this report: request for sample pages
Insight by Vehicle Type
Based upon vehicle type, the global market is categorized into trucks and carts. Of all, truck segment held the largest share in the global market in 2019, and is expected to maintain its dominance over the study time frame. This is due the fact trucks are more efficient in cleaning and maintenance services. The segment growth is also attributed to increase in passenger in middle and low income countries, with rising disposable income and business trips across developed nations. In-bound air travel in developed regions such as also contributed to the growth. Carts segment is projected to register the highest growth rate over the study period. This high growth is believed to be due to the increasing use carts for lavatory purposes.
Insight by Application
On the basis of application, commercial segment held a significant market share in 2019 and is projected to have a remarkable growth rate over the study period. This stupendous growth is due rise frequent commercial air travel by the consumers, favorable government policies in airport operations, cost per passenger based service allocation, and entry of private players in the lavatory services.
Geographic Overview
Geographically, North America accounts for one of the largest revenue holder in global market due to the more airport operations and fleet size in this region. Asia Pacific is foreseen to observe demand growth in the upcoming years owing to growing passenger traffic and aircraft movements, which will demand more aircraft GSE to make ground operations smooth and reliable. This will directly contribute for the growth of lavatory service vehicles market. Other companies from North America and European countries target to shift their production facilities in this region.
As of 5 May 2020, the top ten countries hardest hit by the COVID 19 are the ten largest economies in the world, excluding India and Iran. The U.S., China, France, the U.K, Japan, Germany, and Italy are all in the top ten most affected countries by the pandemic. While China, being the hardest hit, in last few days the outbreak has saw exponential rise in the cases in all G7 economies. Among G7 economies, the U.S., China, Japan, Germany, the UK, France, and Italy accounted for more than 60% of the world's supply and demand (GDP), 65% of the world manufacturing, and 41% of the world's manufacturing exports.
Air travel ban across the globe, resulted in loss of air traffic, impacting revenues of airport. According to the statistics published by the Airports Council International (ACI), the passenger traffic in Asia Pacific region is down by more than 24 per cent, by mid-2020, owing to the global pandemic of COVID-19. The main suffering countries were South Korea, Hong Kong, and China.
Competitive Insight
Some of the major players operating the global lavatory service vehicles market include Aero Specialties, Inc., TLD Group, TBD Owen Holland Ltd, Vestergaard Co Holding A/S, Lift-A-Loft Engineered Aerial Solutions, ACCESSAIR Systems, Inc., Charlatte of America Inc., Alberth Aviation Ltd., Weihai Guangtai Airport Equipment Co., Ltd., and Mallaghan Engineering Limited. In April 2017, TBD Owen Holland Ltd, patented design of its product, Main Landing Gear Access Platform. The product was expected to provide reliable, efficient ramp equipment for the engineers.