The lecithin and phospholipids market is valued at USD 5.24 billion in 2021 and is expected to grow at a CAGR of 6.1% during the forecast period.
The rising popularity of sunflower-based lecithin further influences the market due to its benefits, including easy handling and a neutral flavor. Lecithin is used in dry seasoning, sauces, and soup mixes. When added to food, lecithin offers a wide range of advantages. Without it, problems like candies sticking together, flaws in the quality, and harsh, dry, stale, or flavorless baked goods would arise. By improving the flexibility and quality of the dough, lecithin aids bakers in producing high-quality bread. It gives salad sauces a creamy texture and keeps cheese slices from sticking together in packaging.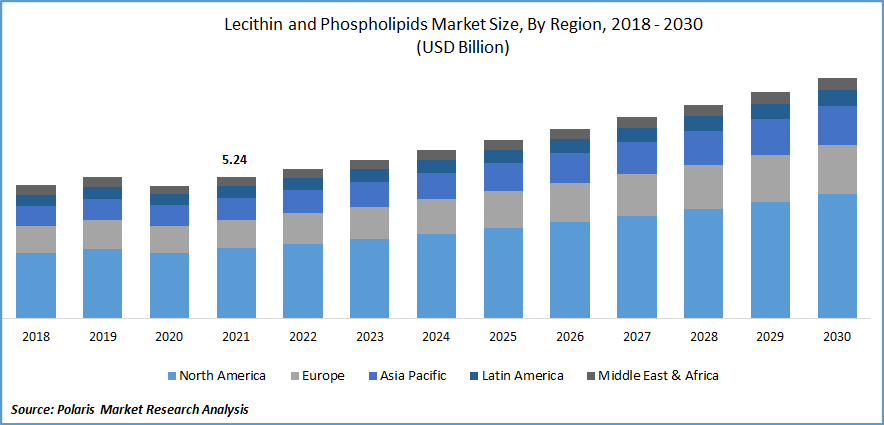 Know more about this report: Request for sample pages
Lecithin is used as an emulsifier in the food industry. It helps stabilize the compounds that cannot mix like water and oil. It is also used in healthcare and personal care. It is used for the brain, liver, and nerves to function normally.
Lecithin is a type of fat, known as combination of the glycerol-phospholipids, including, phosphatidyl-serine, phosphatidyl-choline phosphatidic acid, phosphatidyl ethanolamine, & phosphatidyl inositol. Fat is considered helpful in treating many diseases, such as eczema, & liver disease. Phospholipid, also called phosphatide, is a lipid molecule that is an important component required to develop cell membranes.
Covid-19 has had a significant impact on the global market of the food & beverage industry. Due to lockdowns imposed by governments worldwide, there is a decrease in manufacturing and supply of food and beverage ingredients. Also, the closing of all restaurants and hotels due to the shutdown affect the market badly during a pandemic. This has declined the revenue and share of major market players, thus impacting the global market.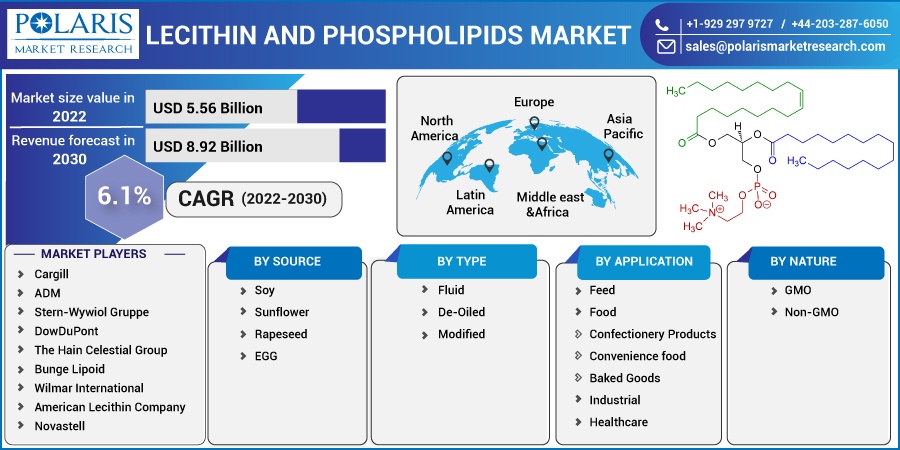 Know more about this report: Request for sample pages
Industry Dynamics
Growth Drivers
One of the key reasons propelling the market's growth is the rise in demand for ingredients sourced naturally on a global scale. The market's expansion is accelerated by the high demand for the ingredients, which can be easily obtained from natural sources, as well as the numerous uses for phospholipid and lecithin in different industries and the growing awareness of clean-label products among consumers. Lecithin is widely utilized as a natural emulsifier and is gaining popularity as a natural antioxidant to limit lipid oxidation. Phospholipids are found naturally in a variety of foods.
According to the US Food and Drug Administration, lecithin is "generally recognized as safe" (FDA). It is unlikely to cause adverse effects when taken in tiny amounts. The lecithin and phospholipids market is also positively impacted by an increase in consumer disposable income, rising demand for natural food additives, changing lifestyles, and a rise in health-conscious consumers as a result of an increase in obesity incidence.
Furthermore, increased demand for green and organic food products and growth in demand for other sources of lecithin gives profitable prospects to the market players in the projection period.
For formulators, phospholipids (EU) are valuable, multipurpose components that greatly assist. The derivatives of lecithin have many properties in personal care, like reducing irritation on the skin, providing moisturization, reducing skin pore size, stimulating cell proliferation, hair conditioning, increase cationic dye deposition on hair. Therefore, the variety of uses of lecithin in skin care increases the global market.
Report Segmentation
The market is primarily segmented based on source, type, application, nature, and region.
By Source

By Type

By Application

By Nature

By Region

Soy
Sunflower
Rapeseed
EGG

Feed
Food

Confectionery Products
Convenience food
Baked Goods

Industrial
Healthcare

North America (U.S., Canada)
Europe (France, Germany, UK, Italy, Netherlands, Spain, Russia)
Asia Pacific (Japan, China, India, Malaysia, Indonesia, South Korea)
Latin America (Brazil, Mexico, Argentina)
Middle East & Africa (Saudi Arabia, UAE, Israel, South Africa)
Know more about this report: Request for sample pages
Based on the Source, the Soy segment is likely to dominate the global market
Manufacturers frequently employ it since there is a sufficient supply of soy and the extraction process is inexpensive. It is commonly used as a food component and is available as a supplement to improve your health. Because lecithin is such an excellent emulsifier and stabilizer, it is a beneficial ingredient in packaged goods. It is also why egg yolks are so effective in stabilizing sauces like Hollandaise, aioli, and mayonnaise. It is frequently used in modernist cooking to bind vinaigrettes, produce light foams and airs, and give moisture tolerance and elasticity to dough.
The need for natural sources has grown in the pharmaceutical and cosmetics industries, which has increased the demand for soy-based phospholipids. During the forecast period, the sunflower segment is anticipated to expand at the highest CAGR. Sunflower lecithin is a naturally occurring emulsifier since it contains a variety of phospholipids. Sunflower lecithin is a versatile food component because it may compel two immiscible liquids, like oil and water, to combine in a suspension. Sunflower lecithin can be used in cosmetics, food, and feed.
By Type, the Fluid segment accounted for the largest market share in 2021
Industrial, cosmetics, pesticides, animal feed, food, beverages, healthcare, personal care, production of paints, and textiles are just a few of the many industries where fluid lecithin is used. It is the perfect food addition because of its various roles as an emulsifier, stabilizer, wetting agent, releasing agent, antioxidant, dispersion agent, and nutritional supplement.
The feed sector is expected to hold the significant revenue share
The industry is driven by rising demand for soy lecithin in the feed market. For instance, lecithin is used in two feeding stuff dog cookies and cat feed. The additive lecithins are used in feeding stuffs for all animal species to provide them with necessary nutrition—moreover fluid lecithin functions as a milk substitute in situations where animals receive nutrition in liquid form.
The GMO segment held the largest share in 2021
GMOs are organisms that have had their DNA modified through genetic engineering techniques. For generations, animals and agricultural crops have been selectively bred to have particular desirable features. Scientists use biotechnology for organism's genetic alterations without passing along undesirable traits. Thus, the segment demand has expanded due to the high availability of GMO products, including lecithin and phospholipids.
APAC region is expected to hold the largest market share
The Asia Pacific is predicted to have the market' quickest growth rate. This region's market for lecithin and phospholipids has expanded tremendously due to large food and beverage and animal feed industries. The demand for lecithin in the Asia Pacific area is driven by an increase in processed food products as well as developments in industries including dairy, meat, confectionery, and bakery items. Consumer preference for food items made with low-fat and natural components is driving the market's growth. A quarter or more of the GDP of the developing nations in the Asia Pacific region was made up of the agriculture and food processing sectors, according to the United Nations Economic and Social Commission for Asia and the Pacific (UNESCAP).
Competitive Insight
Key players include Cargill, Stern Wywiol, Lipoid, American Lecithin Company, Sodrugestvo, Kewpie Corporation, Lecital, Lasenor Emul, Avanti Polar Lipids, and Lecico.
Recent Developments
In Dec. 2021, Hain Celestial Group announced that it had reached an agreement to acquire tThat's How We Roll," the manufacturer & marketer of ParmCrisps & Thinsters, two quickly expanding, healthier brands with popular products that are convenient and tasty, from Clearlake Capital. The acquisition strengthens company's position in snacking industry.
In March 2021, Lecico & Ciranda established a distribution collaboration for lecithin & phospholipids in the North America. The cooperation will focus on clean-label food trends & provide regional commercial & technical support.
In January 2020, Lipoid introduced PhytoCodine, which has high-quality botanical extracts, natural phospholipids, active ingredients, and products for the personal care sector and cosmetic or skin care products.
Lecithin and Phospholipids Market Report Scope
| | |
| --- | --- |
| Report Attributes | Details |
| Market size value in 2022 | USD 5.56 billion |
| Revenue forecast in 2030 | USD 8.92 billion |
| CAGR | 6.1% from 2022 – 2030 |
| Base year | 2021 |
| Historical data | 2018 – 2020 |
| Forecast period | 2022 – 2030 |
| Quantitative units | Revenue in USD billion and CAGR from 2022 to 2030 |
| Segments covered | By Source, By Type, By Application, By Nature, By Region |
| Regional scope | North America, Europe, Asia Pacific, Latin America; Middle East & Africa |
| Key companies | Cargill, ADM, Stern-Wywiol Gruppe, DowDuPont, The Hain Celestial Group, Bunge, Lipoid, Wilmar International, American Lecithin Company, S.L., Novastell, Sodrugestvo, Kewpie Corporation, Sojaprotein, Lecital, Lasenor Emul, Sonic Biochem Extractions, Avanti Polar Lipids, and Lecico. |