The global legionella testing market was valued at USD 277.40 million in 2021 and is expected to grow at a CAGR of 8.3% during the forecast period. The sudden rise in waterborne diseases, the surge in pneumonia, and related illnesses are the few prime factors responsible for the market growth. According to the World Health Organization (WHO), the elderly population in the world is expected to reach approximately 2 billion by 2050.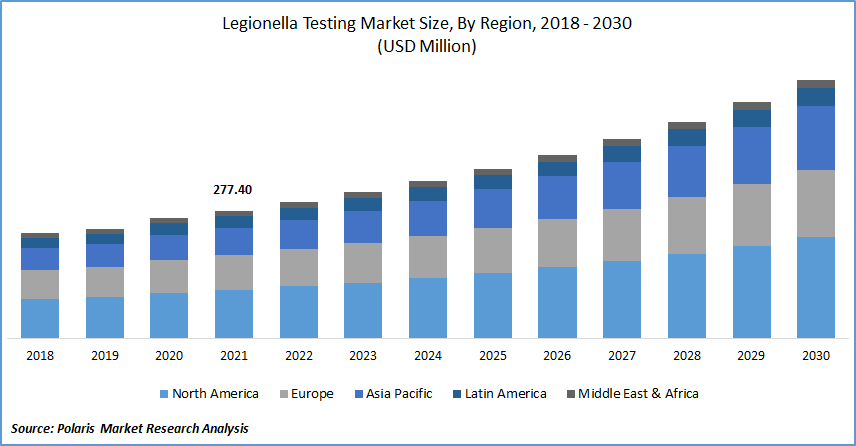 Know more about this report: Request for sample pages
Elderly people are more susceptible to infections because of their compromised immune systems, making this factor key to the legionella testing market worldwide. A specific type of bacterium known as legionella can cause legionnaires' disease, a serious form of pneumonia. Tests for these bacteria in blood, sputum, or urine.
People who breathe in a mist or tiny drops of water containing the bacteria develop legionellosis illnesses. No one can contract the bacteria from another. However, a disease outbreak could happen if a large number of people are exposed to the same polluted water supply.
As a result, not everybody becomes ill. It is more likely for you to contract an infection if you are older than fifty, suffer from chronic diseases such as diabetes or renal failure, smoke, have a compromised immune system because of cancer or HIV/AIDS, or take medications that suppress your immune system.
The COVID-19 pandemic has affected the ways businesses function. The increased prevalence of legionella outbreaks in different structures, including hotels, cruise ships, and hospitals, is helping the legionella testing market. The COVID-19 infection brought on by the new SARS-CoV-2 was comparable to Legionnaires' disease in that it mainly affected patients with weakened immune systems, dramatically increasing the demand for the legionella testing market.
The stagnation of potable water caused by the long-term closure of factories and businesses due to the government-mandated lockdowns during the pandemic increased the need for the industry to lower the risk of Legionnaires' disease among workers and customers, thereby boosting the industry's growth.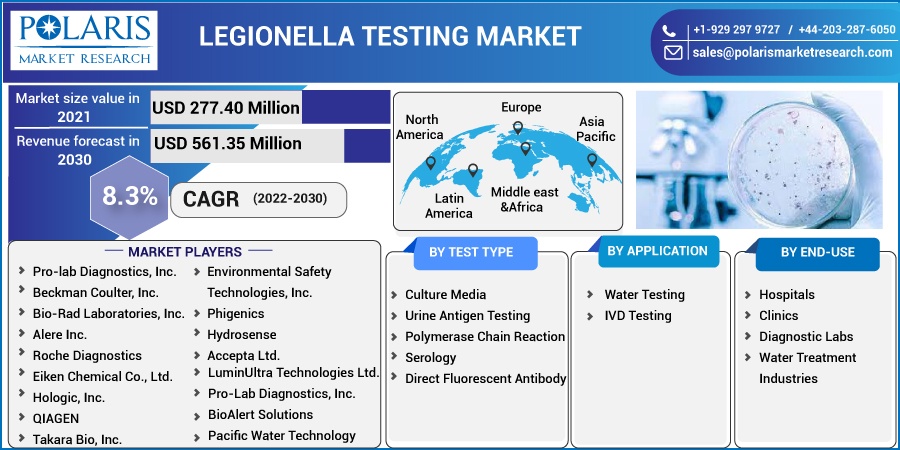 Know more about this report: Request for sample pages
Industry Dynamics
Growth Drivers
The demand for water treatment is being driven by the rising incidence of numerous bacteria in the water that can cause harmful health consequences. It also increases the presence of legionella, increasing the need to manage potable water. Consequently, the industry is growing due to the rising demand for public buildings, fountains, care facilities, hospitals, and cooling towers.
The introduction of several programs by governments and organizations to raise public awareness about the danger of its proliferation also contributes to the industry's expansion. Additionally, In March 2021, the United Kingdom government directed all businesses and other services to conduct necessary tests to prevent Legionnaires' disease.
Report Segmentation
The market is primarily segmented based on test type, application, end-use, and region.
By Test Type

By Application

By End-Use

By Region

Culture Media
Urine Antigen Testing
Polymerase Chain Reaction
Serology
Direct Fluorescent Antibody

Water Testing
IVD Testing

Hospitals
Clinics
Diagnostic Labs
Water Treatment Industries

North America (U.S., Canada)
Europe (France, Germany, UK, Italy, Netherlands, Spain, Russia)
Asia Pacific (Japan, China, India, Malaysia, Indonesia, South Korea)
Latin America (Brazil, Mexico, Argentina)
Middle East & Africa (Saudi Arabia, U.A.E., Israel, South Africa)
Know more about this report: Request for sample pages
The Urine Antigen Testing segment is expected to witness the fastest growth.
In 2021, the urine antigen testing market had the most significant share. This one is the most popular laboratory test for finding bacteria in the urine. In contrast, conventional culture media approaches, which need 7-8 days, can deliver the results the same day the sample is collected.
Additionally, it is a cost-effective test favored by those from developing or underdeveloped nations. However, because it can only detect LP1 species of legionella, the category is expected to lose some market share. A rapidly evolving PCR technique will dominate the market with a higher CAGR over the projected period because of the test's maximal selectivity and specificity.
Water testing method accounted for the second-largest market share in 2021
A workplace or any other building with water should conduct this testing to prevent the spread of legionella. It is a bacteria that prosper in water and is transmitted to humans and other animals through hot or cold water systems. If inhaled, it can cause Legionnaires' disease, a potentially lethal form of pneumonia.
This needs to be done regularly because of the hazards associated with the bacteria. This is because the only way to tell whether legionella is present in a water system is to test the water. Legionnaires' disease outbreaks could be devastating; routine legionella testing can prevent them.
The hazards related to exposure to legionella must be evaluated, controlled, and maintained by landlords, managers, employers, and duty-holders. To ensure the health and wellbeing of people occupying the building, the routine examination can assist in avoiding any outbreaks of Legionnaires' disease.
Diagnostic labs segment are expected to witness the fastest growth
This can be attributed to the rising incidence of legionnaires disease, increased public awareness, and the widespread use of sophisticated examination to identify this infection. This dominance is also projected to remain throughout the projection period.
Due to the development of onsite testing techniques and the implementation of strict guidelines for regular water inspections, the other segment, which covers environmental testing in addition to the clinical examination of the bacterium, is anticipated to increase.
The demand in North America is expected to witness significant growth
North America dominated the market. The increased number of illnesses associated with legionella and North America's aging population contribute to the market growth for legionella testing. This region's market is distinguished by a high rate of legionnaire disease diagnoses, a top-notch healthcare system, greater public awareness of the illness, and strict water examination requirements.
It is prioritized in nations like the U.S., which fuels the local market. The region also benefits from a sizable senior population easily susceptible to infection and significant mortality risk from associated pneumonia among such patients.
Competitive Insight
Key players in the global market, such as Pro-lab Diagnostics, Pro-Lab Diagnostics, Beckman Coulter, Bio-Rad Laboratories, Alere, Roche Diagnostics, Eiken Chemical, Hologic, QIAGEN, Asahi Kasei Pharma, Environmental Safety Technologies, Phigenics, Hydrosense, Accepta, LuminUltra Technologies, BioAlert Solutions, Aquacert, DTK Water, Sens Solutions, Genomadix, and Phigenics.
Recent Developments
In July 2021, For the detection of legionella serogroups and species in building water systems, Phigenics launched the Phigenics Validation Test (PVT) Next Day LegiPlex PCR (Polymerase Chain Reaction). The test results are rapid, and they meet the detection and specificity limits of the International Standard Organisation (ISO).
In February 2019, Asahi Kasei Pharma introduced Robots Legionella to its market as a brand-new product in their Ribo Test extracorporeal diagnostic kit series. They identified all 15 serogroups of Legionella pneumophila, which aids in diagnosing Legionnaires' illness.
Legionella Testing Market Report Scope
| | |
| --- | --- |
| Report Attributes | Details |
| Market size value in 2022 | USD 296.46 million |
| Revenue forecast in 2030 | USD 561.35 million |
| CAGR | 8.3% from 2022 – 2030 |
| Base year | 2021 |
| Historical data | 2018 – 2020 |
| Forecast period | 2022 – 2030 |
| Quantitative units | Revenue in USD million and CAGR from 2022 to 2030 |
| Segments Covered | By Test Type, By Application, By End-User By Region |
| Regional scope | North America, Europe, Asia Pacific, Latin America; Middle East & Africa |
| Key Companies | Pro-lab Diagnostics, Inc., Beckman Coulter, Inc., Bio-Rad Laboratories, Inc., Alere Inc., Roche Diagnostics, Eiken Chemical Co., Ltd., Hologic, Inc., QIAGEN, Takara Bio, Inc., Environmental Safety Technologies, Inc., Phigenics, Hydrosense, Accepta Ltd., LuminUltra Technologies Ltd., Pro-Lab Diagnostics, Inc., BioAlert Solutions, Pacific Water Technology, Aquacert Ltd., DTK Water, Sens Solutions, Genomadix, Inc., and Phigenics, LLC. |