The global LiDAR market size was valued at USD 733.1 million in 2018 and is anticipated to grow at CAGR of 14.5% during forecast period. LiDAR is a remote detecting strategy used to quantify range and separation with the assistance of a pulsed laser. It examines natural and man-made environments with higher precision, exactness and adaptability. The parts are comprising of laser, scanner and specific GPS receiver. LiDAR system is classified into topographic and bathymetric. Topographic system utilizes a close infrared laser to outline land while bathymetric takes help of water-entering green light to gauge ocean bottom and riverbed heights. It finds selective use in a wide scope of utilizations, for instance carrier and aviation, transportation, agribusiness, structural designing, mining and archaeology among others.
The expanding interest for 3D imaging systems and automation of LiDAR systems drive the development of market. The growing interest for automotive safety systems is driving market growth. With installation of product market in car segment, the swell enhancement of self-driving vehicles is expected to drive growth during forecast years. More elements driving market equals innovative growth headways, growth of aerial systems and reception of elevated LiDAR frame works along with government beneficial hand and activities. The increasing use of product systems and environmental safety standards has boosted market growth. The innovative progressions in spatial goals of based computerized growth models relating to hillside slopes, water overflow in horticulture or mining processes and inland conduits spell growth for applications.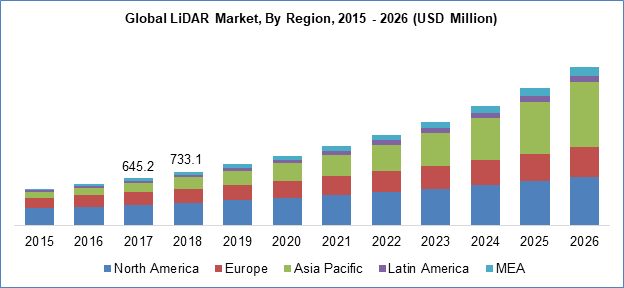 Know more about this report: request for sample pages
Component Outlook
The global market is segmented on the basis of component, installation, range applications and geography. Based on component, market is segments into Navigation and Position Systems, laser scanners, cameras and others. Laser scanners penned highest share in global market. Developing interest from rising economies and expanding adoption from defense sectors are components expected to give various development insights in the coming years. The installation of solid –state LiDAR in self-driving cars to help distinguish between 3D objects and humans is expected to drive industry in coming years.
Long-haul unerring quality of various laser segments for example, optical coatings, optics, and diodes in vacuum are relied upon to drive LiDAR market over forecast period. An updated prerequisite for 3D imaging from various parts and extending choice of aerial LiDAR structures has bolstered its allotment in course of action.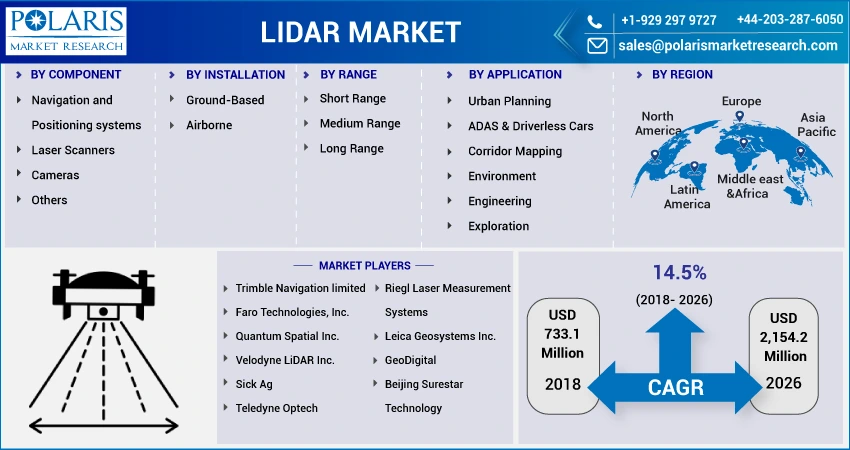 Know more about this report: request for sample pages
LiDAR Market Scope
By Component

By Installation

By Range

By Application

By Region

Navigation and Positioning systems
Laser Scanners
Cameras
Others

Short Range
Medium Range
Long Range

Urban Planning
ADAS & Driverless Cars
Corridor Mapping
Environment
Engineering
Exploration
Others

North America (U.S., Canada)
Europe (Germany, UK, France, Italy)
Asia Pacific (China, India, Japan)
Latin America (Brazil, Mexico)
MEA
Know more about this report: request for sample pages
Installation Outlook
The Installation segment divides into ground-based and airborne. The ground-based product market overwhelmed markets in 2018. Low expenses with ground-based product systems combined with lesser stringent guidelines drives market growth. The airborne installation is however gaining traction and is expected to grow at a fastest growth rate during the forecast period.
Range Outlook
The range in worldwide market incorporates shot range LiDAR, medium range and long range. The applications include urban planning, ADAS and driverless cars, corridor mapping and environmental engineering and exploration and others. Corridor mapping outpaced other verticals to obtain high market standing in the market. This was due to rising interest from roadways and railroads.
Developing interest from rising economies and expanding adoption from defense sectors are components expected to give various development insights in the coming years.
Developing interest from rising economies and expanding adoption from defense sectors are components expected to give various development insights in the coming years.
Application Outlook
The developing requirement for 3D imaging from different parts and expanding selection of aerial product frameworks has supported the appropriation of LiDAR arrangements. Expanding government interests in defense, agriculture, and city arranging supports its selection. Furthermore, the expanding interests of LiDAR from mining and transportation ventures have upheld market development throughout the years. Expanding fund raising by sellers in technological pursuits combined with expanding improvement of self-sufficient vehicles and merging of cutting-edge safety systems in vehicles would hasten development of the LiDAR market. Developing interest from rising economies and technological headways are relied upon to give various development openings in the coming years.
Regional Outlook
North America created significant income in the market in 2018 and is relied upon to lead the worldwide market all through the forecast period. The development of modern mechanization and technological headways in metrological applications has quickened the selection rate of product innovation in North American area. In airborne applications, LiDAR innovation has displayed remarkable favorable circumstances over radar technology, for example, improved precision, ongoing mapping capacity and better perception, accordingly driving the market in every one of the nations in North American area Defense expenditure in U.S. for technological pursuits has provided product market to proliferate, causing growth.
Asia-Pacific is relied upon to develop at the most elevated CAGR during the forecast period attributable to developing interest from rising nations, for example, China, Japan, and India. The worldwide market is poised to grow because of its mechanization in prompting reduction in human workloads and expanding production chores. The mechanical prevalence of LiDAR and mega projects concerned with it are instrumental in improving demand in forecast years.
Extending government interests in defense, farming, and city organizing, bolsters the choice of LiDAR. Furthermore, its extending premiums from mining and transportation adventures have maintained market improvement consistently. Growing gathering pledges by dealers in innovative interests joined with extending improvement of independent vehicles and converging of front-line wellbeing frameworks in vehicles would hurry advancement of the market.
Competitive Landscape
Developing enthusiasm from rising economies and mechanical progress are depended upon to give different advancement openings in the coming years. The market is fragmented with many small and large players dominating market. The leading players are attempting to gain a competitive edge in market growth with product and technology launches.
The key players in LiDAR market include Trimble Navigation limited, Faro Technologies, Inc., Quantum Spatial Inc., Velodyne LiDAR Inc., Sick Ag, Teledyne Optech. Riegl Laser Measurement Systems, Leica Geosystems Inc., GeoDigital and Beijing Surestar Technology.