The global advanced driver assistance systems (ADAS) market was valued at USD 30.19 billion in 2022 and is expected to grow at a CAGR of 9.5% during the forecast period.
Advanced Driver Assistance Systems (ADAS) refer to a set of technologies designed to enhance vehicle safety and improve the driving experience by providing assistance and automated features. ADAS combines sensors, cameras, radar, and other advanced technologies to help drivers in various aspects of vehicle operation, including collision avoidance, lane keeping, adaptive cruise control, and parking assistance. These systems work together to monitor the vehicle's surroundings, detect potential hazards, and provide warnings or take corrective actions to prevent accidents or reduce their severity.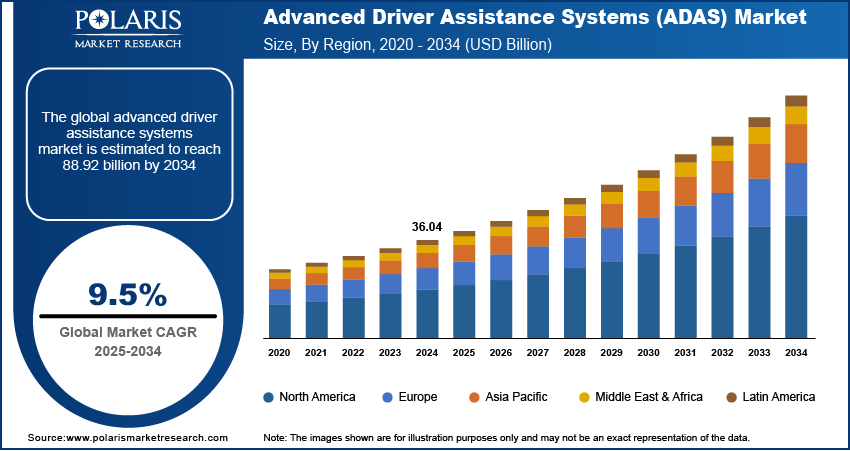 To Understand More About this Research: Request a Free Sample Report
One of the key features of ADAS is collision avoidance. Using sensors and cameras, ADAS systems can detect obstacles, pedestrians, and vehicles in the vehicle's path. They provide real-time alerts to the driver, such as visual or auditory warnings, to avoid potential collisions. In some cases, ADAS can also autonomously apply brakes or steer the vehicle to prevent or mitigate the impact of a collision.
ADAS also includes lane keeping assistance, which helps drivers stay within their designated lanes. Using cameras and sensors, the system monitors lane markings and provides alerts or corrective steering inputs if the vehicle begins to drift out of its lane without signaling. This feature promotes safer lane changes, reduces the risk of unintended lane departures, and enhances overall driving stability.
Another important component of ADAS is adaptive cruise control (ACC). ACC utilizes sensors and radar to maintain a safe distance between the driver's vehicle and the vehicle ahead. By automatically adjusting the vehicle's speed, ACC helps reduce driver fatigue, enhances traffic flow, and minimizes the risk of rear-end collisions.
ADAS technology also extends to parking assistance systems. These systems use cameras and sensors to help drivers navigate tight parking spaces by providing visual and auditory cues, guiding the driver during parking maneuvers. Some advanced systems can even autonomously park the vehicle, taking over the steering while the driver controls the acceleration and braking.
Overall, ADAS plays a crucial role in improving road safety and driver convenience. By augmenting driver awareness and responsiveness, ADAS technologies can significantly reduce the likelihood of accidents caused by human error, distraction, or fatigue. Furthermore, ADAS paves the way for the development of autonomous vehicles by serving as a foundation for more advanced self-driving capabilities.
As technology continues to advance, ADAS systems are becoming more sophisticated and capable. With ongoing research and development, we can expect further advancements in ADAS technology, leading to even safer and more efficient vehicles in the future. As a result, ADAS is poised to revolutionize the automotive industry and transform the way we drive, making our roads safer and improving the overall driving experience for everyone.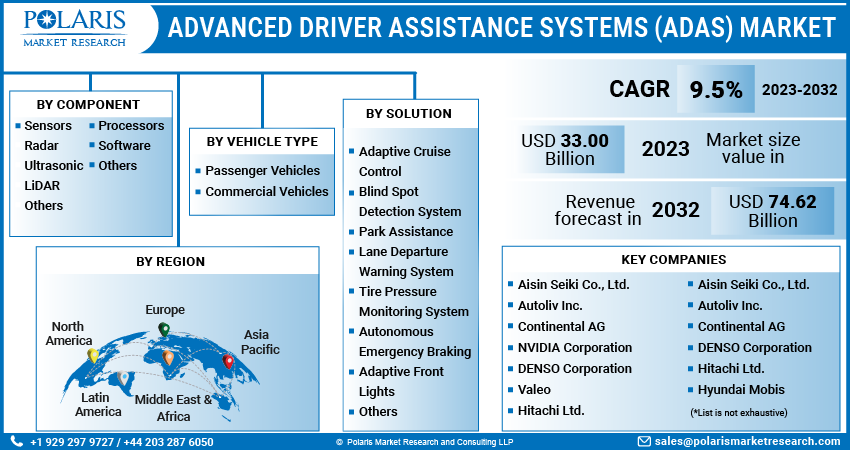 For Specific Research Requirements, Request for a Customized Report
Growth Drivers
Increasing demand of Advanced Driver Assistance Systems (ADAS) in automotive industry.
Advanced Driver Assistance Systems (ADAS) are gaining popularity in the automotive industry due to enhanced safety, improved driving experience, and technological advancements. ADAS technologies, such as forward collision warning, lane departure warning, and automatic emergency braking, help drivers avoid or mitigate potential collisions, reducing the risk of accidents and saving lives. Additionally, ADAS offers features that simplify maneuvers and enhance situational awareness, making driving more convenient and stress-free. The integration of connectivity features, such as vehicle-to-vehicle communication and cloud-based services, further enhances the capabilities and effectiveness of ADAS. Governments and regulatory bodies worldwide have implemented regulations and standards that encourage or require their inclusion in vehicles. As ADAS technologies advance, they are expected to play a crucial role in improving overall road safety.
Report Segmentation
The market is primarily segmented based on solution, component, vehicle type and region.
By Solution

By Component

By Vehicle Type

By Region

Adaptive Cruise Control

Blind Spot Detection System

Park Assistance

Lane Departure Warning System

Tire Pressure Monitoring System

Autonomous Emergency Braking

Adaptive Front Lights

Others

Sensors

Radar

Ultrasonic

LiDAR

Others

Processors

Software

Others

Passenger Vehicles

Commercial Vehicles

North America (U.S., Canada)

Europe (France, Germany, UK, Italy, Netherlands, Spain, Russia)

Asia Pacific (Japan, China, India, Malaysia, Indonesia. South Korea)

Latin America (Brazil, Mexico, Argentina)

Middle East & Africa (Saudi Arabia, UAE, Israel, South Africa)
To Understand the Scope of this Report: Speak to Analyst
By Vehicles Type
Passenger vehicle is expected to be the largest segment during forecast period
Passenger cars, including sedans, hatchbacks, wagons, SUVs, MUVs, and vans, hold the largest market for ADAS during the forecast period due to the growing demand for safer and more comfortable vehicles. Governments in both developed and developing countries are mandating ADAS systems. For example, the European Union has made it compulsory for automakers to provide certain regional ADAS features. At the same time, South Korea has mandated AEB and LDW systems for all new passenger vehicles since 2019. Automotive companies are investing heavily in developing driverless cars, and robot-taxis are also gaining traction in the passenger cars segment. Hyundai announced plans to invest $35 billion in electric and autonomous vehicles by 2025, while Toyota acquired Lyft's self-driving division to speed up the commercialization of autonomous vehicles.
By Component
Lidar segment is expected to hold significant revenue share during forecast period
The importance of Lidar sensors in vehicle automation has led to significant revenue growth in the sensors segment, a key component of ADAS. LiDAR sensors emit laser pulses to measure distances and create 3D maps of surroundings. With high-precision object detection, including vehicles, pedestrians, and obstacles, they provide vital information for collision avoidance and mitigation systems. LiDAR sensors' high-resolution 3D mapping capabilities offer detailed representation of the environment, improving object detection accuracy and overall ADAS performance. The advanced driver assistance systems (ADAS) market is segmented into sensors, processors, software, and others. ADAS software collects data from all sensors to detect the vehicle's surroundings and take immediate action for driver safety based on traffic analysis and future scenarios.
Regional Insights
APAC is expected to grow significantly in the study period
By 2032, the Asia Pacific region is expected to grow substantially for the ADAS market. This growth is driven by increasing demand for safe, efficient, and convenient driving experiences, rising disposable income in emerging economies, and strict safety regulations worldwide. Major manufacturers such as Bosch, Continental, and Aisin have opened industries in China, making significant advancements in ADAS development. Japanese car manufacturers, including Toyota, Nissan, and Honda, are implementing various ADAS features. The Japanese government promotes ADAS technology development through various initiatives and funding programs. South Korea is also investing in the development and testing of autonomous vehicles.
North America held the highest market share in 2022 due to technological advancements in the automotive industry, major players in the region, and a high adoption rate of new technology. The market was also driven by the increased fatality rate and sales of high-end vehicles in Canada and the U.S.
Key Market Players & Competitive Insights
The Advanced Driver Assistance Systems (ADAS) market is fragmented and is anticipated to witness competition due to several players' presence. Major service providers in the market are constantly upgrading their technologies to stay ahead of the competition and to ensure efficiency, integrity, and safety. These players focus on partnership, product upgrades, and collaboration to gain a competitive edge over their peers and capture a significant market share.
Some of the major players operating in the global market include:
Aisin Seiki Co., Ltd.

Autoliv Inc.

Continental AG

Delphi Automotive Company

DENSO Corporation

Harman International Industries

Hitachi Ltd.

Hyundai Mobis

Magna International Inc.

Mobileye N.V

NVIDIA Corporation

NXP Semiconductors

Panasonic Corporation

Renesas Electronics Corporation

ROBERT BOSCH STIFTUNG GMBH (ROBERT BOSCH GMBH)

Stonkam Co., Ltd.

Takata Corporation

Texas Instruments

Valeo

ZF Friedrichshafen
Recent Developments
January 2022, Aptiv PLC introduced a next-generation ADAS for autonomous and electric vehicles. Aptiv's scalable architecture aims to reduce the cost of software-driven vehicles while providing advanced driver assistance capabilities.

January 2022, ZF launched a 360-degree protection system tailored for commercial vehicles. This system is designed to detect hazards from the front and rear sides, offering dynamic control for enhanced vehicle safety. ZF initially targets the United States market, capitalizing on the demand from commercial fleet operators.

April 2021, Denso Corporation revealed the development of safety-enhancing products, including Locator Telescope Camera, LiDAR, and SIS ECU (Spatial Information Service Electronic Control Unit). Denso's Advanced Drive technology, implemented in vehicles like the Lexus LS and Toyota Mirai fuel cell vehicle (FCV), incorporates these products. The LiDAR and Locator Telescopic Camera boast accurate detection capabilities, extending their range beyond 200 meters ahead of the vehicle.
Advanced Driver Assistance Systems (ADAS) Market Report Scope
| | |
| --- | --- |
| Report Attributes | Details |
| Market size value in 2023 | USD 33.00 billion |
| Revenue forecast in 2032 | USD 74.62 billion |
| CAGR | 9.5% from 2023 – 2032 |
| Base year | 2022 |
| Historical data | 2019 – 2021 |
| Forecast period | 2023 – 2032 |
| Quantitative units | Revenue in USD billion and CAGR from 2023 to 2032 |
| Segments covered | By Solution, By Component, By Vehicle Type, By Region |
| Regional scope | North America, Europe, Asia Pacific, Latin America; Middle East & Africa |
| Customization | Report customization as per your requirements with respect to countries, region and segmentation. |