The global ai sensor market was valued at USD 2,885.06 million in 2022 and is expected to grow at a CAGR of 40.7% during the forecast period. The demand for more sustainable and effective infrastructure solutions has grown as a result of the growing urban population and the rapid urbanization process. In addition, AI and IoT technologies are necessary for the growth of smart cities, smart automobiles, smart traffic systems, smart homes, smart factories, and smart transit systems and cannot be achieved without AI sensors.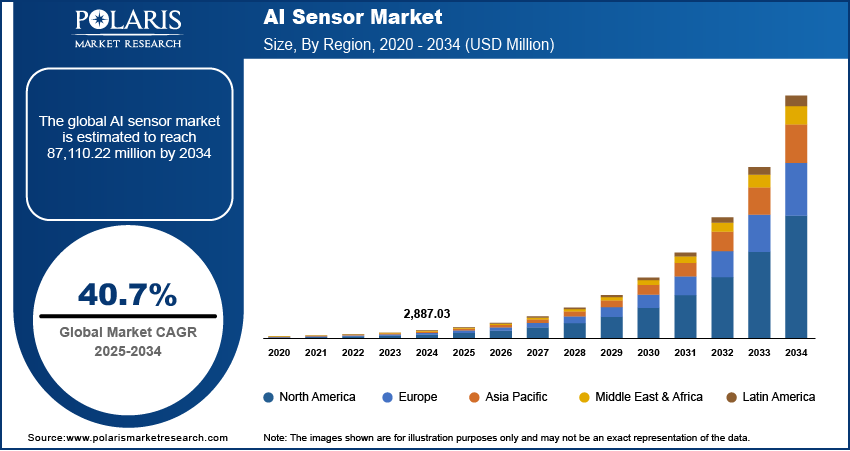 Know more about this report: Request for sample pages
AI has established itself as a key revolutionary component of the future digital age. The development of AI is receiving substantial funding from tech behemoths like International Business Machines Corporation, Facebook, Apple Inc., Google LLC, AWS and Microsoft. These businesses are trying to increase the usability of AI for business use cases. Additionally, many businesses use AI technology to offer a superior customer experience. For instance, in March 2020, McDonald's invested its largest sum in technology—$300 million—to purchase a Tel Aviv-based AI start-up in order to offer a customized customer experience.
Accessibility to historical datasets is the key factor accelerating AI invention. Healthcare organizations and governmental organizations create unstructured data that is available to the research domain because data storage and recovery have become more affordable. Rich datasets are becoming available to researchers, ranging from historical patterns in rainfall to medical imaging.
The novel coronavirus (COVID-19) epidemic was deemed a pandemic by the WHO (World Health Organization) in 2020, having a significant negative effect on commerce and humanity. As several tech juggernauts and start-ups began working on preventing, mitigating, and containing the virus, this pandemic has emerged as a chance for AI-enabled computer systems to combat the outbreak. For instance, Alibaba has created a diagnostic algorithm to find new coronavirus cases using the chest CT (Computerized Tomography) scan. The system's AI algorithm was trained using sample data from more than 5,000 coronavirus-positive cases. For instance, Lunit created an AI solution for chest X-ray analysis in June 2020 during pandemic.
The market for AI sensors is expanding quickly, and there is a severe lack of qualified individuals with the knowledge and experience required to create and manage AI sensor systems. Companies working in this market face a significant challenge due to the lack of skilled workers, which may restrict their capacity for innovation and competitive advantage. The fact that the industry is still developing, with few educational programmes and training opportunities accessible for those interested in working with AI sensors, is one of the main causes of this shortage.
Industry Dynamics
Growth Drivers
The global ai sensor market is expanding at a rapid rate due to the rising popularity of several life-saving devices used in hospitals and the self-driving functionality in new electric vehicles. The world's shifting attention to digitalization is having a favourable effect on market expansion. The leading international tech behemoths, including Apple, Google, Microsoft, IBM, Amazon, and IBM, are increasing their investments in the development and improvement of different AI applications. During the forecast period, it is anticipated that increasing efforts by tech giants to increase access to AI will promote market development.
Report Segmentation
The market is primarily segmented based on sensor type, application, type, technology and region.
By Sensor Type

By Application

By Type

By Technology

By Region

Motion Sensor

Pressure Sensor

Temperature Sensor

Optical Sensor

Others

Automotive

Consumer Electronics

Manufacturing

Others

Case-Based Reasoning

Ambient-Intelligence

Neural Networks

Inductive Learning

Machine Learning

Natural Language Processing

Context-Aware Computing

Computer Vision

North America (U.S., Canada)

Europe (France, Germany, UK, Italy, Netherlands, Spain, Russia)

Asia Pacific (Japan, China, India, Malaysia, Indonesia, South Korea)

Latin America (Brazil, Mexico, Argentina)

Middle East & Africa (Saudi Arabia, UAE, Israel, South Africa)
Know more about this report: Request for sample pages
In 2022, the motion sensors dominated the market
One of the key drivers of the dominance of motion sensors in the AI sensor market is the growing demand for gesture recognition and motion control applications. These applications are becoming increasingly popular in smartphones, wearables, and gaming devices. Motion sensors enable users to control and interact with devices through hand gestures and body movements, providing a more intuitive and natural user interface.
In addition, the increasing adoption of automation and robotics in industrial and manufacturing processes drives the demand for motion sensors. These sensors are used in robotics to provide precise control and positioning of robotic arms and end-effectors, improving efficiency and productivity.
The consumer electronics segment is expected to account for highest market share during the forecast period
During the forecast period, the consumer electronics sector is anticipated to account for highest market share. Among the many goods and services benefited by AI advances are mobile devices, smart TVs, speakers, virtual personal assistants, and distributed and wearable sensors. customer lifestyles are changing as a result of rapid urbanization and increased internet use, changing customer preferences. The consumer electronics market is expanding quickly as a result of consumers' increasing preference for smart and intelligent technology.
The demand in Asia Pacific is expected to witness significant growth during forecast period
The Asia Pacific region is a rapidly growing market for AI sensors, with several key growth factors contributing to the expansion of this market. Many countries in the Asia Pacific region are investing heavily in smart city infrastructure, creating new opportunities for AI sensors. These sensors are being used to monitor everything from traffic flows and air quality to water usage and waste management, helping improve urban environments' efficiency and sustainability.
Moreover, with an aging population and increasing healthcare costs, there is a growing demand for innovative healthcare solutions that can improve patient outcomes and reduce costs. AI sensors are used in various healthcare applications, from monitoring vital signs to detecting disease and assisting with surgery.
Competitive Insight
Some of the major players operating in the global ai sensor market include Teledyne Technologies Incorporated (US), Robert Bosch GmbH (Germany), Goertek Inc. (China), Baidu, Inc. (China), Yokogawa Electric Corporation (Japan), Excelitas Technologies Corp. (US) Hokuriku Electric Industry Co., Ltd. (Japan), Sensata Technologies, Inc. (US), (China), Sensirion AG (Switzerland), Sensortek Technology Corporation (Taiwan), Silicon Sensing Systems Limited (UK), Sony Corporation (Japan), MEMSIC Semiconductor Co., Ltd. (China), Movella Inc. (US), Senodia Technologies (Shanghai) Co., Ltd., STMicroelectronics N.V.
Recent Developments
In April 2022, Robert Bosch GmbH purchased Five AI of France for expanding its footprint for autonomous vehicles and smart mobility solutions.
AI Sensor Market Report Scope
| | |
| --- | --- |
| Report Attributes | Details |
| Market size value in 2023 | USD 4,055.53 million |
| Revenue forecast in 2032 | USD 87,750.48 million |
| CAGR | 40.7% from 2023 – 2032 |
| Base year | 2022 |
| Historical data | 2019 – 2021 |
| Forecast period | 2023 - 2032 |
| Quantitative units | Revenue in USD million and CAGR from 2023 to 2032 |
| Segments covered | By Sensor Type, By Application, By Type, By Technology, By Region |
| Regional scope | North America, Europe, Asia Pacific, Latin America; Middle East & Africa |
| Key companies | Teledyne Technologies Incorporated (US), Robert Bosch GmbH (Germany), Goertek Inc. (China), Baidu, Inc. (China), Yokogawa Electric Corporation (Japan), Excelitas Technologies Corp. (US) Hokuriku Electric Industry Co., Ltd. (Japan), Sensata Technologies, Inc. (US), (China), Sensirion AG (Switzerland), Sensortek Technology Corporation (Taiwan), Silicon Sensing Systems Limited (UK), Sony Corporation (Japan), MEMSIC Semiconductor Co., Ltd. (China), Movella Inc. (US), Senodia Technologies (Shanghai) Co., Ltd., STMicroelectronics N.V.Corporation, ACI Worldwide, SAS Institute,, Oracle Corporation, BAE Systems, LexisNexis Risk Solutions, CaseWare RCM and Accenture |