The global smart electric drive market was valued at USD 1,249.31 million in 2022 and is expected to grow at a CAGR of 37.2% during the forecast period.
Smart electric drives are an updated and enhanced version of the traditional electric drives. They are powered by a battery, which provides a smoother and more efficient vehicle transmission. The demand for smart electric drives is increasing worldwide as they offer a better driving experience than conventional drives. They ensure efficient energy utilization by integrating advanced components such as power electronics and e-brake boosters, resulting in lower operating costs than traditional drives. Furthermore, people who value comfort and road safety prefer smart electric drives due to their advanced features.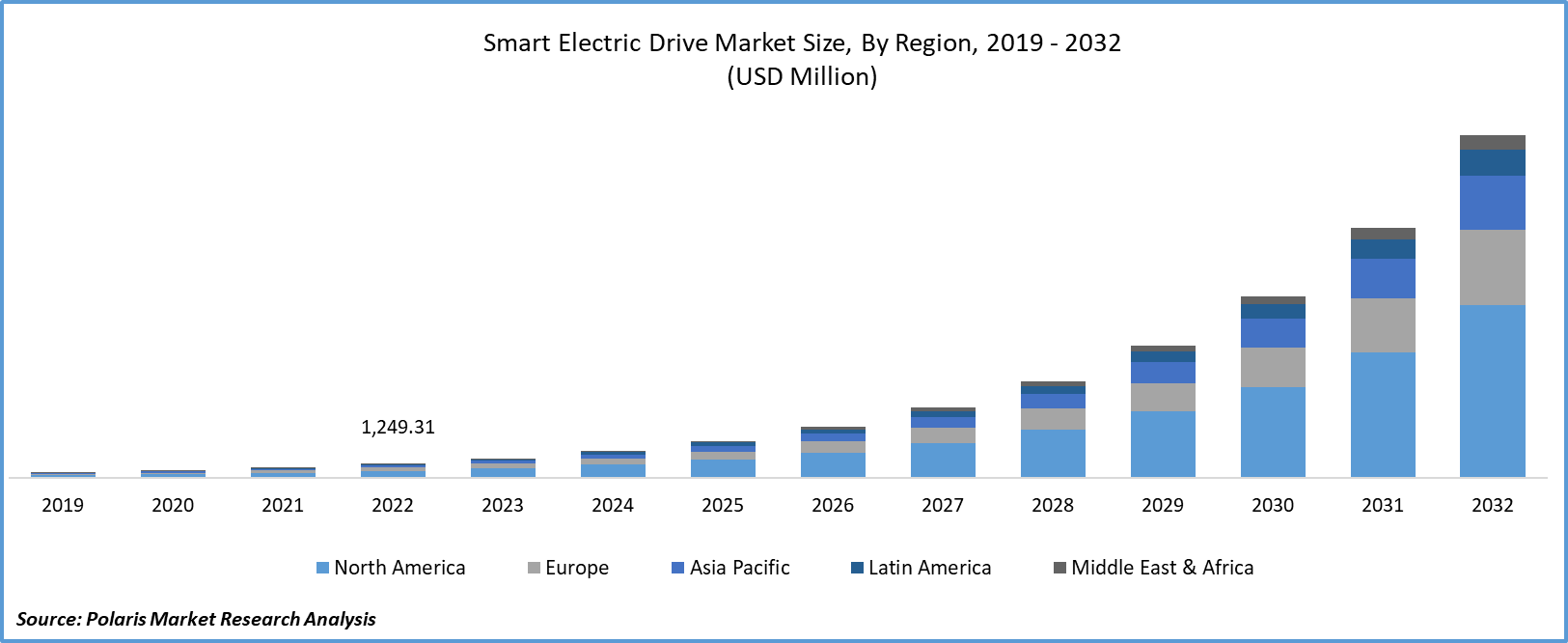 To Understand More About this Research: Request a Free Sample Report
For instance, in September 2021, ZF unveiled its edrive kit at the 2021 IAA event in Germany, incorporating the company's full e-drive train expertise into a drivetrain kit designed for easy installation in most conventional vehicles.
The rising adoption of electric vehicles due to strict emission regulations and the government's encouragement to switch to EVs by offering grants and incentives for their purchase is expected to drive the demand for smart e-drives shortly. Smart e-drives are compact and lightweight, leading to better vehicle performance than conventional drives.
The electric drive market is poised for significant growth, primarily propelled by technological advancements. Escalating prices of fossil fuels like gasoline and diesel further enhances the market's appeal. Electric vehicles (EVs) stand out for their efficiency and cost-effectiveness compared to alternative fuel options. Additionally, the pressing concern over environmental risks associated with conventional fuels is driving nations to adopt innovative technologies and strategies aimed at mitigating emissions generated by vehicles.
Smart electric drive systems, despite a gradual reduction in vehicle prices, still come with a notable cost premium. Incorporating high-end e-axles in automobiles contributes to an approximate 10-12% price increment, presenting a market constraint. Presently, electric trucks designed for transportation purposes are experiencing heightened demand. Nevertheless, the availability of charging infrastructure remains a significant challenge, particularly in developing countries. This limitation could impede the growth of the electric drive market.
The global COVID-19 pandemic has substantially impacted key stakeholders in the electric vehicle (EV) industry. Supply chain disruptions have been particularly pronounced, affecting the EV market significantly. However, the growing appetite for electric vehicles and proactive environmental measures enacted by governments offer a promising outlook for the smart electric drive market in the forthcoming years.
Growth Drivers
Increase in Demand Due to Lower Operating Cost
The demand for electric vehicles is rising due to their lower operating costs and environmental benefits. According to EDF Energy, EV drives are more cost-effective than petrol and other fuel alternatives, with usage costs as low as 0.4-0.6 USD per kWh. It is significantly lower than using petrol to travel the same distance, resulting in substantial savings for EV users for daily transportation. Although home charging can be expensive, many developing countries and states offer home charging subsidies, increasing demand for electric trucks once EVs' cost decreases compared to ICE vehicles.
The smart electric drive market is experiencing rapid growth, primarily propelled by the surging sales of electric vehicles (EVs). Stringent government regulations concerning emissions further drive market expansion. Smart E-drive systems offer numerous advantages over conventional vehicles, including cost-effectiveness, noise reduction, reduced maintenance expenses, minimized vibrations, instant torque availability, and heightened efficiency. Continuous technological advancements are also a significant growth catalyst.
Report Segmentation
The market is primarily segmented based on vehicle type, EV type, application, component, drive type, commercial vehicle type, 2-wheeler type, and region.
By Vehicle Type

By EV Type

By Application

By Component

By Drive Type

By Commercial Vehicle Type

By 2-wheeler Type

By Region

Passenger Cars

Commercial Vehicles

2 wheelers

EV Battery

Electronic Motor

Inverter System

E-Brake Booster

Power Electronics

Front Wheel Drive

Rear Wheel Drive

All Wheel Drive

Electric Buses

Electric Trucks

Electric Cycles

Electric Motorcycles

Electric Scooters

North America (U.S., Canada)

Europe (France, Germany, UK, Italy, Netherlands, Spain, Russia)

Asia Pacific (Japan, China, India, Malaysia, Indonesia. South Korea)

Latin America (Brazil, Mexico, Argentina)

Middle East & Africa (Saudi Arabia, UAE, Israel, South Africa)
To Understand the Scope of this Report: Speak to Analyst
By Vehicle Type Analysis
The passenger cars segment accounted for the largest market during the forecast period

.
The passenger cars segment accounted for the largest smart electric drive market during the forecast period. The market for electric passenger cars offers a broad spectrum of models catering to various customer preferences and needs. This diversity in vehicle choices attracts a wide range of consumers, from those seeking compact electric cars to those interested in electric SUVs and luxury vehicles.
Electric passenger cars have advanced technology, including state-of-the-art battery systems, regenerative braking, energy-efficient electric motors, and cutting-edge infotainment and connectivity features. These technological advancements enhance the appeal of electric cars.
By Drive Type Analysis
The front-wheel drive segment held the highest market share in 2022.
In 2022, the front-wheel drive segment held the highest market share as front-wheel drive vehicles are typically lighter than their counterparts, making them a popular choice for sedans in the medium and lower price range. It is because front-wheel drive provides reliable traction and a good balance. Additionally, front-wheel drive offers ample space for passengers and cargo, which is particularly beneficial for electric and hybrid vehicles. As a result, the front-wheel electric drive market is thriving.
Regional Insights
North America accounted for the largest market in 2022
In 2022, North America accounted for the largest smart electric drive market. North America has witnessed a significant uptick in the adoption of electric vehicles, driven by increasing consumer awareness of environmental issues, government incentives, and EV technology advancements. This surge in EV demand naturally boosts the smart electric drive market, as these systems are essential components of electric vehicles.
Many North American governments and states have introduced policies, incentives, and rebates to promote the adoption of electric vehicles. These measures include tax credits, reduced registration fees, and investments in charging infrastructure. Such initiatives encourage consumers and businesses to transition to electric vehicles equipped with smart electric drive systems. The automotive industry with major automakers investing in the development and production of electric vehicles. It has resulted in a wide range of electric vehicle models available in the market, further boosting the demand for smart electric drive systems.
The European regional industry held the fastest market in the global industry during the projected timeframe. The country's growth has been fueled by several factors, including the rapid development of battery packs, the employment of stringent discharge controls by the government, the growing popularity of connection combinations, increased consumption of electrically charged battery boxes, and hybrid cars across Europe. The region is also expected to see further growth thanks to the anticipated market expansion in Europe, largely driven by electric car manufacturers.
Key Market Players & Competitive Insights
The Smart Electric Drive market exhibits fragmentation and is poised for competitive dynamics driven by the presence of multiple players. The service providers in this market continually enhance their technologies to maintain a competitive advantage, emphasizing efficiency, reliability, and safety. These participants prioritize partnerships, product enhancements, and collaborative efforts to secure a competitive lead in the industry and expand their market presence.
Some of the major players operating in the global market include:
ABB

Aisin Corporation

Allison Transmission

Borgwarner

Bosch

Continental Ag

Dana

Hexagon AB

Hitachi

Infineon Technologies

Jing-Jin Electric Technologies

Magna International

Mahle

Meidensha Corporation

Meritor

Nidec Corporation

Shanghai mart Control Co.,Ltd

Siemens AG

ZF Group
Recent Developments
In July 2023, Mahindra & Mahindra (M&M), a prominent domestic automaker, agreed with NXP Semiconductors, a global frontrunner in secured connectivity solutions for implanted applications. This strategic partnership between M&M and NXP aims to jointly explore opportunities in the electric and connected vehicle market, with a particular emphasis on various vehicle categories, including light commercial vehicles, utility vehicles, tractors, and farm equipment.

In April 2023, MG Motor India launched the MG Comet EV, a cutting-edge electric vehicle in urban mobility resolutions for India. The Comet EV boasts a roomy and sleek design, riding on the versatile GSEV platform, ensuring effortless city commuting. Packed with futuristic and user-friendly Smart technologies, it marks the second electric vehicle in MG Motor India's lineup.
Smart Electric Drive Market Report Scope
| | |
| --- | --- |
| Report Attributes | Details |
| Market size value in 2023 | USD 1,709.81 million |
| Revenue forecast in 2032 | USD 29,472.48 million |
| CAGR | 37.2 from 2023 – 2032 |
| Base year | 2022 |
| Historical data | 2019 – 2021 |
| Forecast period | 2023 – 2032 |
| Quantitative units | Revenue in USD million and CAGR from 2023 to 2032 |
| Segments covered | By Vehicle Type, By EV Type, By Component, By Application, By Drive type, 2-wheeler type, By Region |
| Regional scope | North America, Europe, Asia Pacific, Latin America; Middle East & Africa |
| Customization | Report customization as per your requirements with respect to countries, region and segmentation. |