The industrial robotics market was valued at USD 14.1 billion in 2021 and is expected to grow at a CAGR of 14.2 % during the forecast period. The factors attributed to the growing demand for industrial robotics are the shortage of skilled labor in manufacturing and the ever-increasing demand for cobots across several sectors.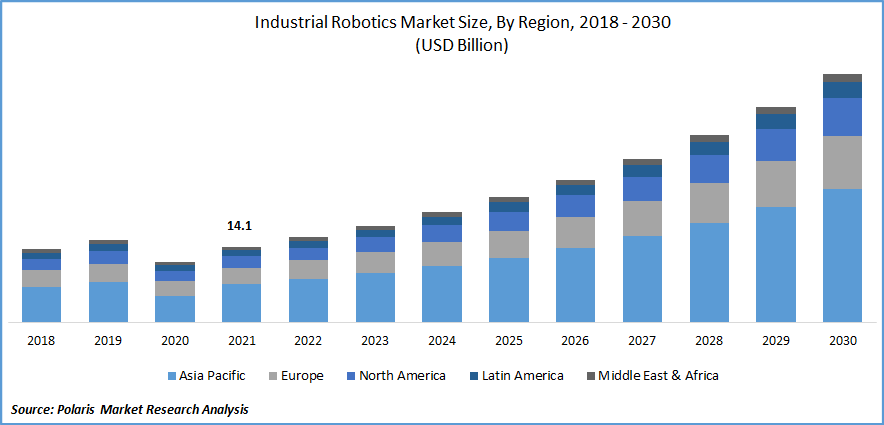 Know more about this report: Request for sample pages
The beneficial advantages of industrial robots, such as system flexibility, cost-effectiveness, advanced data analytics, reduced waste, and workplace safety, are anticipated to accelerate the market's growth. Additionally, the market is driven due to the increased utilization of industrial robots across several verticals, such as automotive, pharmaceutics, cosmetics, food & beverages, and others.
Industrial robots facilitate high payload lifting during the manufacture of vehicles and machinery customization. The market potential will increase as smart factories become more prevalent. Factors including growing consumer goods demand elevated public awareness of industrial mishaps, and employee safety are all fostering the development of the market.
Moreover, in order to include AI and create advanced sensors, manufacturers are focusing on R&D efforts, which will accelerate the market's growth over the forecast timeline. Venture capitalists are willing to invest in startups that create, test, and manufacture robots due to market shifts.
The Covid-19 pandemic negatively impacted the market due to stringent government rules and regulations during the pandemic. Most of the manufacturing activities were restricted. Due to lockdowns, overall industries were shut down, disrupting the production and sales of the components used in manufacturing robots.
On the other hand, companies are progressively returning to their normal levels of production and services. Industrial robot companies are anticipated to restart operating at full capacity, which is anticipated to aid in the market's recovery over the forecast period.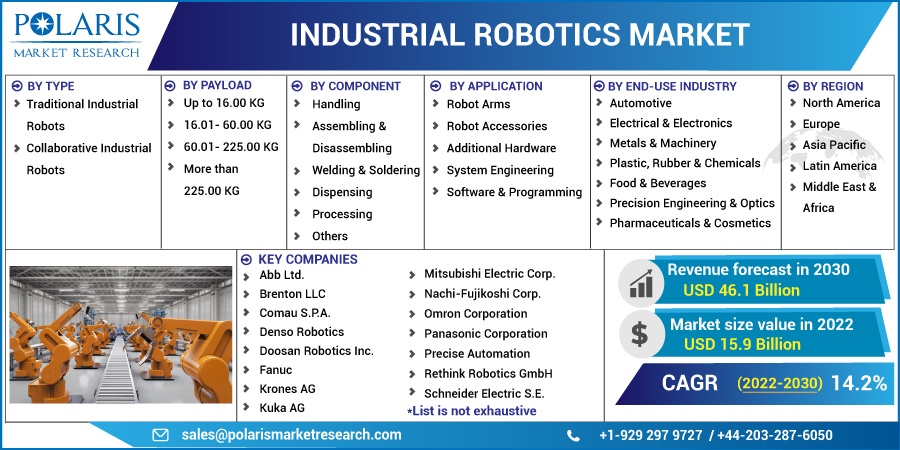 Know more about this report: Request for sample pages
Industry Dynamics
Growth Drivers
The demand for industrial robots has increased due to the ongoing shift from manual to automated processes, the primary driver fueling the market's expansion. For industrial workflows to run smoothly, management, production, and control must be coordinated. Industrial robots are becoming more significant due to their ability to improve workflow accuracy and efficiency while facilitating operational procedures.
Furthermore, there is an increasing need for industrial robots due to the rise of small enterprises, more automation investments, and stringent regulatory rules on handling hazardous materials and products. These robots also assist with lifting hefty weights while creating machines and automobiles. The introduction of smart factories increases the market's potential.
Major firms are concentrating on mergers and acquisitions to increase their market position. For instance, DAIHEN VARSTROJ was purchased by Daihen Corporation in February 2014. In Slovenia, VARSTROJ d.d. specialized in developing, manufacturing, and marketing robot systems and welding tools. The company was able to expand both its geographic reach and product offering thanks to the acquisition.
Report Segmentation
The market is primarily segmented based on type, payload, component, application, end-use industry, and region.
By Type

By Payload

By Component

By Application

By End-Use Industry

By Region

Traditional Industrial Robots
Collaborative Industrial Robots

Up to 16.00 KG
16.01- 60.00 KG
60.01- 225.00 KG
More than 225.00 KG

Robot Arms
Robot Accessories
Additional Hardware
System Engineering
Software & Programming

Handling
Assembling & Disassembling
Welding & Soldering
Dispensing
Processing
Others

Automotive
Electrical & Electronics
Metals & Machinery
Plastic, Rubber & Chemicals
Food & Beverages
Precision Engineering & Optics
Pharmaceuticals & Cosmetics
Others

North America (U.S., Canada)
Europe (France, Germany, UK, Italy, Netherlands, Spain, Russia)
Asia Pacific (Japan, China, India, Malaysia, Indonesia, South Korea)
Latin America (Brazil, Mexico, Argentina)
Middle East & Africa (Saudi Arabia, UAE, Israel, South Africa)
Know more about this report: Request for sample pages
Collaborative industrial type accounted the largest market share in 2021
The collaborative type acquired the largest market share as these robots are designed to collaborate with people in a shared workspace. Collaborative robots are utilized in a wide range of applications, including packaging, pick-and-place, screw driving, assembly, lab testing, and quality inspection, as they can automate the work quickly. They can also usually be taught instead of programmed by an operator.
Additionally, since collaborative robots can do repetitive tasks more quickly, they help enterprises increase manufacturing productivity while improving workplace safety. Due to its multiple advantages and related applications, the demand for collaborative robots is constantly increasing across various industrial verticals, including retail, healthcare, and automotive manufacturing. All these factors are responsible for the segment's growth.
16.01-60.00 kg payload is expected to witness highest growth rate
The 16.0- 60.00 kg payload segment is anticipated to witness the highest growth rate in 2021. Robots in this category include collaborative, SCARA, and articulated robots. The 16.01–60.00 kg payload capacity robots are mainly adopted in the automotive industry for arc welding, spot welding, painting, and many others.
The rapidly expanding demand for automation in the electrical and electronics industry, where SCARA robots are widely employed for assembly and handling applications, is responsible for the segment's rapid expansion in the up to 16.01-60.00 kg weight range. SCARA robots have a higher operating speed and optional cleanroom requirements.
Robotic accessories are expected to acquire the largest market share in 2021
Robotics accessories are anticipated to account most significant market share in 2021, in which end-effectors are expected to fuel the market's growth due to their capacity to raise productivity and get over typical industrial obstacles. Technological innovations in end-effectors have developed significant advancements. The requirement to achieve handy manipulation in industrial robots for their improved functioning, particularly in pick-and-place activities, has contributed to these improvements in end-effectors.
As machine learning software and other safety measures are being incorporated into the End of Arm Tools (EOAT), along with the capability to adapt to its environment using machine vision, end-effectors are anticipated to reach a higher degree of technical complexity in the future.
Handling segment accounted for a significant market share in 2021
The handling segment acquired the most considerable market revenue in 2021 due to increased demand for industrial robots from numerous industries, including food and beverage, electrical & electronics, automotive, and pharmaceuticals. Additionally, the need for industrial robots is rising significantly due to humans' handling and transportation of hazardous substances.
The need for industrial robotics is rising as robotic material handling, and robotic machine tending systems reliably provide productivity increases in various applications. Additionally, using robots reduces downtime, lower labor costs, and higher production. However, guaranteeing worker safety is fueling the segment's growth.
Automotive segment acquired the largest market share
Automotive segments dominated the market in 2021. Although it is gradually losing market share to other industries, the automotive industry is one of the most significant users of industrial robots. For applications like material handling and dispensing, manufacturers including BMW AG, Nissan, and Bajaj Auto have either launched or replaced traditional industrial robots with collaborative robots.
To maintain the highest possible quality in producing metal automobile components, the Gestamp facility in Bielefeld uses a fully automatic arc welding system from KUKA systems. For the automobile industry, KUKA offers at least 18 robots that can perform tasks like laser welding, washing, and even producing seat components for BMW vehicles using 3D geometry. These factors are stimulating the segment's growth.
Asia-Pacific dominated the regional market
Asia-Pacific dominated the regional market due to rising labor costs, which forced manufacturers to automate their manufacturing processes to maintain a cost advantage. Additionally, due to cheap production costs, easy access to economic labor, moderate emissions, safety regulations, and government initiatives for foreign direct investment (FDI), automation in the APAC region will accelerate the growth of the global industrial robotics market.
Major players in Asia pacific are at the leading edge in installing industrial robots, which also impels regional growth. The growing automotive and manufacturing industries in China & India are accelerating the product demand in this region.
Competitive Insight
Some of the major players operating in the global market include Abb Ltd., Brenton LLC, Comau S.P.A., Denso Robotics, Doosan Robotics Inc., Fanuc, Kawasaki Heavy Industries Ltd., Krones AG, Kuka AG, Mitsubishi Electric Corp., Nachi-Fujikoshi Corp., Omron Corporation, Panasonic Corporation, Precise Automation, Rethink Robotics GmbH, Schneider Electric S.E., Techman Robot Inc., Universal Robots, and Yaskawa Electric Corporation.
Recent developments
In March 2022, FANUC introduced the new CRX-5iA, CRX-20iA/L, and CRX-25iA collaborative robots. The newest CRX cobots are an addition to FANUC's line of CR and CRX cobots, which currently includes 11 cobot model variations to handle products from 4 kg to 35 kg.
In February 2021, Kawasaki Heavy Industries, Ltd., completed a domestic automated polymerase chain reaction (PCR) test system installation in Japan that operates Kawasaki robots at Fujita Medical University in Aichi Prefecture.
Industrial Robotics Market Report Scope
| | |
| --- | --- |
| Report Attributes | Details |
| Market size value in 2022 | USD 15.9 billion |
| Revenue forecast in 2030 | USD 46.1 billion |
| CAGR | 14.2 % from 2022 - 2030 |
| Base year | 2021 |
| Historical data | 2018 - 2020 |
| Forecast period | 2022 - 2030 |
| Quantitative units | Revenue in USD billion and CAGR from 2022 to 2030 |
| Segments Covered | By Type, By Payload, By Component, By Application, By End-Use Industry, By Region |
| Regional scope | North America, Europe, Asia Pacific, Latin America; Middle East & Africa |
| Key Companies | Abb Ltd., Brenton LLC, Comau S.P.A., Denso Robotics, Doosan Robotics Inc., Fanuc, Kawasaki Heavy Industries Ltd., Krones AG, Kuka AG, Mitsubishi Electric Corp., Nachi-Fujikoshi Corp., Omron Corporation, Panasonic Corporation, Precise Automation, Rethink Robotics GmbH, Schneider Electric S.E., Techman Robot Inc., Universal Robots, and Yaskawa Electric Corporation. |